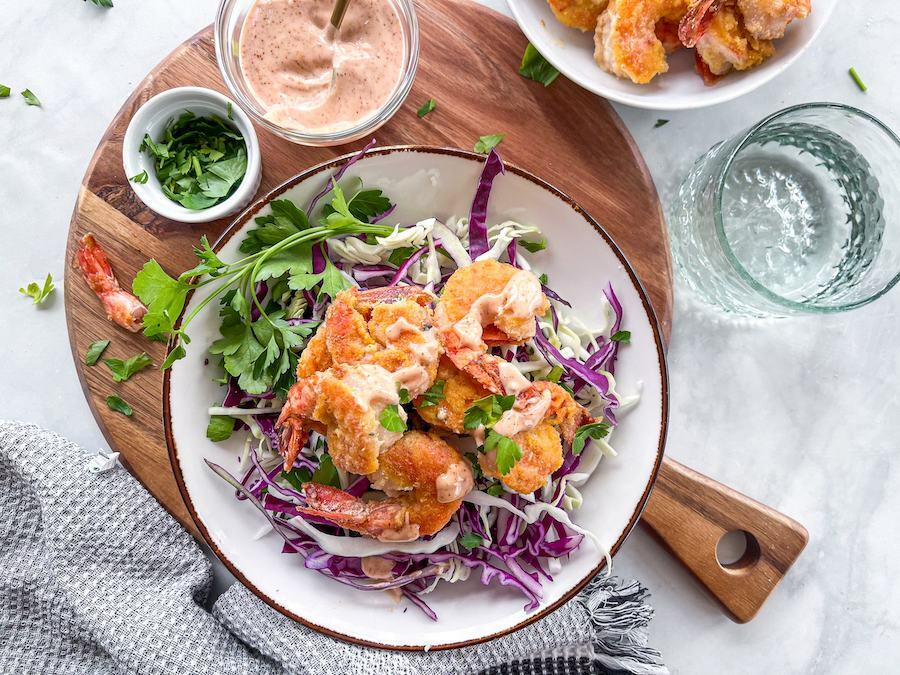 PaleoFLEX™ Bang Bang Shrimp

If you've never eaten or even heard of Bang Bang Shrimp, then you'll have to try this mouthwatering dish. With a crispy texture perfectly complemented by creamy, spicy sauce, these crunchy little bites are easy to prepare and bursting with flavor.
All you need to do is bread the shrimp and cook in a cast iron skillet (or non-stick skillet)—no deep frying needed! Let them cool while you mix the bang bang sauce. For Paleo-compliant condiments, check out our recipes for ketchup and mayonnaise and have them prepared ahead of time.
Plate the warm shrimp over cabbage. Drizzle bang bang sauce over the top or serve it on the side as an appetizer for a crowd, and enjoy! Store leftover shrimp and sauce in separate airtight containers in the fridge.
Tips
Bang Bang sauce is not AIP friendly, but feel free to substitute with a sauce of your choice! You can also use egg and mustard free mayonnaise.
Autoimmune Protocol (AIP) omissions and substitutions are listed in the recipe ingredients.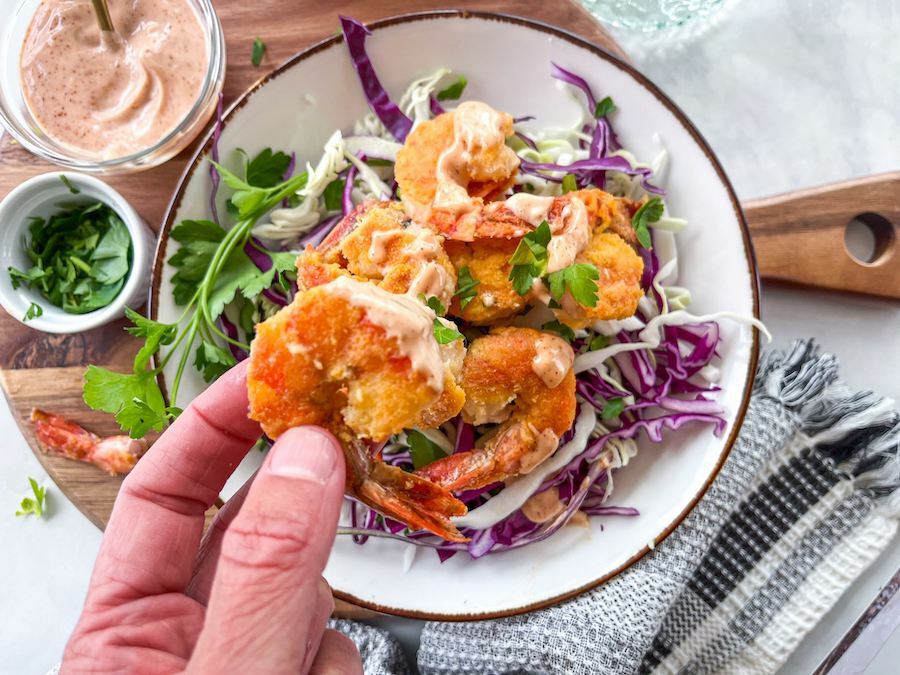 Details
Prep Time:

20 minutes

Cook Time:

5 minutes

Total Time:

25 minutes
Ingredients
3 tbsp olive oil

3/4 cups coconut flour

1/4 cups arrowroot flour

1 tsp garlic powder

1/2 tsp smoked paprika (AIP -omit)

2 lb tail-on shrimp, peeled

1 egg

1/2 cups Paleo mayonnaise (AIP - omit)

1 tbsp Paleo ketchup (AIP - omit)

1/4 tsp chipotle powder (AIP - omit)

pinch of cayenne (AIP - omit)

2 cups purple cabbage, thinly sliced

2 cups green cabbage, thinly sliced

1/2 cups parsley, chopped
Directions
Heat olive oil in a cast iron or non-stick skillet over medium heat. In a shallow bowl, whisk coconut flour, arrowroot flour, garlic powder, and smoked paprika until well combined. Whisk egg in a separate bowl.

Pat shrimp dry with a paper towel. Dip each shrimp in egg, then roll in flour mixture. Cook in the skillet for 2-3 minutes on each side, flipping with tongs or a fork. Set shrimp aside on parchment paper or a plate. Repeat the same process with the remaining shrimp.

In a small bowl, mix Paleo mayo, Paleo ketchup, chipotle powder, and cayenne until well combined. The sauce should be semi-thick in consistency.

In a large serving bowl, toss purple and green cabbage. Place shrimp on top, drizzle with chipotle sauce, and garnish with fresh parsley.