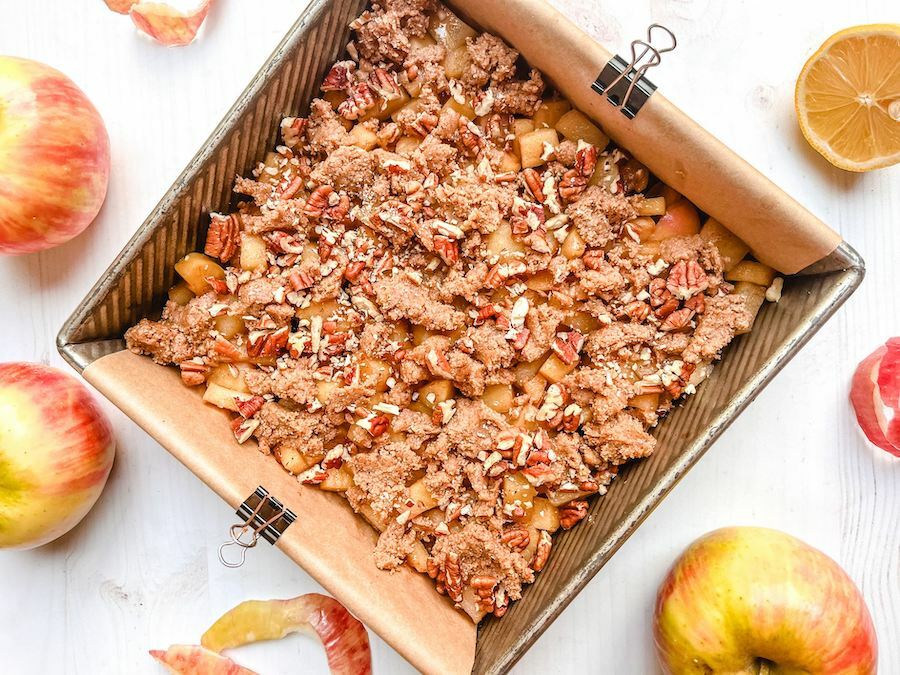 PaleoFLEX™ Apple Pie Bars
If you like apple pie, you'll love these healthier-for-you three layer apple pie bars!
These PaleoFLEX™ apple pie bars are made with an almond flour crust, a sweet-tart apple center, and a nutty pecan topping for a perfect little square of indulgence after dinner, or on the go.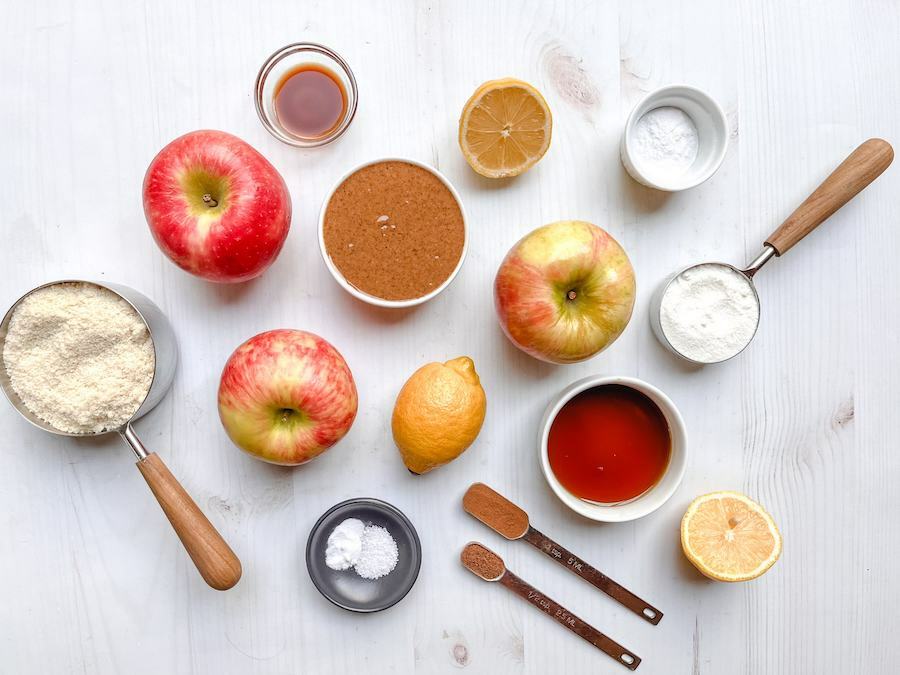 To keep this recipe PaleoFLEX™, we used a small amount of salt for the crust, and sweetened both the crust and apple mixture with a touch of maple syrup. We used arrowroot starch to thicken the filling, and almond flour instead of wheat flour for the crust. Finally, we topped the whole thing with unsweetened coconut cream instead of regular whipped cream!
These apple pie bars are really easy to bring together. Start by making the apple filling by chopping three apples into small pieces. You can use any apples you like, but we prefer using a mix of sweet (like Honeycrisp) and tart (like Granny Smith) for the best flavor profile. Add them to a saucepan with lemon juice, arrowroot starch, water, cinnamon, and maple syrup, and bring to a bubble. The filling should be nice and thick after boiling on low for about 10 minutes.
Meanwhile, make the crust by mixing dry and wet ingredients separately, and then combining into one mixture. We used almond butter to add extra creaminess, but you can use cashew or pecan butter instead if you like! Set most of the crust in a pan lined with parchment paper, and bake until just golden brown, about 8 minutes.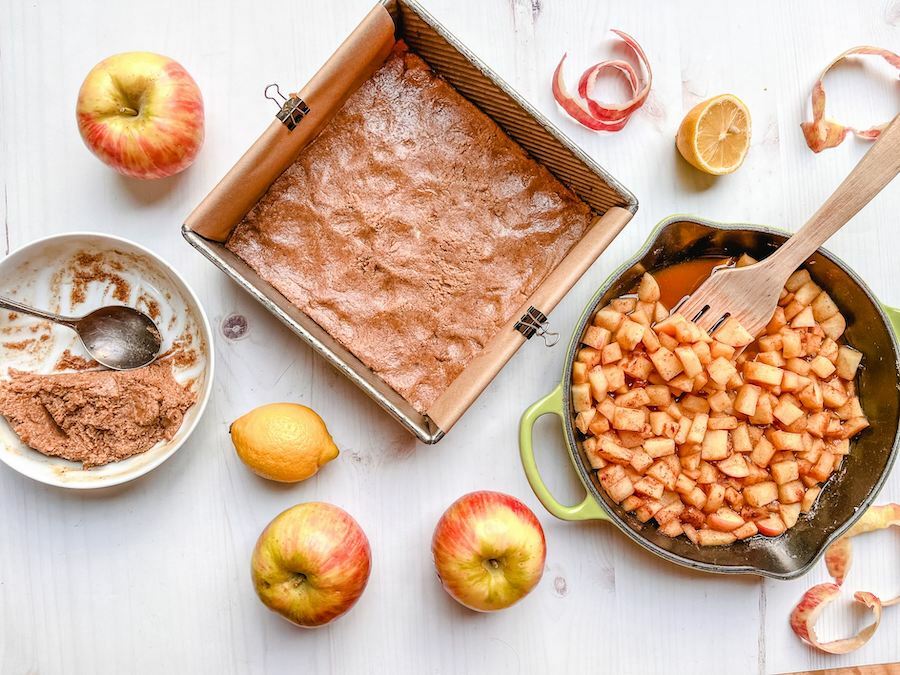 To assemble your bars, set the filling over the cooked crust, then crumble the remaining crust mixture over the top. Sprinkle the whole thing with chopped pecans, then bake for 25 minutes.
If you like, you can prepare the coconut whipped cream while the apple pie bars bake. Take the thick portion of a can of coconut milk (or buy a can of coconut cream) and whisk until light and frothy. You can also add a bit of pure vanilla extract for a touch of sweetness.
Let your apple pie bars cool a bit before serving and topping with the coconut whipped cream. Save leftovers in an airtight container in the refrigerator for up to 3-4 days.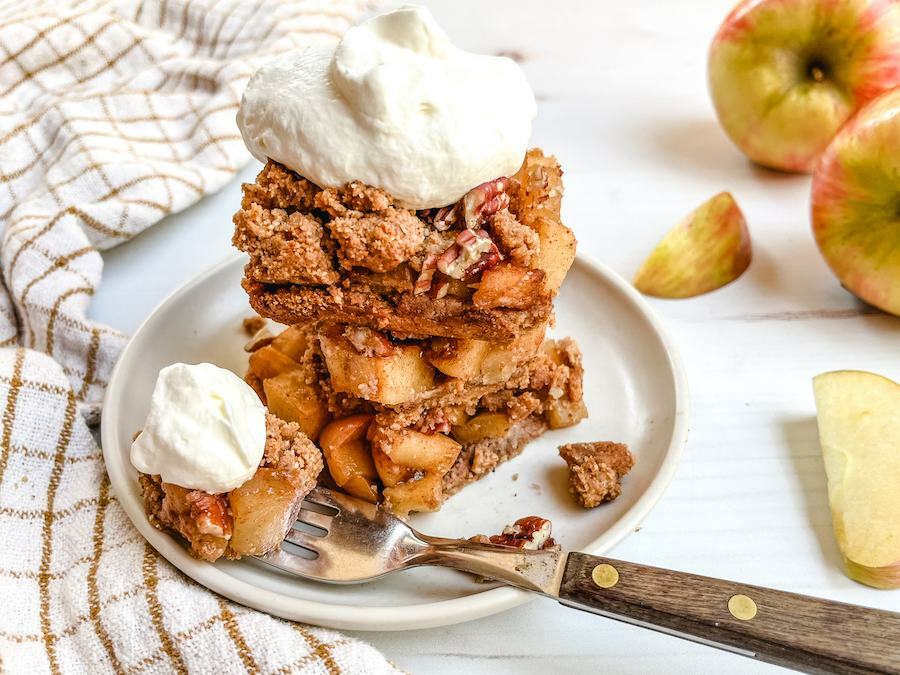 Love our recipes? Make going Paleo even easier and download our 7-Day and 28-Day digital meal plans!
Details
Prep Time:

10 minutes

Cook Time:

45 minutes

Total Time:

55 minutes
Ingredients
1/4 cups water

2 tsp arrowroot starch

1 lemon, juiced

4 tsp cinnamon, divided

1/4 cups maple syrup, plus 3 TBSP

3 apples, chopped into 1/4 inch pieces

1 1/4 cups almond flour

1/4 tsp baking soda

1/2 tsp nutmeg

1/8 tsp salt

3 tbsp coconut oi, melted

1 tsp vanilla extract

3/4 cups almond butter

1/4 cups crushed pecans

coconut whipped cream, for serving (optional)
Directions
Preheat the oven to 350°F. Line an 8x8 baking pan with parchment paper and set aside.

Combine the water, arrowroot starch, lemon juice, 3 teaspoons of the cinnamon, 3 tablespoons of the maple syrup, and the chopped apples in a saucepan and set over medium heat. Bring to a boil and cook for about 10 minutes, until the apples are softened.

Meanwhile, prep the crust: combine the almond flour, baking soda, the remaining 1 teaspoon cinnamon, nutmeg, and salt in a large mixing bowl.

In a small bowl, whisk the remaining 1/3 cup of maple syrup with the coconut oil, vanilla, and almond butter. Combine the wet ingredients with the dry, and mix well.

Press about ¾ of the crust mixture evenly onto the bottom of the prepared pan, and set the remaining mixture in the fridge. Bake for about 8 minutes. Let it cool for a few minutes, then spread the apple filling evenly over the crust. Sprinkle the remaining crust mixture on top, then add the crushed pecans. Bake for 25 minutes, then let cool before serving with a dollop of coconut whipped cream!