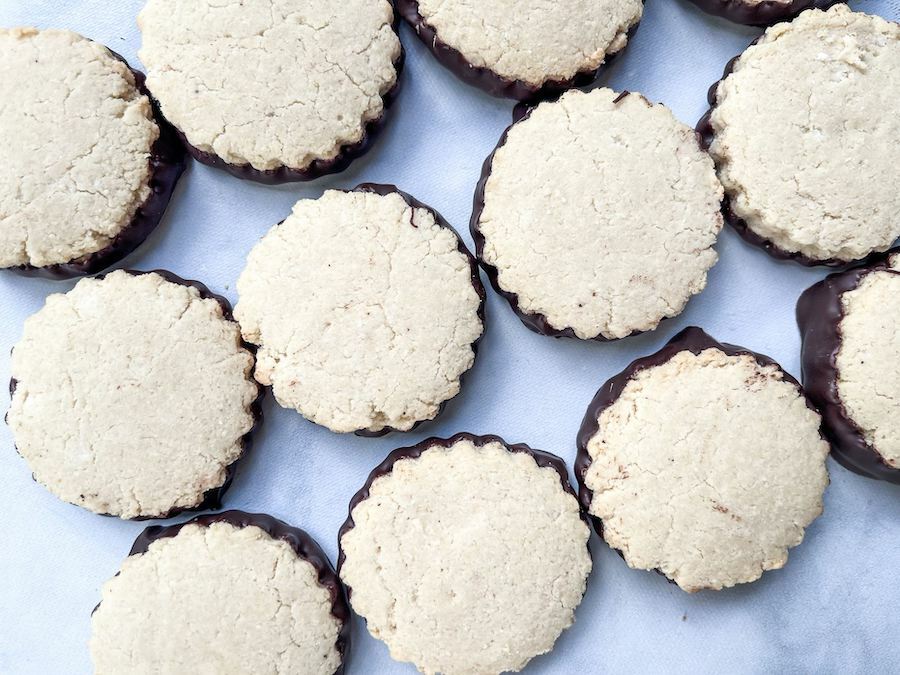 PaleoFLEX™ Almond Shortbread Cookies
Dip these almond shortbread cookies in melted chocolate, then serve with Mexican hot chocolate for a festive holiday dessert!
It's hard to resist a buttery, flaky shortbread cookie. Unfortunately, they're made with an unhealthy combination of wheat flour, butter, and refined sugar – none of which are Paleo!
While we don't think that recreating unhealthy foods with healthier ingredients should ever be considered TRUEPALEO™, we do think that PaleoFLEX™ treats can have a place in your Paleo diet.
To make these almond shortbread cookies PaleoFLEX, we used maple syrup as sweetener, coconut oil in place of butter, and a combination of coconut flour and almond flour in place of regular flour. The end result is a flaky, tender cookie bursting with almond flavor!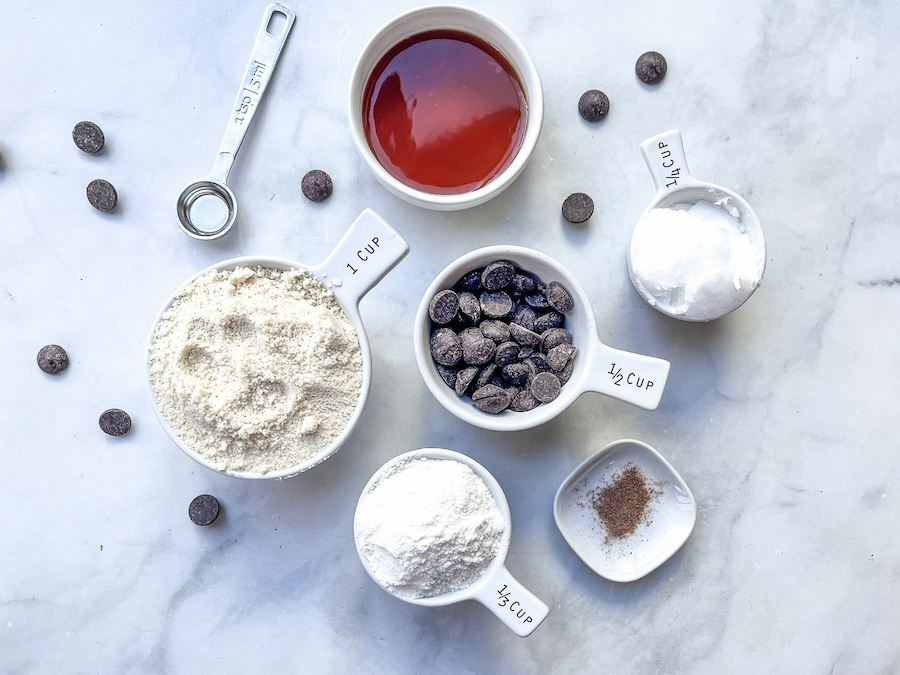 You can mix up the dough for these almond shortbread cookies in a single mixing bowl. Start by whisking the wet ingredients together, then add the nut flours and mix until a dough forms. Next, you can either roll out the dough and use a cookie cutter to make your shapes, or divide the dough into 12 equal parts and roll them out individually. Be sure not to roll them too thin, as you'll want them thick enough to hold while dunking the bottoms in chocolate!
Bake the cookies for about 10 minutes, then let them come to room temperature. While the cookies cool, melt the dark chocolate in a microwave, or over a double boiler. If the chocolate gets too thick, add a bit of melted coconut oil to bring it to a nice dipping consistency.
Hold each cookie carefully from the top, and dunk the bottoms into the melted chocolate. You can also hold the cookie vertically and dip half of it that way! Set the cookies on parchment paper while the chocolate sets. Tip: You can sprinkle the chocolate with crushed almonds before they set to add a little extra crunch.
You can serve your almond shortbread cookies immediately, or set them in an airtight container and store in the fridge for up to one week. Enjoy them by themselves, or with Mexican hot chocolate for dunking!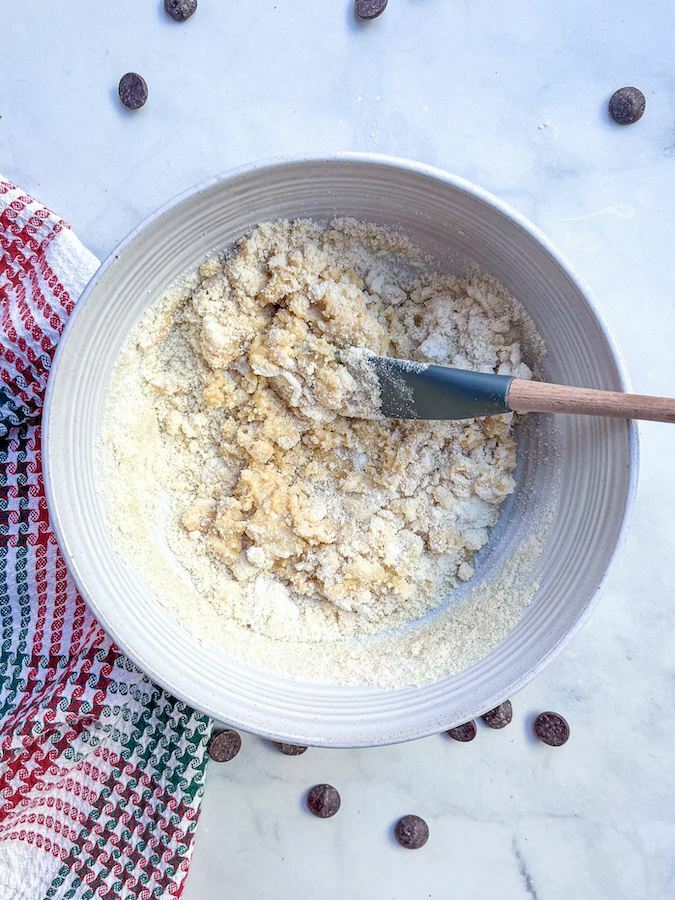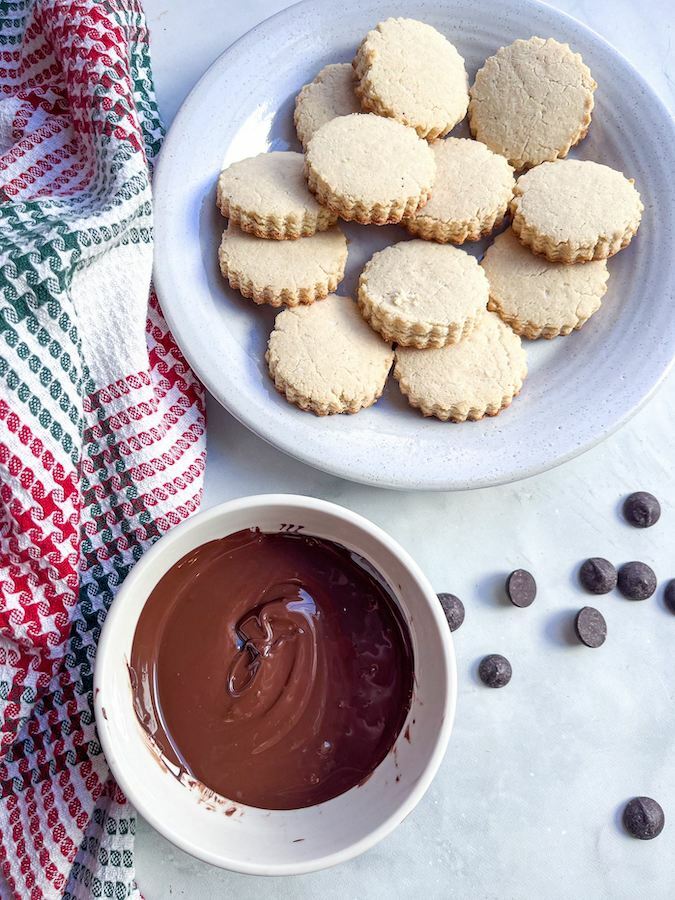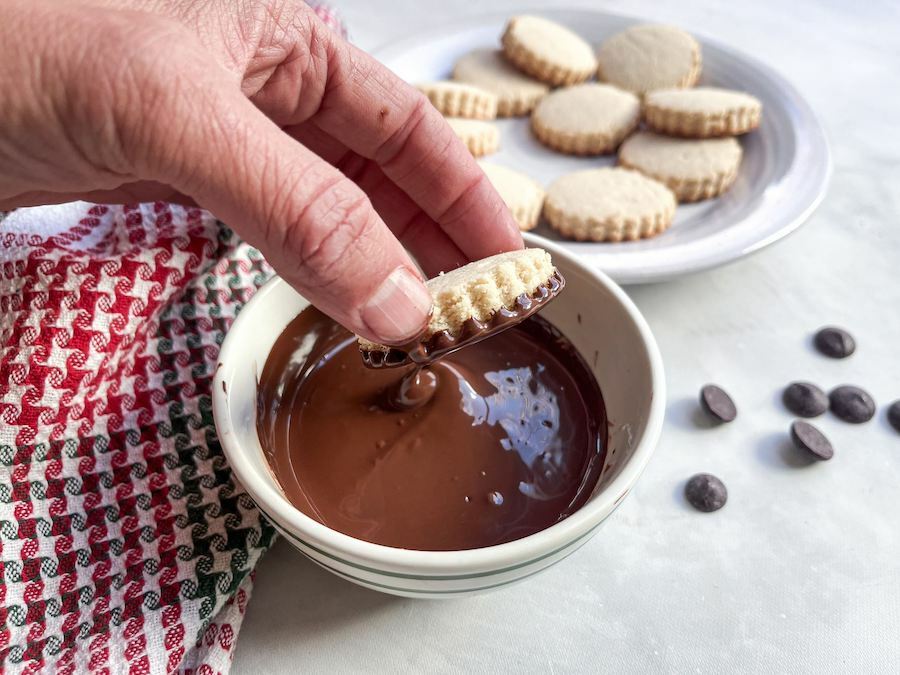 Love our recipes? Make going Paleo even easier and download our 7-Day and 28-Day digital meal plans!
Details
Recipe by: Jess Case
Serves:

12

Meal:

Dessert
Prep Time:

10 minutes

Cook Time:

10 minutes

Total Time:

20 minutes
Ingredients
1/4 cups coconut oil, melted

1/4 cups maple syrup

1 tsp pure almond extract

1/2 tsp vanilla extract

1/8 tsp cinnamon

1/8 tsp nutmeg

7/24 cups coconut flour

1 cups almond flour

1/8 tsp salt

1/2 cups dark chocolate (85% at least)
Directions
Preheat the oven to 350°F and line a baking sheet with parchment paper.

In a bowl, whisk the melted coconut oil, maple syrup, almond extract, vanilla extract, and spices. Add the coconut flour, almond flour and salt, then combine until a dough forms.

Divide the dough into 12 balls, and roll them out flat. You can press them flat with a glass, or use a cookie cutter. Set each cookie on the prepared baking sheet.

Bake for 10 minutes, or until golden brown. Let the cookies cool on the baking sheet for 5 minutes, then transfer to a cooling rack. Be sure they are fully cool before dipping in chocolate.

Melt the chocolate in a small ceramic or glass bowl for 30 seconds in the microwave, then stir it. Place it back in the microwave and warm it for another 15 seconds, until it's fully melted.

Carefully dip the bottom of each cookie into the melted chocolate. Set the cookies on parchment paper to let the chocolate set. Enjoy!