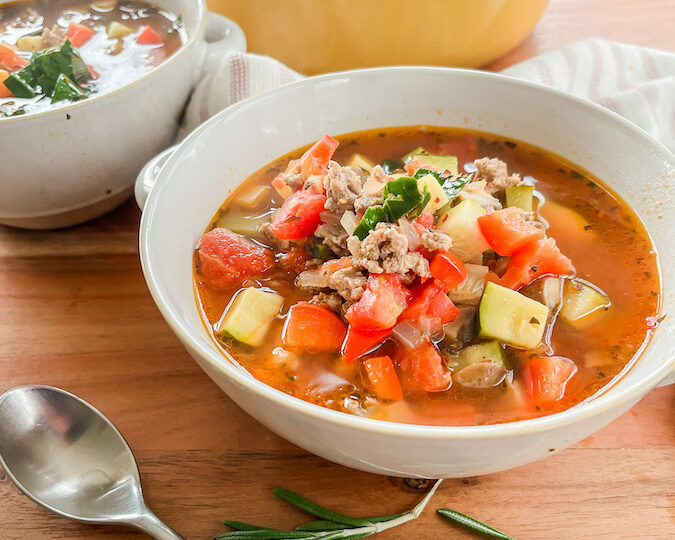 Paleo Turkey Minestrone Soup
Enjoy a bowl of thick minestrone soup brimming with veggies, herbs, and ground turkey for a nutritious and warming meal.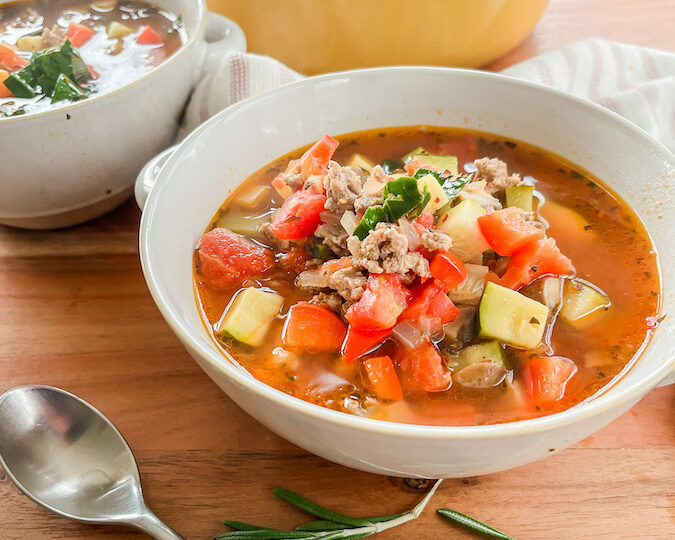 Enjoy a bowl of thick minestrone soup brimming with veggies, herbs, and ground turkey for a nutritious and warming meal.
Traditional Italian minestrone is made with pasta and beans, and is often topped with croutons and cheese. To make this recipe Paleo, we bring it back to basics with an assortment of hearty vegetables like zucchini, peppers, and mushrooms.
Of course, a true minestrone is made with whatever fresh veggies you have on hand, so if you have carrots, celery, cabbage or even Brussels sprouts, feel free to throw those in, too!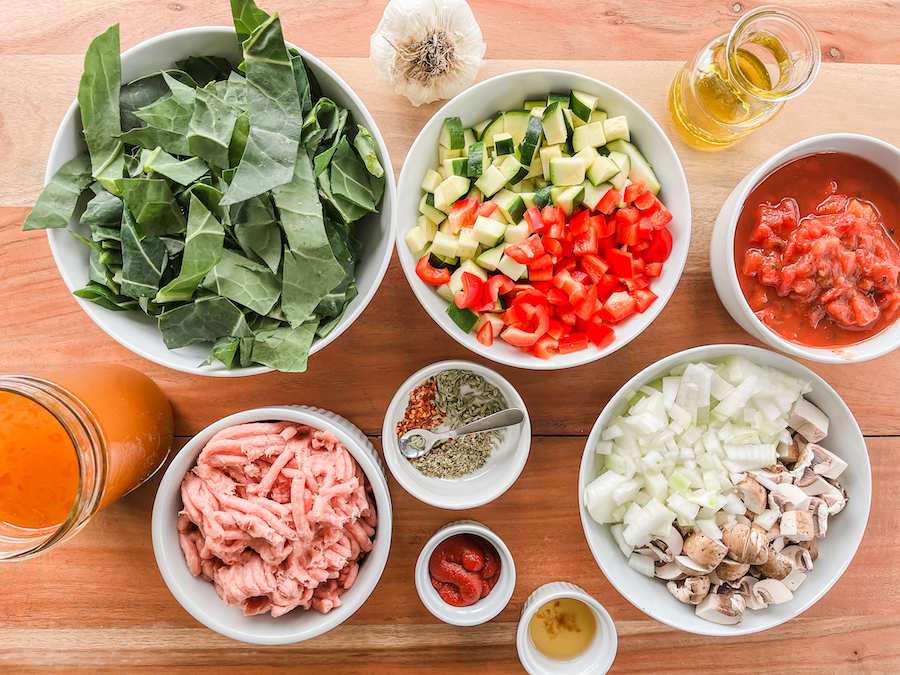 To keep this recipe Paleo-approved, you'll need to keep the added salt on the low end. Even low-sodium broths are too high in salt to be considered Paleo, so it's best to make your own so you can control all the ingredients – and get the maximum amount of nutrients. We used this homemade vegetable stock for a thick, tomato-based broth, but you could also use collagen-rich beef bone broth if you prefer.
Start by browning the ground turkey in a large soup pot, then remove and set aside. Next, cook your hearty veggies until soft, then pour in your broth and a can of diced tomatoes with all the juices. You can also chop a few tomatoes by hand if you don't have any canned.
Add your seasonings, then return the turkey to the pot and bring the whole thing to a boil. Reduce heat and simmer, covered, for at least 30 minutes. Note: It's ideal to simmer for about two hours for concentrated flavor.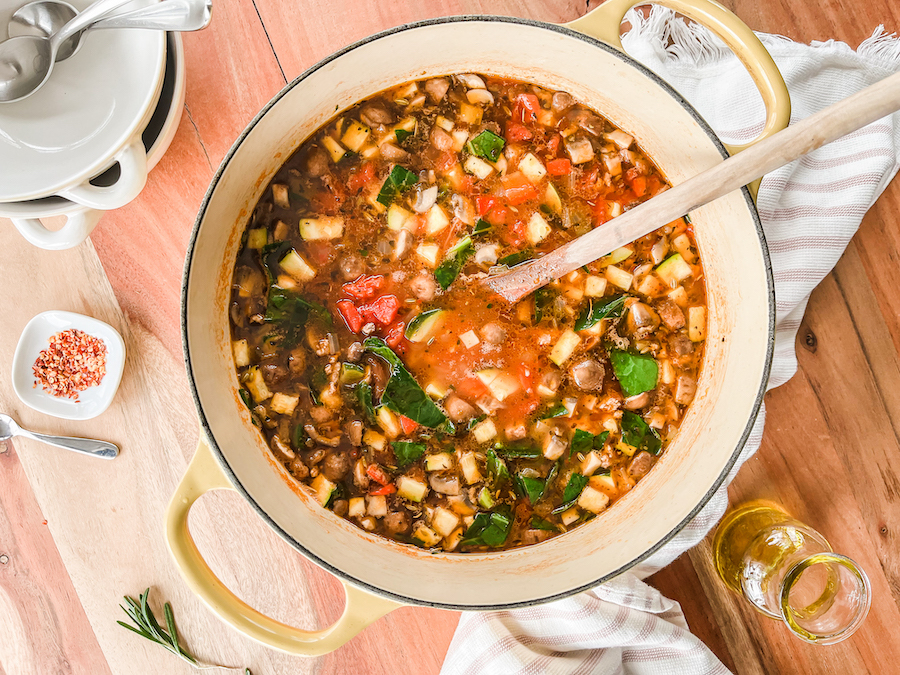 Right before you serve, add greens to the pot and cook until wilted. We used 1 cup of collard greens, but you could easily substitute 2 cups of kale or baby spinach instead.
Ladle up your soup up while it's hot, and serve. Store any leftovers in the fridge for three to four days, or in the freezer for up to three months.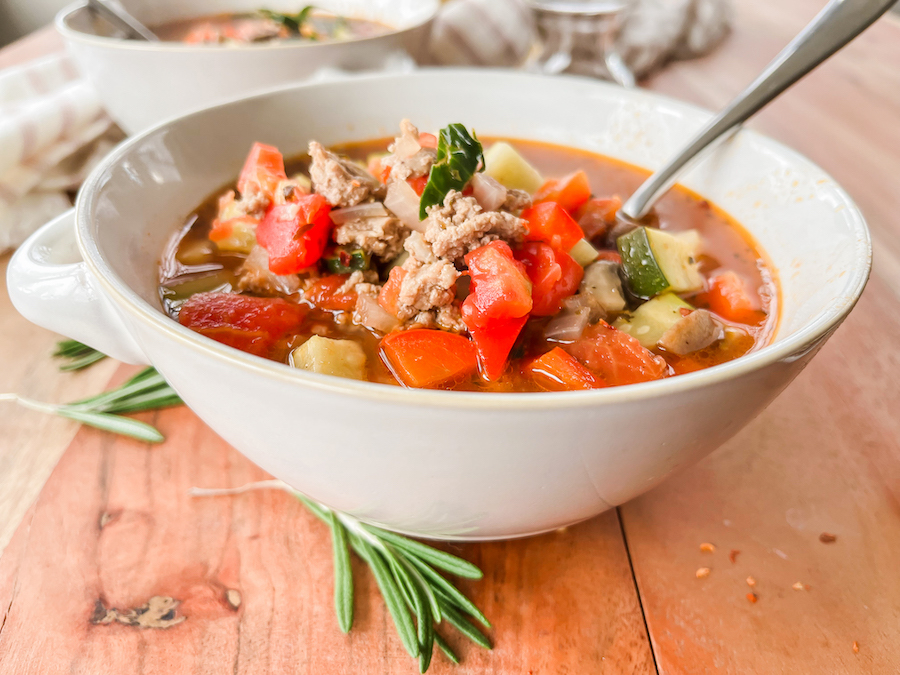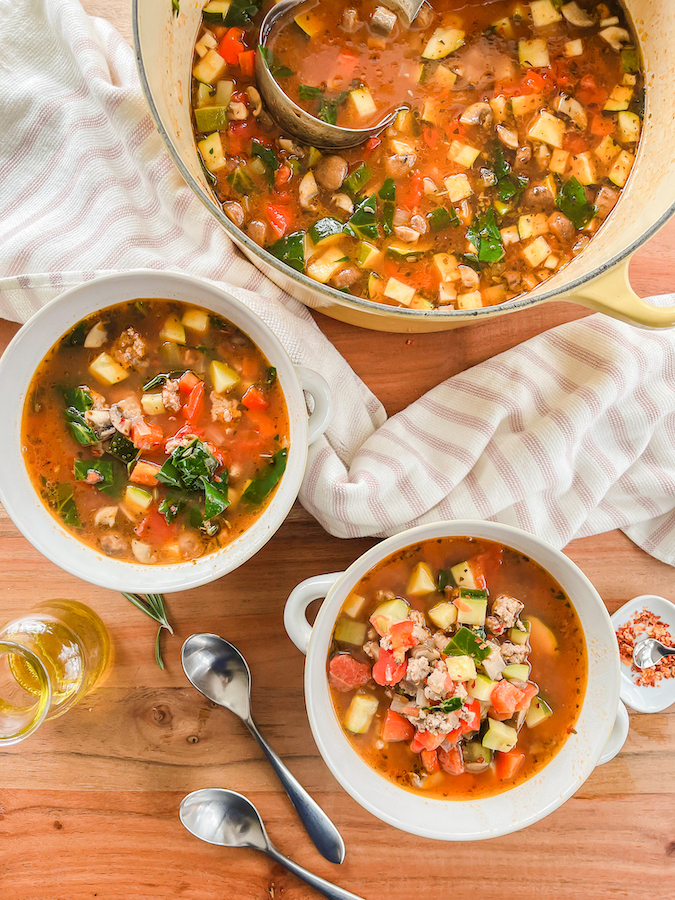 For hundreds of pure Paleo recipes be sure to check out The Real Paleo Diet Cookbook  and Real Paleo Diet Fast and Easy.
Details
Serves:

6

Prep Time:

10 minutes

Cook Time:

50 minutes

Total Time:

1 hour
Print this Recipe
Ingredients
2 tbsp olive oil, divided

1 lb ground turkey

1 1/2 cups mushrooms, chopped

1 small onion, diced

2 cloves garlic, minced

1 red bell pepper, diced

1 medium zucchini, diced

32 oz homemade vegetable stock or bone broth

1 14 oz can unsalted diced tomatoes

2 tbsp tomato paste

2 tbsp apple cider vinegar

1 tbsp fennel seeds

1 tbsp Italian herb blend

1/2 tsp red pepper flakes

1/2 tsp black pepper

1 cups collard greens
Directions
Heat 1 tablespoon of the olive oil in a large stockpot over medium heat. When it's hot, add the turkey and cook until browned, about 5-8 minutes. Use a wooden spatula to break up the meat into pieces as you cook. Use a slotted spoon to scoop the turkey out and set aside.

Pour the remaining tablespoon of olive oil to the pot. Add the mushrooms, onions and garlic. Cook for 5 minutes, or until soft and translucent Add the bell pepper and zucchini, mix, and continue cooking until tender.

Stir in the broth, diced tomatoes, tomato paste, apple cider vinegar, seasonings and return the cooked ground turkey to the pot. Bring it to a boil, then reduce to low heat, cover, and simmer for at least 30 minutes, stirring occasionally.

When the soup is finished simmering, add the collard greens and cook a few minutes more, until just wilted. Serve while hot.