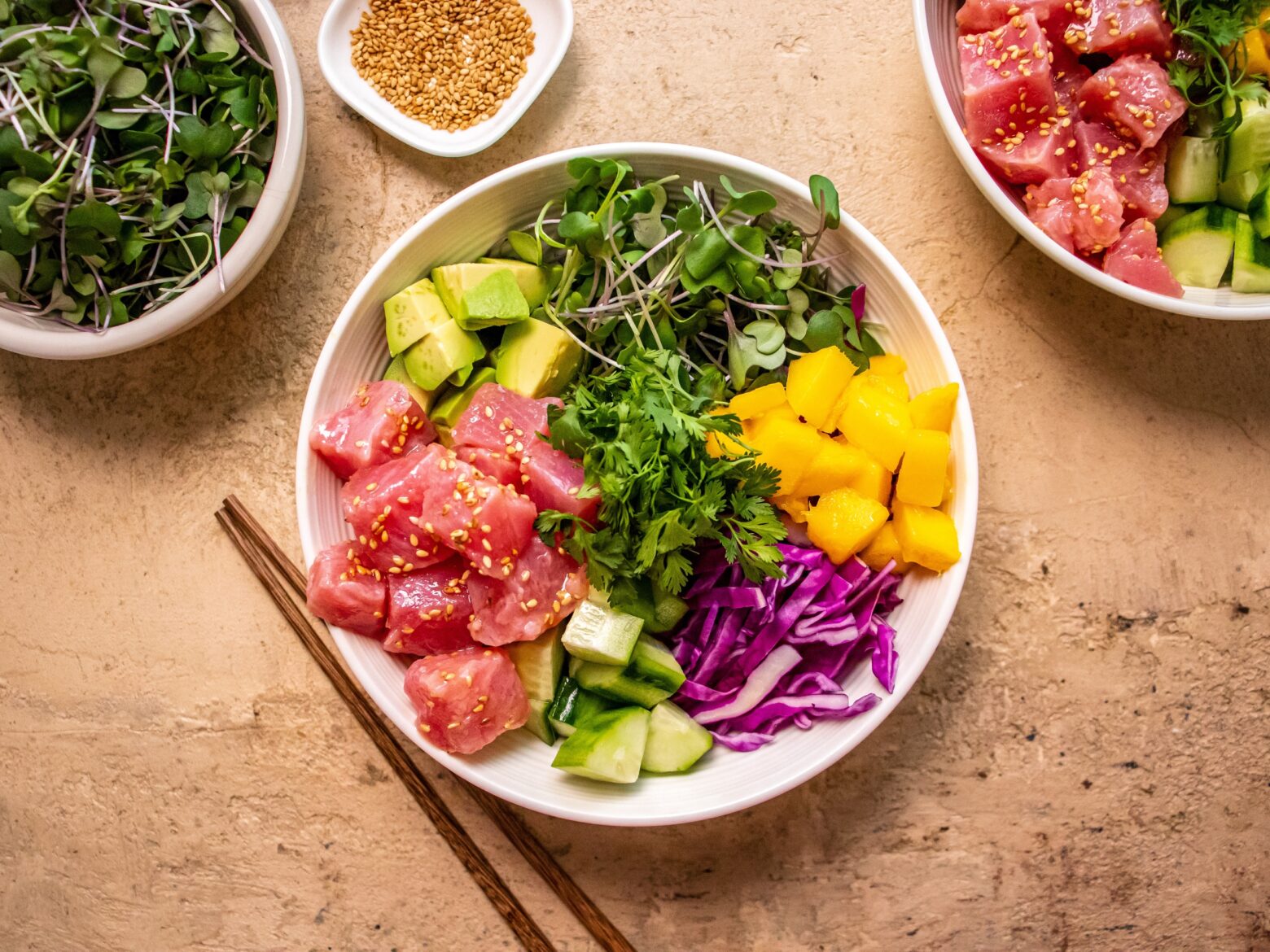 Tuna Poke Bowls
Create your own Paleo poke bowl with sushi-grade tuna, fresh veggies, and a 3-ingredient dressing.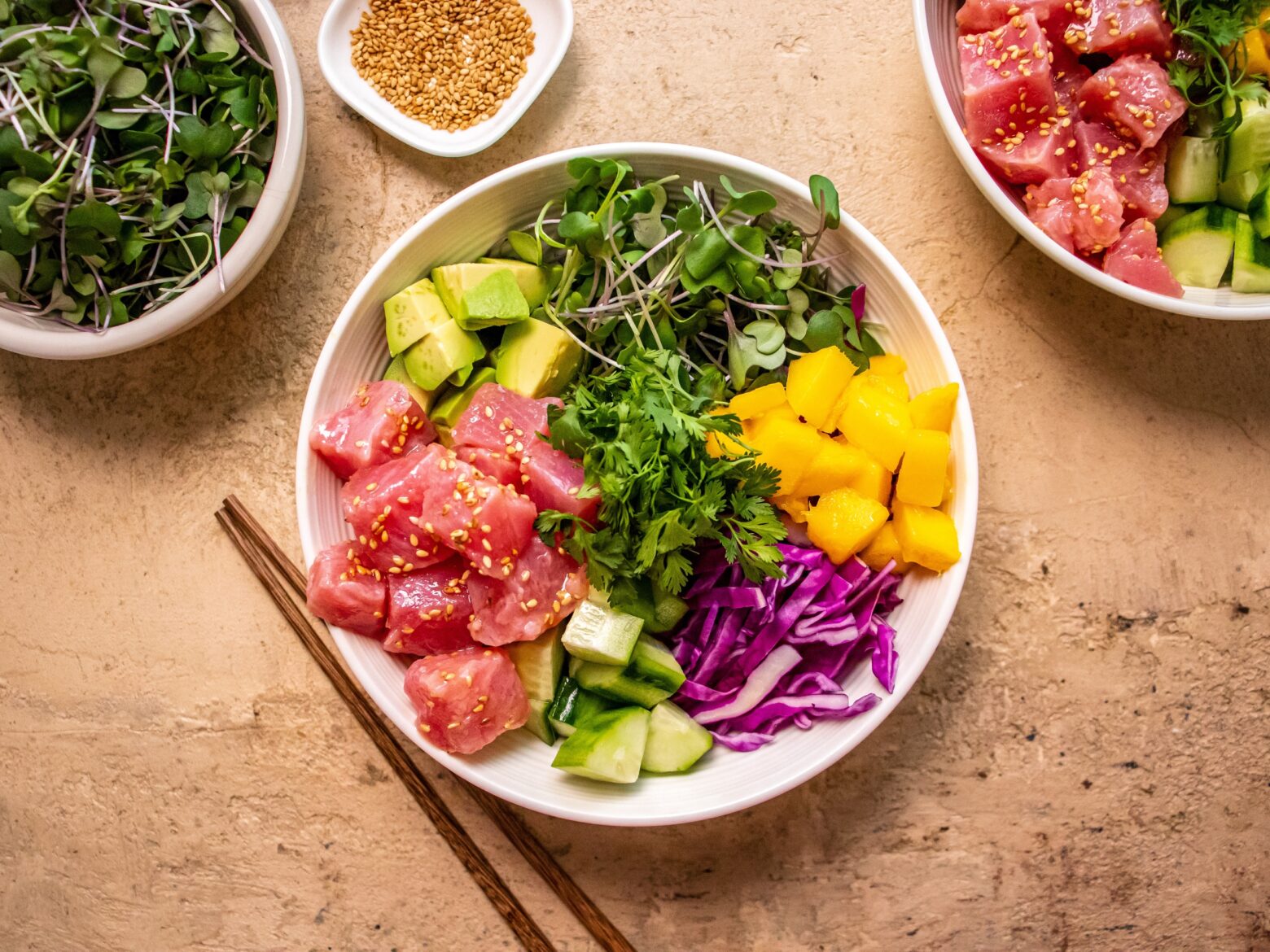 Craving a refreshing poke bowl? You don't need to go to your local shop to get your fix. Use this easy recipe to make your own healthy tuna poke bowl using just a few key ingredients!
You'll need high quality tuna for this recipe, since we'll be serving it raw. You can find sushi-grade tuna at trusted fish markets, Asian markets like Mitsuwa, at Whole Foods, or similar grocery stores. We used tuna for this recipe, but you could also use sushi-grade salmon, yellowtail, or even scallops!
We kept the dressing super simple for this recipe: all you need is lime juice, olive oil, and walnut oil. You could use a bit of sesame oil in case you can't find walnut oil, but keep in mind that it wouldn't be perfectly Paleo as it's higher in omega-6 fatty acids than we typically recommend. However, feel free to add a touch as part of your 85/15 Rule!
To make this poke bowl, start by dicing your tuna into bite-sized pieces and drizzle two tablespoons of the dressing over the top. Add sesame seeds and toss until coated. Reserve the remaining sauce and let the fish marinate while you prepare the veggies.
To keep this recipe Paleo, we nixed the rice and doubled up on the veggies. We used a combination of shredded purple cabbage, micro greens, avocado, cilantro, and a bit of sweet mango to up the flavor profile. You can also get creative and add shredded carrots, scallions, or even daikon radishes if you like!
Arrange your veggies between two bowls and top with the reserved dressing. Add the marinated tuna and dig in!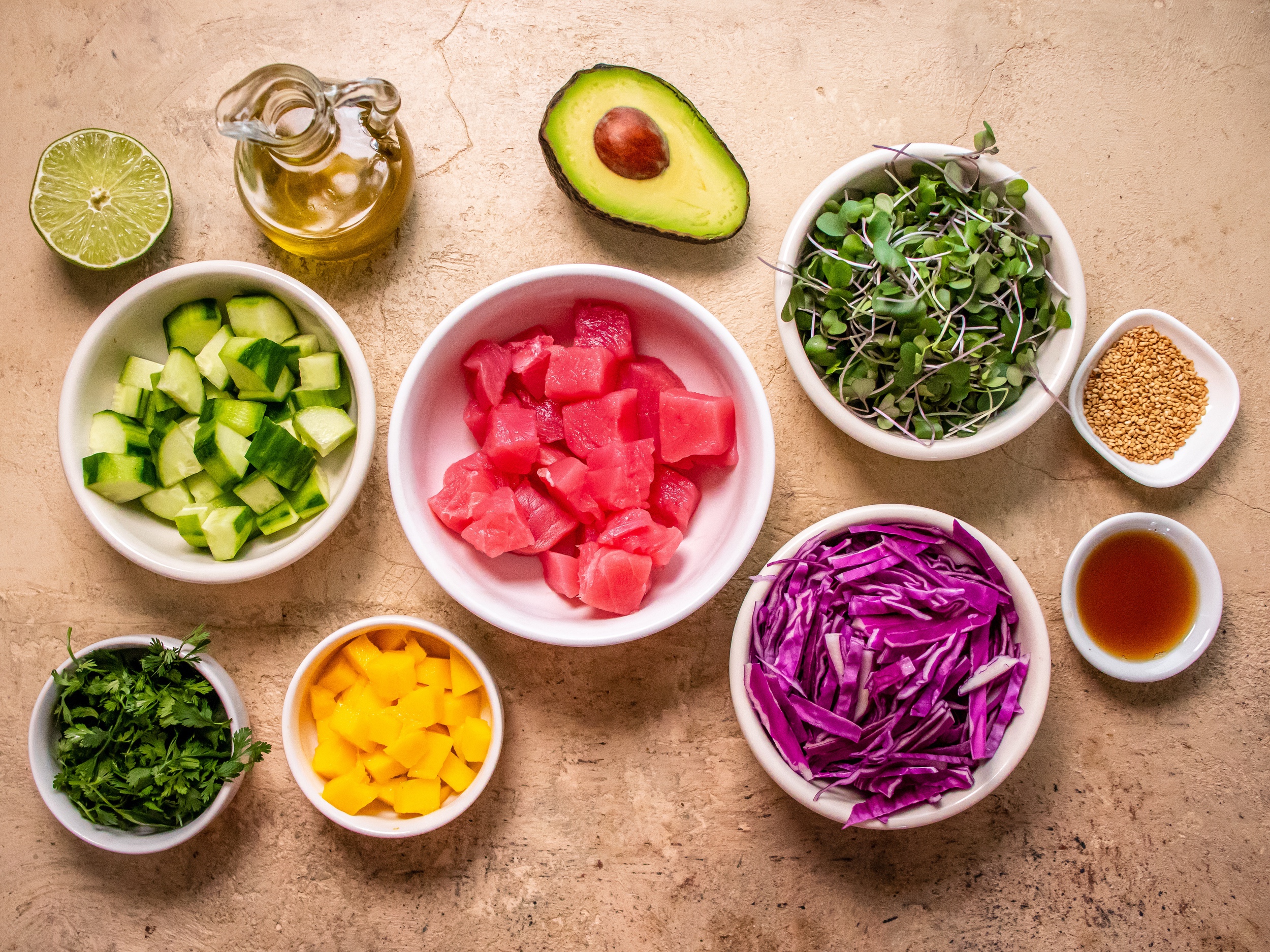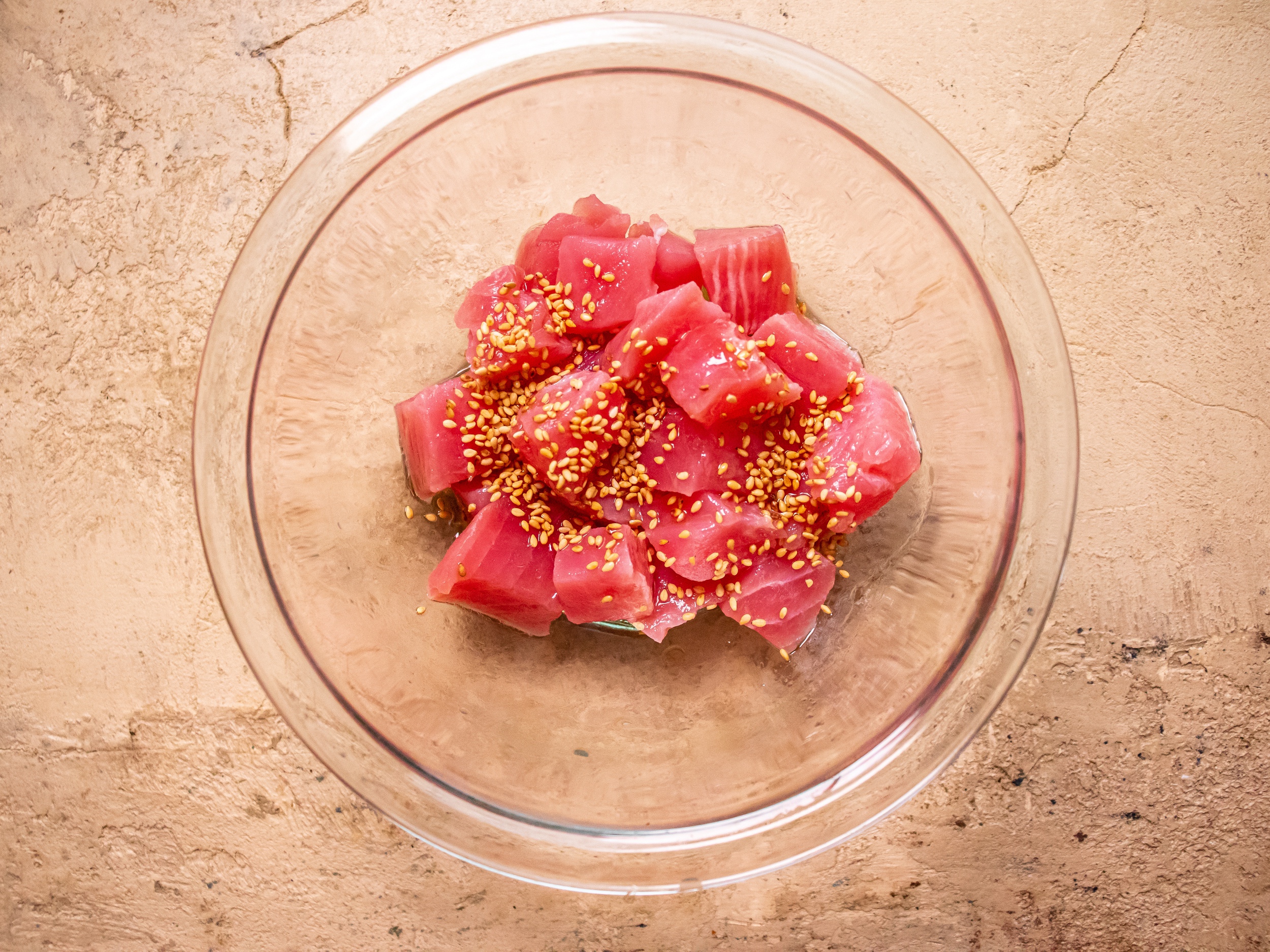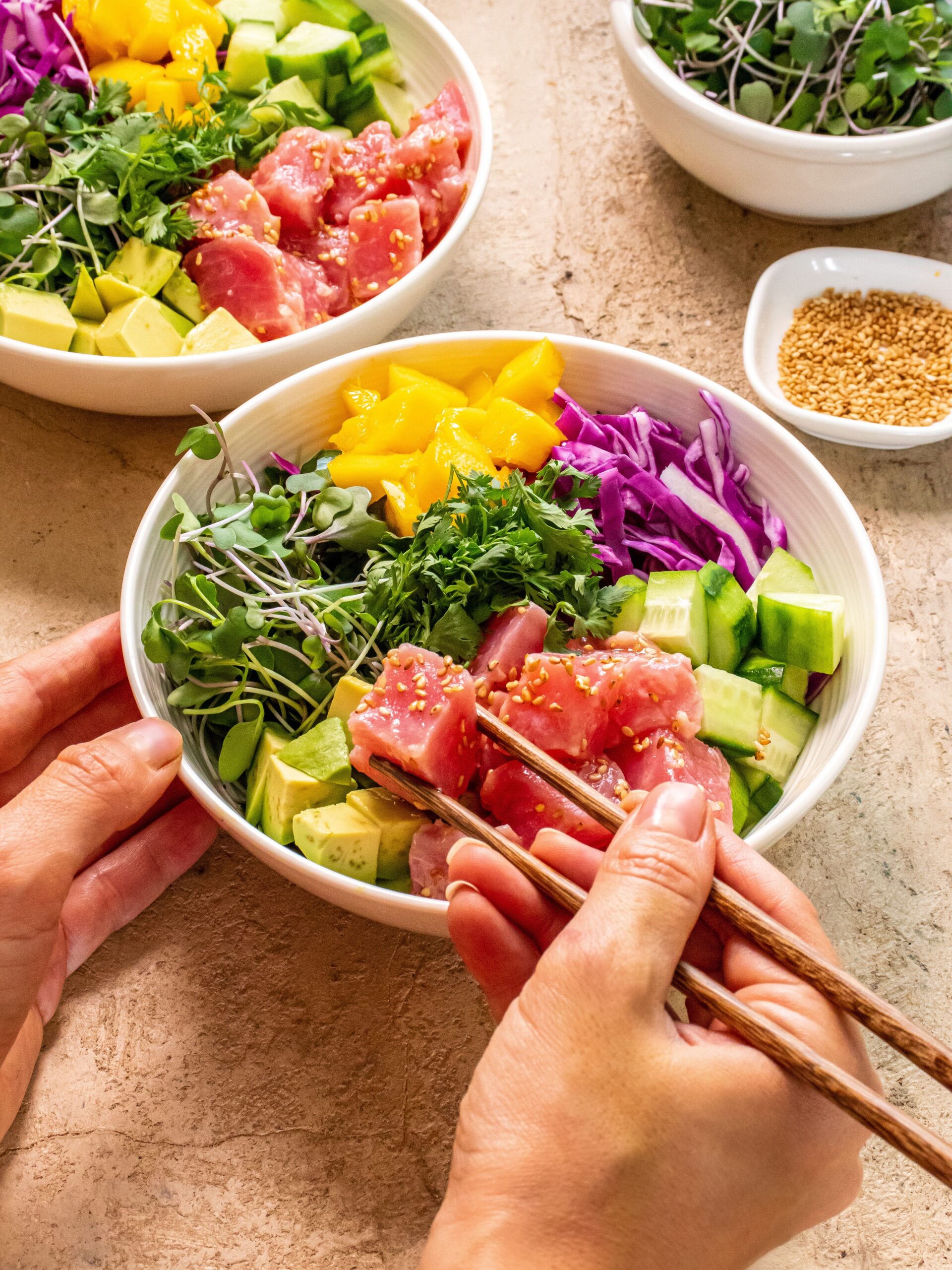 For hundreds of pure Paleo recipes be sure to check out The Real Paleo Diet Cookbook and The Real Paleo Diet Fast and Easy.
Ingredients
3 tbsp fresh lime juice

3 tbsp olive oil

2 tbsp walnut oil

8 oz sushi-grade tuna, diced

1 tsp toasted sesame seeds

1 cups shredded purple cabbage

1 cups micro greens

1 cups cucumber, chopped

1/2 cups mango, chopped

1/2 cups avocado, chopped

1/4 cups cilantro, chopped
Directions
Combine the lime juice, olive oil, and walnut oil in a small bowl to create the dressing.

Place the diced tuna in a separate small bowl. Add 2 tablespoons of the dressing and sesame seeds. Stir to coat.

Divide the remaining ingredients between two bowls and top with the remaining dressing. Add the tuna and enjoy right away.