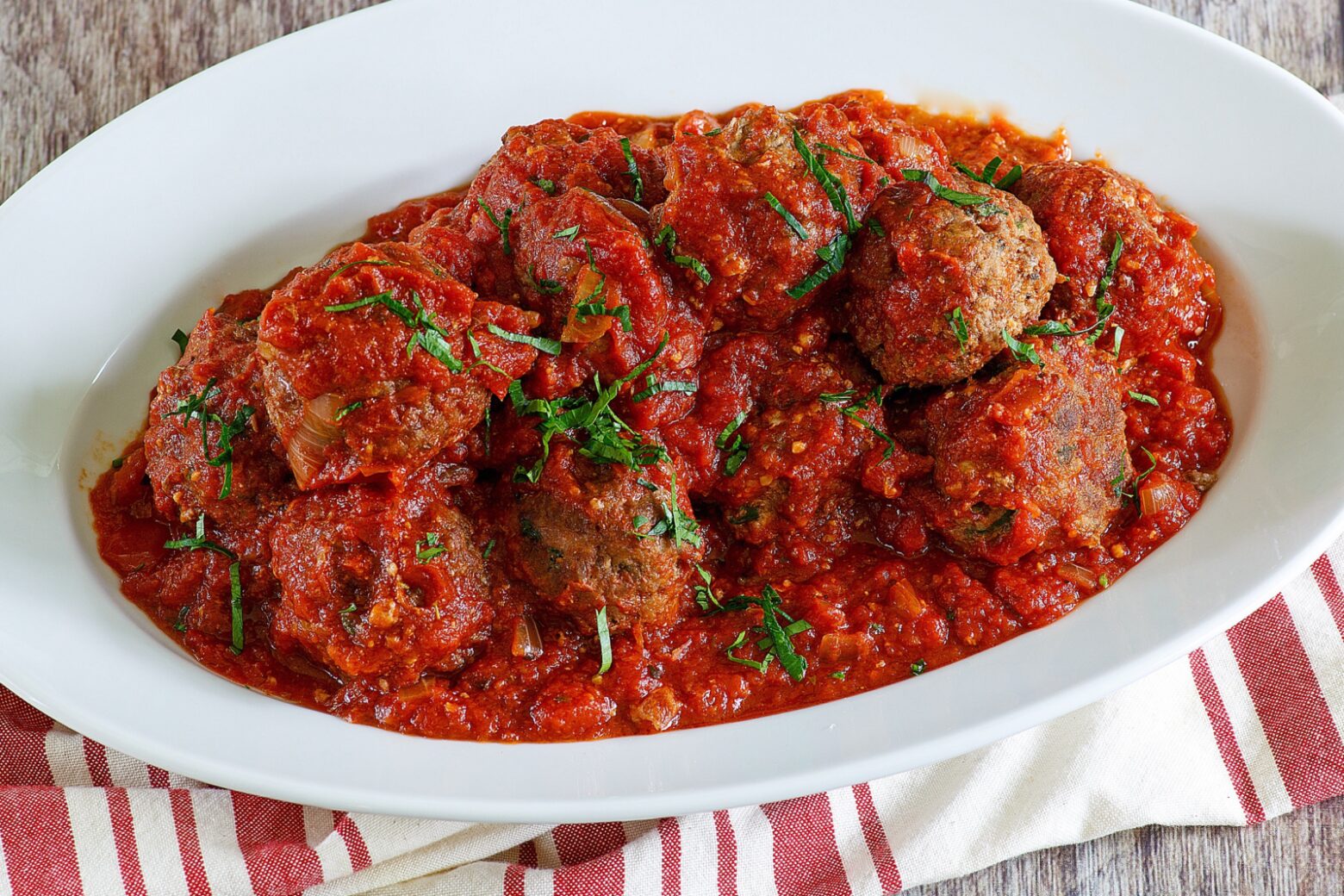 Paleo Slow Cooker Meatballs & Marinara
A favorite dish at The Paleo Diet® is this slow-cooked creation of meatballs with marinara sauce. Pair with your favorite Paleo veggie noodles or a fresh salad and you've got a nutritious and delicious meal to be enjoyed by all. Leftovers can be served with eggs at breakfast, taken for a midday lunch on a busy workday, or heated up the next evening for dinner. Better make double!
For hundreds of pure Paleo recipes be sure to check out The Real Paleo Diet Cookbook and The Real Paleo Diet Fast and Easy.
Details
Prep Time:

15 minutes

Cook Time:

4 hours

Total Time:

4 hours 15 minutes
Ingredients
1/4 blanched almond flour

2 tsp onion powder

1 tsp garlic powder

1 tbsp salt-free Italian seasoning blend

Generous pinch crushed red pepper adjust for spice preference

2 lb grass-fed beef, ground

1 egg

1 tbsp chopped fresh parsley (optional)

28 oz can salt-free crushed tomatoes with basil

14 oz can salt-free diced tomatoes with basil and garlic

1 6-oz can tomato paste

1/2 medium onion chopped

2 tbsp chopped fresh garlic

2 tbsp chopped fresh oregano leaves

2 bay leaves
Directions
In a small bowl, mix the almond flour, onion and garlic powder, Italian seasoning, and crushed red pepper.

In a large bowl, add the ground beef, the egg and almond flour mix (plus parsley if adding) and gently mix with your hands until the mixture binds and is evenly distributed - It's important not to work the meat too much or it becomes tough.

Line a large baking sheet with parchment paper and preheat your broiler on low.

Form the meat mixture into 20 meatballs and arrange on the baking sheet.

Broil 2-4 minutes, just to lightly brown, and release a small amount of fat (this avoids an overly greasy sauce).

Remove promptly.

Add the meatballs to the slow cooker, leaving behind any rendered fat.

Top the meatballs with all sauce ingredients and give a gentle stir, being careful not to break the meatballs.

Cover and cook on low for 4 hours, or until meatballs are cooked through.

To make the sauce: Put crushed tomatoes in a bowl. While stirring, add in diced tomatoes, tomato paste, chopped onion, fresh garlic, fresh oregano leaves, and bay leaves.