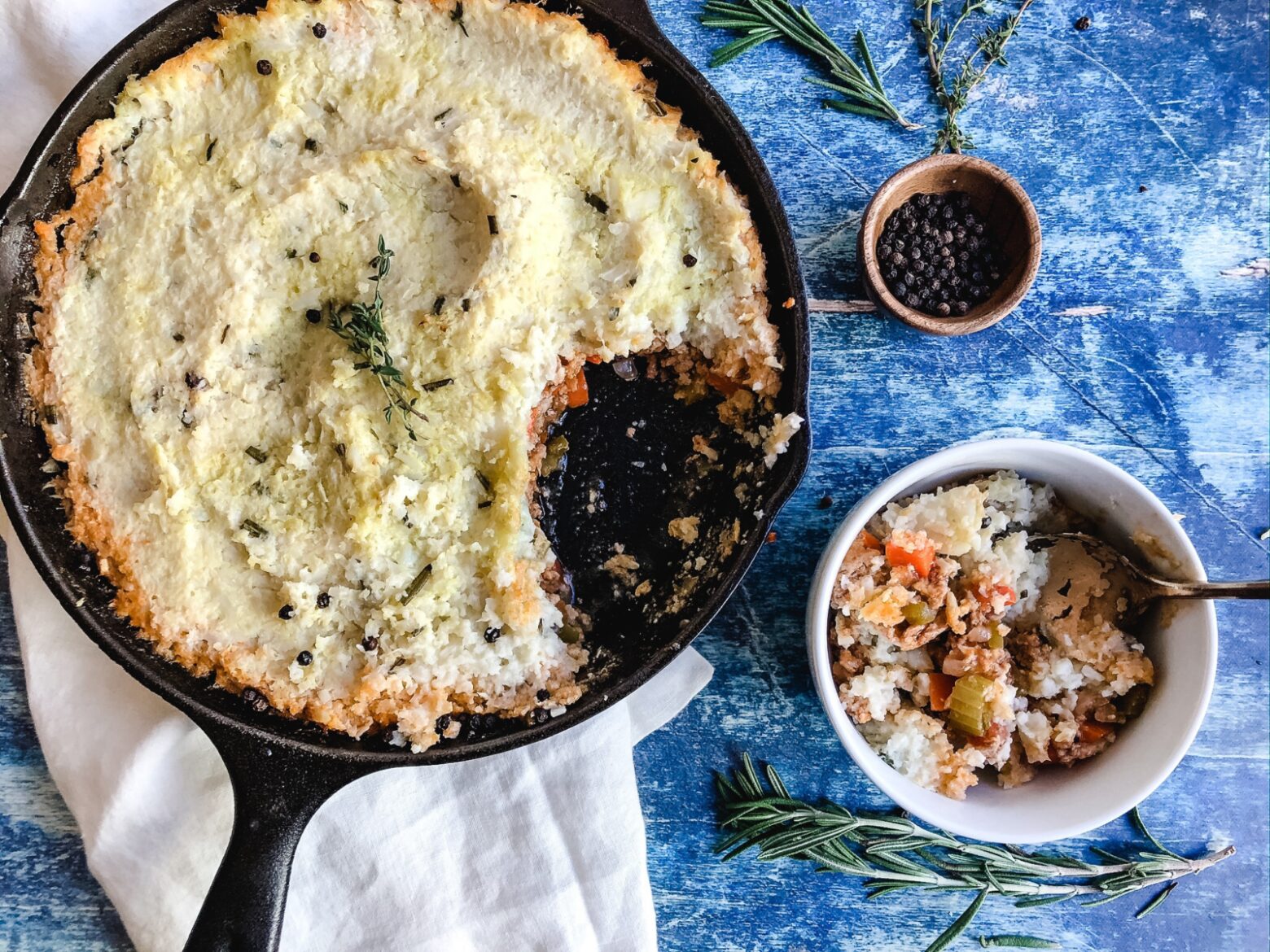 Paleo Shepherd's Pie with Cauliflower
If you know comfort food, you know shepherd's pie. This hearty classic is made healthy by swapping those heavy mashed potatoes for a creamy cauliflower topping instead.
Shepherd's pie, also known as cottage pie, is more like a two-layer casserole than anything else. (And it's not really a pie at all.) Traditionally, you'll find beef and veggies under a heavy layer of mashed potatoes.
To Paleoify this classic, we created a lighter topping made from turnips and cauliflower, and used ground turkey instead of beef for an even lighter recipe.
Start by boiling diced turnips and cauliflower florets in boiling water until soft, then mash with coconut milk, garlic, and herbs until soft and creamy.
Next, make the filling: Brown ground turkey in a skillet. Remove the meat and use the drippings to sauté onions, carrots, celery, bell peppers, and mushrooms. Mix in chopped herbs and tomato paste, then add arrowroot flour and broth, cooking down until thick.
Finally, pour the turkey and veggies into a pan and spread the mashed cauliflower mixture over the top. Bake until brown and bubbling, and then serve!
Tips:
You can swap cauliflower with peeled and diced sweet potatoes.
This is a fantastic recipe to meal prep. Make the cauliflower topping in a day or two in advance, assemble the rest, then cover it until ready to bake.
You can also use a 10-inch cast iron pan to cook the veggies, then transfer straight to the oven.
If you're in a casserole mood, keep the party going with this Paleo Sweet Potato Casserole with Streusel Topping. Then prep for tomorrow morning with this tasty Protein-Packed Breakfast Casserole!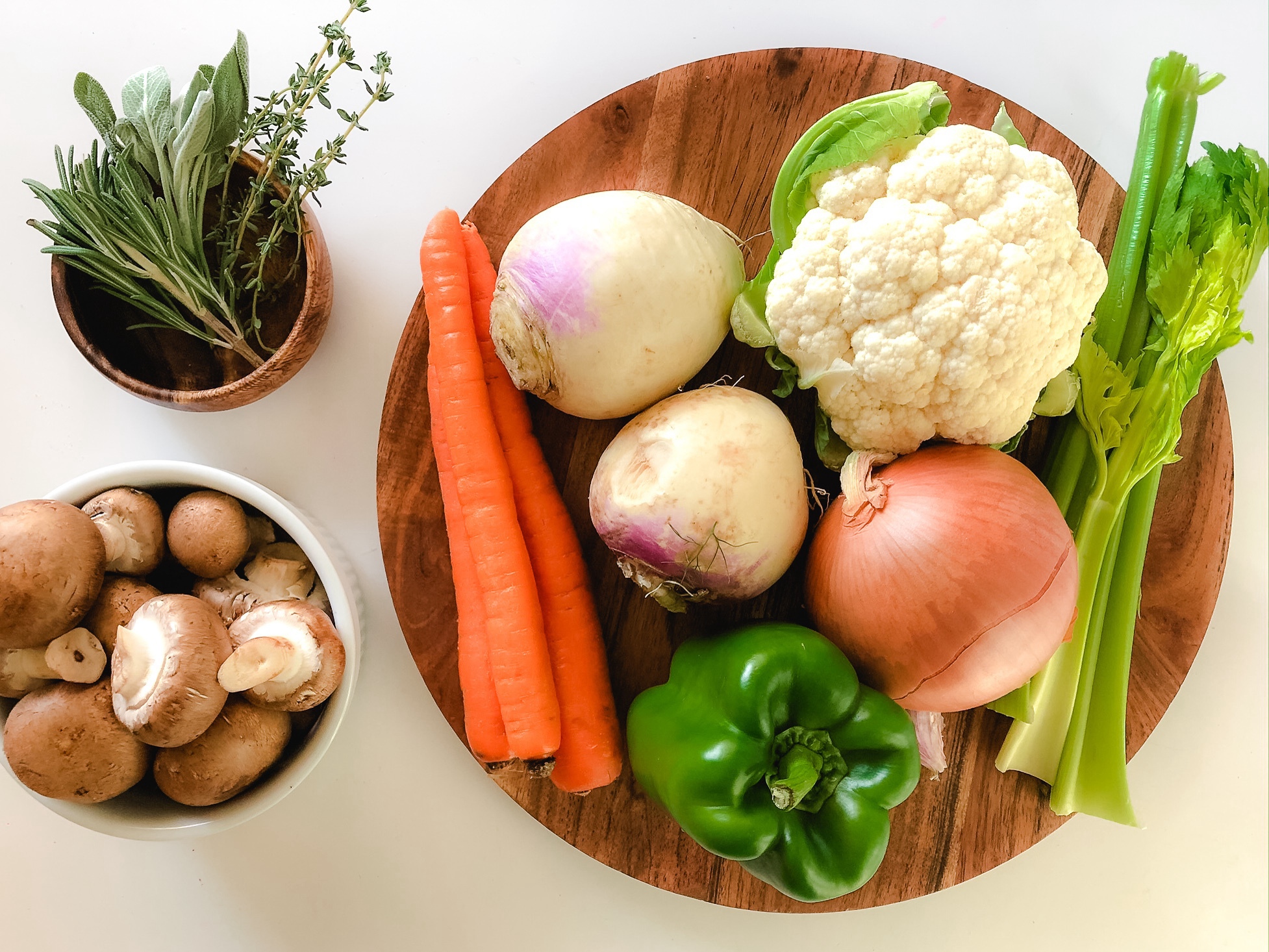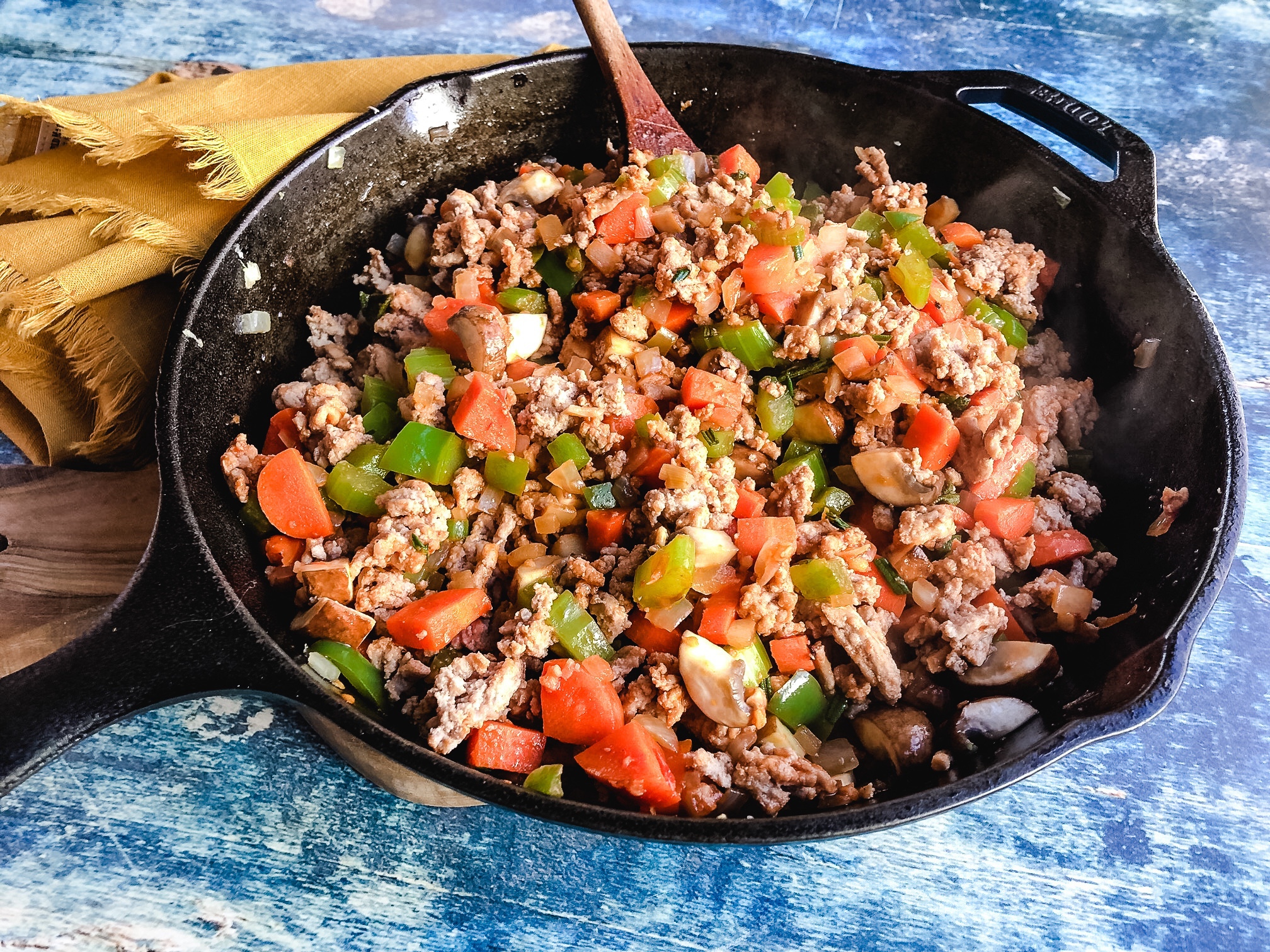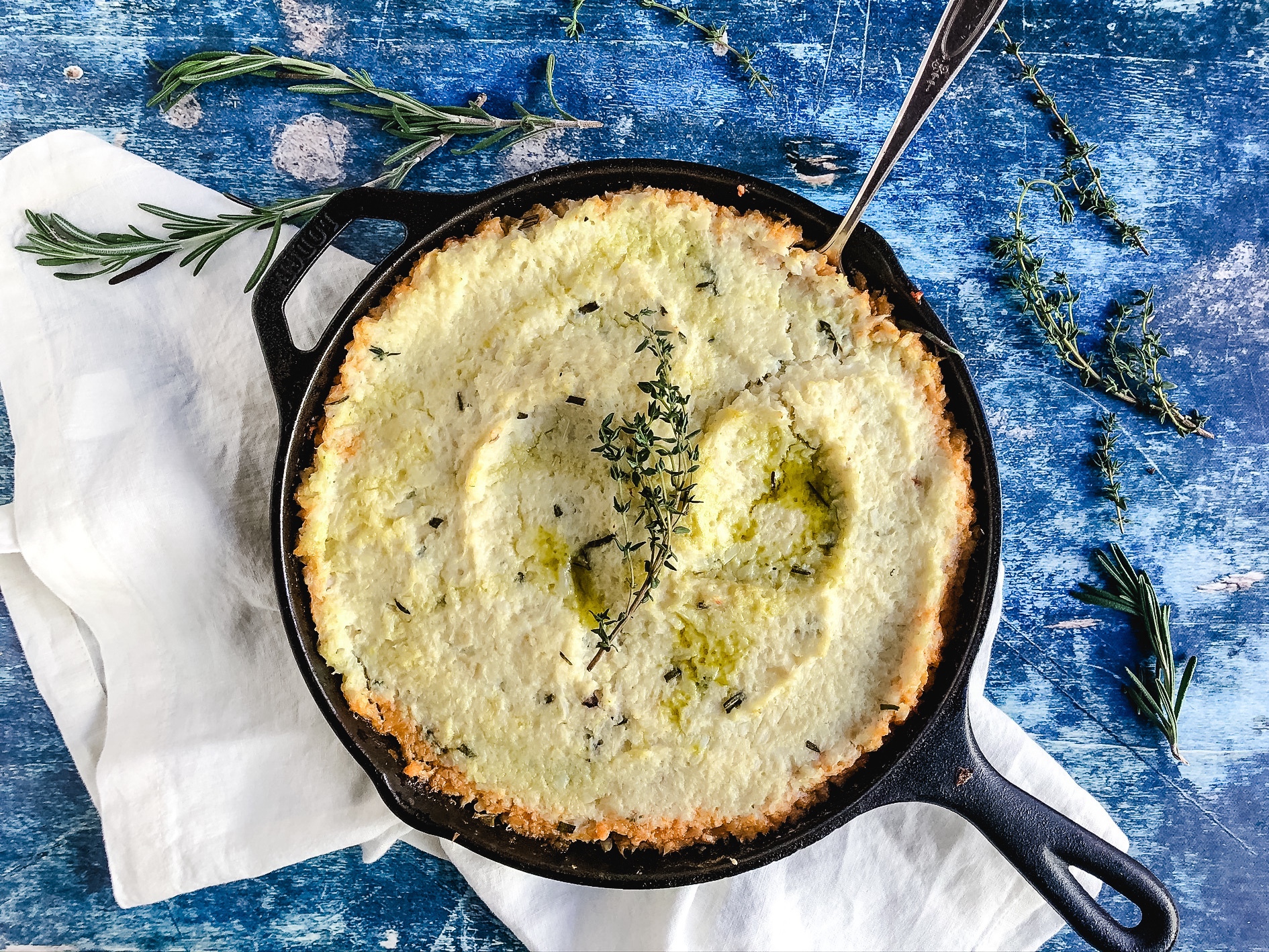 For hundreds of pure Paleo recipes be sure to check out The Real Paleo Diet Cookbook and The Real Paleo Diet Fast and Easy.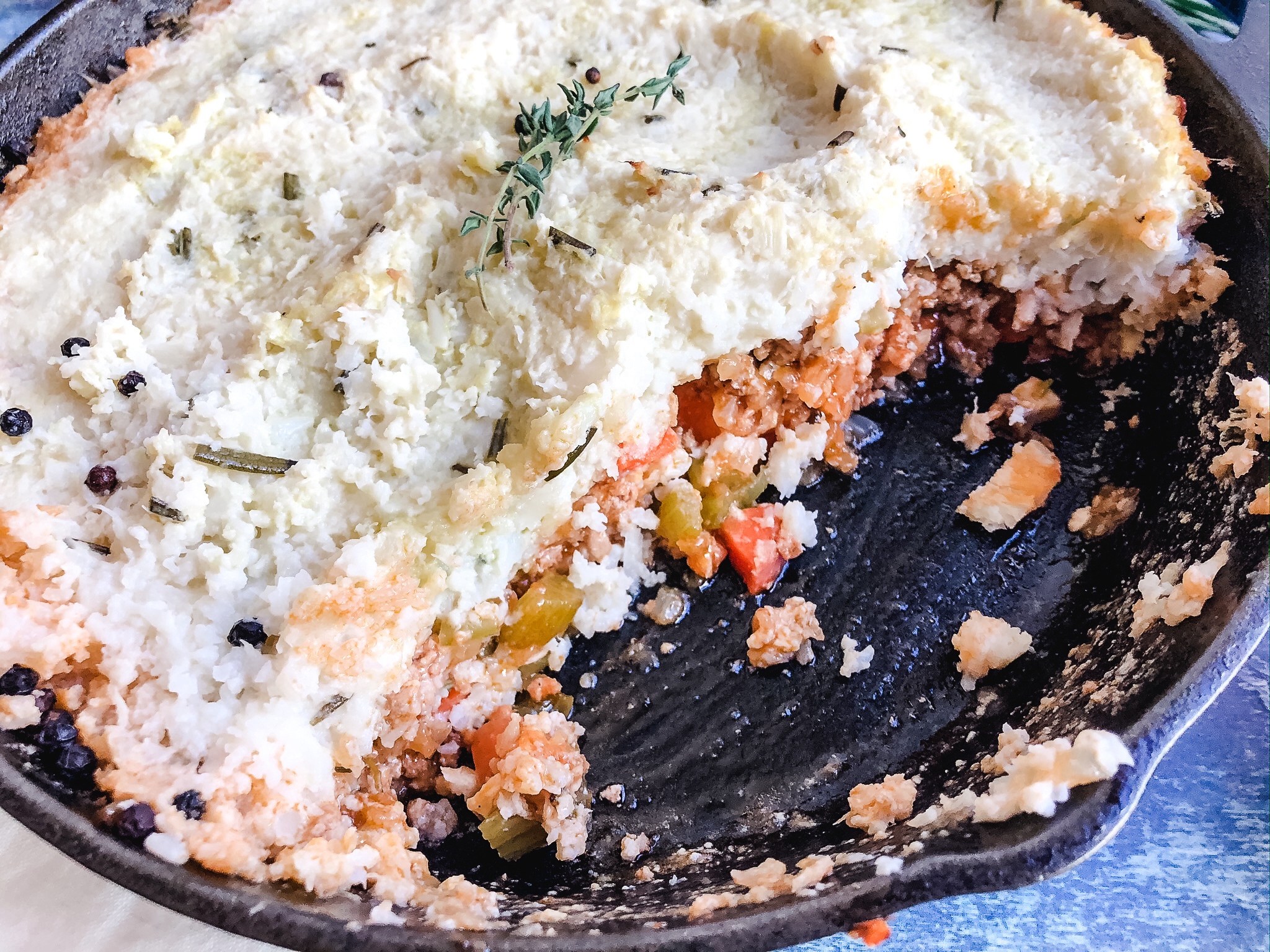 Details
Prep Time:

10 minutes

Cook Time:

55 minutes

Total Time:

1 hour 5 minutes
Ingredients
2 turnips, diced

1 cauliflower, cut into florets

2 garlic cloves, minced

1/2 cups full fat canned coconut milk

3 tbsp olive oil, divided

1 tbsp chopped fresh rosemary, divided

1 tbsp chopped fresh thyme, divided

Fresh ground black pepper

1 lb ground turkey

1 medium yellow onion

2 carrots, chopped

2 celery, chopped

1 small green pepper

1 cups mushrooms, chopped

2 tbsp unsalted tomato paste

1 tbsp arrowroot flour

2/3 cups sodium-free chicken broth or stock
Directions
Preheat the oven to 375°F.

Bring a large pot of water to a boil. Add turnips and cauliflower and cook until tender, about five minutes. Drain in a colander, then add back to the pot with garlic, coconut milk, 1 tablespoon of olive oil, and 1/2 tablespoons each of rosemary and thyme. Use a masher, hand mixer or food processor to blend until smooth and creamy, then season with black pepper and set aside.

In a large skillet over medium heat, warm the remaining 2 tablespoons of olive oil. Add the ground turkey and cook for 8-10 minutes, or until completely cooked through. Use a slotted spoon to scoop out the cooked turkey into a bowl. Set aside.

In the same skillet, add onions, carrots, celery and green peppers. Saute for about 8 minutes, until soft. Add the mushrooms and cook another 2 minutes. Add the ground turkey, the rest of the chopped herbs, and tomato paste. Mix throughly. Add the arrowroot flour and broth and continue to cook, letting the mixture thicken as it cooks down.

Pour the turkey mixture into a 9x9-inch square pan, and spread the mashed cauliflower over the top. Bake for 30 minutes, or until the edges of mashed turnip cauliflower are browned. Let cool for about 15 minutes before serving.