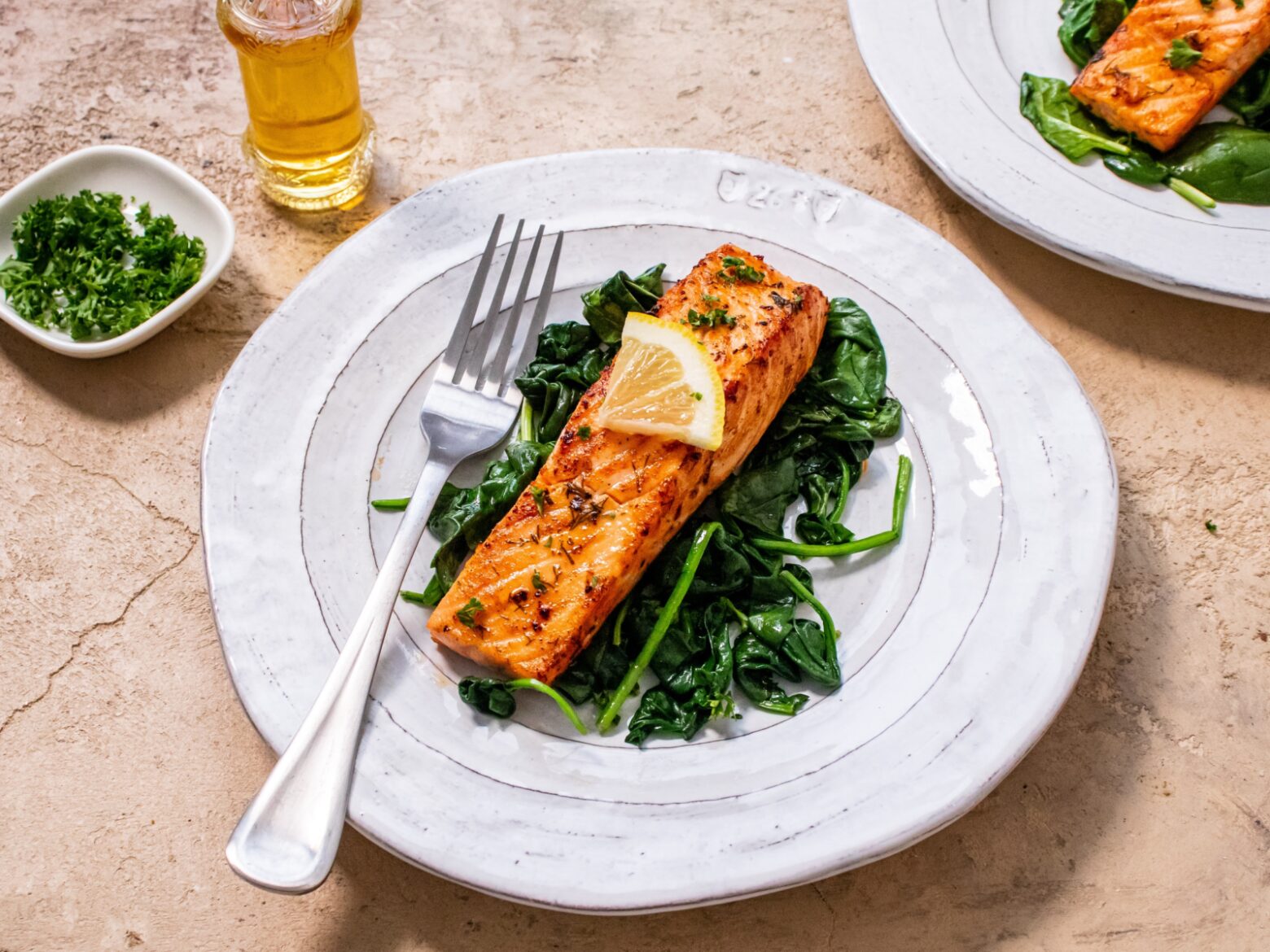 Paleo Salmon Fillets with Lemon Dill Sauce
Serve marinated salmon fillets alongside freshly sauteed spinach for a simple and healthy Paleo-friendly dinner!
This easy one skillet meal isn't only delicious and satisfying, it's also great for your brain health. Fatty fish like salmon contain omega-3 fatty acids, which research suggests can help protect your brain from age-related memory loss. Similarly, leafy greens like spinach contain brain-healthy vitamins and nutrients that might help slow cognitive decline. When you serve salmon and spinach together, you give your brain a little extra boost.
The lemony dill sauce serves double duty: first as a marinade, and then as a final drizzle of sauce. To make it, simply whisk together olive oil with lemon juice, mustard (preferably homemade Dijon mustard for the healthiest option!), dill, garlic, paprika, and black pepper. Use half the sauce to give the salmon a quick 15-minute marinade, and reserve the rest for serving.
While your salmon marinates, sauté the spinach in a cast iron skillet greased with a bit of olive oil. Cook until just wilted, using tongs to help cook the greens evenly. Set aside and cover to keep warm.
Finally, cook the salmon in the same cast iron skillet. It's important to use one that is well-seasoned to prevent the fish from sticking to the pan. Cook 3-4 minutes per side, or until the salmon is cooked through.
Serve your salmon over the sauteed spinach and drizzle with the remaining sauce. Enjoy it while it's hot!
Tips:
Feel free to swap spinach for your favorite greens like Swiss chard, kale, or collard greens. Keep in mind that tougher greens may require a few more minutes of cooking to tenderize.
Try adding other fresh herbs to the marinade like chopped fresh thyme, chives, or basil.
Get creative with leftovers! Salmon can be used the next day in salads or omelets.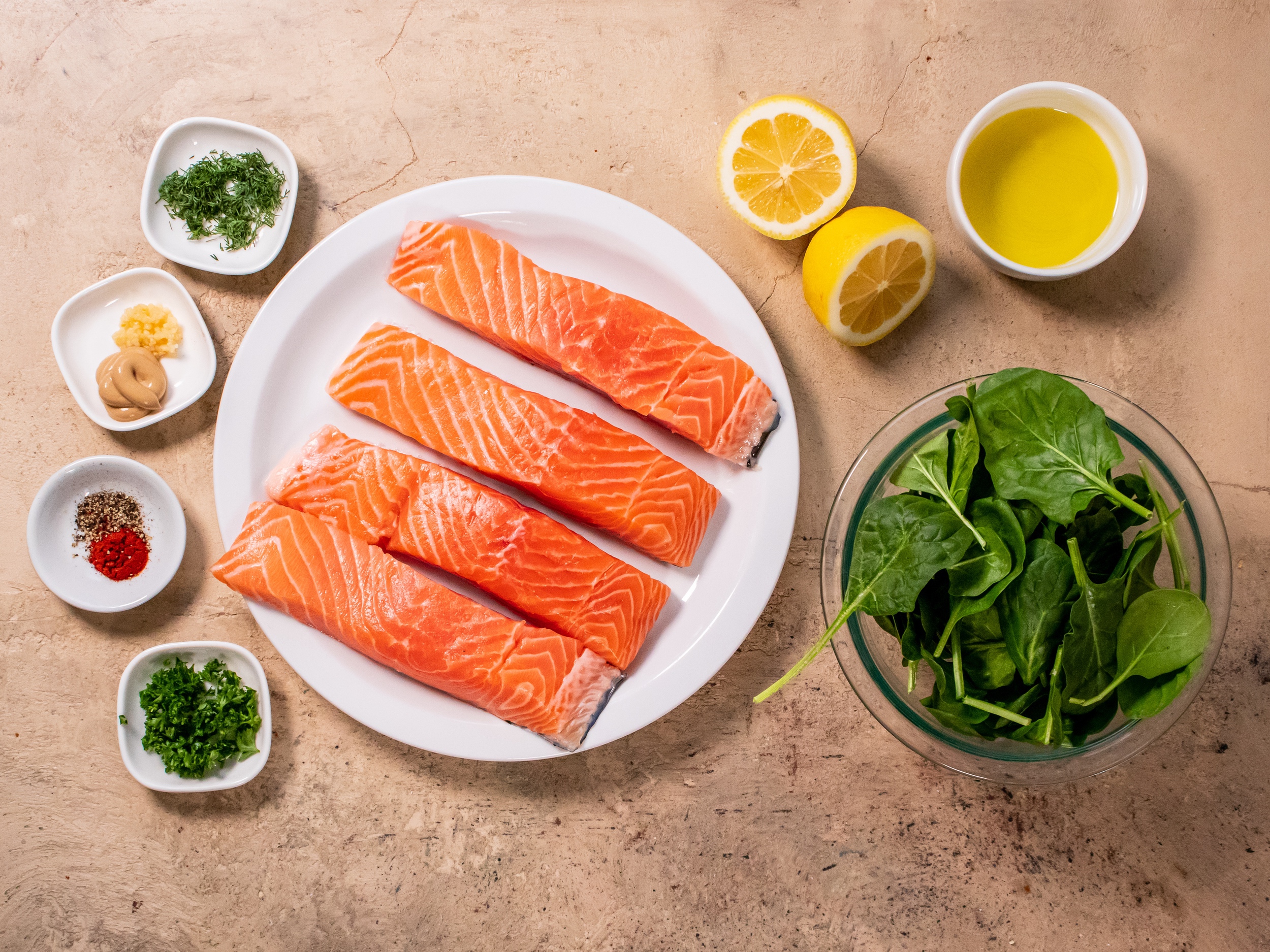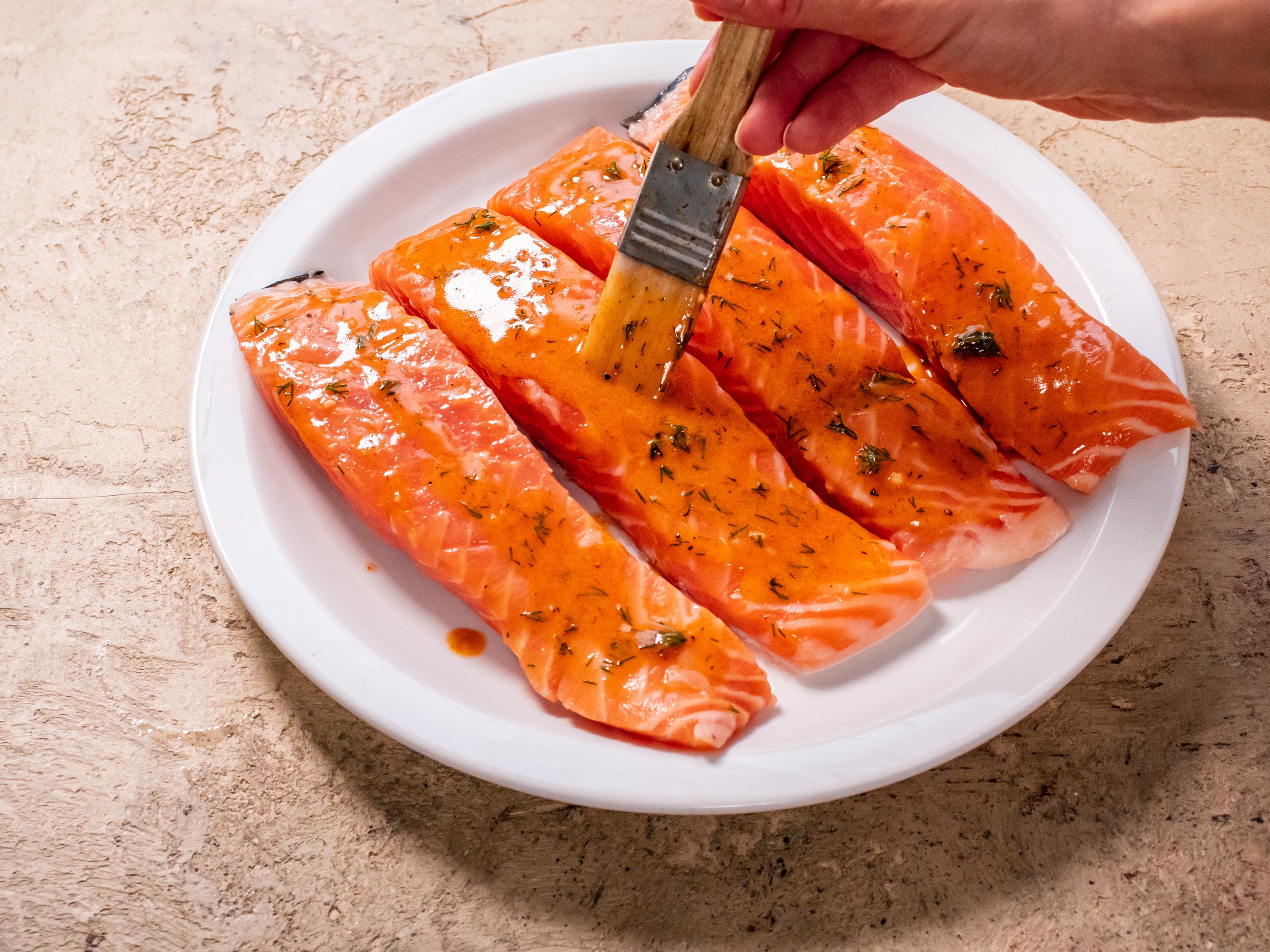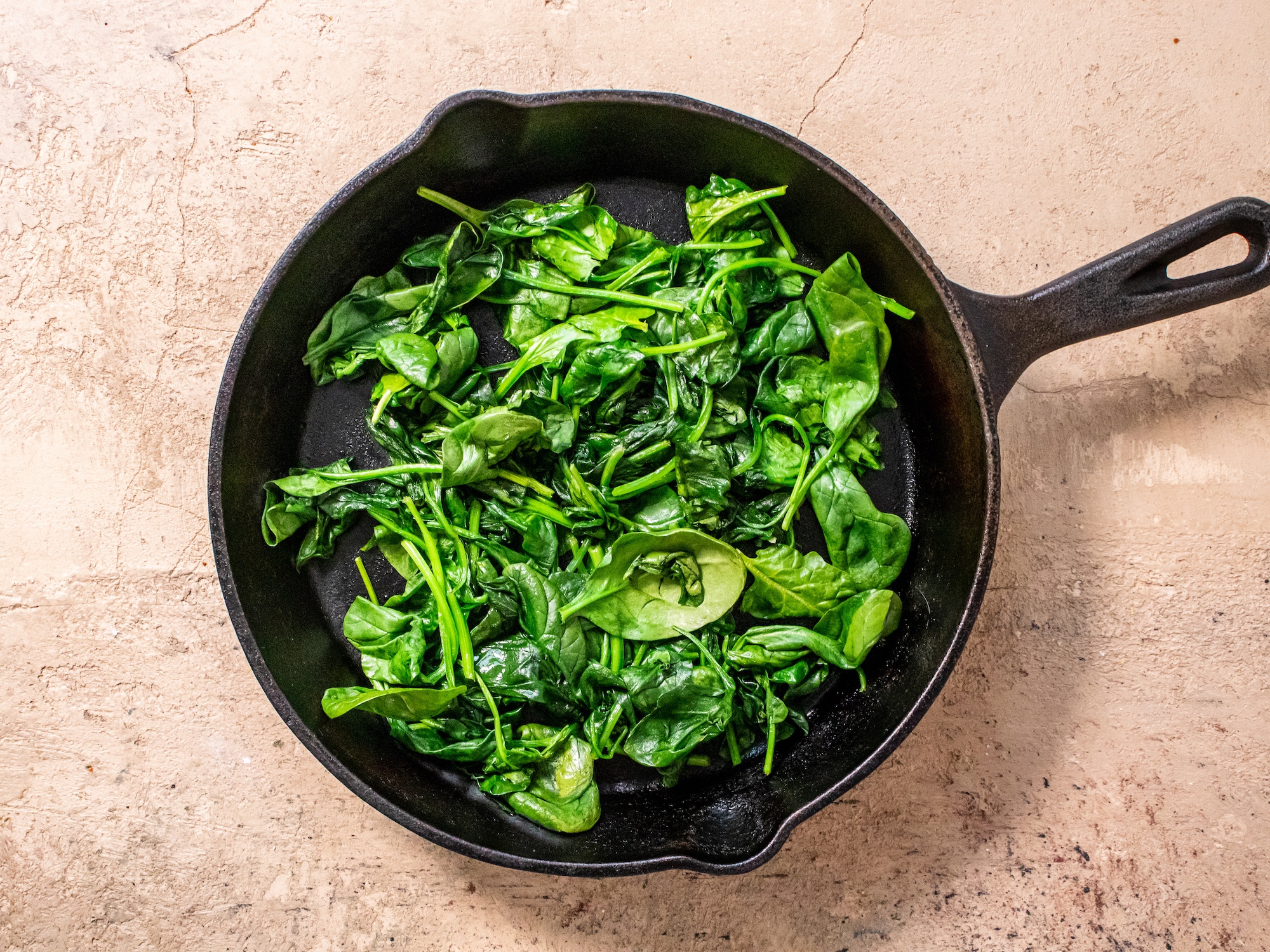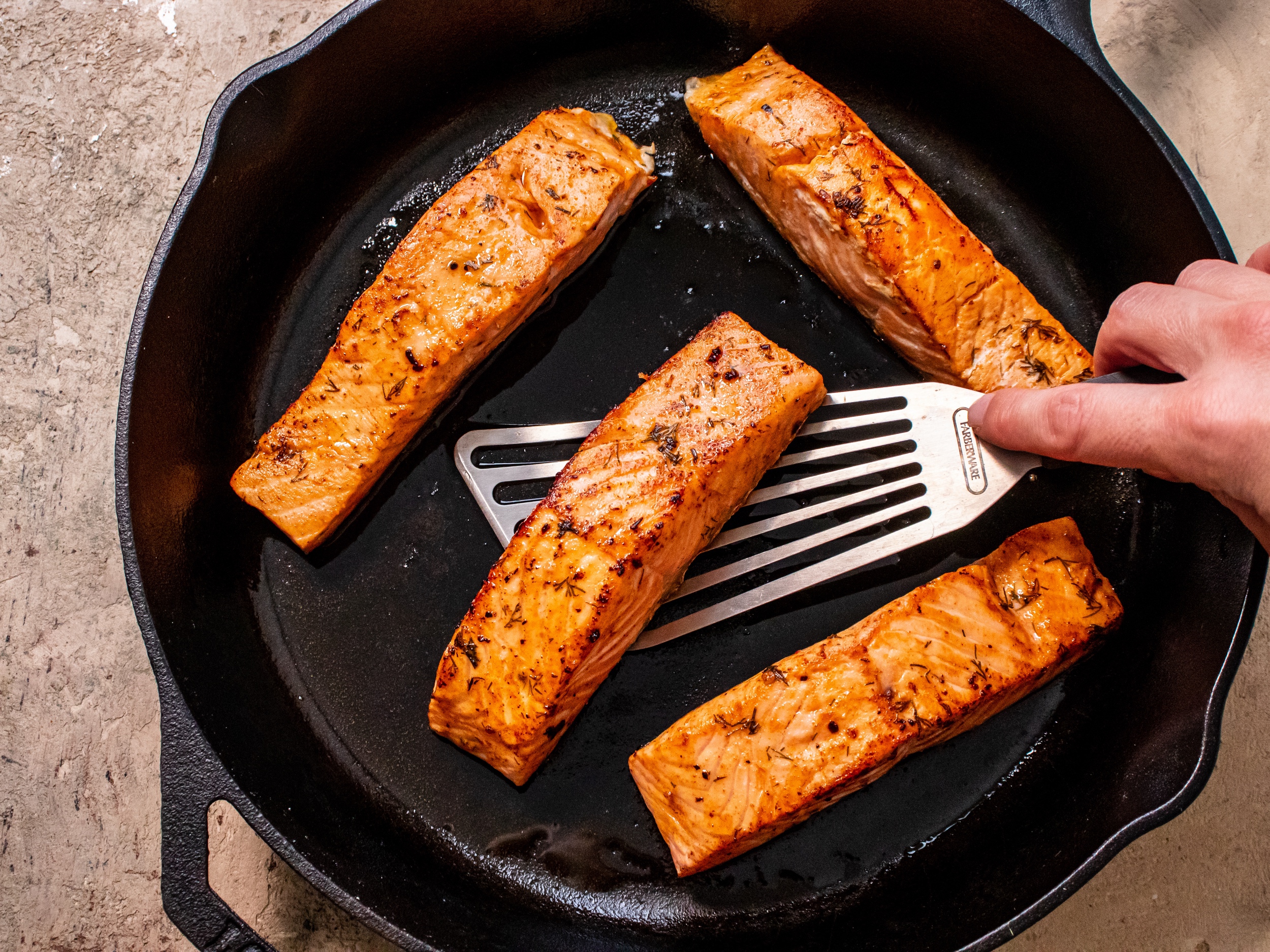 For hundreds of pure Paleo recipes be sure to check out  The Real Paleo Diet Cookbook and  The Real Paleo Diet Fast and Easy.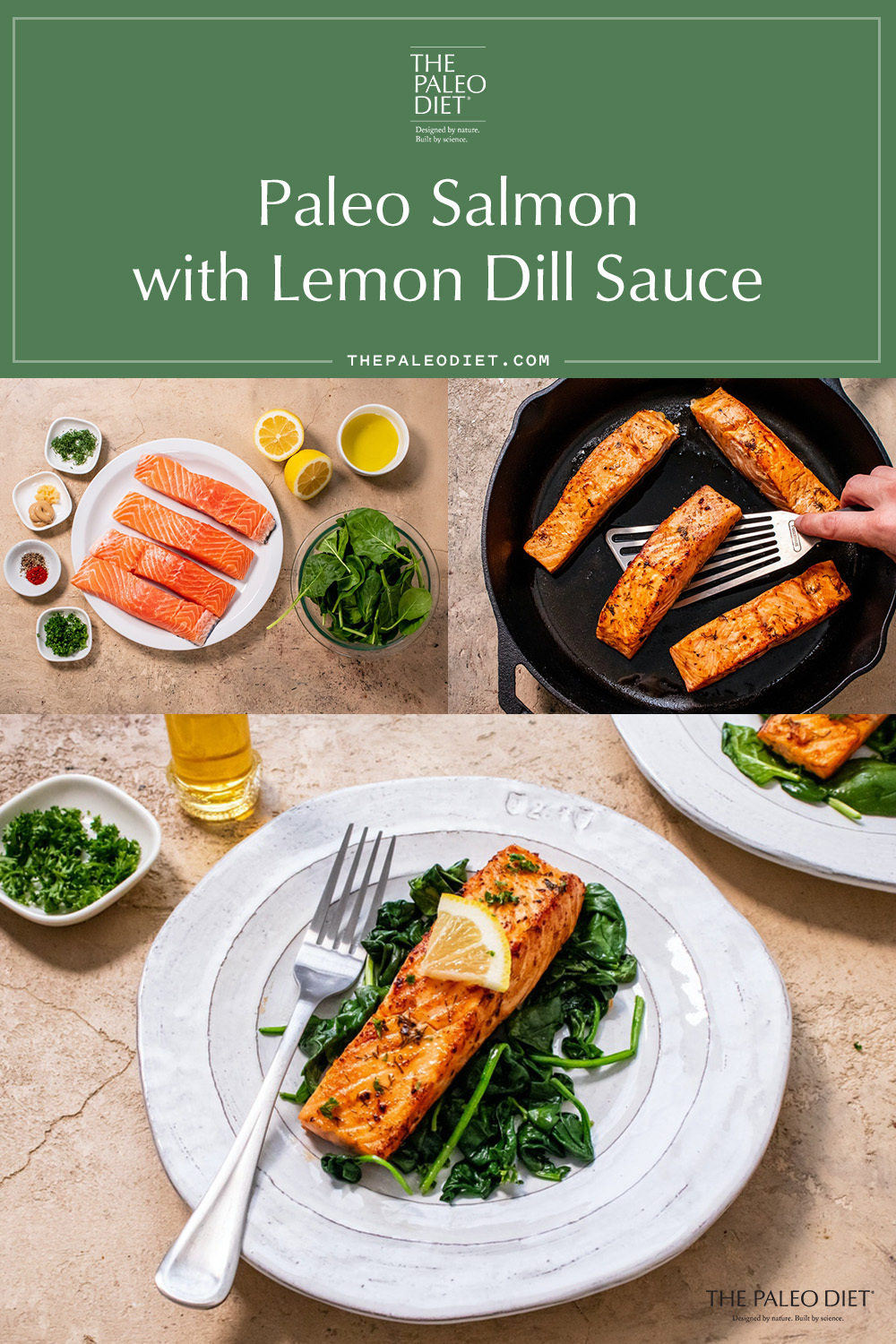 Details
Prep Time:

15 minutes

Cook Time:

25 minutes

Total Time:

40 minutes
Ingredients
1 1/2 lb wild caught salmon, sliced into four pieces

3 tbsp + 1 tsp olive oil, divided

1/4 cups fresh lemon juice

1 tsp Dijon mustard

1 tsp fresh chopped dill

1/2 tsp chopped garlic

1/4 tsp paprika

1/8 tsp black pepper

8 cups baby spinach

1 tbsp chopped parsley, for serving
Directions
Blot the salmon dry with a paper towel. Set aside.

Make the sauce: In a small bowl, combine 2 tablespoons of olive oil with the lemon juice, mustard, dill, garlic, paprika and black pepper. Place the salmon in a shallow dish and brush with half of the sauce, reserving the rest. Marinate for 15 minutes at room temperature.

Next, prepare the spinach: Heat 1 teaspoon of olive oil over medium heat in a large cast iron skillet. Add half of the spinach and cook for 2 minutes, until spinach starts to wilt. Add the remaining spinach, toss with tongs and cook 5 minutes longer. Season with cracked black pepper to taste. Transfer to a bowl and cover to keep warm.

Wipe the skillet clean. Add 1 tablespoon of olive oil and warm over medium heat for 2 minutes. Place 2 pieces of the salmon on hot skillet, skin side up. Cook for 3 minutes, then flip and cook 3-4 minutes longer, until salmon is cooked through. Repeat with remaining salmon.

Serve salmon hot garnished with chopped parsley over sautéed spinach. Drizzle with remaining sauce right before serving.