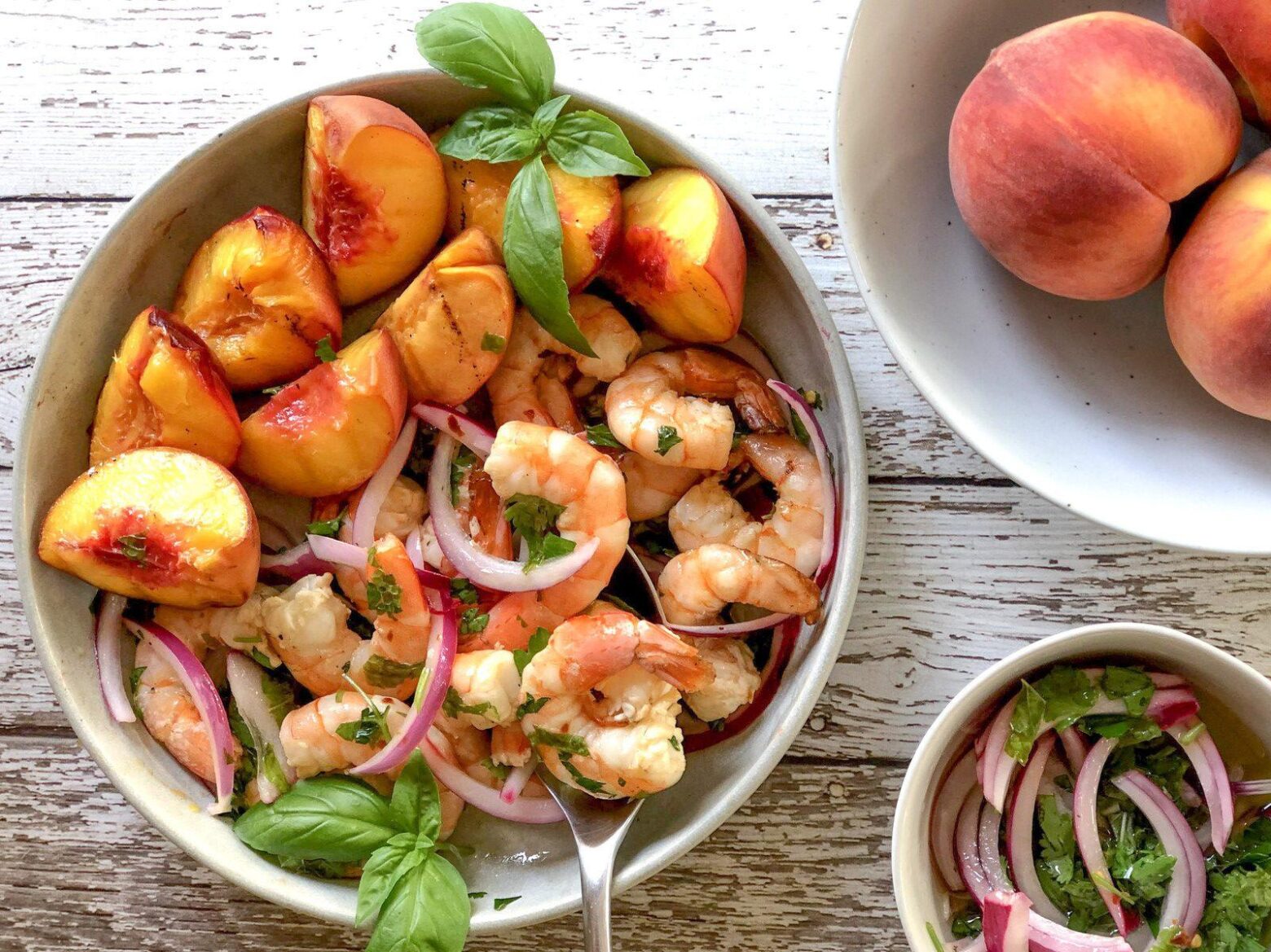 Juicy shrimp and sweet peaches make an unbeatable BBQ combo when grilled until charred and topped with a zesty herb sauce!
You've heard of chicken and ribs, or fish with veggies… but shrimp and peaches? While one is usually an appetizer and the other a dessert, these two Paleo-friendly ingredients harmonize to create a unique sweetness for a fun main course that we love here at The Paleo Diet®!
Start by mixing together the marinade, which doubles as a serving sauce. It relies heavily on fresh herbs like parsley, basil, cilantro, and mint. Feel free to use whatever fresh herbs you have on hand, but a good mix creates a balanced sauce not unlike chimichurri! We used avocado oil as the base as its better for withstanding high heat when the marinated shrimp makes its way over to the grill, but olive oil would work in a pinch. Spice it up with minced garlic and red chili flakes, then divide it in half. Use one portion as a marinade for the shrimp, and the other for a finishing sauce.
While the shrimp marinate, cut up your peaches for the grill. Some people prefer to halve theirs, but we quartered ours and removed the pits to make it easier to navigate on the grill. Be sure to select peaches that are ripe, but still firm enough to withstand the heat of the grill!
When it's time to cook, preheat the grill to medium-high. Add the marinated shrimp to a grilling basket to ensure that none fall through the grates, and cook for about five to seven minutes, turning once. Brush the peaches with avocado oil and add to the grill, searing until grill marks form.
Toss the shrimp and peaches into a serving bowl and drizzle with the remaining herb sauce. Garnish with any remaining fresh herbs, and enjoy.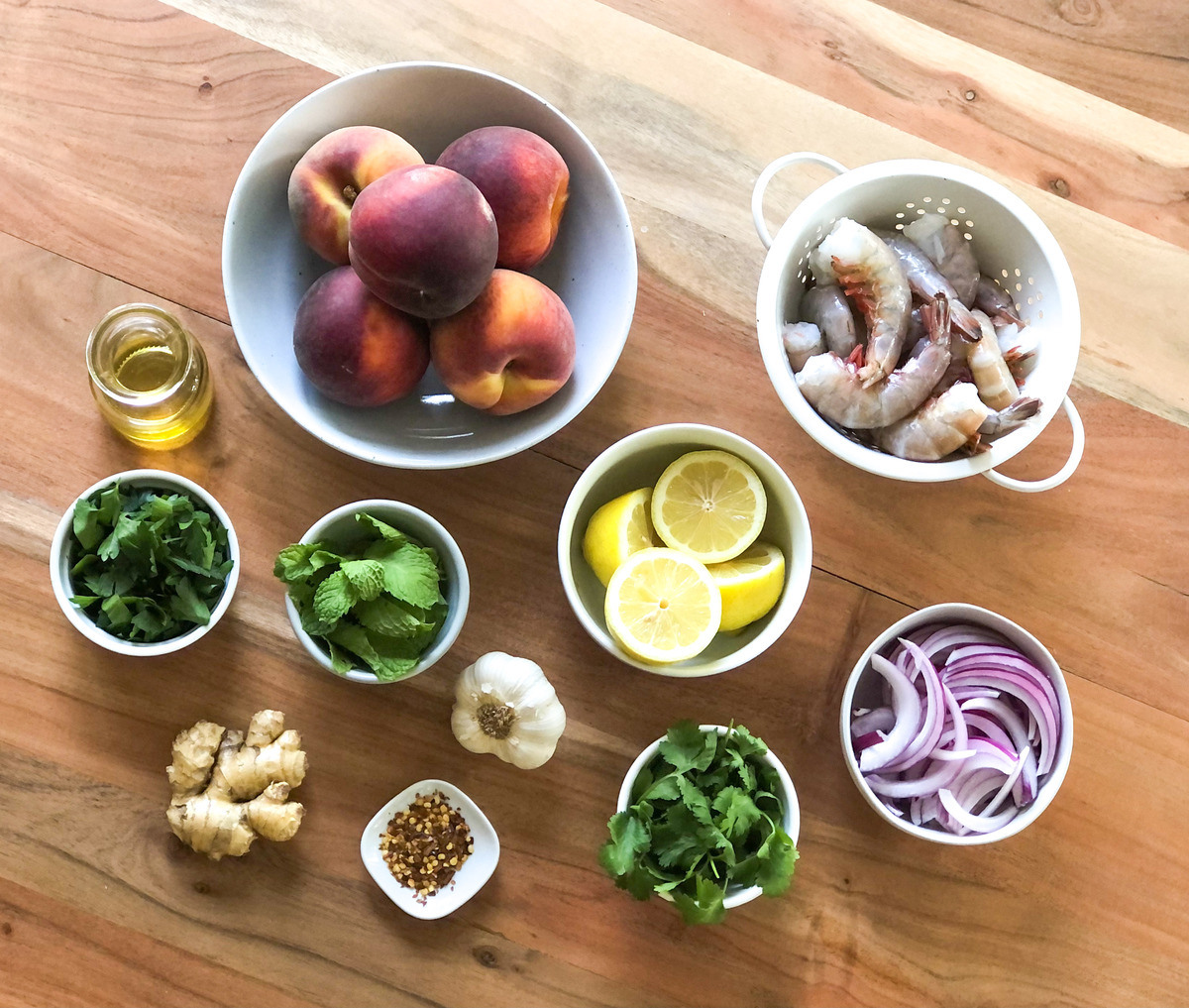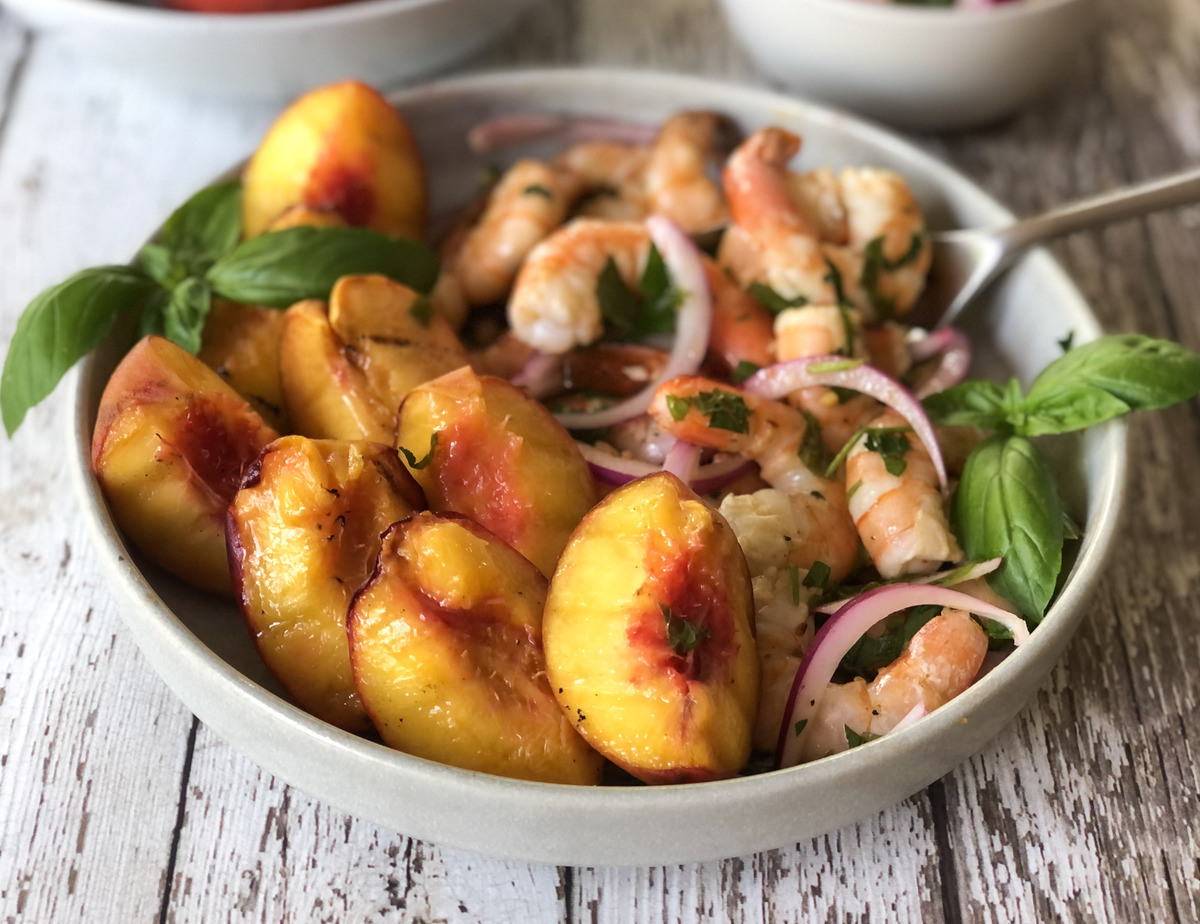 For hundreds of pure Paleo recipes be sure to check out The Real Paleo Diet Cookbook and The Real Paleo Diet Fast and Easy.
Details
Prep Time:

15 minutes

Cook Time:

10 minutes

Total Time:

55 minutes
Ingredients
1/3 fresh lemon juice

1 1/4 cups avocado oil, divided

1 large red onion, thinly sliced

4 garlic cloves, minced

3 tbsp red pepper flakes

1 bunch Italian parsley, roughly chopped

1 bunch cilantro, roughly chopped

20 fresh basil leaves, reserving half for garnish

1/2 bunch mint, torn, reserving half for garnish

5 peaches, pits removed and quartered

1 lb shrimp, peeled and deveined
Directions
In a medium bowl, combine lemon juice, 1 cup avocado oil, red onion, garlic, red pepper flakes, parsley, cilantro, basil, and mint. Place ½ of the mixture in a separate bowl and set aside for serving.

Add shrimp to the bowl with the marinade and toss well to combine. Marinate for 30 minutes.

Preheat grill to medium-high. Remove shrimp from marinade, shaking off any excess. Put the shrimp in a grilling basket, then place on the grill. Cook until the shrimp are pink and translucent, about 5-7 minutes, turning once.

Brush peach quarters with remaining ¼ cup avocado oil. Place peaches on the grill and cook until grill marks appear on both sides, about 4-5 minutes per side.

Arrange shrimp and peaches on platter and top with reserved herb mixture. Garnish with reserved basil and mint.