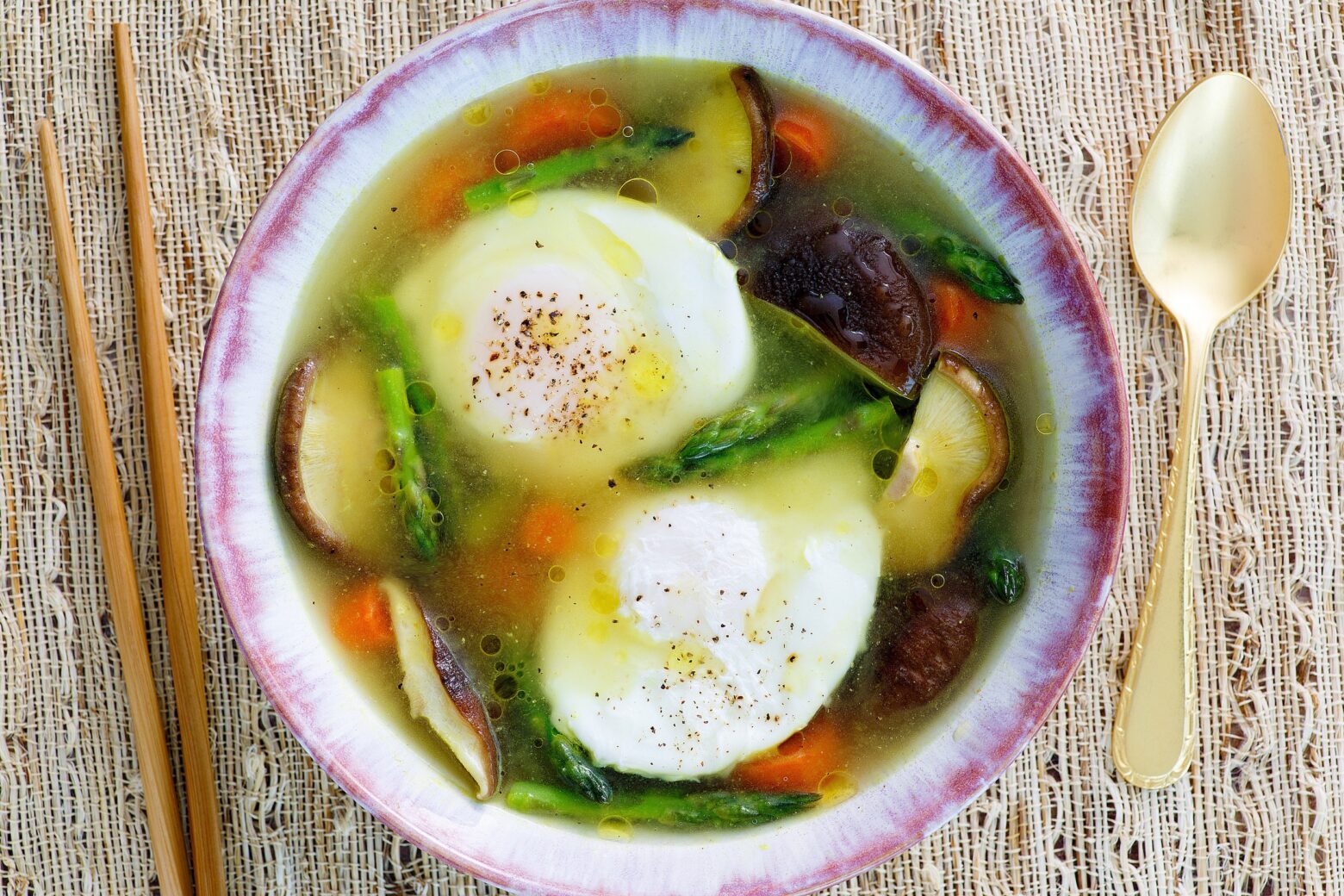 Poached Eggs in Chicken Broth with Mixed Vegetables
Looking for a colorful and healthy Paleo breakfast option to spice up your morning routine? This dish covers all the requirements for a healthy and delicious start to your day. Packed with protein and nutritious veggies, it's a complete meal that will keep your hunger at bay throughout your morning. Enjoy with a side of fresh seasonal fruit for added benefits!
For hundreds of pure Paleo recipes be sure to check out The Real Paleo Diet Cookbook and The Real Paleo Diet Fast and Easy.
Details
Prep Time:

5 minutes

Cook Time:

10 minutes

Total Time:

15 minutes
Ingredients
8 c low/no-sodium chicken stock

4 large eggs

1 lb asparagus, trimmed, cut into 3" pieces

4 small carrots, peeled, sliced 2" thick

8 oz shiitake mushrooms, stems removed, halved

8 ramps, green and white parts separated, coarsely chopped

1 c torn basil leaves

1 tbsp apple cider vinegar

Freshly ground pepper

Extra-virgin olive oil (for drizzling)
Directions
Bring stock to a simmer in a small pot over medium-high heat.

Crack an egg into a small bowl, then gently slide egg into stock. (If you want a crystal-clear broth, you can poach the eggs in water instead.)

Repeat with remaining eggs, waiting until whites are opaque before adding the next one (about 30 seconds).

Poach eggs until whites are set and yolks are still runny, about 3 minutes.

Using a slotted spoon, transfer eggs to paper towels as they are done.

Reduce heat to medium and return stock to a gentle simmer.

Add asparagus, carrots, mushrooms, and white parts of ramps.

Cook, stirring occasionally, until asparagus and carrots are tender, 3–5 minutes.

Remove from heat and stir in basil, vinegar, and ramp greens; season with salt.

Divide broth and vegetables among bowls.

Gently slip an egg or 2 into each bowl; season with pepper and drizzle with oil.