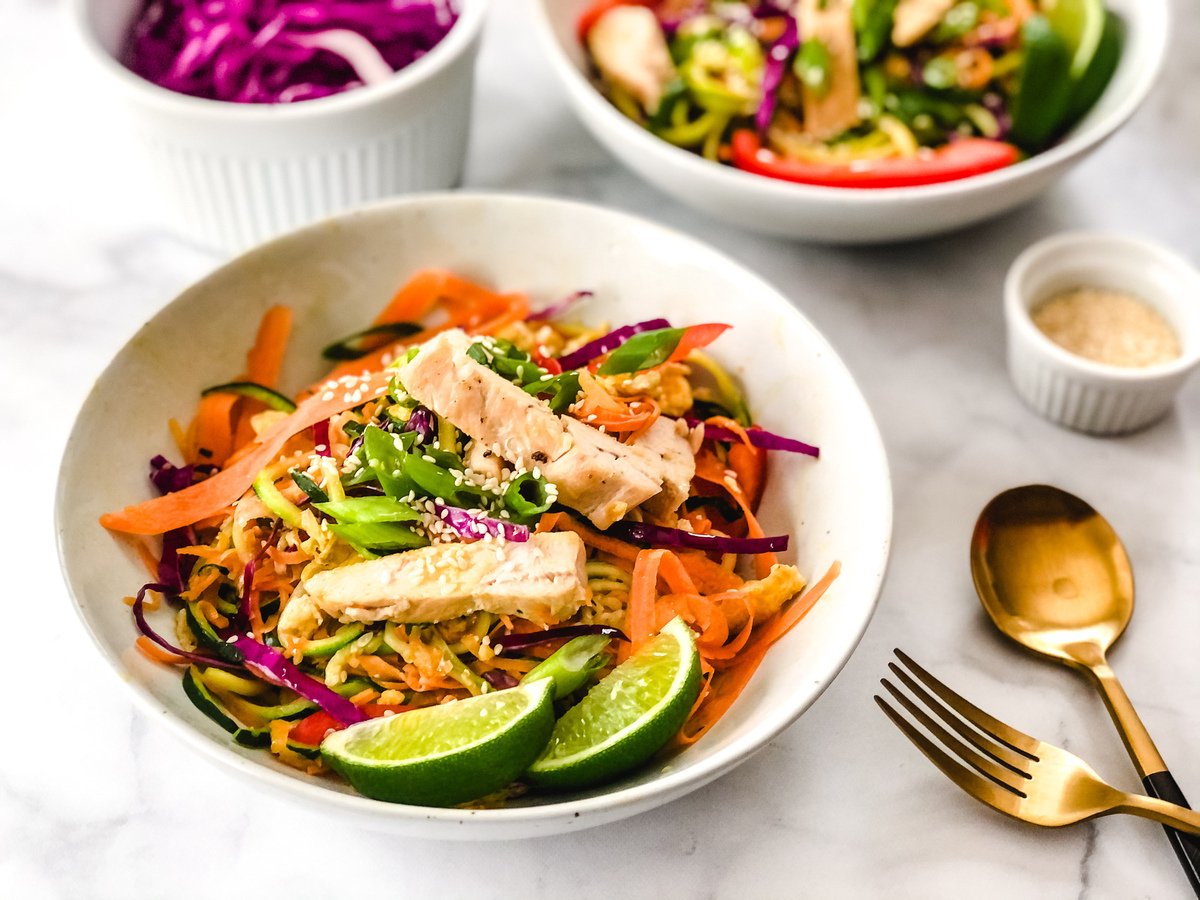 Paleo Pad Thai with Chicken & Veggies
This vibrant veggie bowl is built to impress! It's filled with crisp-tender veggie noodles and roasted chicken, and tossed in a creamy almond butter sauce for a Paleo meal the whole family will enjoy.
We looked to pad Thai noodles for inspiration for this easy weeknight dinner. While the chicken breast roasts in the oven, whisk up the sauce and spiralize or julienne the veggies. Then heat up a skillet or wok and get ready for everything to come together quickly!
Our zesty Paleo-approved sauce is made with pure almond butter, sodium-free mushroom broth, garlic, and lime. It's just the right combination of flavors that mimics a pad Thai sauce, but without any salt, sugar, or soy.
Once you're ready to bring your meal together, start by scrambling eggs in a hot skillet or wok. Set them aside, then add your veggie noodles of choice. We used zucchini noodles, sweet potato noodles, peels of carrots, julienned red pepper, and purple cabbage, but you could also use butternut squash noodles—or whatever you have on hand. Cook until just crisp-tender.
Turn off the heat and add slices of the roasted chicken and scrambled eggs, and then pour in the almond butter sauce. Use tongs to toss until evenly coated, then serve hot with your favorite garnishes. We used scallions, sesame seeds, and lime wedges, but you could also include cilantro, sunflower seeds, cashews, or any other nuts, seeds and herbs you like. Dig in and enjoy!
Tips:
You can swap chicken for shrimp—or use both!
If you don't have almond butter, you can try sunflower butter or cashew butter.
Try doubling up the sauce, and save half for dipping carrot sticks as a snack later.
For hundreds of pure Paleo recipes be sure to check out  The Real Paleo Diet Cookbook  and  The Real Paleo Diet Fast and Easy.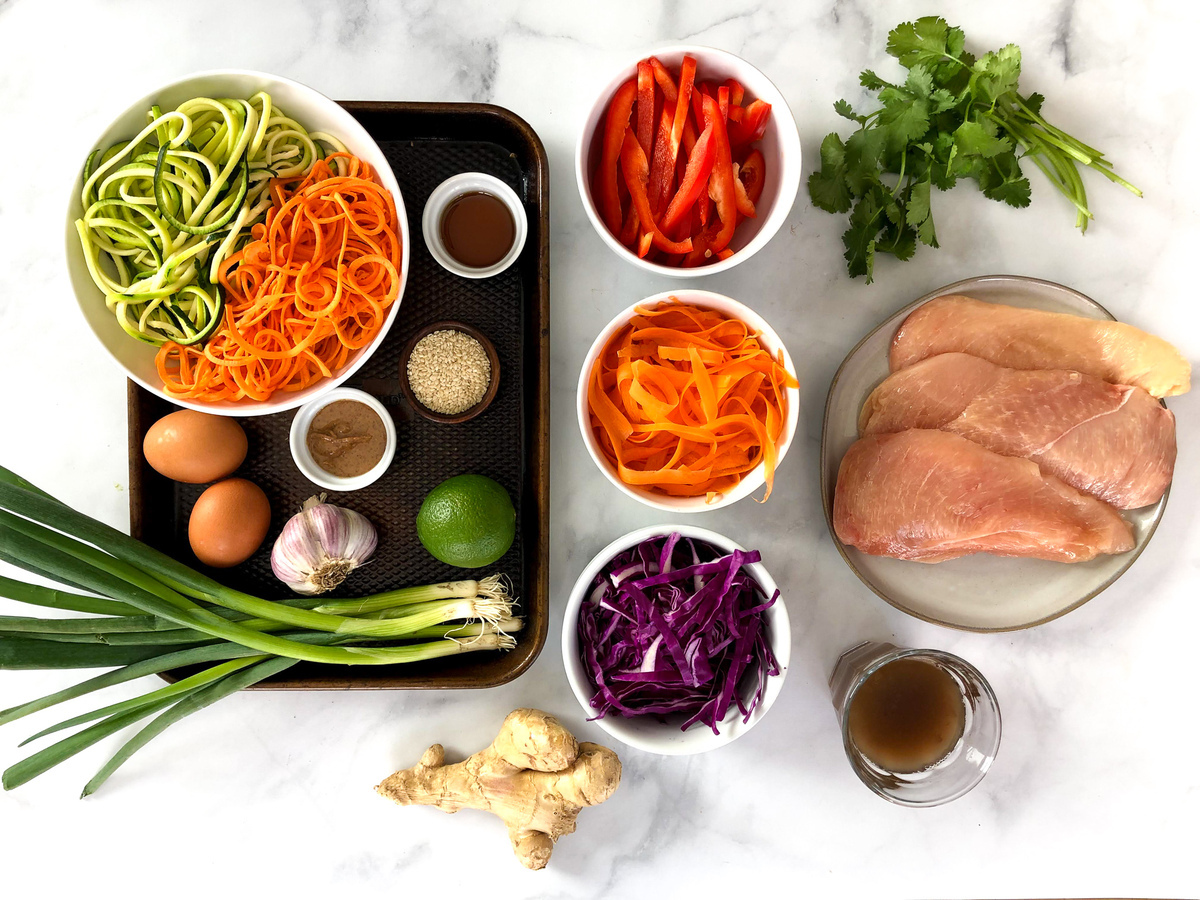 Details
Prep Time:

15 minutes

Cook Time:

35 minutes

Total Time:

50 minutes
Ingredients
1 lb chicken breast

2 tsp olive oil, divided

1 tsp black pepper

3 tbsp pure almond butter

3 tbsp unsalted mushroom broth

1 tbsp apple cider vinegar

3 garlic cloves, minced, divided

1 lime, juiced

1 tsp sesame oil

1 tbsp water

2 eggs, beaten

3 zucchini, spiralized

2 sweet potatoes, peeled and spiralized

1 carrot, peeled or julienned

1 red pepper, sliced thin vertically

1 cups purple cabbage, sliced thin vertically

4 green onions, sliced, for garnish

Sesame seeds, for garnish

Cilantro, for garnish

Lime wedges, for garnish
Directions
Preheat the oven 400°F. Drizzle the chicken with 1 teaspoon of olive oil and season with black pepper. Bake for 25-30 minutes. Slice the cooked chicken diagonally and set aside.

While the chicken is cooking, prep the sauce: whisk together the almond butter, mushroom broth, apple cider vinegar, one clove of minced garlic, the juice of one lime, sesame oil and water.

Heat the remaining teaspoon of olive oil in a large skillet over medium high heat. Add the beaten eggs and cook for 1 minute. Remove from the pan and set aside.

Add the zucchini noodles, sweet potato noodles, carrots, red pepper, and cabbage. Cook for 4-6 minutes or until crisp tender. Be sure not to overcook.

Remove the pan from the heat and add the cooked chicken and egg back to the skillet. Drizzle in the sauce and mix to combine.

Garnish with sesames seeds, scallions, cilantro, and/or lime wedges. Serve immediately and enjoy!