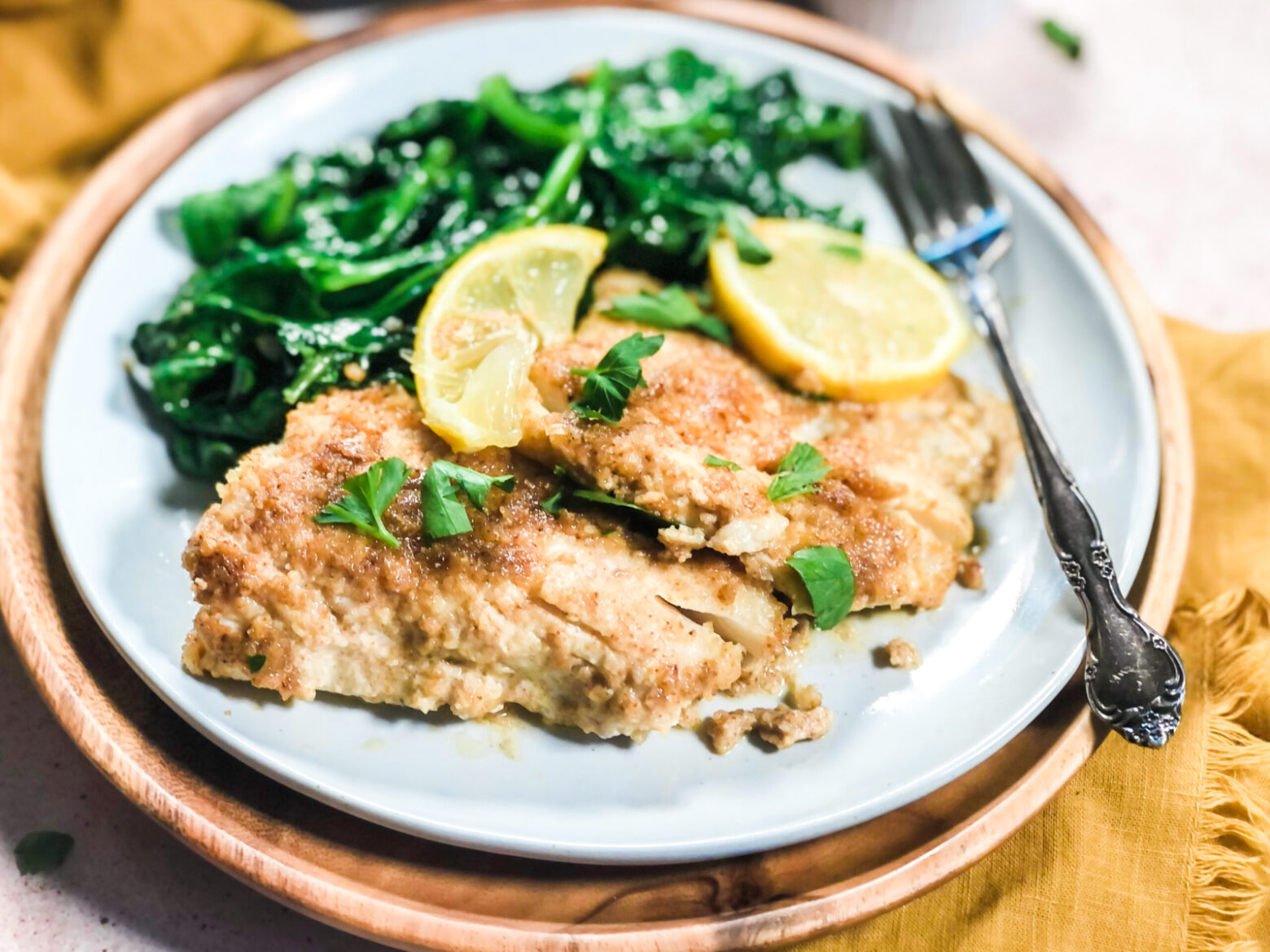 You may not think of cod fish and Mediterranean flavors, but this mild-flavored fish is perfect to take on the healthy flavors of Italy. Crispy, tender cod is baked in a garlicky lemon sauce for a Mediterranean-style fish fry.
Cod is a mild, buttery-textured fish that takes on any flavors you throw its way, including these Mediterranean seasonings of bright lemon, smoky spices, and parsley. Plus, cod has a good nutritional profile. It's high in protein, vitamins, and minerals, and doesn't contain high amounts of mercury.
To get a nice crispy crust on the cod, we created an easy, egg-free dredging station. First, pat the cod dry, then dunk in a mixture of lemon juice, olive oil, and coconut oil. Then, transfer to a dish with almond flour and spices. The wet mixture helps the dry ingredients stick to the fish, so they'll crisp up nicely when cooked. You should have some lemon sauce remaining. Add the minced garlic to the sauce and whisk until combined, then set aside.
Next, brown the filets in a cast iron skillet for a few minutes on each side—just long enough to create a crust. Pour that lovely garlicky lemon sauce over the top, then add to a preheated oven and bake until flaky. Serve alongside sauteed spinach, or your side dish of choice!
Tip:
• Autoimmune Protocol (AIP) omissions and substitutions are listed in the recipe ingredients.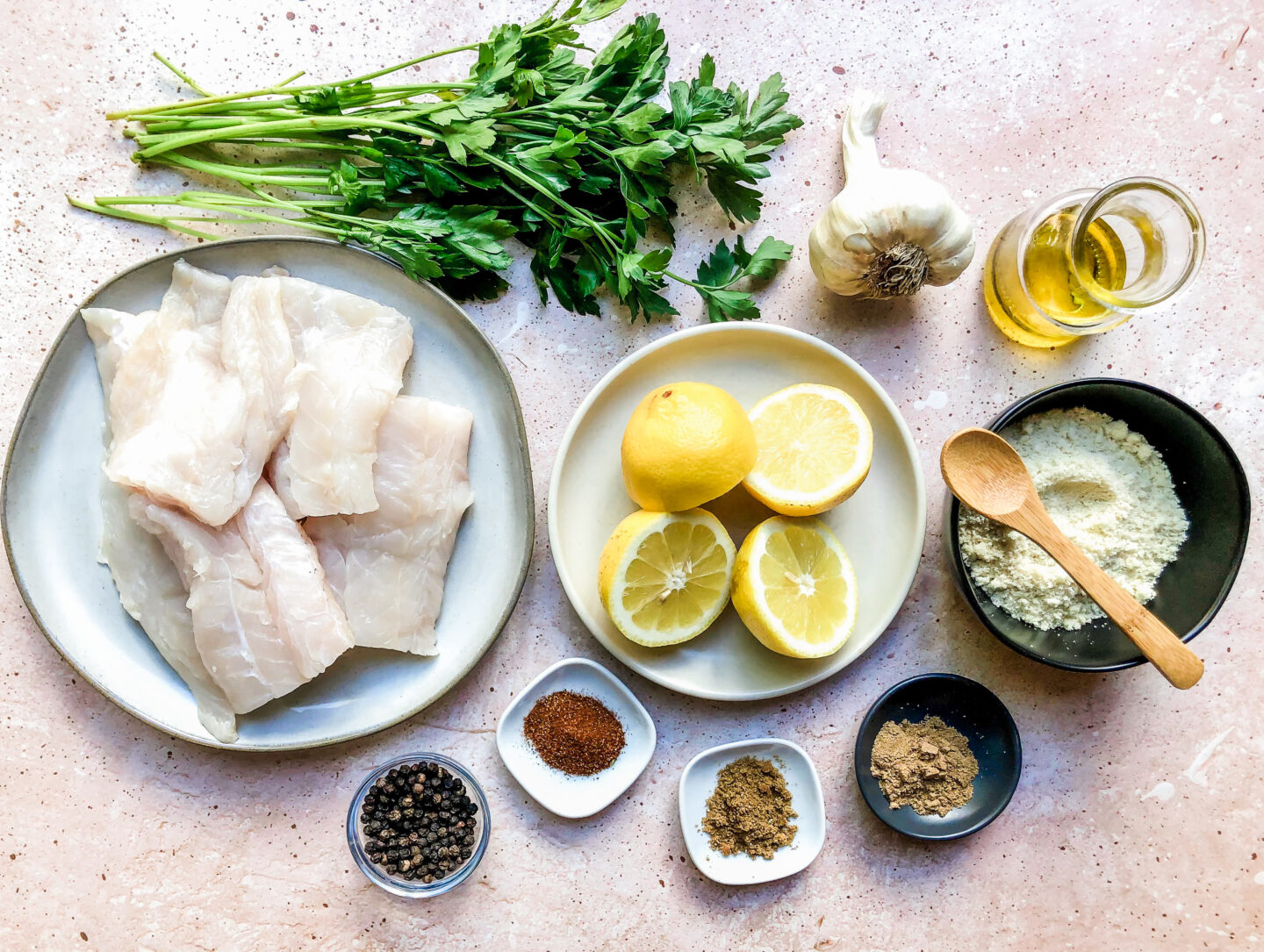 For hundreds of pure Paleo recipes be sure to check out The Real Paleo Diet Cookbook  and  The Real Paleo Diet Fast and Easy.
Details
Prep Time:

10 minutes

Cook Time:

15 minutes

Total Time:

25 minutes
Ingredients
4 cod fillet pieces (6 ounces each)

4 tbsp lemon juice

7 tbsp olive oil, divided

2 tbsp coconut oil, melted

1/2 cups almond flour

1 tsp cumin

1 tsp paprika (AIP - omit)

1 tsp coriander

1/2 tsp black pepper (AIP - omit)

4 cloves of garlic, minced

1/4 cups fresh parsley, chopped, for garnish

Lemon slices, for garnish
Directions
Preheat the oven to 400°F. Use paper towels to pat the cod fillets dry.

In a shallow bowl, whisk the lemon juice, 5 tablespoons of the olive oil, and melted coconut oil. In another shallow bowl, combine the almond flour, cumin, paprika, coriander, and black pepper.

Dip each fillet into the lemon mixture before coating with the dry mixture, then set aside. Add the minced garlic to the remaining lemon sauce. Mix well and reserve.

Heat a cast iron skillet or oven-safe pan over medium high. Add the remaining 2 tablespoons of olive oil. When the oil starts shimmering, add the cod fillets and let it brown for 2 minutes on each side.

Drizzle the reserved garlic lemon sauce over the fish, then transfer the skillet to the oven. Let the fish bake for 10 minutes, or until cooked all the way through.

Garnish with fresh parsley and lemon slices. Serve right away.