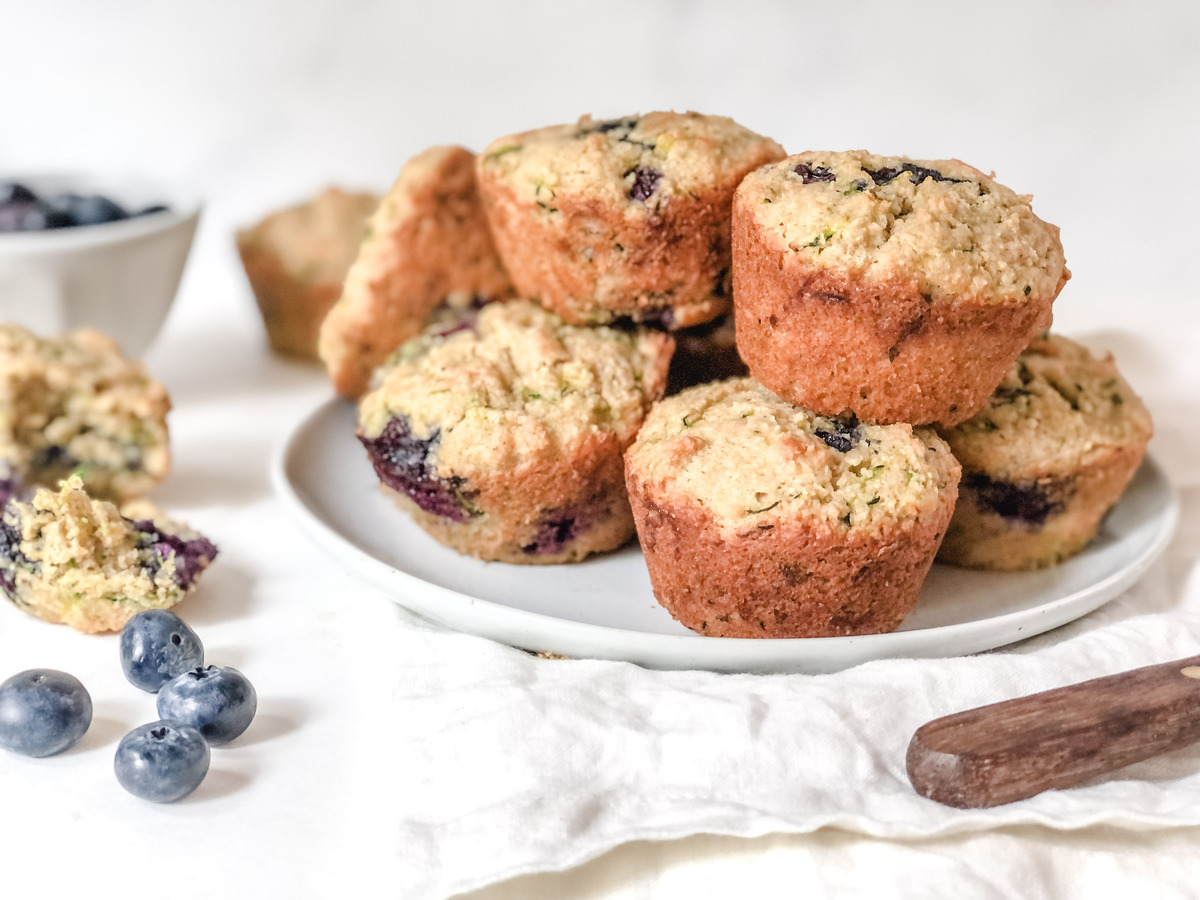 PaleoFLEX™ Zucchini Blueberry Muffins
Treat yourself to these tasty muffins filled with juicy blueberries and healthy shredded zucchini!
You don't need gluten, wheat, or dairy to make these PaleoFLEX™ muffins! To make these blueberry muffins a bit healthier than traditional muffins, we swapped the white sugar for a bit of maple syrup. We also used a nutty combination of almond flour and tapioca to stand in for white flour.
We added zucchini to the recipe for a sneaky dose of added nutrients. For best results, make sure the zucchini is as dry as possible. Here's a tip: Use a box grater with a few paper towels underneath. Then wrap the shredded zucchini in the paper towels and squeeze over the sink to remove as much water as you can. The more water you can remove, the fluffier (and less mushy) the final product will be!
It's really easy to bring these muffins together. Start by whisking the wet ingredients in one bowl, then mix the dry ingredients in another. Pour the wet ingredients into the dry and mix until just combined. Gently fold in the blueberries and zucchini, pour into a greased muffin pan, and bake until golden brown.
Be sure to let the muffins cool for at least 10 minutes before removing them from the pan. Serve them while they're warm, then let the leftovers cool completely before storing in an airtight container in the fridge for up to three days. They're also freezer-friendly!
Tips:
You can add pecans, pumpkin seeds, or sliced almonds to the batter for a nice crunchy texture.
Want to skip the maple syrup? Just add in another ½ cup of mashed bananas for sweetness instead.
If you want to use frozen blueberries, toss them in a tablespoon of almond flour to help dry them out.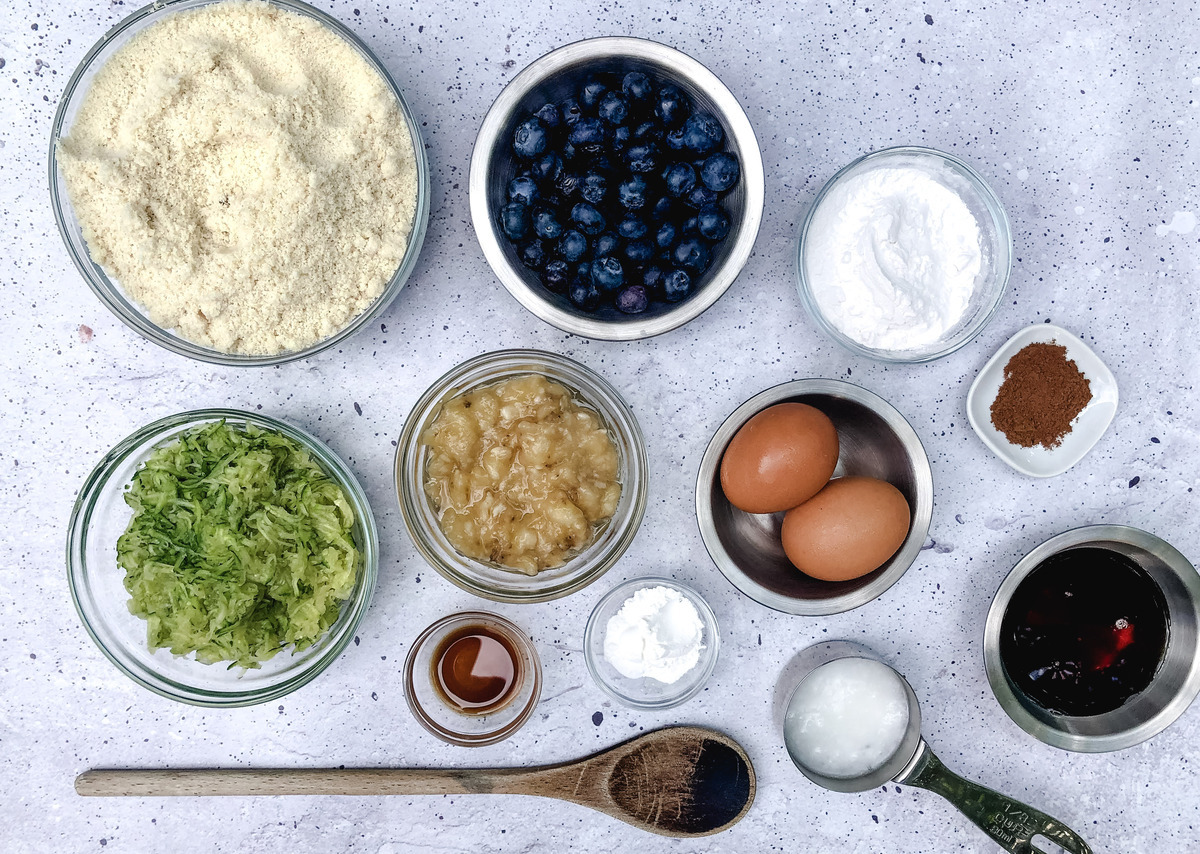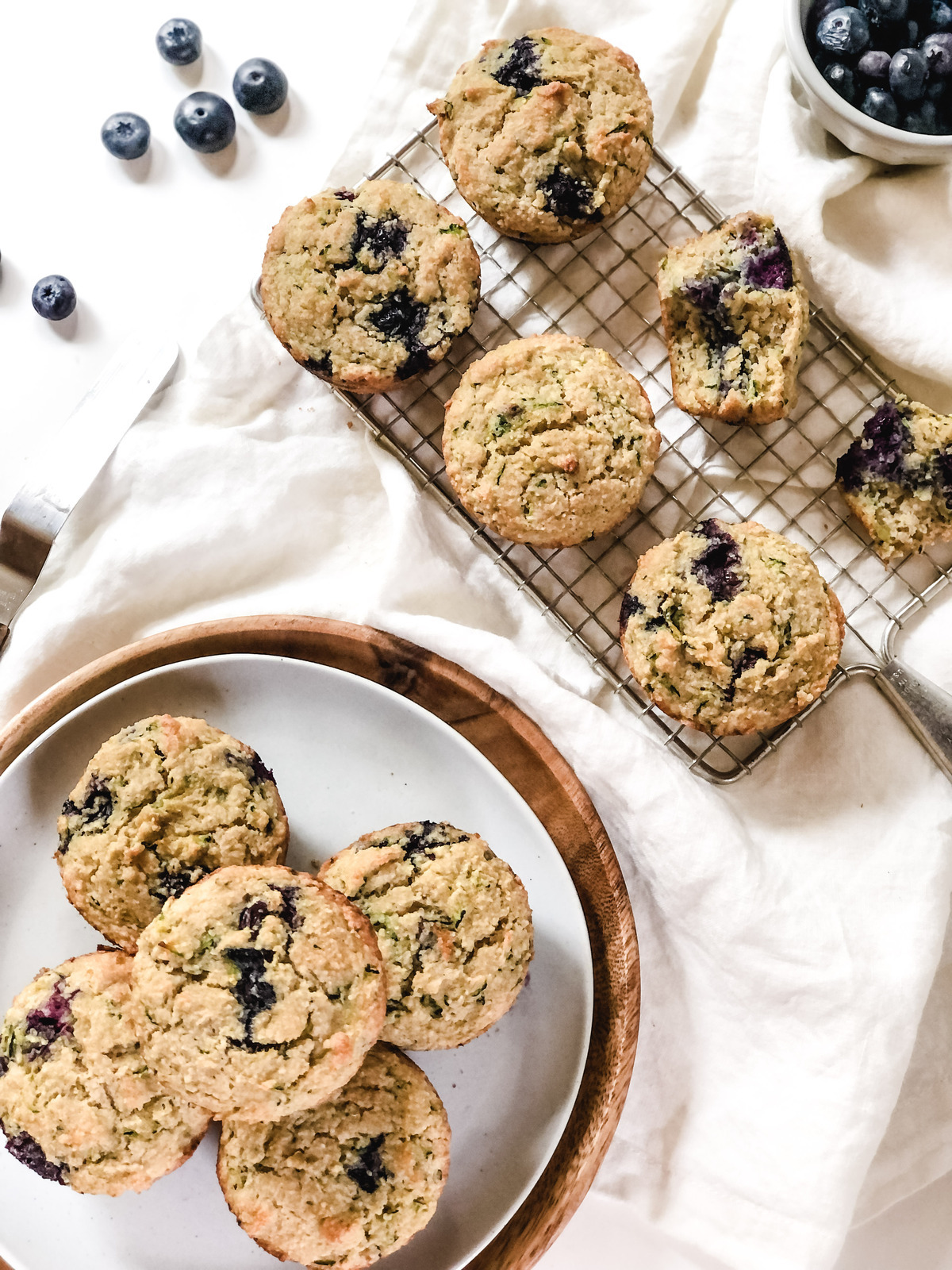 For hundreds of pure Paleo recipes be sure to check out  The Real Paleo Diet Cookbook  and  The Real Paleo Diet Fast and Easy.
Details
Recipe by: Jess Case
Serves:

12

Meal:

Breakfast
Prep Time:

20 minutes

Cook Time:

25 minutes

Total Time:

45 minutes
Ingredients
2 bananas, mashed

2 eggs

1/4 cups coconut oil, melted

1/4 cups maple syrup

1 tsp vanilla extract

2 1/2 cups almond flour

1/3 cups coconut flour

1 1/2 tsp baking powder

1/4 tsp baking soda

1 tsp cinnamon

1 cups shredded zucchini

3/4 cups blueberries
Directions
Preheat the oven to 350°F and grease a muffin pan with coconut oil.

In a medium bowl, whisk the mashed bananas, eggs, coconut oil, maple syrup, and vanilla extract until smooth.

In a large bowl, mix the almond flour, tapioca flour, baking powder, baking soda, and cinnamon until no lumps are remaining.

Using a spatula, pour the wet ingredients into the dry ingredients. Combine until a wet and sticky batter forms. Do not overmix. Carefully fold in the zucchini and blueberries.

Pour the batter into each muffin cavity until it's about three quarters of the way to the top. Bake for 22-25 minutes, or until golden brown and a toothpick comes out clean. Let the muffins cool for at least 10 minutes on a wire rack before serving.