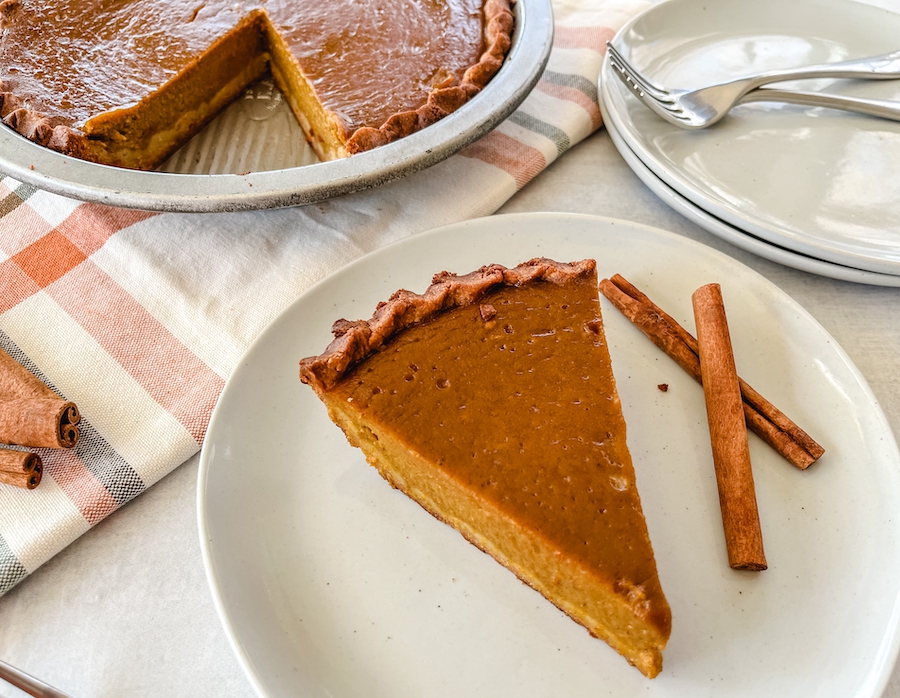 This creamy pumpkin pie is made with a gluten-free homemade pie crust to create a healthier treat this Thanksgiving!
You don't have to miss out on the pie to stay Paleo this holiday season. With a little extra effort, you can make a tasty, healthy alternative to the sugar-laden pumpkin pies you normally see at the Thanksgiving table.
The crust is made from a combination of almond flour, arrowroot flour, and coconut flour to achieve a light, pliable dough. Use a food processor to mix the flours with coconut oil and honey, then add an egg and pulse until a dough forms. Chill for half an hour, then roll out the dough and shape into a pie pan. Piece the bottom with a fork to prevent the crust from puffing, and bake for 10 minutes—just long enough to get it set.
Meanwhile, prep the filling: Whisk together the pumpkin puree, coconut cream, spices and vanilla, then add the eggs one at a time. For best results, use room temperature eggs—they'll integrate with the filling easier, and will help maintain a smooth interior while baking. If you can't find coconut cream, simply use the top portion of a can of chilled coconut milk.
Pour the filling into the cooled crust and cover the edges with foil to prevent the crust from burning. Bake for an hour, then cool completely. You can store the pie in the refrigerator for up to two days.
Serve your pumpkin pie with a dollop of coconut whipped cream, and enjoy!
How to make coconut whipped cream: Drain any water from a can of coconut milk or cream. Pour into a bowl and use a whisk or a standing mixer to beat until smooth and creamy. Add a touch of pure vanilla, and whip again. Chill in the fridge until ready to serve.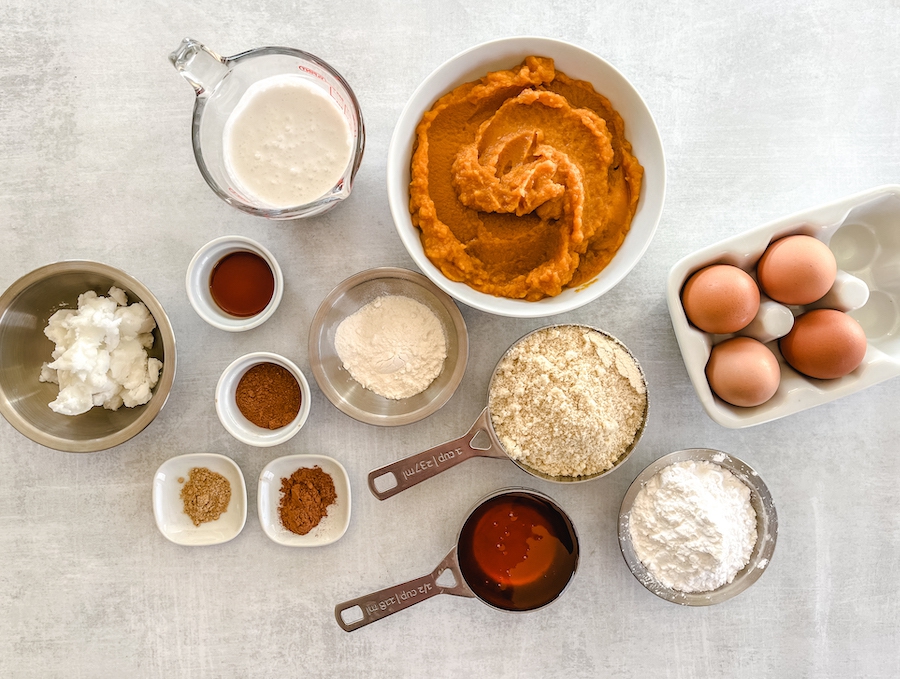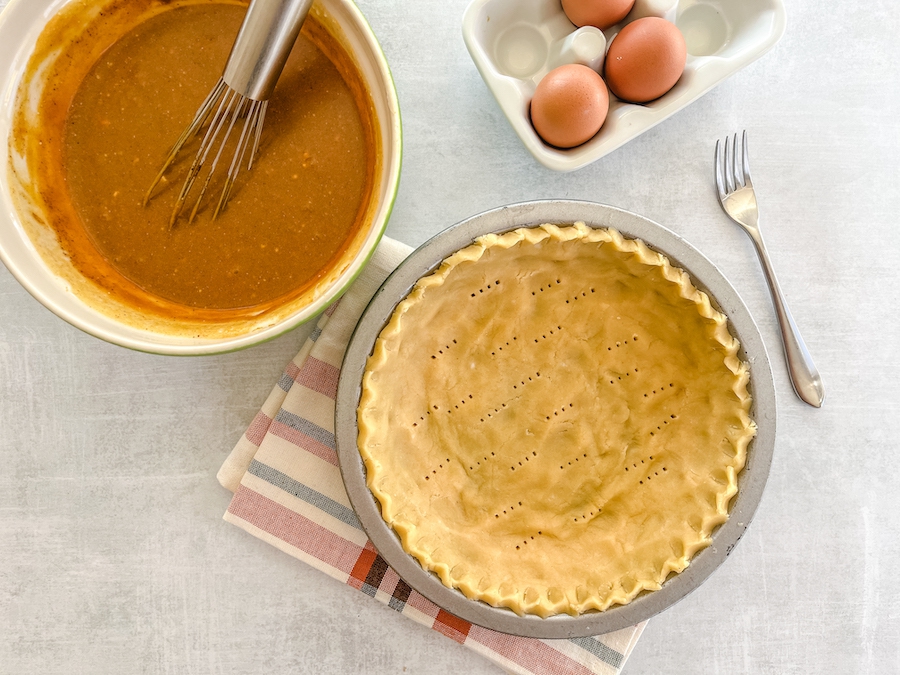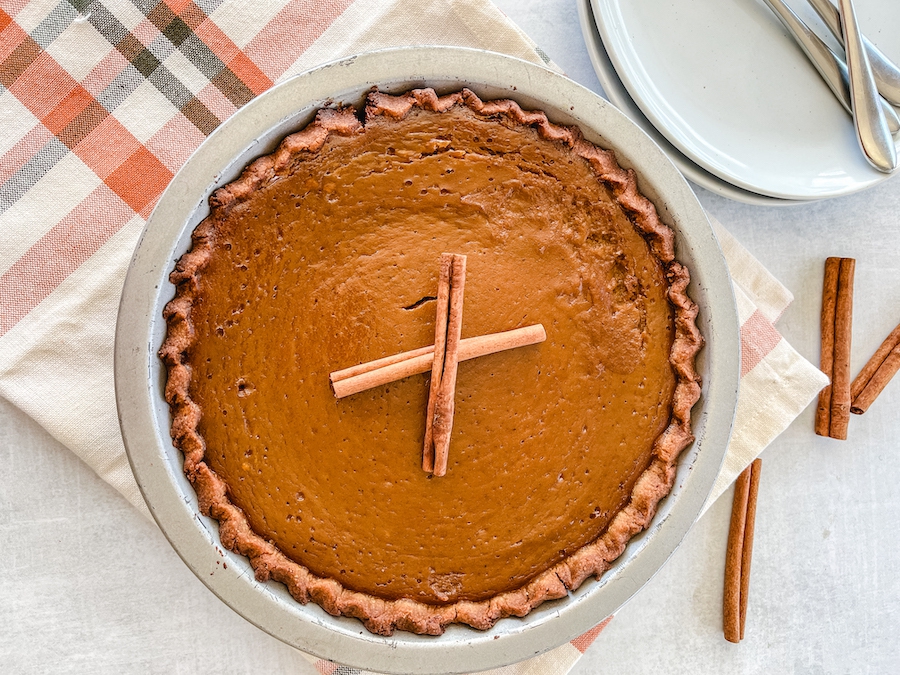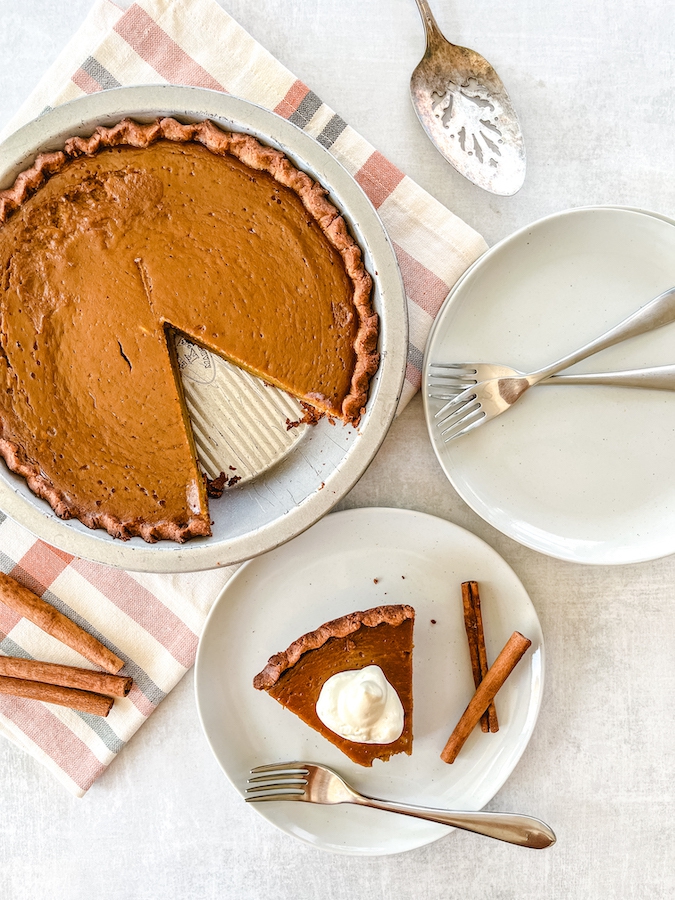 For hundreds of pure Paleo recipes be sure to check out The Real Paleo Diet Cookbook and The Real Paleo Diet Fast and Easy.
Details
Prep Time:

20 minutes

Cook Time:

1 hour 10 minutes

Total Time:

1 hour 30 minutes
Ingredients
1 cups almond flour

2/3 cups arrowroot flour

2 tbsp coconut flour

1/2 cups cold coconut oil

6 tsp raw honey

3 eggs plus 1 egg yolk, divided

15 oz pureed pumpkin

2/3 cups coconut cream

1 tbsp pumpkin spice

1 1/2 tsp cinnamon

1/4 tsp cloves

1 tsp vanilla extract
Directions
In a food processor, pulse the almond flour, arrowroot flour, coconut flour, coconut oil, and honey until the crumbs are thick. Add one egg and pulse until a dough forms. Shape the dough into a ball, wrap it in plastic wrap and let it chill in the refrigerator for 30 minutes.

Preheat the oven to 375°F. Roll the chilled dough flat with a rolling pin and use your hands to press it evenly into the pie pan. Use a fork or your fingers to crimp the edges into a nice design. Piece the bottom with a fork a few times. Bake the crust for 10 minutes and cool for 10 minutes.

Meanwhile, whisk the pumpkin puree, coconut cream, spices, and vanilla in a bowl until it's fully combined. Add the remaining two eggs one at a time, then add the egg yolk. Don't overmix.

Pour the filling into the cooled pie crust, and put foil around the edges of the crust. Bake for 55-60 minutes, or until deep golden brown. Cool completely, then serve with coconut whipped cream if desired.