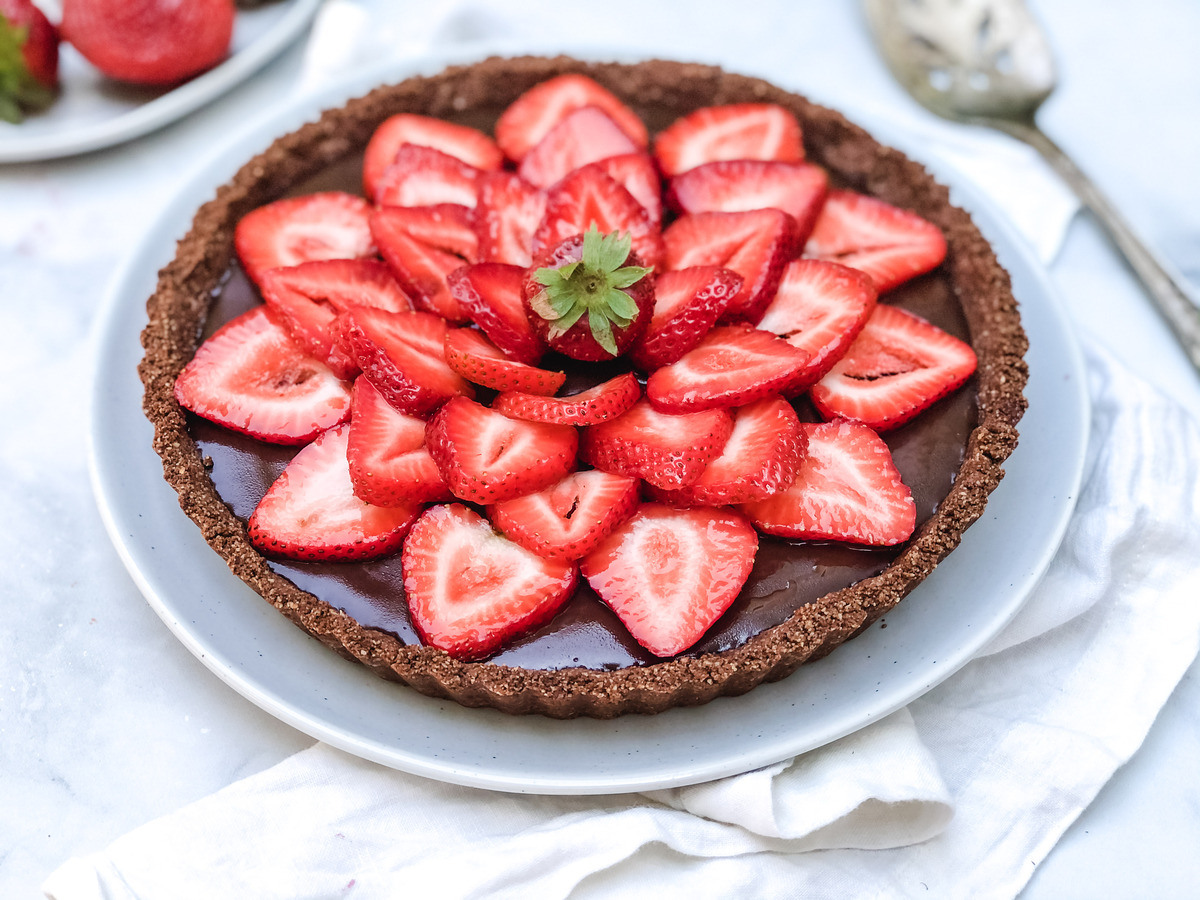 PaleoFLEX™ Dark Chocolate Tart with Strawberries
Treat yourself to a slice of something special with this PaleoFLEX™ tart with a chocolate ganache filling!
If you're looking for a new way to serve up those seasonal berries, we can't think of anything much more decadent than a chocolate tart. To make this once-in-a-while treat healthier than your standard fare, we use whole ingredients and natural sweeteners instead of processed flour or sugar.
It's surprisingly easy to create this homemade tart. You only need nine ingredients and a little more than half an hour of hands-on time. The hard part is waiting for the tart to chill in the fridge until it's firm enough to eat!
Start by making the crust. No Kitchen Aid necessary—simply use a spatula or wooden spoon to mix the almond flour with cacao powder, melted coconut oil, and maple syrup until a thick dough forms. Use your hands to press it evenly into a springform pan greased with a bit of coconut oil, then bake for just 10 minutes to harden it into the shell you'll use for the tart.
While the crust cools, make the chocolate ganache filling by gently warming full fat coconut milk over a double boiler. Conversely, you can just microwave it until it just begins to bubble. Once simmering, add chopped dark chocolate and vanilla extract. Let the chocolate sit in the warm milk for five minutes, then whisk it until it's light and fluffy. Gently pour into the cooled crust and set the tart in the fridge to harden.
Meanwhile, macerate your strawberry slices by sprinkling it with a bit of coconut sugar. This helps draw out the liquids of the fruit, making it irresistibly juicy! Let it sit for a bit, then arrange them artfully over your Paleo-Inspired chocolate tart. If you want, you can experiment with using other berries instead of strawberries. Blackberries, blueberries, or raspberries, or a mix of your favorites, would look (and taste) stunning.
Serve it at a dinner party and watch your guests swoon!
Tip: To take this chocolate tart to the next level, top with a bit of whipped coconut cream or serve with non-dairy ice cream.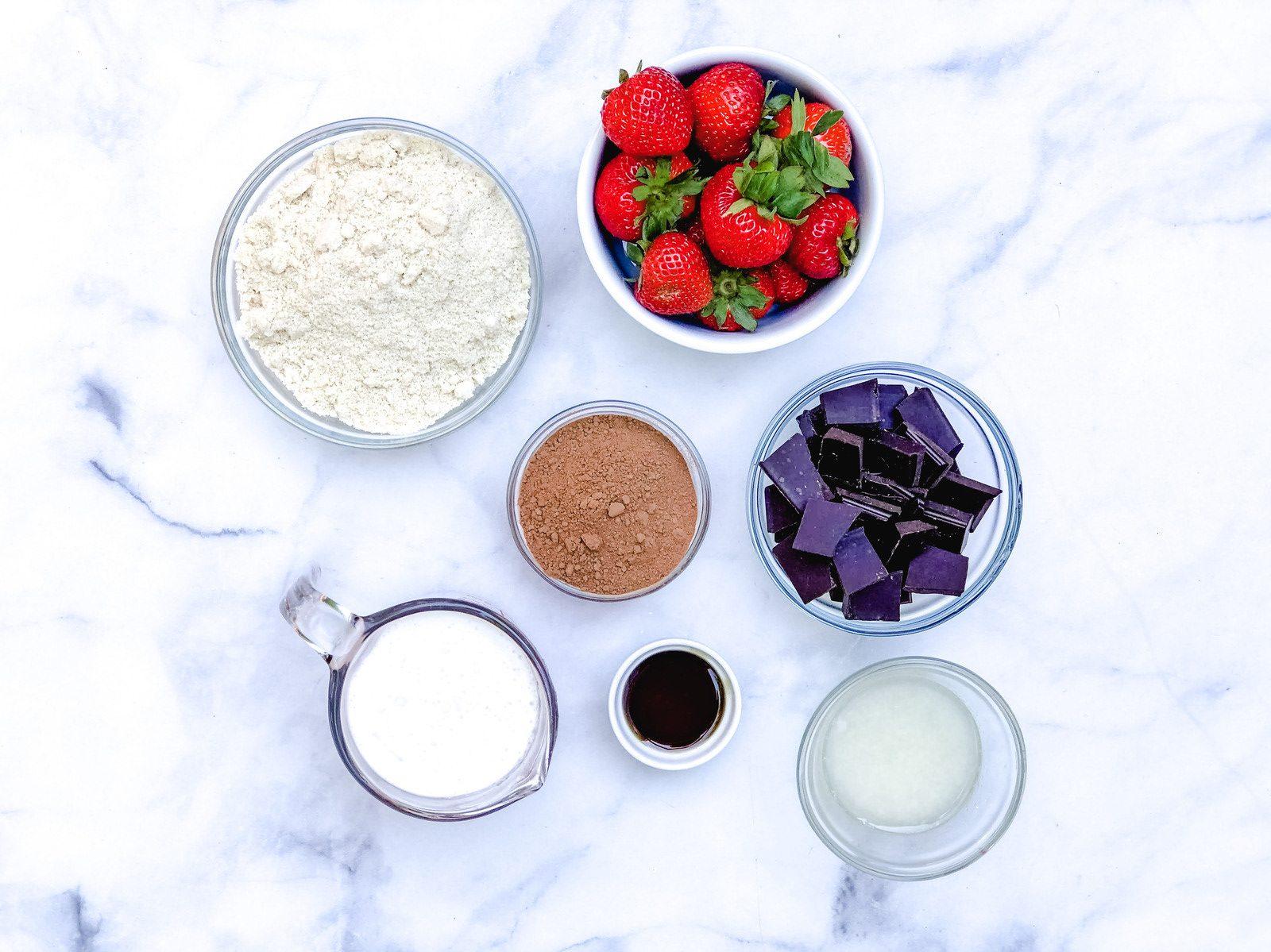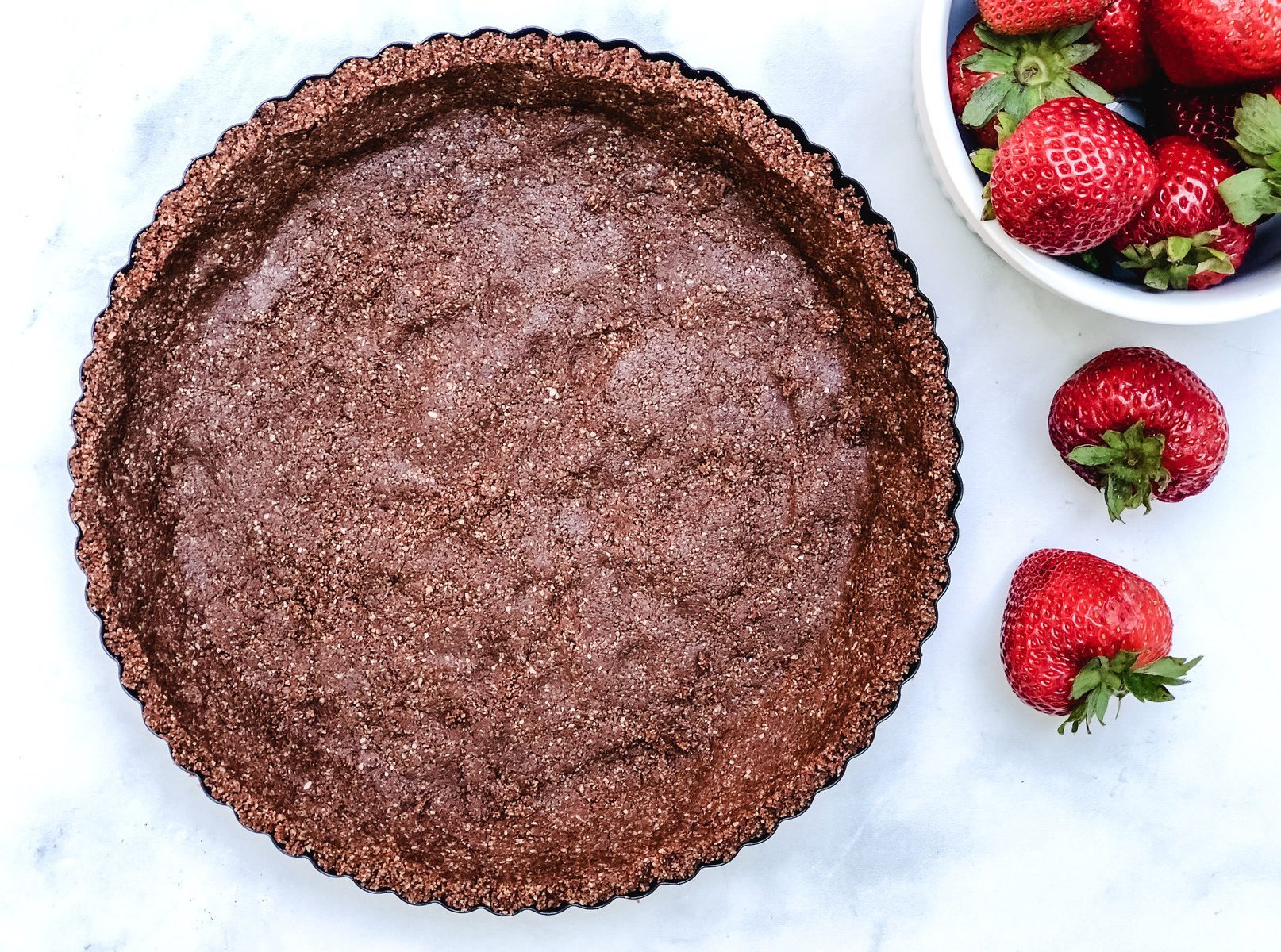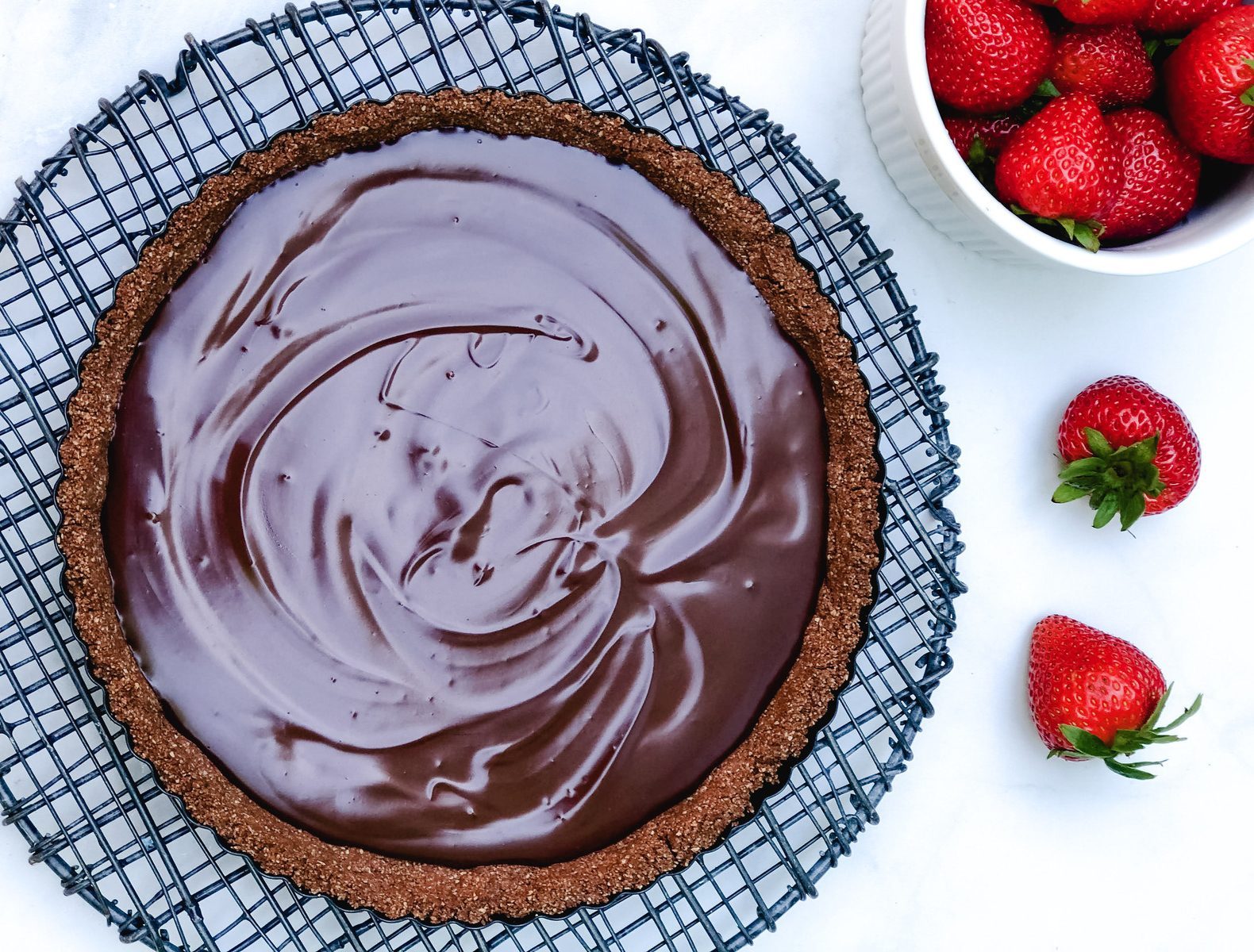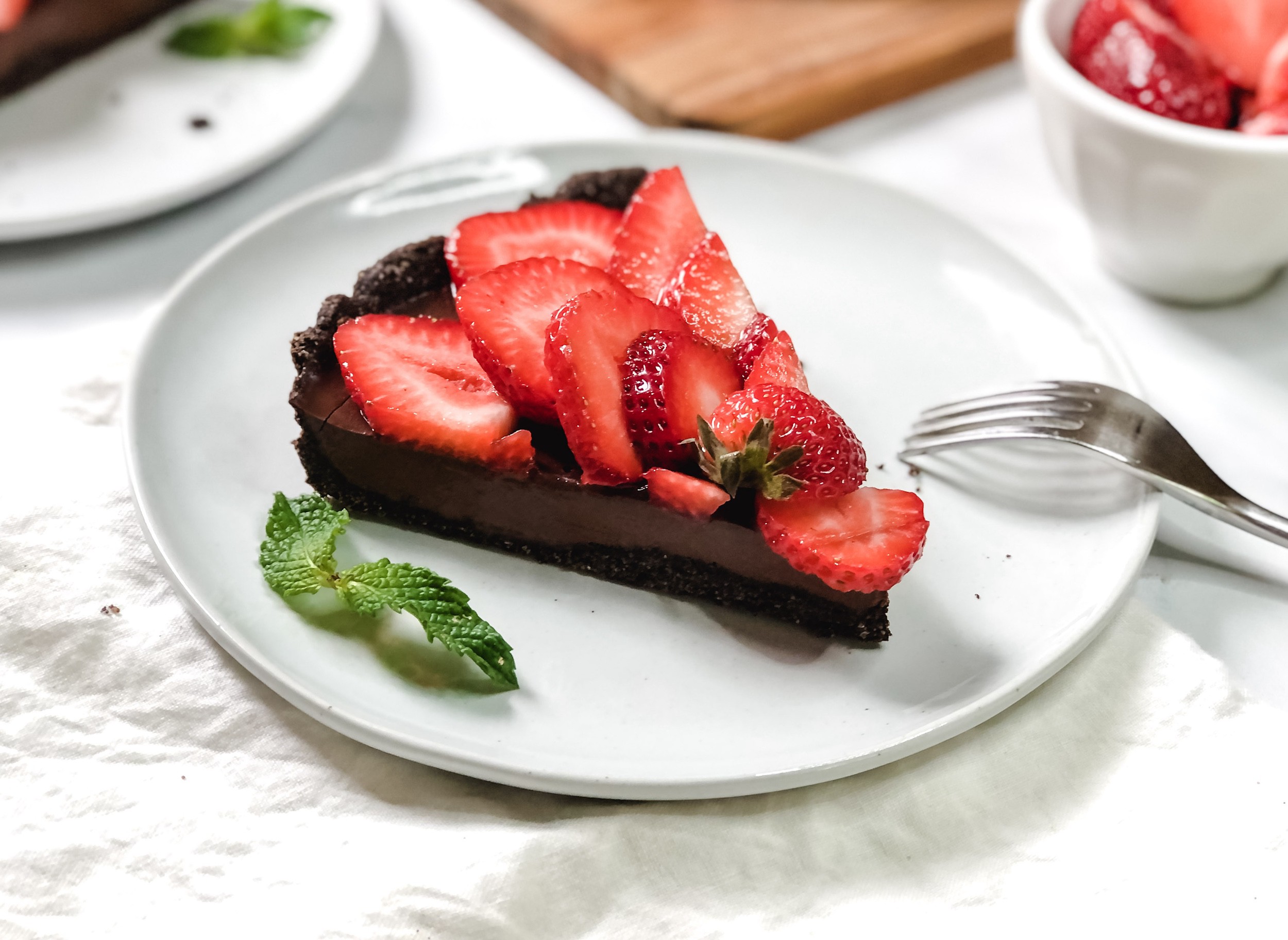 For hundreds of pure Paleo recipes be sure to check out The Real Paleo Diet Cookbook and The Real Paleo Diet Fast and Easy.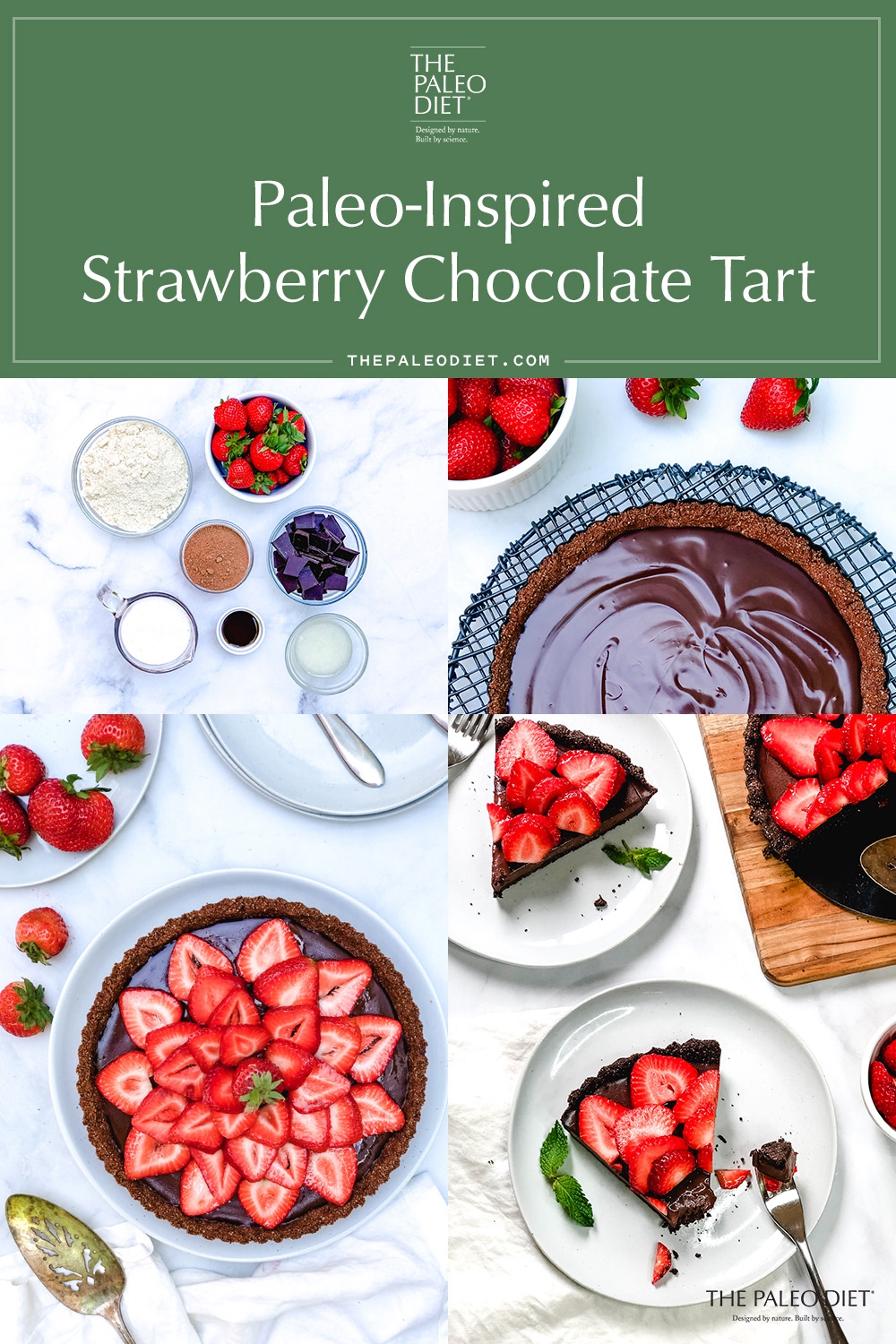 Details
Prep Time:

30 minutes

Cook Time:

1 hour

Total Time:

1 hour 30 minutes
Ingredients
1 3/4 cups almond flour

1/2 cups cacao powder

1/4 cups coconut oil, melted

2 tbsp maple syrup

1 cups canned full-fat coconut milk

10 oz 85% dark chocolate, chopped

1 tsp vanilla extract

1 1/2 cups strawberries, sliced

1 tbsp coconut sugar
Directions
Preheat the oven to 350°F. Grease an 8- or 9-inch springform pan with coconut oil.

Start by making the crust: In a medium mixing bowl, stir the almond flour, cacao powder, melted coconut oil and maple syrup until fully incorporated.

Firmly press the dough evenly into the prepared pan to form the crust. Bake in the center of the oven for about 10 minutes, until firm. Cool on a wire rack.

To make the ganache, heat the canned coconut milk over a double boiler. When it starts simmering, remove from the heat and add the chopped chocolate and vanilla extract. Let it sit for 5 minutes before stirring. Stir until it's fully incorporated, then pour into the cooled crust.

Chill the tart in the refrigerator for at least an hour to firm up. Meanwhile, prep the topping by tossing the sliced strawberries with the coconut sugar. Arrange over the chilled tart, and serve!