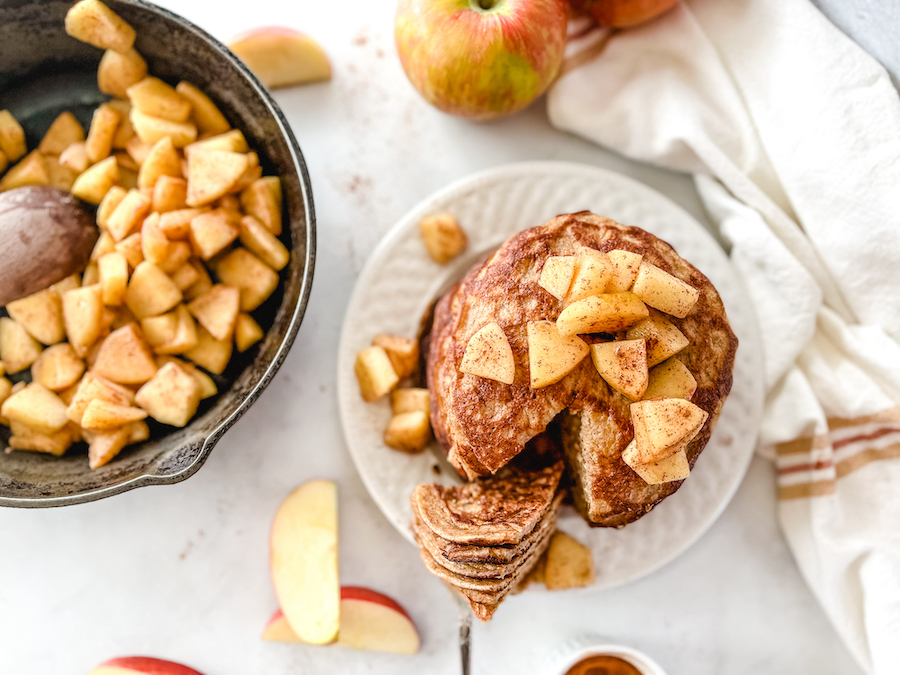 PaleoFLEX™ Apple Cinnamon Pancakes
Fluffy almond flour pancakes are topped with warm cinnamon apples for a delightfully cozy breakfast!
Forget the syrup – sweet apples 'n' cinnamon are a tastier (and healthier!) topping for gluten-free pancakes. To make it, simply warm apple slices or diced apples with coconut oil, and season with cinnamon. Add a bit of water, then let it thicken until gooey while you prepare the pancakes.
The pancakes are made with a combination of almond flour and arrowroot flour for the base. Almond flour is a naturally sweet Paleo-friendly alternative to all-purpose flour, and arrowroot helps thicken the batter. Since almond flour is gluten-free, it needs extra eggs to keep the pancakes from falling apart. We used four eggs, plus a bit of coconut milk and apple sauce to add in more fat and keep these pancakes moist and decadent.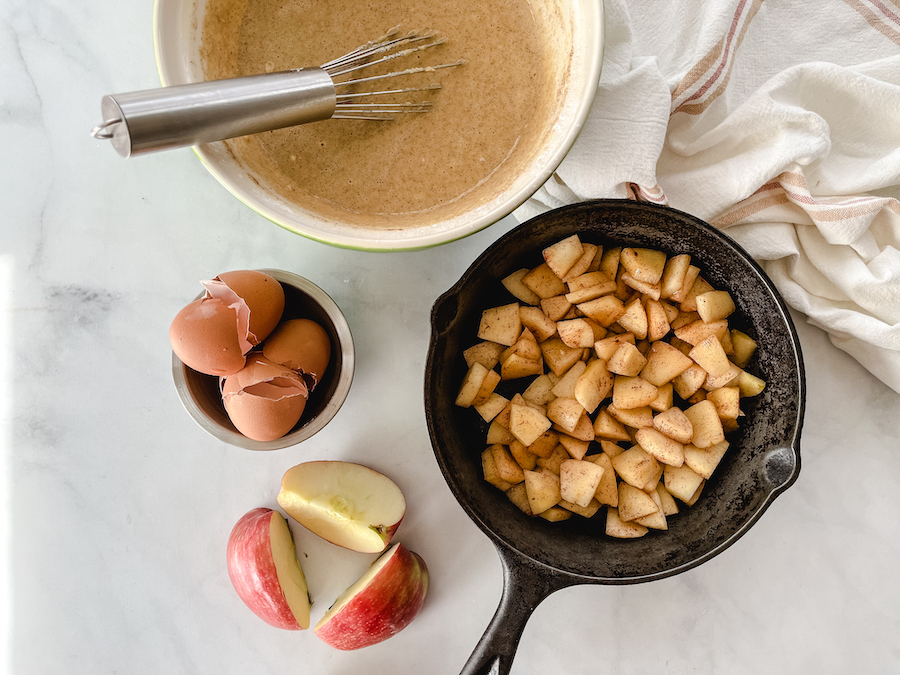 To make the pancakes, mix up the wet and dry ingredients separately, then pour the wet into the dry and mix until just combined. Pour onto a hot griddle and cook a few minutes per side, or until golden brown.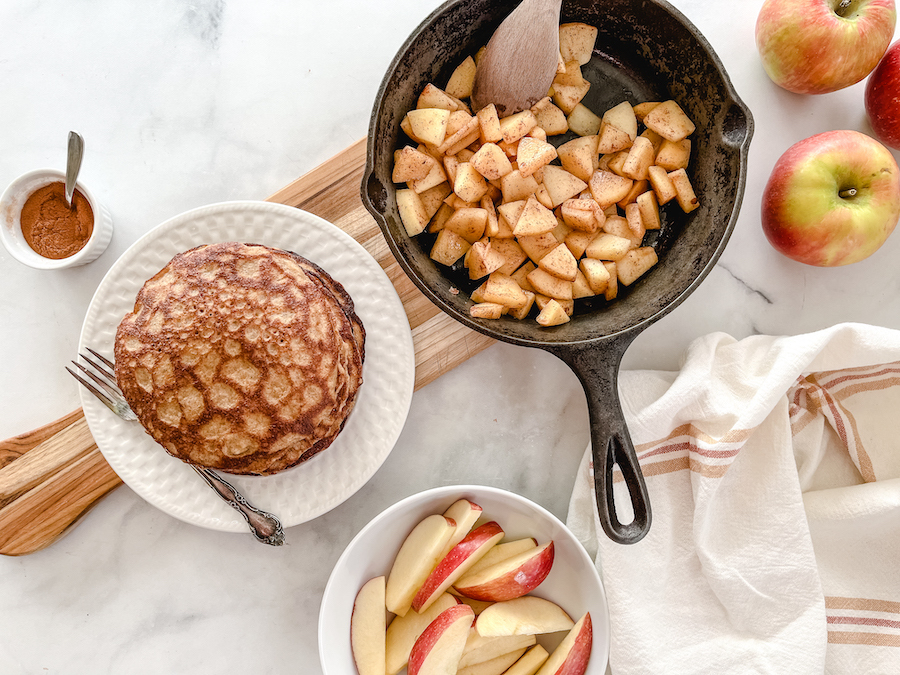 Stack your almond flour pancakes on a plate and top with the warm apples. You can also add sliced bananas or shredded coconut if you like. Serve and enjoy!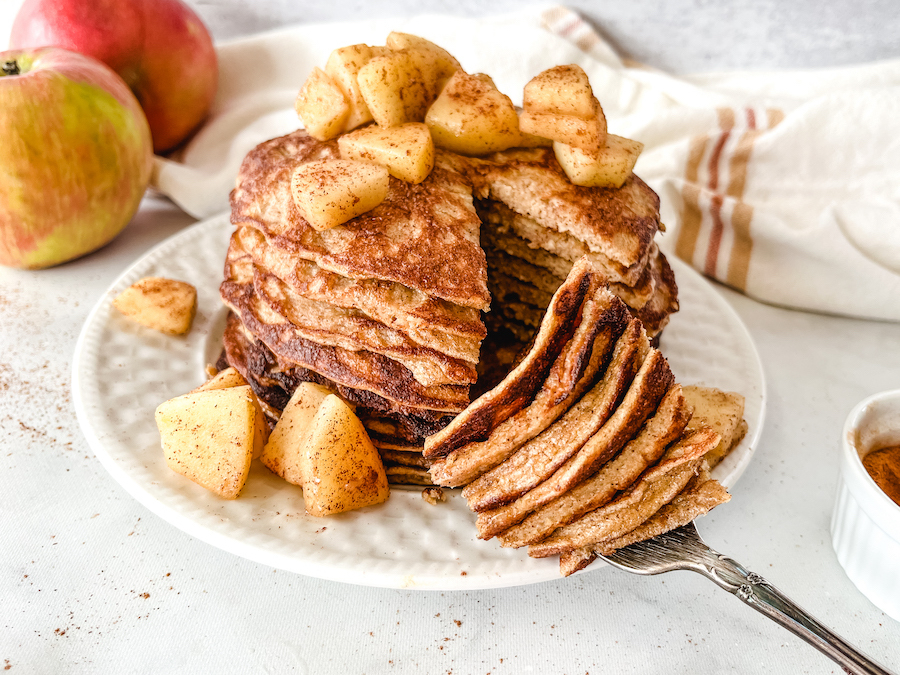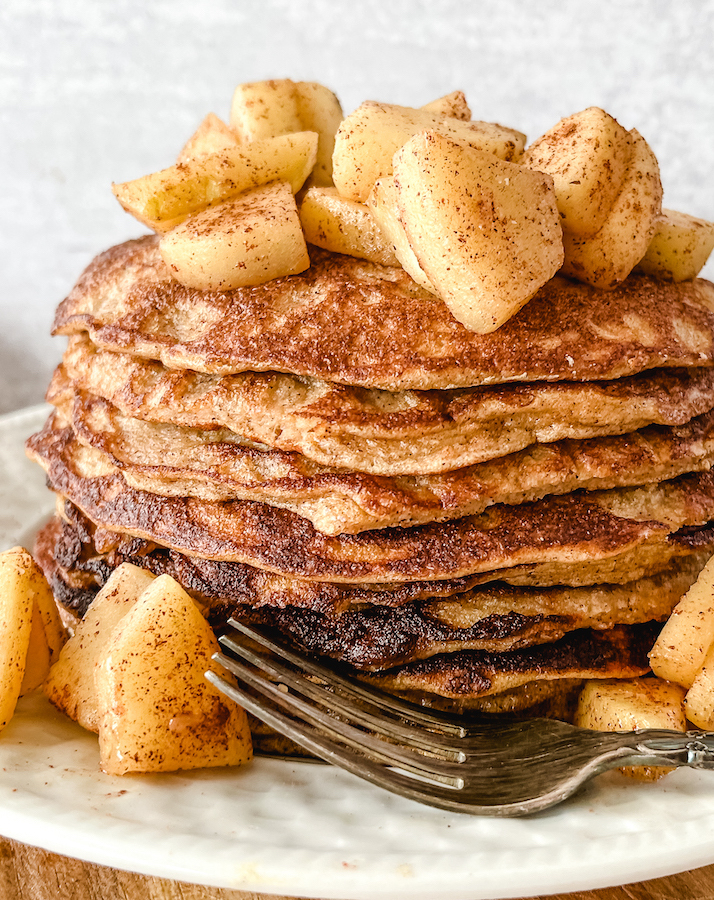 For hundreds of pure Paleo recipes be sure to check out The Real Paleo Diet Cookbook and Real Paleo Diet Fast and Easy.
Details
Recipe by: Jess Case
Serves:

4

Meal:

Breakfast
Prep Time:

5 minutes

Cook Time:

30 minutes

Total Time:

35 minutes
Ingredients
3 tbsp coconut oil, divided

2 apples, peeled and chopped

2 tsp cinnamon, divided

3 tbsp water

4 eggs

1/2 cups canned coconut milk

1/2 cups unsweetened apple sauce

1 tbsp raw honey

1 tsp vanilla extract

1/2 cups almond flour 

1/4 cups arrowroot flour

1/2 tsp baking soda

1/2 tsp baking powder
Directions
Start by making the apple topping: Melt 1 tablespoon of the coconut oil in a nonstick pan over medium heat. Add the apple slices and 1 teaspoon of the cinnamon, stir to coat. Lower the heat, add the water, and stir for about 30 seconds. Remove from the heat and set aside

Whisk the eggs, coconut milk, apple sauce, honey and vanilla extract in a large measuring cup.

In a large bowl, mix the almond flour, arrowroot flour, baking soda, baking powder, and remaining teaspoon of cinnamon. Pour the wet ingredients into the dry and whisk until a smooth batter forms.

Grease a large cast iron or nonstick pan with coconut oil and heat to medium. Once hot, scoop the batter ¼ cup at a time onto the pan for evenly sized pancakes. Cook for 2-3 minutes per side, or until golden brown. Cook in batches until all the pancakes are done. You may have to keep adding a little more coconut oil to keep them from sticking.

Serve your pancakes topped with the warm cinnamon apples, and enjoy!