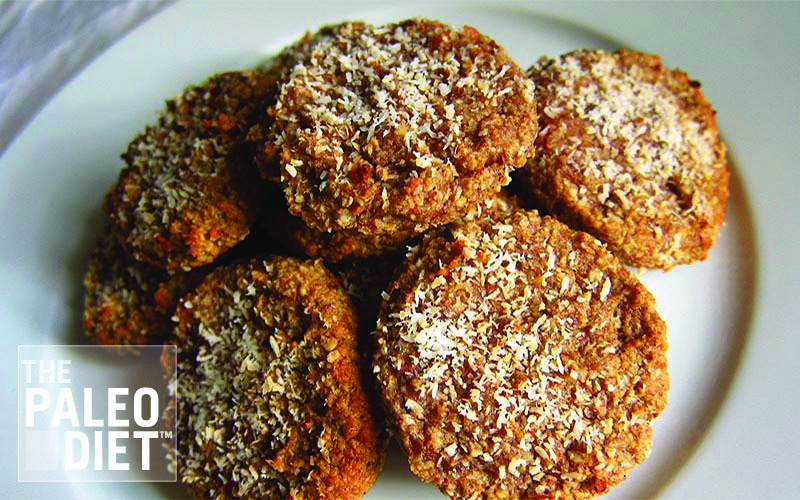 Paleo Gingerbread Cookies
The holiday season turns our thoughts to delicious treats. These Paleo gingerbread cookies provide key nutrients to put a healthy spin on an old classic.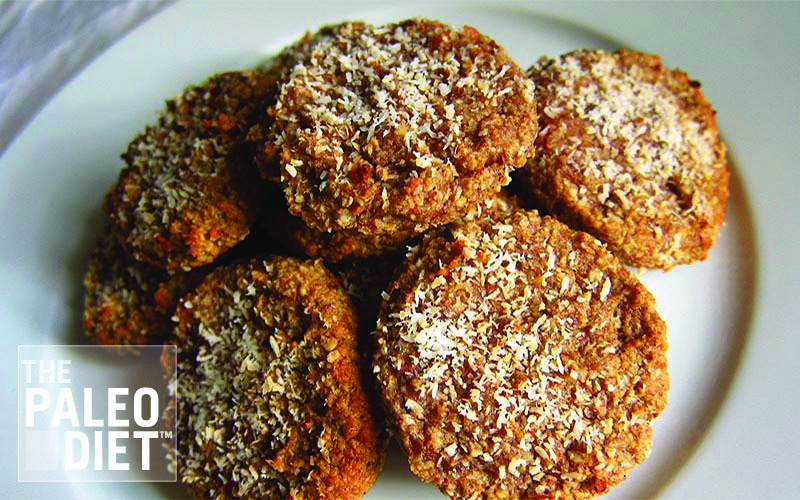 The holiday season is upon us and the lovely aroma of gingerbread cookies is filling the streets and shopping centers. Rather than reaching for a typical gingerbread cookie, made with flour, sugar, and vegetable oil, you should try our Paleo gingerbread cookies instead. This wholesome Paleo snack is sure favorite whether you're hosting or going to a holiday party.
We're using whole dates to achieve a mild sweetness. Dates, of course contain a large amount of natural sugar by weight, but also add polyphenols, fiber, and modest amounts of potassium. Most importantly, we're limiting the sugar quantity by using only fifteen dates for the entire recipe, meaning each serving contains only one or two dates.
Instead of flour, we're using a mixture of almonds and dried, unsweetened coconut, also known as desiccated coconut. It's important to soak the almonds beforehand for at least 8 hours. Soaking initiates the process of germination, which reduces antinutrient levels within the almonds. Antinutrients include phytic acid, oxalates, and enzyme inhibitors, which, collectively, can interfere with digestion and impede the absorption of minerals.
Soaking doesn't eliminate antinutrients entirely, but does yield significant results, with longer soaking times promoting greater reductions.[1] You can soak almonds and other nuts/seeds for up 24 hours, and after you've discarded the water, they'll keep in the refrigerator for a few days.
For hundreds of pure Paleo recipes be sure to check out  The Real Paleo Diet Cookbook  and  The Real Paleo Diet Fast and Easy.
Christopher James Clark, B.B.A.
@nutrigrail
Nutritional Grail
www.ChristopherJamesClark.com
REFERENCES
[1] Abd El-Hady, EA and Habiba, RA. (May 2003). Effect of soaking and extrusion conditions on antinutrients and protein digestibility of legume seeds. LWT – Food Science and Technology, 36(3). Retrieved from //www.sciencedirect.com/science/article/pii/S0023643802002177
Ingredients
1 c almonds, soaked at least 8 hours

1/2 c desiccated coconut

1 tbsp ginger powder

1 tbsp cinnamon

1 tsp allspice

15 dates, pitted

2 tbsp coconut oil

2 eggs
Directions
If the dates are somewhat hard, soak them in the coconut milk for about 15 minutes.

Process the almonds and desiccated coconut in a food processor until they are finely ground, working in batches based on the size of your machine.

Process the coconut milk, dates, coconut oil, eggs, and spices until the mixture is smooth.

Stir the wet mixture into the almond mixture. The texture should be as pictured, sticky enough to hold together. You can add an additional tablespoon or two of coconut milk if necessary.

Use a small cookie cutter ring to get round shapes. Simply line a baking sheet with parchment paper and then add two spoons of the batter into the ring.

Using your finger, gently pat the batter down to flatten the cookies.

Sprinkle the formed cookies with some more desiccated coconut.

Bake the cookies at 300°F for 15 minutes or until they are lightly browned.