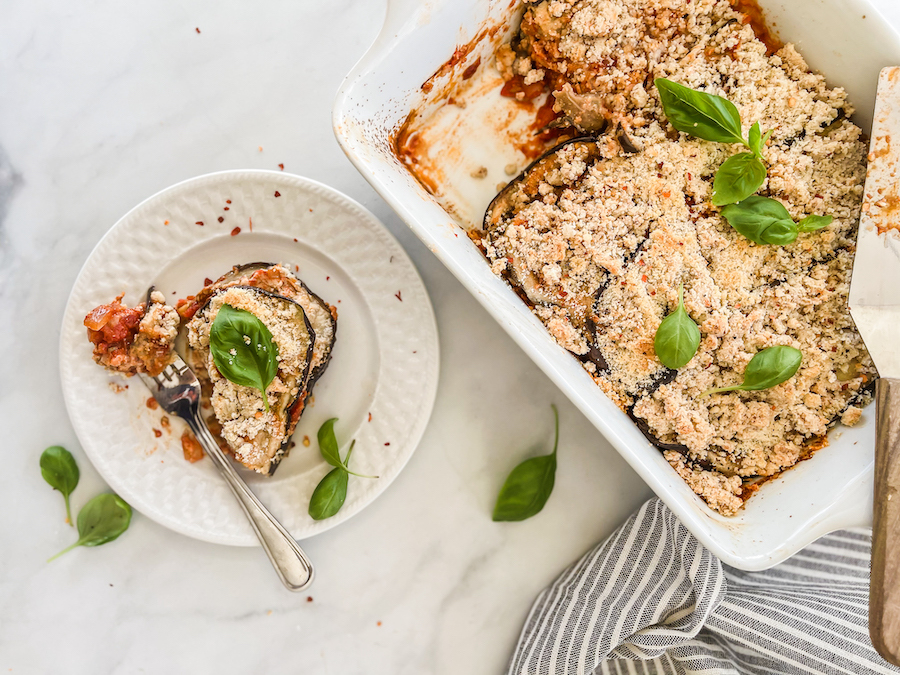 Paleo Eggplant Lasagna (Vegan-Friendly)
Craving lasagna? Try this tasty Paleo version that uses long, thin eggplant slices for noodles, cashew cream for cheese, and an almond flour "breadcrumb" topping!
While making eggplant lasagna will take a bit longer than the traditional kind, this recipe helps maximize your time. While the eggplant slices are roasting and the sauce is simmering, you'll make the cashew cream. Once the lasagna is assembled and baking, you'll mix up the crumbly topping. It's a bit of hands-on time, but we think it's worth it!
Start by cutting three large eggplants the long way, into half-inch slices. Brush with olive oil, and bake until soft. Next, make the red sauce with garlic, diced onions, diced tomatoes, tomato paste, chili flakes, and balsamic vinegar. This combination creates a pungent, spicy and well-balanced sauce that tastes great in between the layers of eggplant. If you don't have a sauté pan or a deep skillet, you can always sauté the onions and garlic in a shallow skillet, then transfer to a saucepan when you add the tomatoes and remaining ingredients.
To make the cashew cream, blend soaked and drained cashews with almond milk and garlic until silky. Cashews contain starch that will help thicken up a sauce, so this is a great replacement for ricotta cheese. Plus, the nuts are high in fat and lend a natural sweetness, similar to real cheese!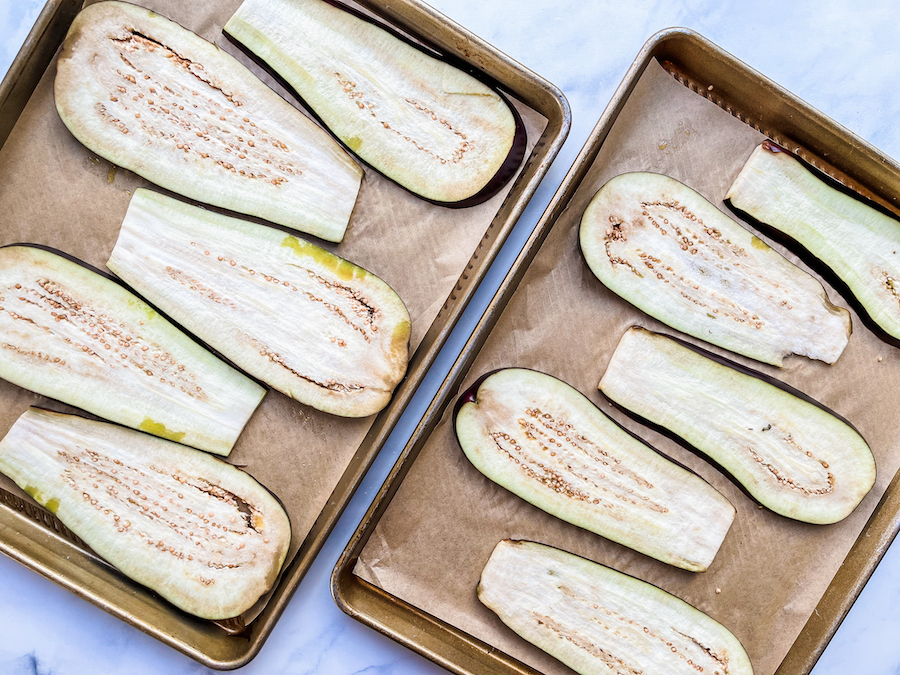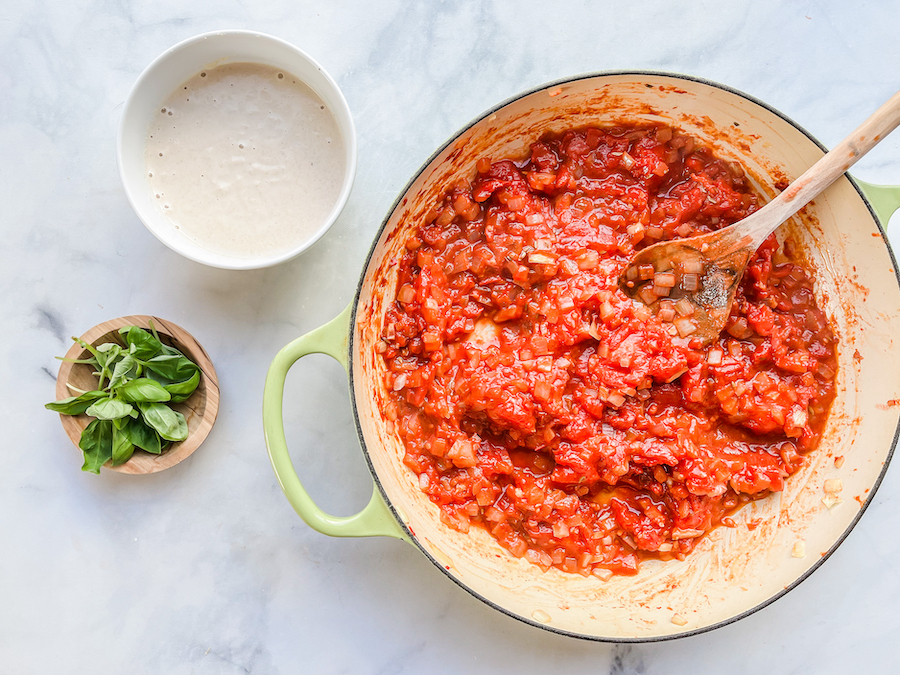 Now it's time to start layering: start by spreading some tomato sauce into a deep baking dish, then add a single layer of the baked eggplant. Add more tomato sauce, a drizzle of cashew cream, fresh basil, and more eggplant. Keep layering until all the ingredients are used. Cover with foil and bake for 20 minutes.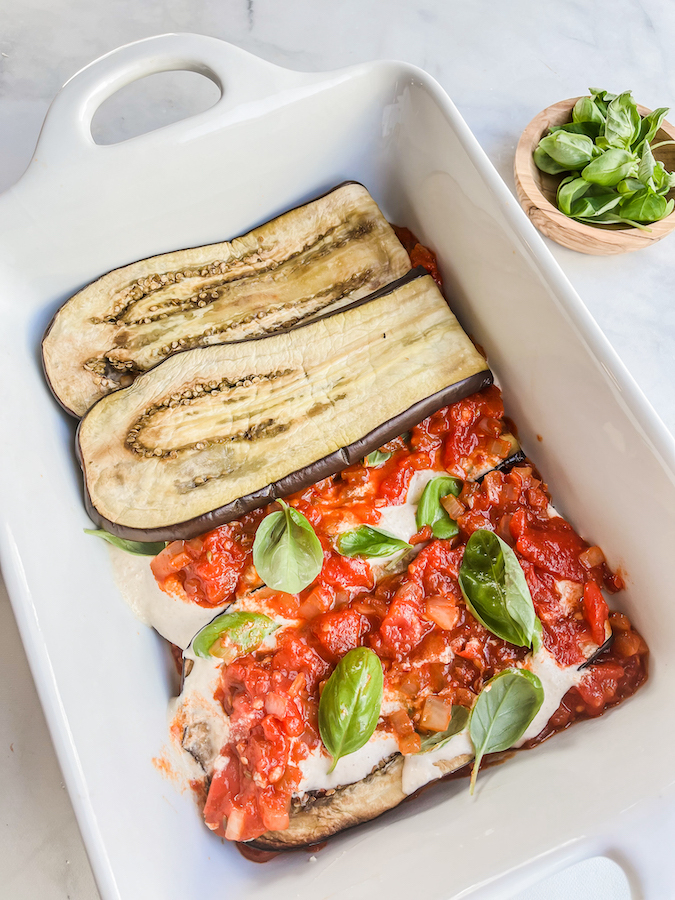 While the lasagna cooks, make the crumbly "breadcrumb" topping by pulsing raw almonds in a food processor until crumbly, then mix with almond flour. You can just use almond flour for this if you want to, but the homemade crumbles add more dimension to the mix. Stir in melted coconut oil and mix until uniformly wet. Sprinkle evenly over the lasagna and bake for another 10 minutes. Note: You can skip the crumbly topping if you want to, but it adds a nice crunchy texture you can't achieve without it!
Serve your eggplant lasagna hot, garnished with freshly chopped basil.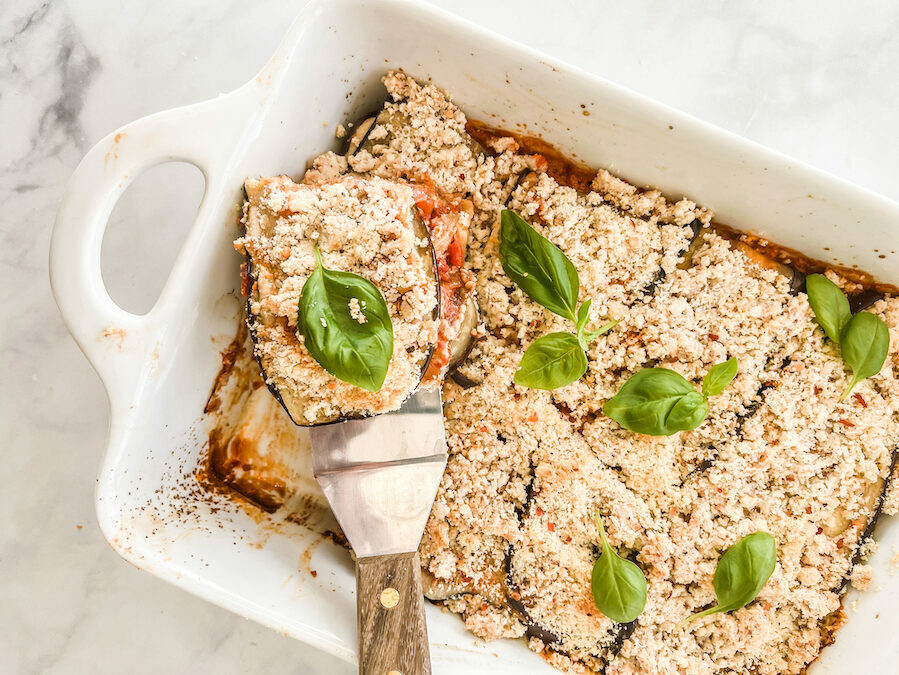 Tips:
You can make this in advance, and bake it later! Simply assemble in the baking dish, and save the "breadcrumb" topping separately. Refrigerate until you're ready to bake, up to 2 days in advance.
Once baked, leftovers will last for about 4 days in the fridge. Reheat in the microwave or oven until warm.
If you don't like almonds, you can try pecans or walnuts for the topping.
Want to add some protein? You can include an extra layer of browned ground beef or turkey right after the cashew cream. (Of course, it won't be vegan-friendly anymore!)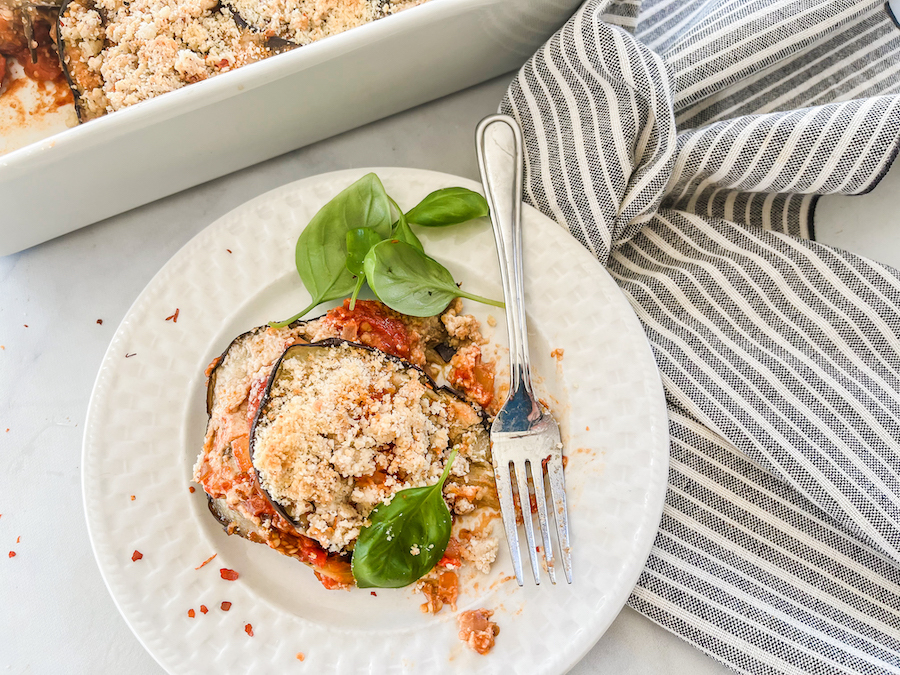 For hundreds of pure Paleo recipes be sure to check out The Real Paleo Diet Cookbook and The Real Paleo Diet Fast and Easy.
Details
Prep Time:

20 minutes

Cook Time:

50 minutes

Total Time:

1 hour 10 minutes
Ingredients
3 large eggplants

2 tbsp olive oil, divided

1 onion, diced

4 garlic cloves, minced, divided

2 14 oz cans diced tomatoes, unsalted

1/4 cups tomato paste, unsalted

1/2 tsp chili flakes

1 tsp balsamic vinegar

1 cups cashews, soaked in hot water for 15 minutes and drained

2/3 cups almond milk

1/4 cups basil, chopped (plus more for serving)

1/4 cups almond flour

2 tbsp melted coconut oil
Directions
Preheat the oven to 425°F and line a baking tray with parchment paper.

Slice the eggplant the long way, into ½-inch slices. Brush both sides with 1 tablespoon of the olive oil. Set on the prepared baking tray and roast for 10 minutes. Flip and roast another 10 minutes.

Meanwhile, prepare the sauce: In a large sauté pan or Dutch oven, warm the remaining tablespoon of olive oil over medium heat. Add the onion and 2 cloves of garlic and cook about 5 minutes. Add the diced tomatoes, tomato paste, chili flakes and balsamic vinegar. Reduce the heat to low and simmer until thick, at least 20 minutes.

Next, prepare the cashew cream: In a blender, combine the drained cashews, almond milk and remaining 2 cloves of garlic until smooth, about a minute.

Start layering your lasagna: In a deep baking dish, spoon a layer of the tomato sauce. Add one layer of the baked eggplant, and top with more tomato sauce. And a layer of cashew cream and sprinkle some basil over the top. Repeat the pattern until all ingredients are used up.

Cover with foil and bake for 20 minutes.

While the lasagna is baking, make the "breadcrumb" topping. Add the almonds to a food processor and pulse until crumbly. Pour into a bowl and add the almond flour and melted coconut oil. Stir to combine. When the lasagna is done, remove the foil and sprinkle the topping over the top. Bake for another 10 minutes, uncovered, until hot and bubbly.

Garnish with more fresh basil, and serve.