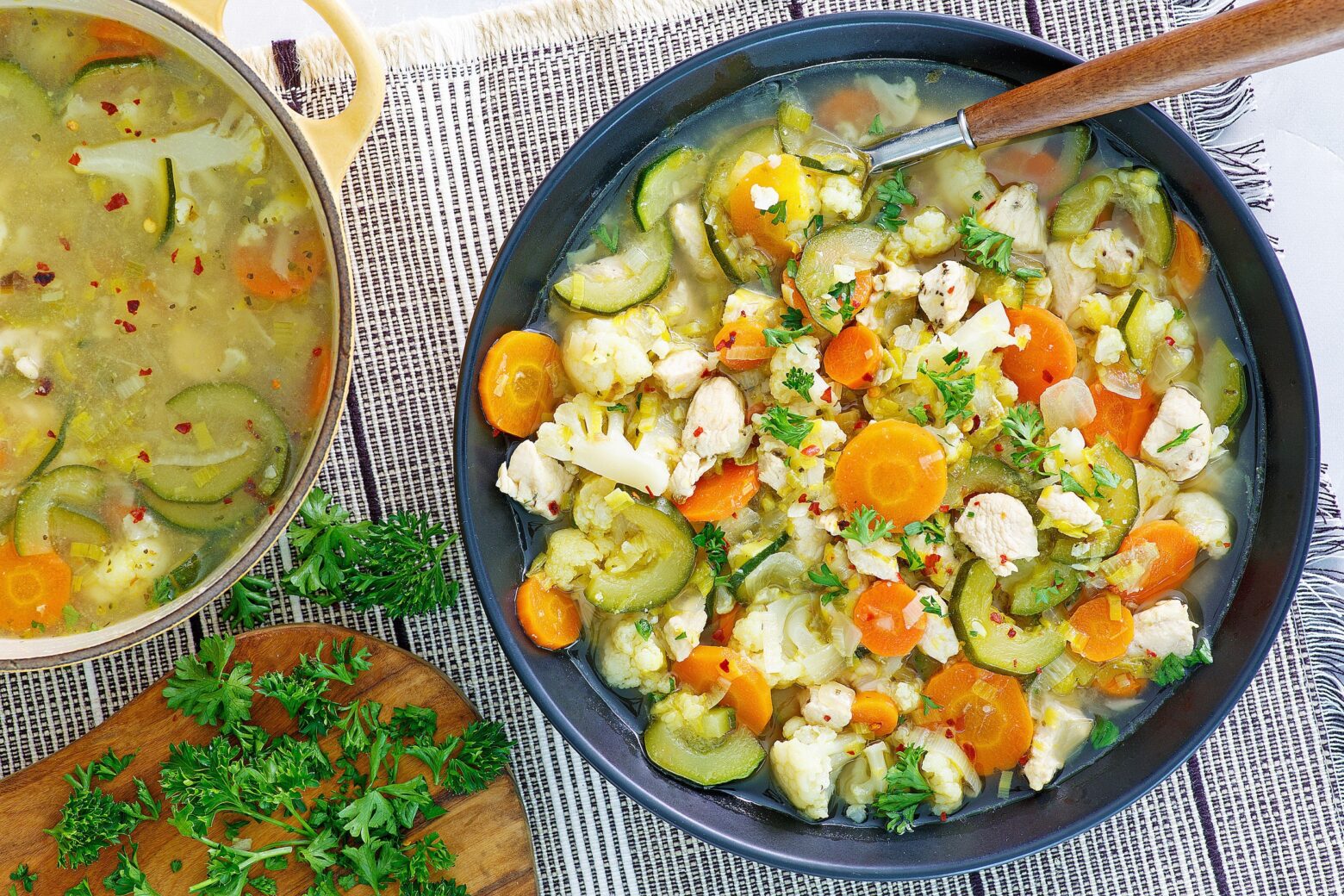 Paleo Chicken and Leek Soup
When it comes to versatility and imagination in Paleo cooking, poultry hits the mark. Chicken can be used in a variety of Paleo dishes and combined with a wide range of herbs and spices to keep your Paleo meat dishes interesting. This soup checks all the boxes for flavor and nutrition and can be modified by adding just about any veggie in your fridge. We love to sneak in a leftover steamed veggie or two to just before serving. The possibilities are endless, so enjoy getting creative in your kitchen!
For hundreds of pure Paleo recipes be sure to check out The Real Paleo Diet Cookbook and The Real Paleo Diet Fast and Easy.
Details
Prep Time:

35 minutes

Cook Time:

45 minutes

Total Time:

1 hour 20 minutes
Ingredients
2 tsp coconut oil

1/2 c diced white onions

2 medium leeks, sliced into .5 inch rings

2 large carrots, sliced into about 1/2 inch pieces

6 c no sodium chicken stock

1/2 tsp dried oregano, divided

1/2 tsp dried thyme, divided

1/2 tsp dried parley, divided

Pinch of crushed chili flakes

2 tbsp extra virgin olive oil

3 c small cauliflower florets

1 lb chicken breasts

1/2 fresh zucchini cut into bite sized pieces

1/2 tsp garlic powder
Directions
In a large soup pot, over medium heat, sauté oil and onions for 3 minutes. Onions should be translucent and fragrant.

Add half of the sliced leeks, stirring to separate the rings. Cook for 2 minutes.

Add carrots and continue cooking for 5 minutes.

Stir in chicken stock. Add ¼ teaspoon each of oregano, thyme, and parsley. Simmer for 10 minutes.

Place cauliflower florets into the soup pot and add remaining chicken stock. Continue simmering.

In large frying pan, heat olive oil on medium setting. Place chicken breasts in the pan.

Add remaining leeks, stirring to separate rings.

Add garlic powder and remaining oregano, thyme, and parsley. Cook for about 10 minutes, occasionally turning mixture with a wooden spoon.

Remove the chicken from the frying pan and set aside.

Continue cooking the leeks until they have caramelized.

Cut the chicken into bite sized pieces and put back into the pan with the leeks. Mix well and then transfer to the soup pot.

Add the zucchini to the soup and let everything lightly boil for about 15 minutes.