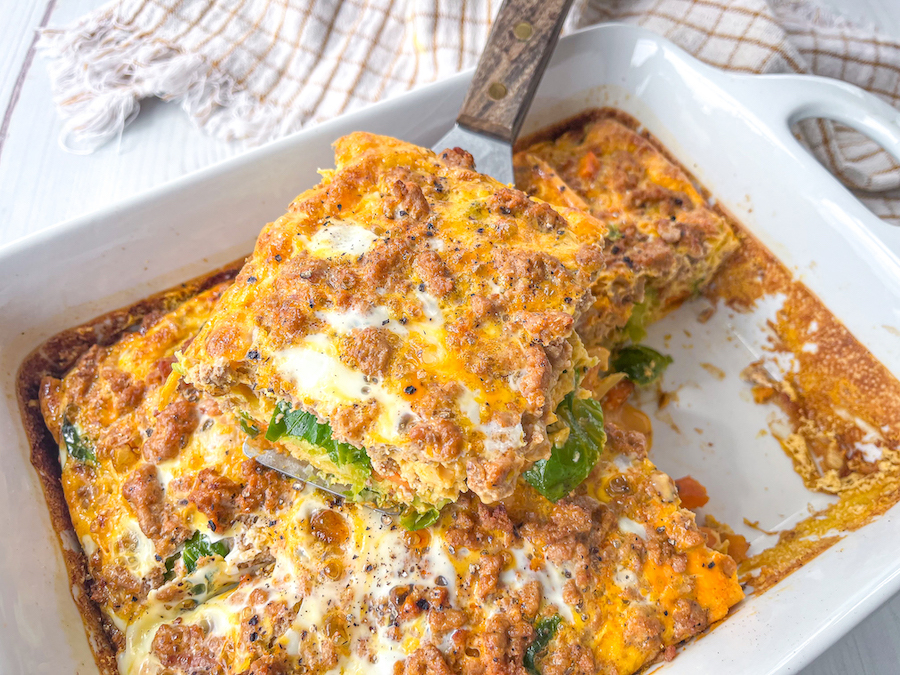 Paleo Breakfast Casserole
The most important meal of the day is the most delicious meal of the day with this Paleo dish. The combination of meats, eggs, veggies, and spices will wake up your taste buds and keep you energized throughout the busy morning hours. This casserole is so impressive that it can be prepared for special occasions as well as casual get togethers. Best of all, it's perfectly Paleo!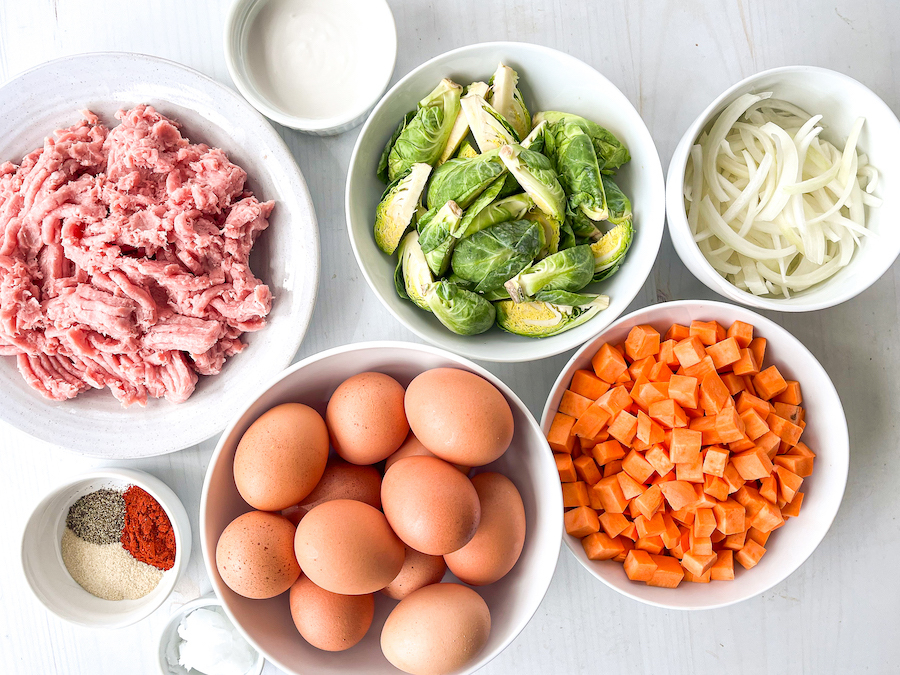 Love our recipes? Make going Paleo even easier and download our 7-Dayand 28-Day digital meal plans!
Details
Prep Time:

45 minutes

Cook Time:

25 minutes

Total Time:

1 hour 10 minutes
Ingredients
2 tbsp coconut oil, divided

1 lb ground pork

1 tsp smoked paprika

1 tsp cracked black pepper + more to taste

2 large sweet potatoes, cubed

8 Brussels sprouts, tops removed and quartered (or rough chopped)

1 large onion, thinly sliced

12 eggs

1/2 cups full fat coconut milk

1/2 tsp garlic powder
Directions
Preheat oven to 425°F. Grease a 9×13 inch casserole dish with coconut oil, making sure to cover bottom and sides of pan. Line a large baking sheet with parchment paper.

Season ground pork with paprika and pepper. Cook in a large skillet over medium-high heat, stirring occasionally until well browned. Remove meat using a slotted spoon and place on paper towels. Set aside the pan containing the cooking remnants and oils.

In small saucepan, heat 2 tablespoons coconut oil until liquid. In a large mixing bowl, toss the sweet potatoes with half of the melted coconut oil and spread evenly on the bottom of the casserole dish.

Toss Brussels sprouts with remaining melted coconut oil and arrange on a parchment lined baking sheet in a single layer. Place the sweet potatoes and Brussels sprouts in the oven to roast. After 20 minutes, remove the Brussels sprouts. Continue roasting the sweet potatoes for an additional 10 minutes. Remove from oven.

While the other veggies are cooking prep the onion. Reheat cooking pan used for the ground pork over low to medium heat. Add onions to pan, stirring occasionally, and cook for about 25 minutes until onions have caramelized. Remove from heat.

In a medium sized mixing bowl, whisk together the eggs, coconut milk, and garlic powder. Set aside.

Set oven to 400°F. To assemble the casserole, layer Brussels sprouts over the sweet potato base in the casserole dish. Remove the caramelized onions with a slotted spoon and layer over the Brussels sprouts, followed by the cooked meat. Pour the whisked egg mixture over the casserole to evenly cover.

Place on middle rack in the oven and bake for about 25 minutes until the center is set and edges begin to turn light brown.

Allow to cool for 10 minutes before serving.