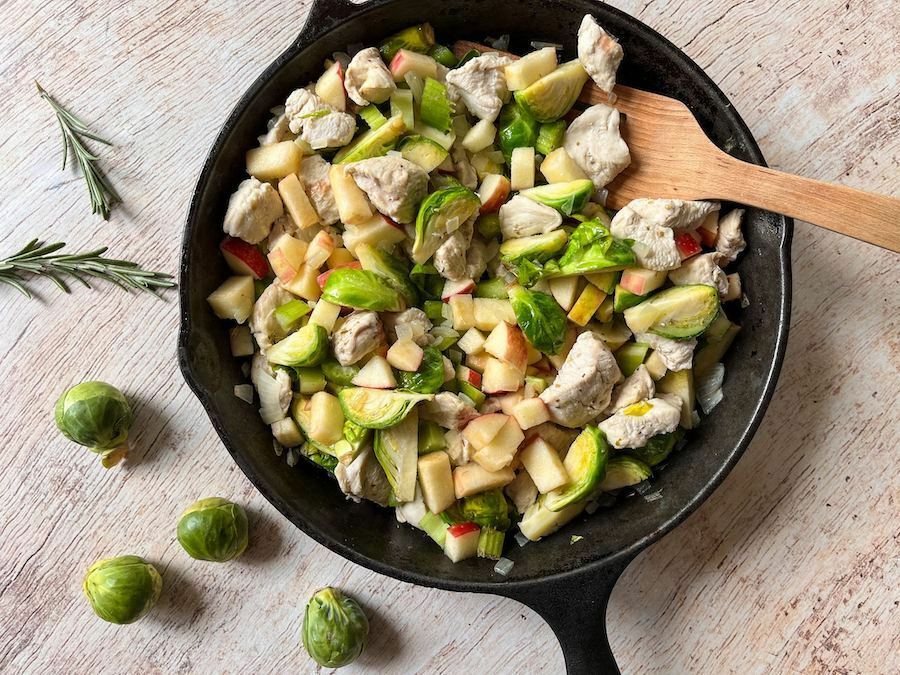 One-Skillet Chicken with Apples & Brussels Sprouts
This single pan chicken dish is filled with warm fall flavors for a hearty, healthy family meal!
Chicken, Brussels sprouts and apples are the heart of this tasty autumn dinner. The flavors work wonderfully together, and you get a good dose of vitamins, too. Brussels sprouts are a great source of fiber, antioxidants, and vitamin K, which is a nutrient vital for bone health.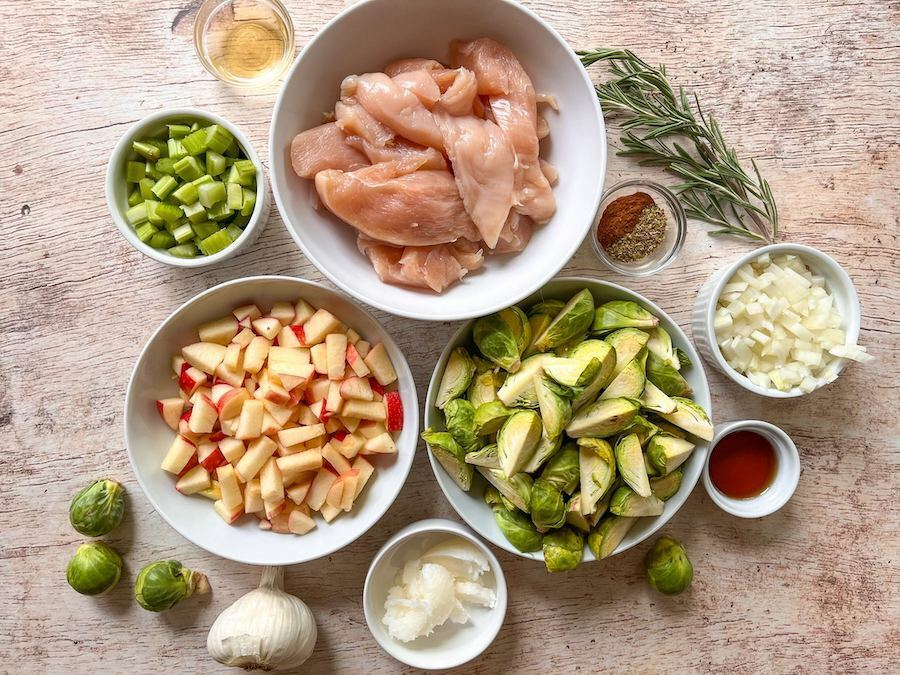 For more fall flavor (and extra vitamins) you can add some chopped sweet potatoes or butternut squash here as well. Dice them small, then add with the Brussels sprouts so everything can cook through evenly.
To make this easy skillet chicken dish, start by sautéing chicken tenders with chopped onions until browned. Set aside, then use the same skillet to cook the Brussels sprouts in a bit of coconut oil. Add celery, apples, rosemary, garlic, and cinnamon. Continue to cook until the veggies and apples are soft, another 10 minutes. Your kitchen should smell pretty amazing right now!
Finish by adding the chicken back to the skillet, and add a dash of apple cider vinegar and water. Cook until the liquid evaporates, then serve your autumn chicken skillet while it's hot!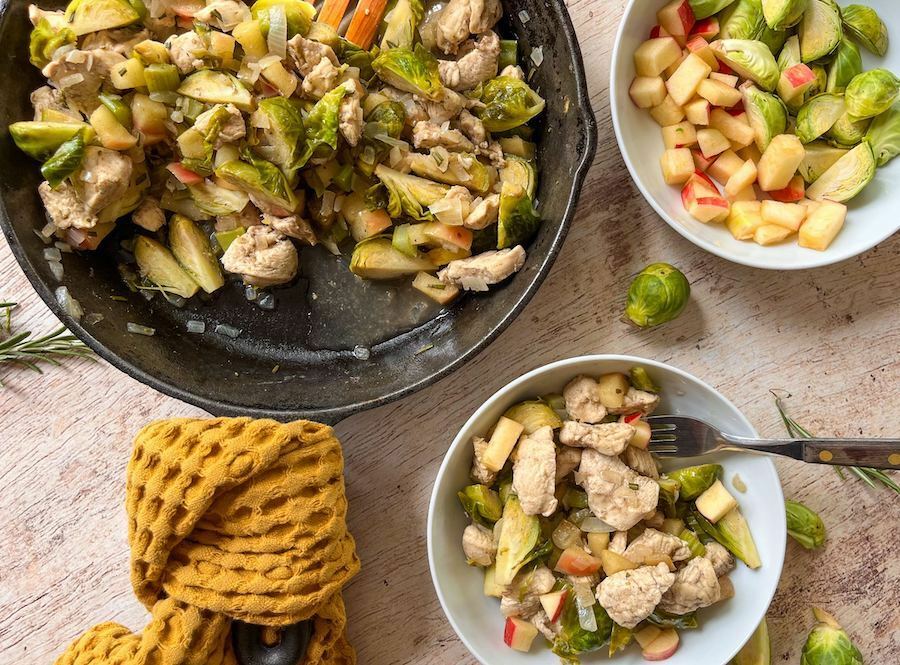 Love our recipes? Make going Paleo even easier and download our 7-Day and 28-Day digital meal plans!
Details
Prep Time:

15 minutes

Cook Time:

35 minutes

Total Time:

45 minutes
Ingredients
2 tbsp coconut oil, divided

1 lb chicken tenders

1 yellow onion, finely chopped

1 tsp dried oregano

1 lb Brussels sprouts, quartered

1 lb celery, peeling and chopped into 1/2 inch cubes

1 gala apple, chopped into 1/2 inch cubes

1 tbsp finely chopped rosemary

1 tbsp finely chopped garlic

1 tsp ground cinnamon

1 tbsp raw honey

2 tsp apple cider vinegar

1/4 cups water
Directions
Heat 1 tablespoon of coconut oil in a large skillet over medium heat. Add the chicken and onions, then sprinkle with oregano. Sauté for about 15 minutes, or until the onions are soft and chicken is cooked through. Set aside on a dish.

Pour the remaining 1 tablespoon of coconut oil to the same skillet. Add the Brussels sprouts and sauté for 5 minutes. Stir in the chopped celery, apples, rosemary, garlic and cinnamon. Cook for another 10 minutes.

Add the chicken and onions back to the skillet and pour in the honey, apple cider vinegar, and water. Cook until the water evaporates, about 2 minutes. Serve warm.