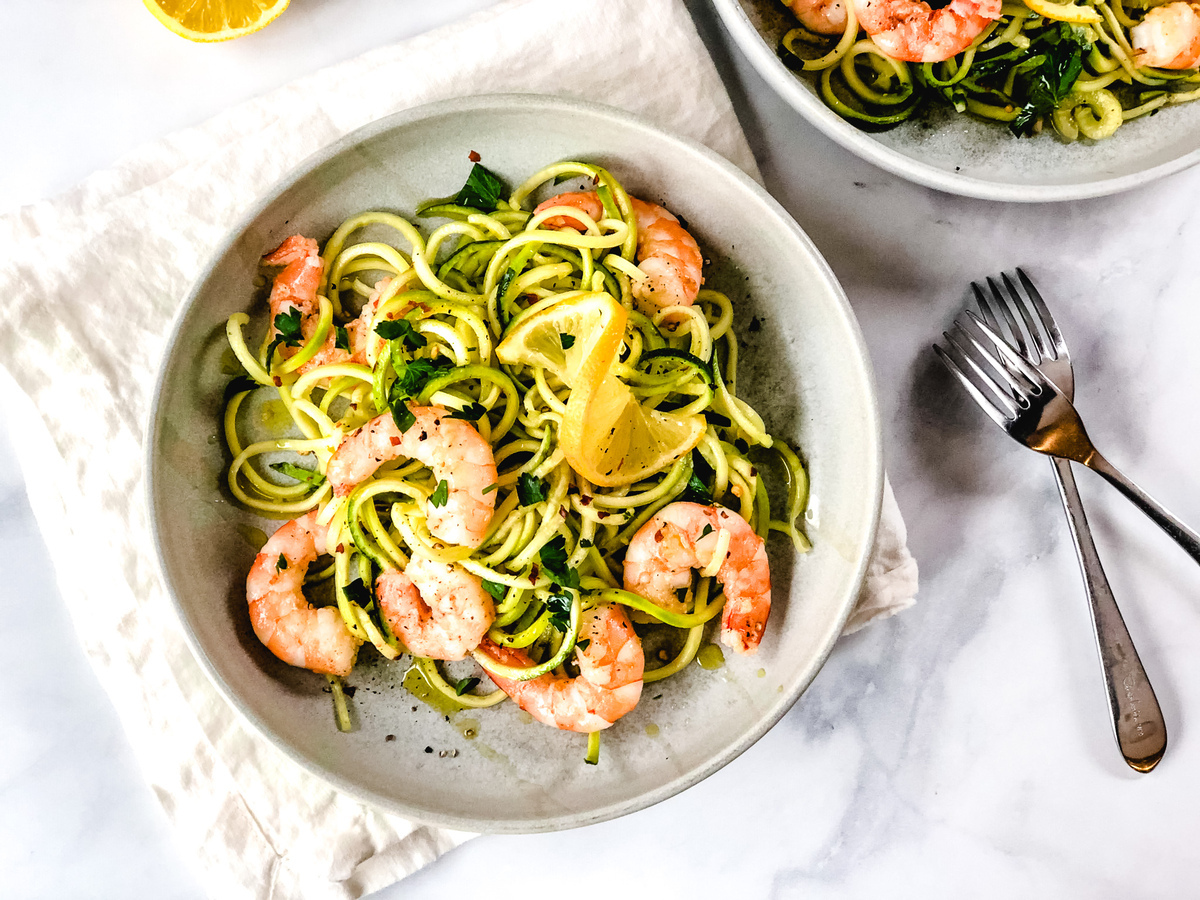 One Pan Lemon Zoodles with Shrimp
Need a quick and easy lunch, or an extra light dinner? You can whip up this recipe in under a half an hour—and even less if you have all the ingredients prepped and ready to go!
Shrimp and zucchini cook up in a snap, making them ideal for a quick dinner that require less than 10 minutes of active cooking time. Plus, zucchini noodles are a great substitution when you're craving pasta.
You can buy "zoodles" in packages at the store, but if you have a spiralizer, you can easily make them yourself at home. Just cut the ends off a zucchini and send it through your spiralizer, or use a sharp knife to julienne into long strips by hand.
Start by searing fresh or frozen peeled shrimp in a hot skillet with olive oil. Cook for one minute on each side without stirring. It might be tempting to stir, but leaving them in place will help ensure a nice crispy exterior. Season the shrimp with garlic, red pepper flakes, and fennel seeds, cooking until just fragrant, then use tongs to set the shrimp aside.
Use the same skillet to start building the lemon sauce. Warm a little more olive oil, then add the juice and zest of a lemon and a bit of chicken broth. Bring the sauce to a boil, then reduce the heat and add the zoodles, tossing them quickly to cook them evenly.
Be sure not to cook the zucchini noodles for too long—they can easily become mushy, and you want them nice and crispy. Finally, add the shrimp back to the pan just long enough to warm them through.
Serve your lemon shrimp and zoodles hot, sprinkled with more freshly cracked black pepper and fresh parsley, if you like.
Tip: For a more colorful dish, you can add thin slices of yellow, green, or red bell peppers along with the zoodles.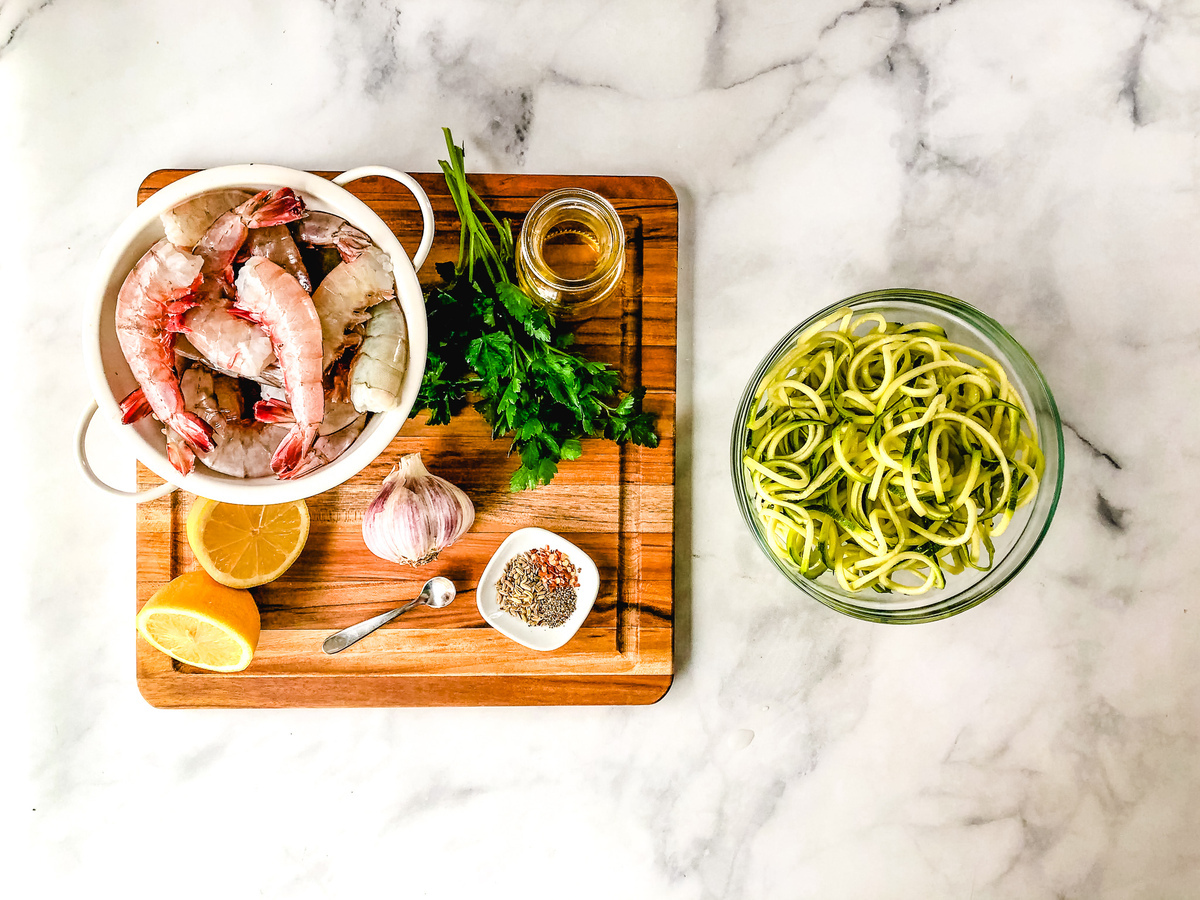 For hundreds of pure Paleo recipes be sure to check out  The Real Paleo Diet Cookbook  and  The Real Paleo Diet Fast and Easy.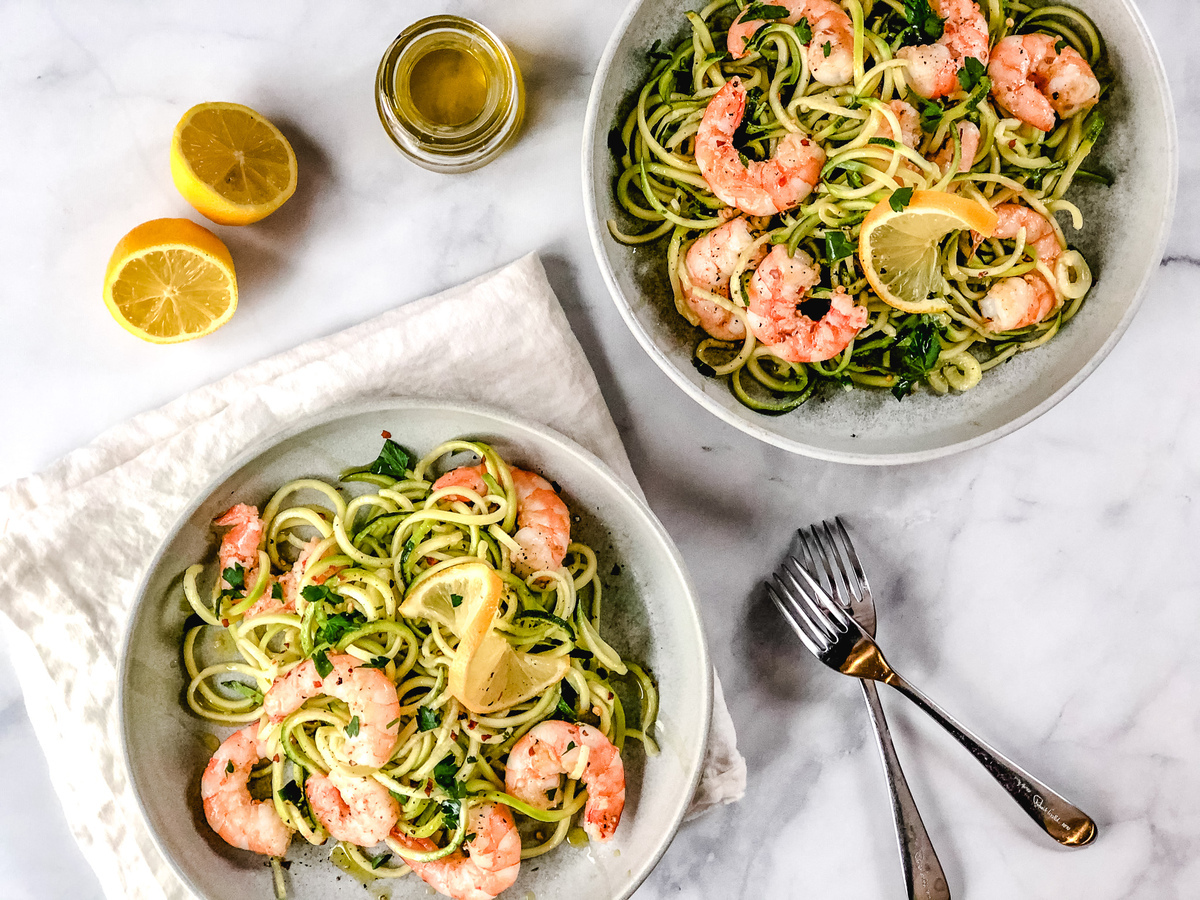 Details
Prep Time:

10 minutes

Cook Time:

10 minutes

Total Time:

20 minutes
Ingredients
4 tbsp olive oil, divided

1 lb shrimp, fresh or frozen, peeled

1/4 tsp black pepper, plus more for serving

4 garlic cloves, minced

1/4 tsp red pepper flakes

1/2 tsp fennel seeds

1 lemon, zested and juiced

1/4 cups low sodium chicken broth

4 zucchini, spiralized

1/4 cups fresh parsley, chopped
Directions
Heat 2 tablespoons of the olive oil in a large skillet on medium high heat. Add the shrimp to the pan in one layer and season with black pepper. Cook for one minute, without stirring, then flip and let it cook for another minute.

Stir in the minced garlic, red pepper and fennel seeds. Cook another minute or so, until the shrimp is pink. Use tongs to transfer the shrimp onto a plate and set aside.

Add the remaining 2 tablespoons of olive oil, lemon juice, lemon zest and broth. Bring the sauce to a boil, reduce heat and let it simmer for three minutes, stirring.

Add the zoodles to the pan and use tongs to toss it in the sauce for about 30 seconds, being careful not to overcook. Add the shrimp back to the pan just long enough to warm them through.

Serve immediately with cracked black pepper and freshly chopped parsley.