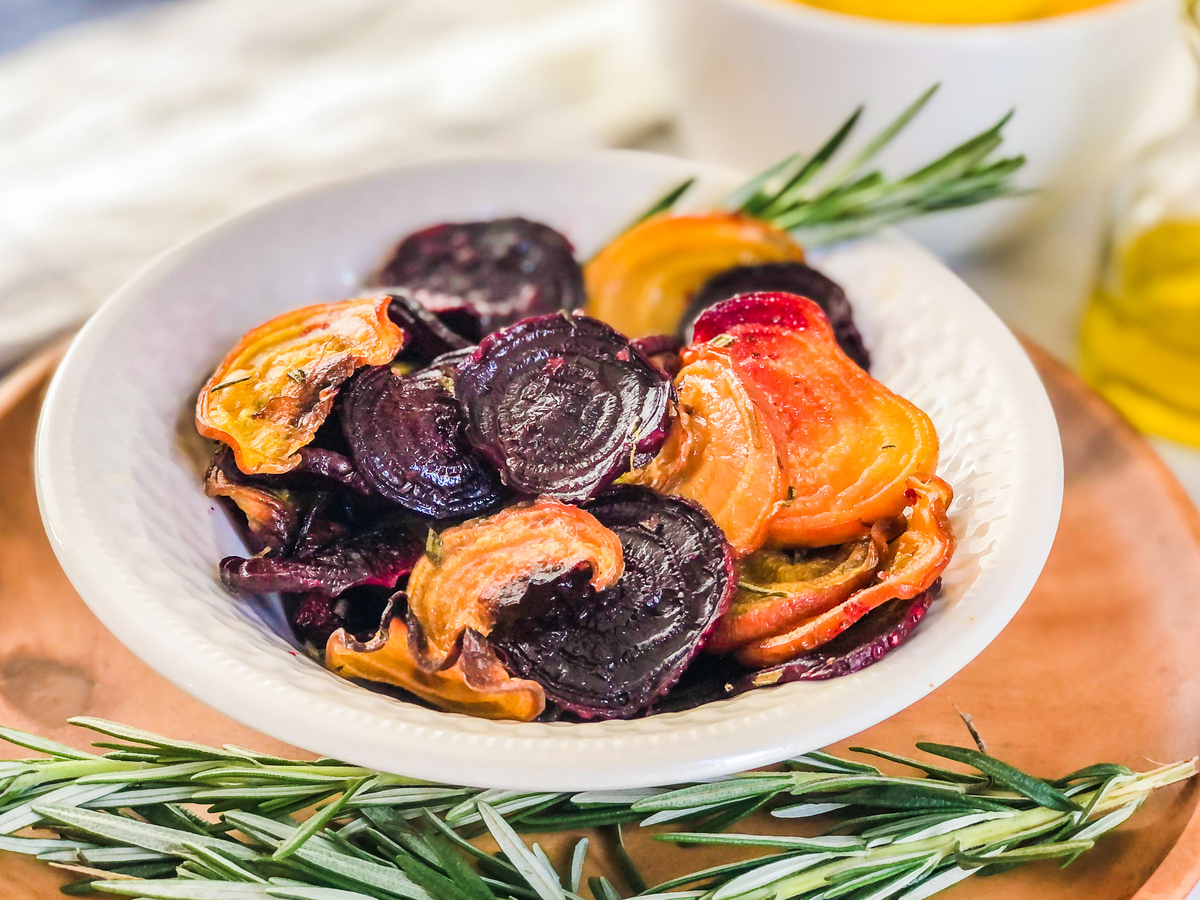 Lemon Rosemary Beet Chips
Toss thin beet slices with aromatic rosemary and bake for a crispy, crunchy replacement for potato chips!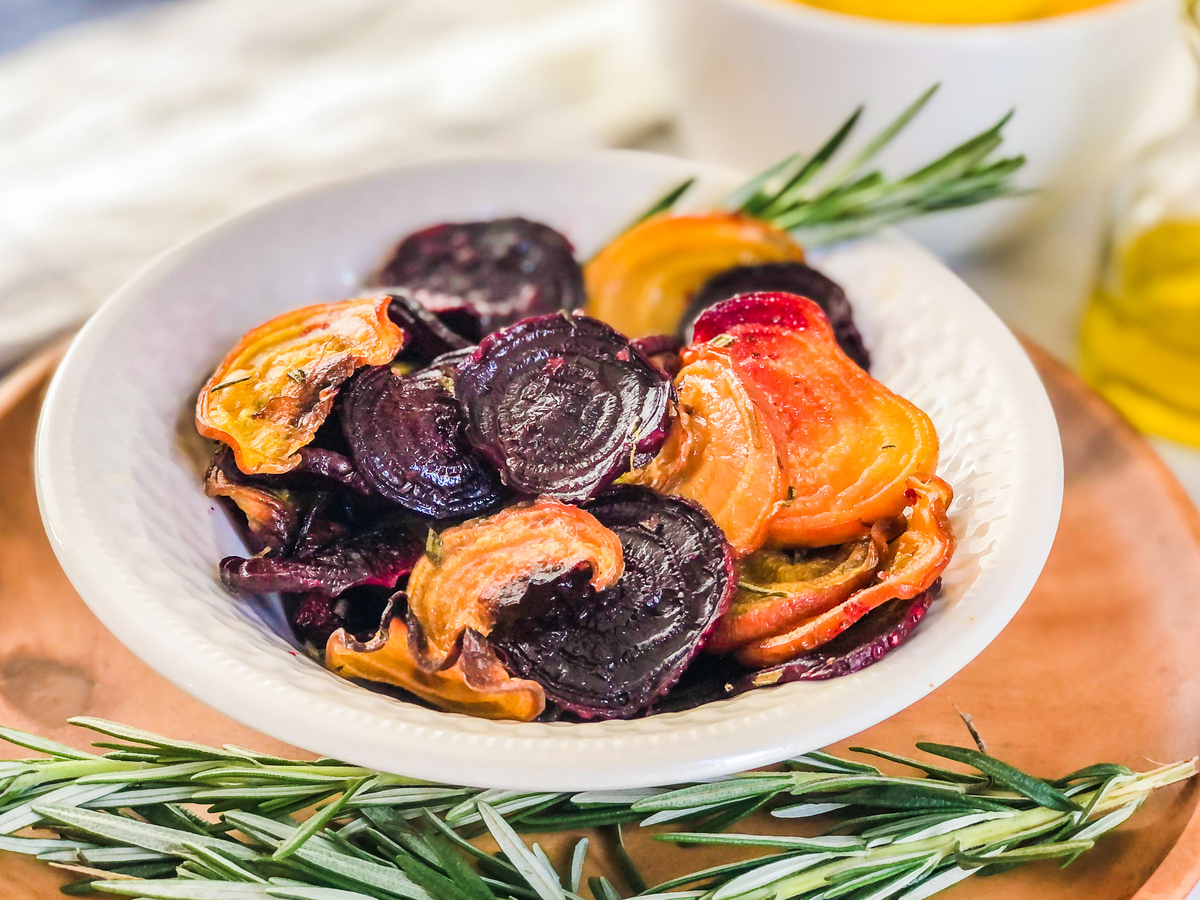 Craving something crunchy, but sick of kale chips? Try beet chips! The natural sweetness of beets plays well with savory rosemary and lemon zest, for an irresistible (and easy) snack.
All you need are four ingredients for these easy beet chips. Start by washing and scrubbing your beets well. We used a combination of golden and red beets for a colorful combination, but you can use just one variety if you prefer.
You don't need to peel your beets, but you do need to make sure that they are consistently thin. A mandolin can help ensure even slices, but an extra sharp knife and careful slicing can be just as effective. The thinner they are, the more likely they are to curl a bit while roasting—which makes for extra-appealing chips!
Once you have your beets sliced, toss them in a combination of avocado oil, lemon zest, and chopped rosemary. We used avocado oil since it's great for high heat cooking, but you could also use coconut oil or olive oil if you prefer.
Arrange your beet chips in an even layer on a baking sheet. Add to an oven preheated to 375°F, roast 20 minutes, then flip the chips and continue to cook another 15 minutes or so. Be sure to watch closely after about 25 minutes to ensure they don't burn.
Let your beet chips cool slightly, then serve as a crunchy snack or side dish!
Tip: Want to spice things up? Experiment with adding salt-free spices like cumin, paprika, chili powder, ginger, or even cinnamon.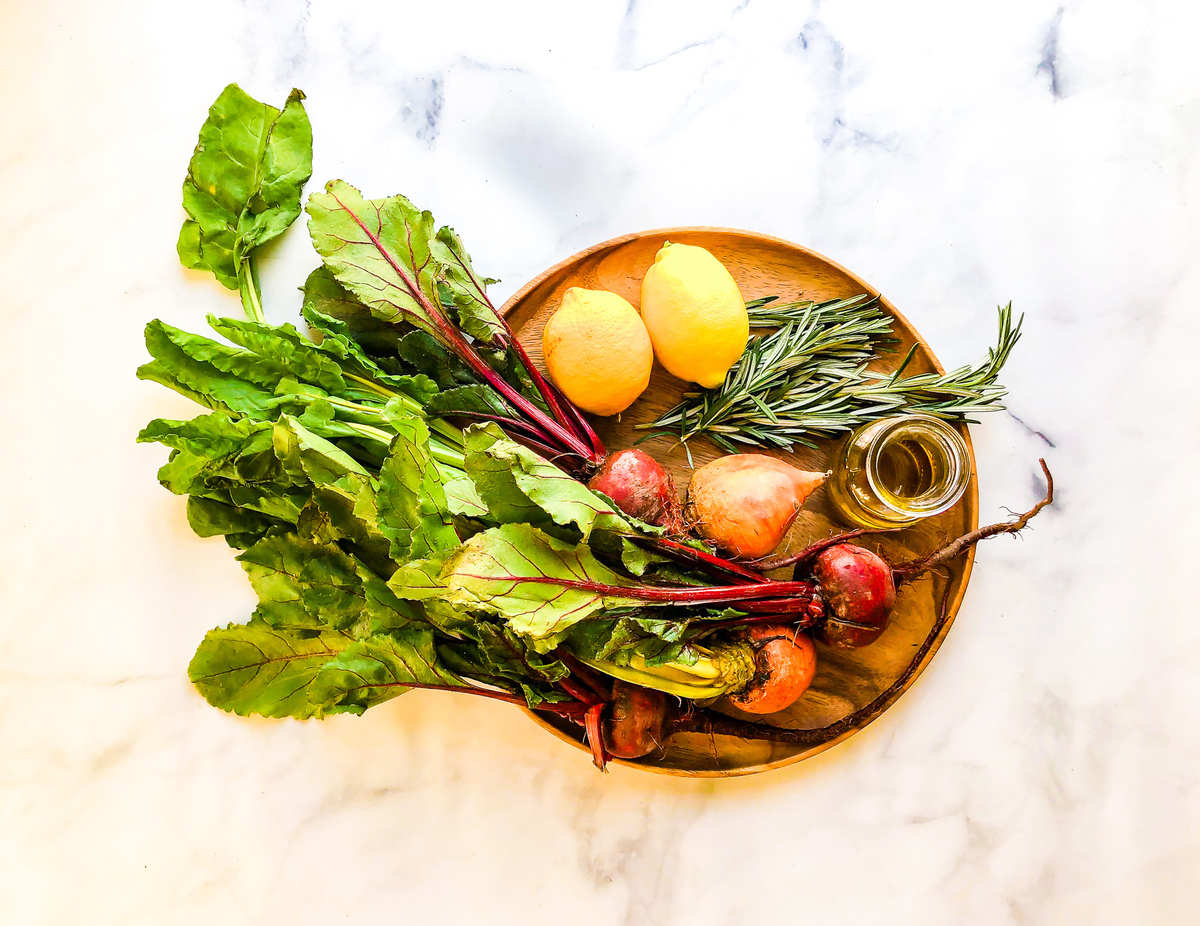 For hundreds of pure Paleo recipes be sure to check out  The Real Paleo Diet Cookbook and  The Real Paleo Diet Fast and Easy.
Details
Serves:

3

Prep Time:

15 minutes

Cook Time:

35 minutes

Total Time:

50 minutes
Print this Recipe
Ingredients
2 bunches of beets

2 tbsp avocado oil

1 lemon, zested

4 rosemary springs, chopped
Directions
Preheat the oven 375°F.

Wash and scrub the beets well, then slice as thin as possible. Add to a bowl with the avocado oil, lemon zest, and rosemary and toss well to combine.

Arrange the beets in a single layer on a baking sheet. Add to the preheated oven and roast for 20 minutes, , then flip and cook for another 15 minutes. Watch closely to make sure they don't start to burn!

Remove from the oven and let your beet chips cool before serving.