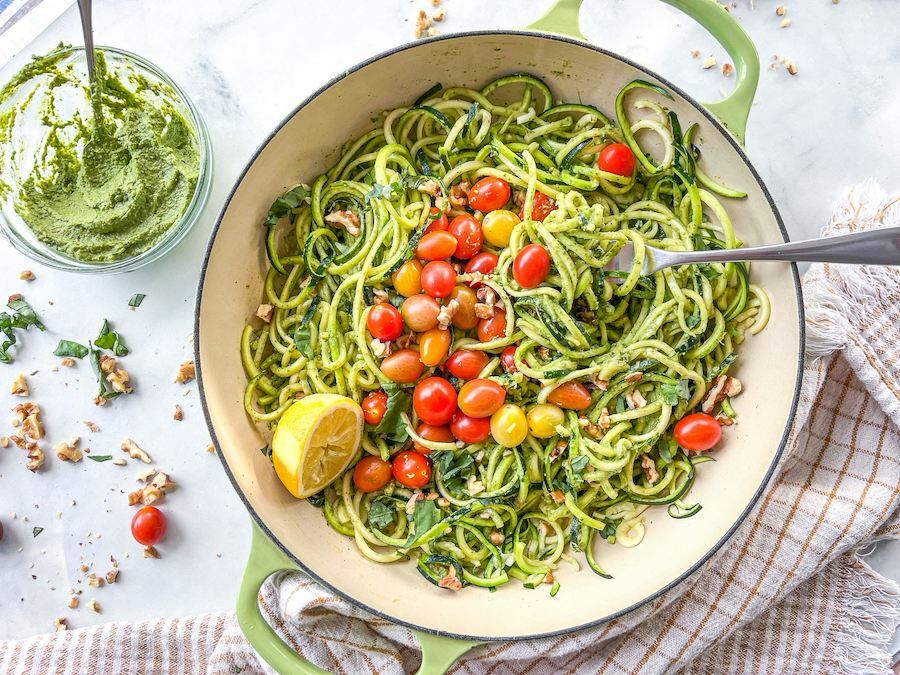 Lemon Pesto Zoodles with Veggies

Looking for a healthy alternative to pasta? Try these quick Lemon Pesto Zoodles that have a delightful, wholesome Italian flavor. The fresh lemon brightens the taste of this dish, which serves as a lighter but decadent substitute for pasta.
Zucchini noodles (or "zoodles") are a popular replacement for pasta in gluten-free recipes.
With a mild taste and naturally al dente texture (especially when uncooked or simply warmed up), zoodles are a nutritious substitute to use in a myriad of meals.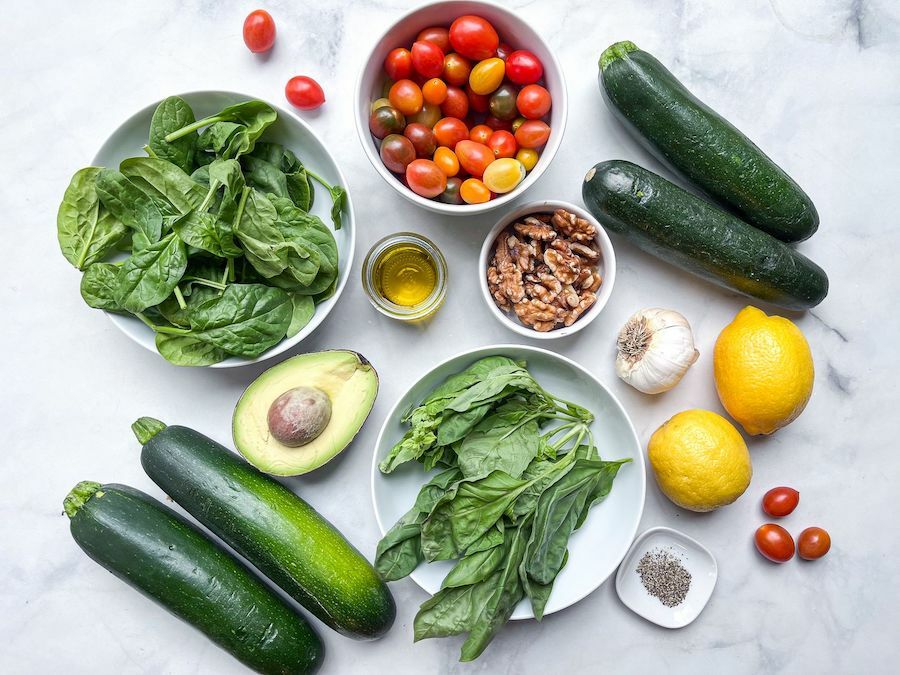 Start by making the pesto sauce, using a small food processor. Pulse everything except the cherry tomatoes and zoodles until combined. Warm up the zoodles and the pesto for no more than five minutes in a large skillet—just enough to heat up while keeping a bit of crunch. At the last minute, add the cherry tomatoes. Sprinkle with extra basil, walnuts, and lemon zest. Dig in!
Tips:
To spiralize, cut the ends off the zucchini and send it through your spiralizer, or use a sharp knife to julienne into long strips by hand. If you don't have a spiralizer, you can buy zoodles at the store.
If you have a toaster oven, you can toast the walnuts for a few minutes on a baking sheet instead of cooking them in a pan in Step 1.
Zoodles can be used in a variety of dishes to replace traditional noodles, whether in Indian, Greek, Asian, or Italian recipes, or in soups. Check out some of our other zoodle recipes:
Thai Chicken Curry Meatballs with Zoodles
Greek Meatballs and Zoodles with Paleo Tzatziki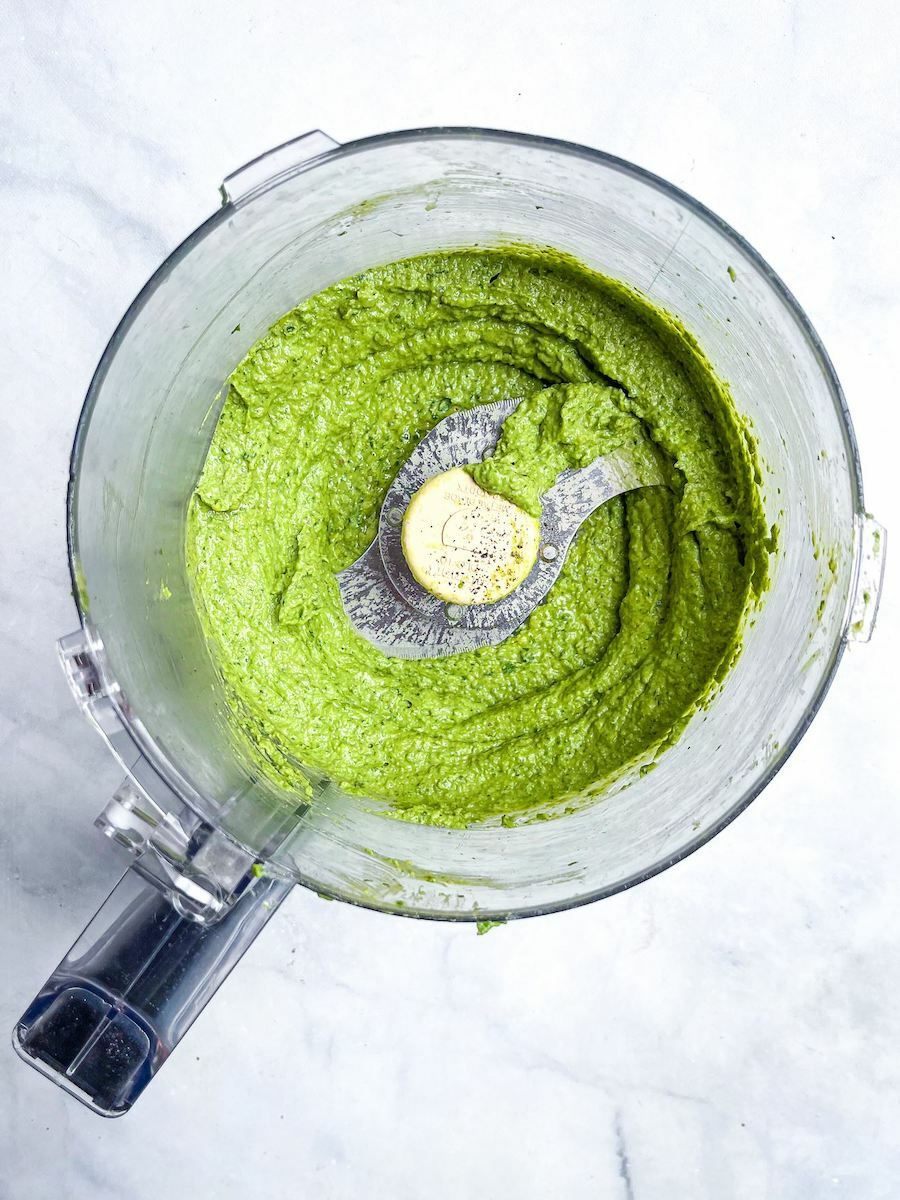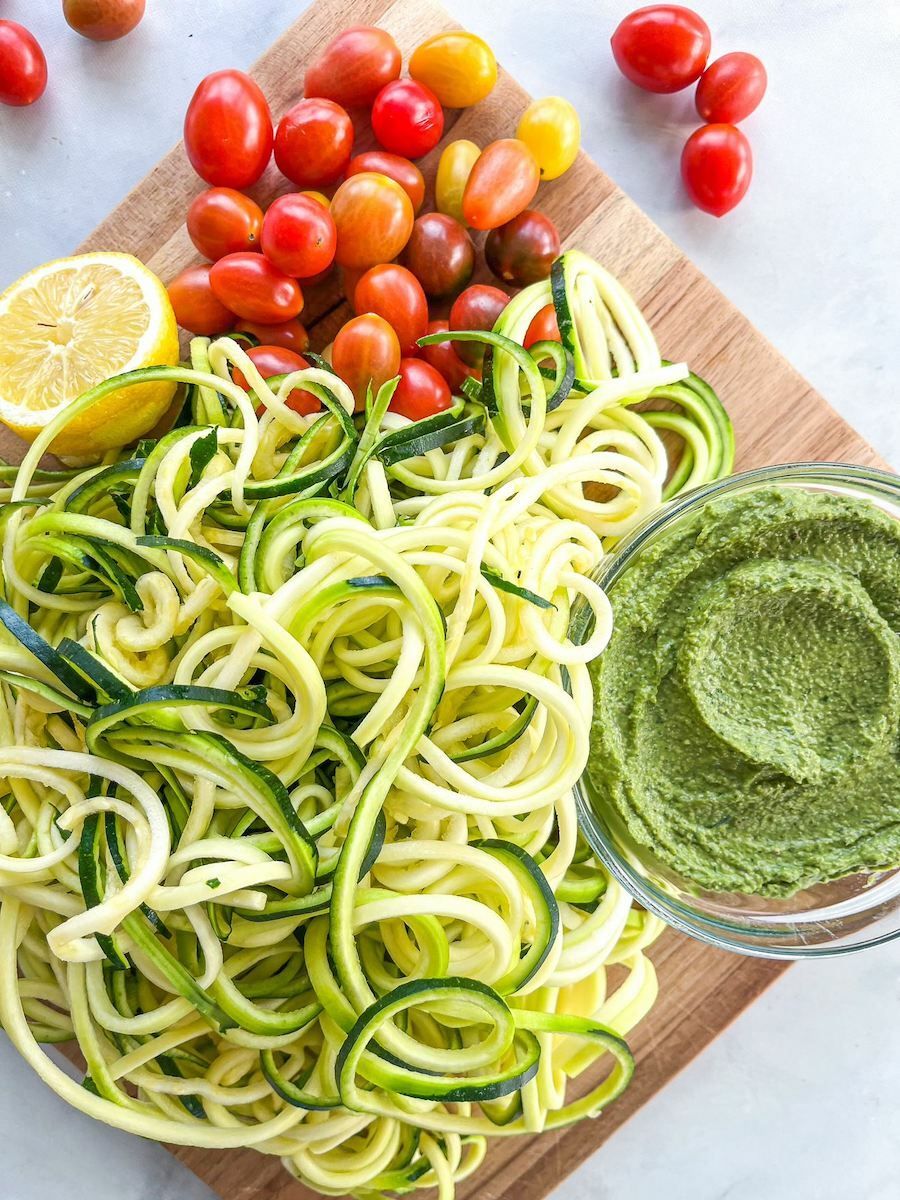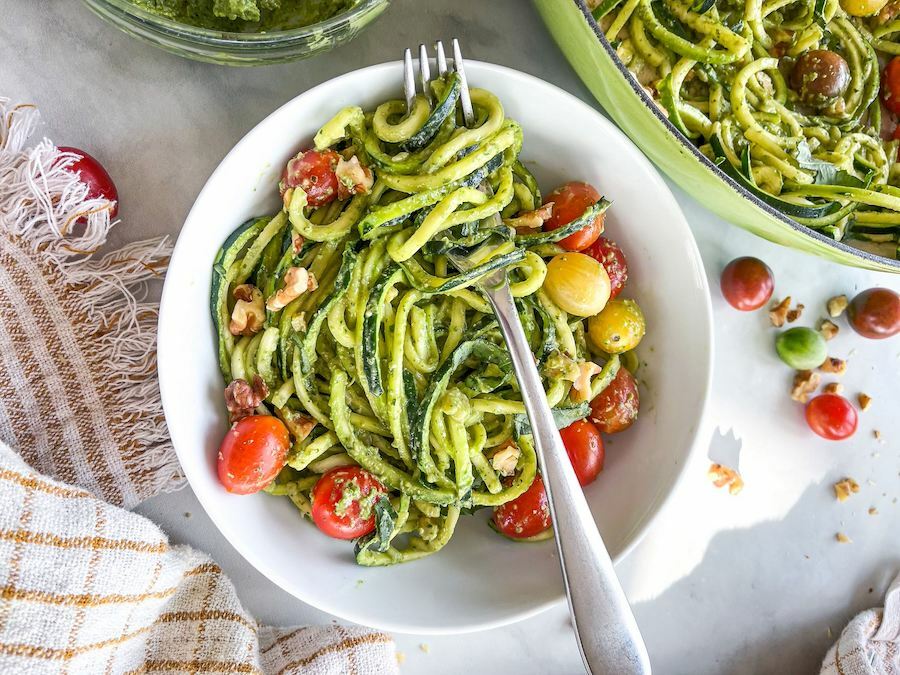 Love our recipes? Make going Paleo even easier and download our 7-Day and 28-Day digital meal plans!
Details
Prep Time:

15 minutes

Cook Time:

10 minutes

Total Time:

25 minutes
Ingredients
1/2 cups walnuts, raw and unsalted

1/2 cups olive oil

1 cups spinach

1 cups basil

1/2 ripe avocado

2 garlic cloves, peeled

1/4 tsp black pepper (AIP - omit)

1 tbsp lemon juice

1 1/2 tbsp lemon zest

1 pint cherry tomatoes (AIP - omit)

4 medium zucchinis, spiralized
Directions
To prepare the pesto, heat a large pan on medium/low heat. Add walnuts, moving them around with a wooden spoon for a few minutes or until just lightly toasted.

Add all ingredients except zucchini noodles and cherry tomatoes to a food processor. Pulse to combine, then switch to high speed, pausing a few times to scrape the sides. Process until ingredients are fully incorporated and sauce is formed.

In a large pan, heat 1 Tbsp. of olive oil on medium heat. Add zoodles and pesto. Let them cook no more than 5 minutes; they should be heated through. Add cherry tomatoes and cook for 1 minute more to combine well.

Remove from heat and garnish with crushed walnuts and chopped basil. Serve warm.