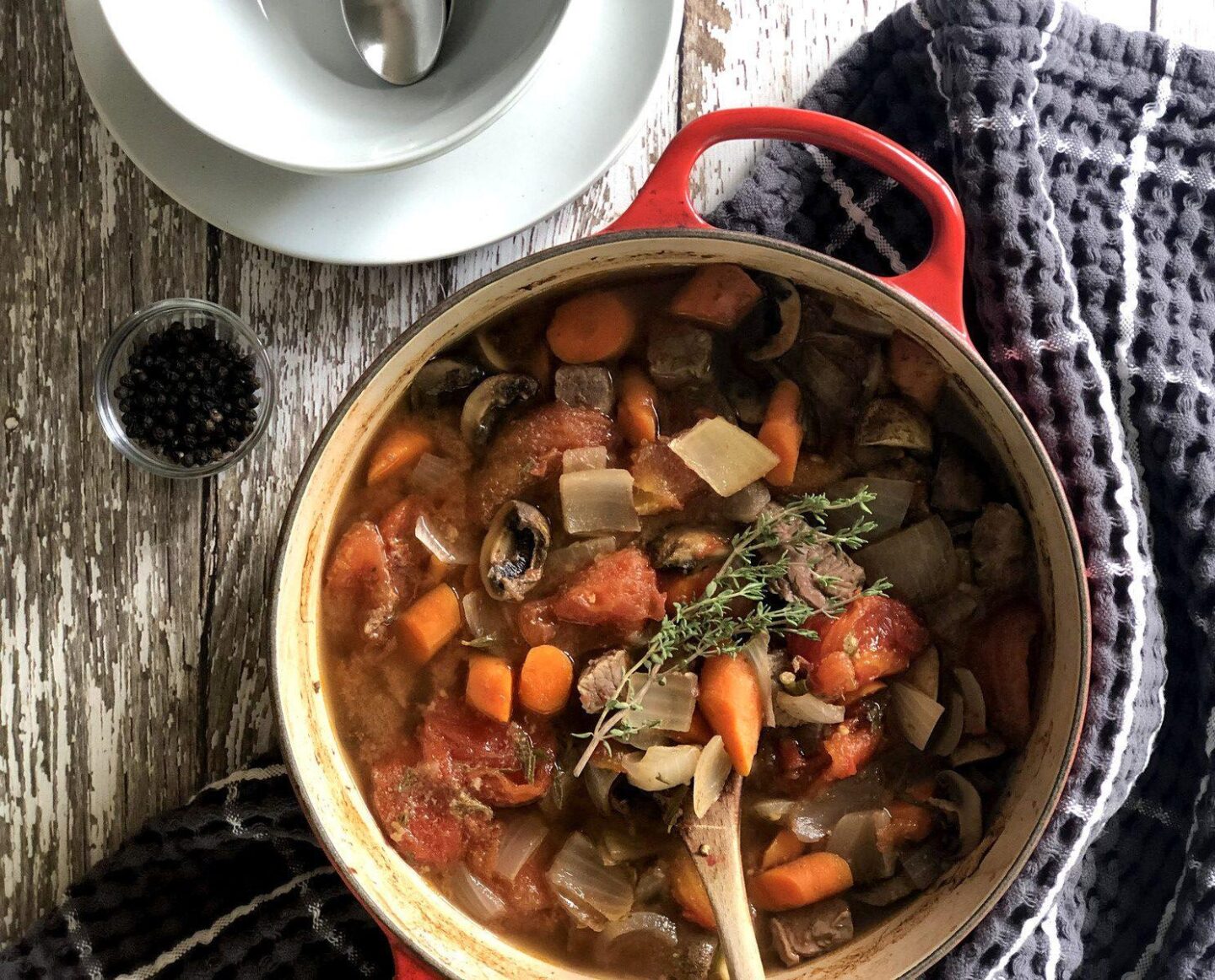 One-Dish Lamb Roast with Veggies and Mushrooms
It doesn't get much easier than this one-pot stew! Simply add lamb, herbs, veggies, and mushrooms to a Dutch oven and cook low and slow until tender and delicious.
We love one-pot dishes here at The Paleo Diet®. They're a great way to feed large families with minimal clean-up, or busy professionals needing something quick and easy to prepare for weekly meal planning.
You can use whatever hearty veggies you want for this roast, but we used a mix of tomatoes, carrots, onions, and garlic. Whatever you do, don't skip the mushrooms! They're a vital part of the healing properties of this dish. You probably knew that exotic mushrooms are healthy for you, but you don't have to use anything fancy to garner the benefits. According to a study published in the Journal of Nutrition, white button mushrooms contain potent immune-protective properties and can help fight against tumors and viruses.1 Plus, button mushrooms contain significant amounts of B vitamins, selenium, and fiber. So while you can easily substitute other types of mushrooms, like shiitake, oyster, morels, you certainly don't have to splurge on them!
We also recommend using tomatoes to help achieve a nice savory broth. If you're working with whole tomatoes, you can easily remove the skins of by first cutting an X on the top and bottom of each. Submerge the tomatoes in boiling water for about 30 seconds before transferring to cold water. The skins will peel off easily! Of course, if that's too much work, you can always substitute canned, unsalted whole tomatoes. Throw them in and let the oven do the work from there.
Once you're done chopping all your ingredients, add them to a Dutch oven and mix well to incorporate. Transfer to the oven and cook slowly over low heat, stirring every 30 minutes or so. Your patience will be rewarded: the mushrooms will release their moisture into the sauce as they cook, adding flavor and plenty of healing potential. You'll know it's ready when the lamb is very tender and lightly browned. Serve it while it's hot!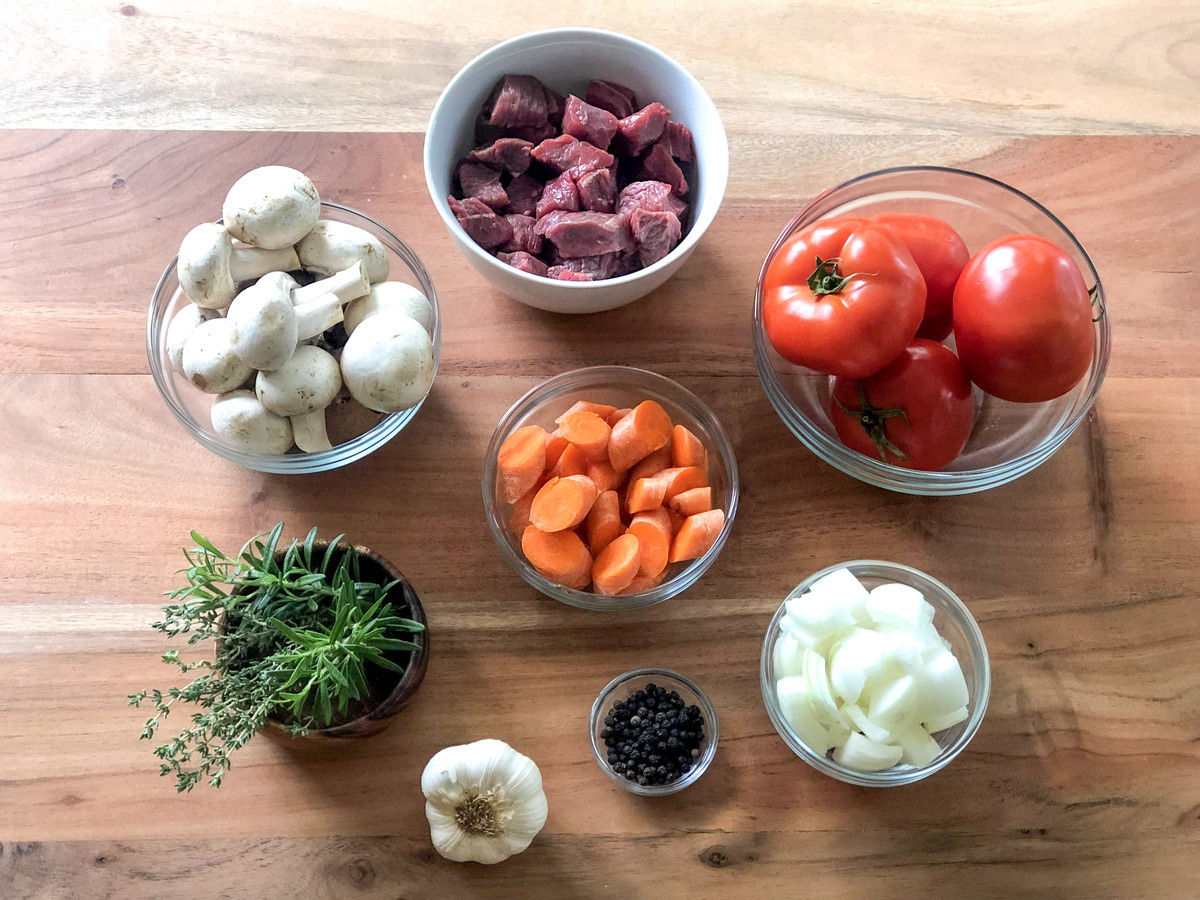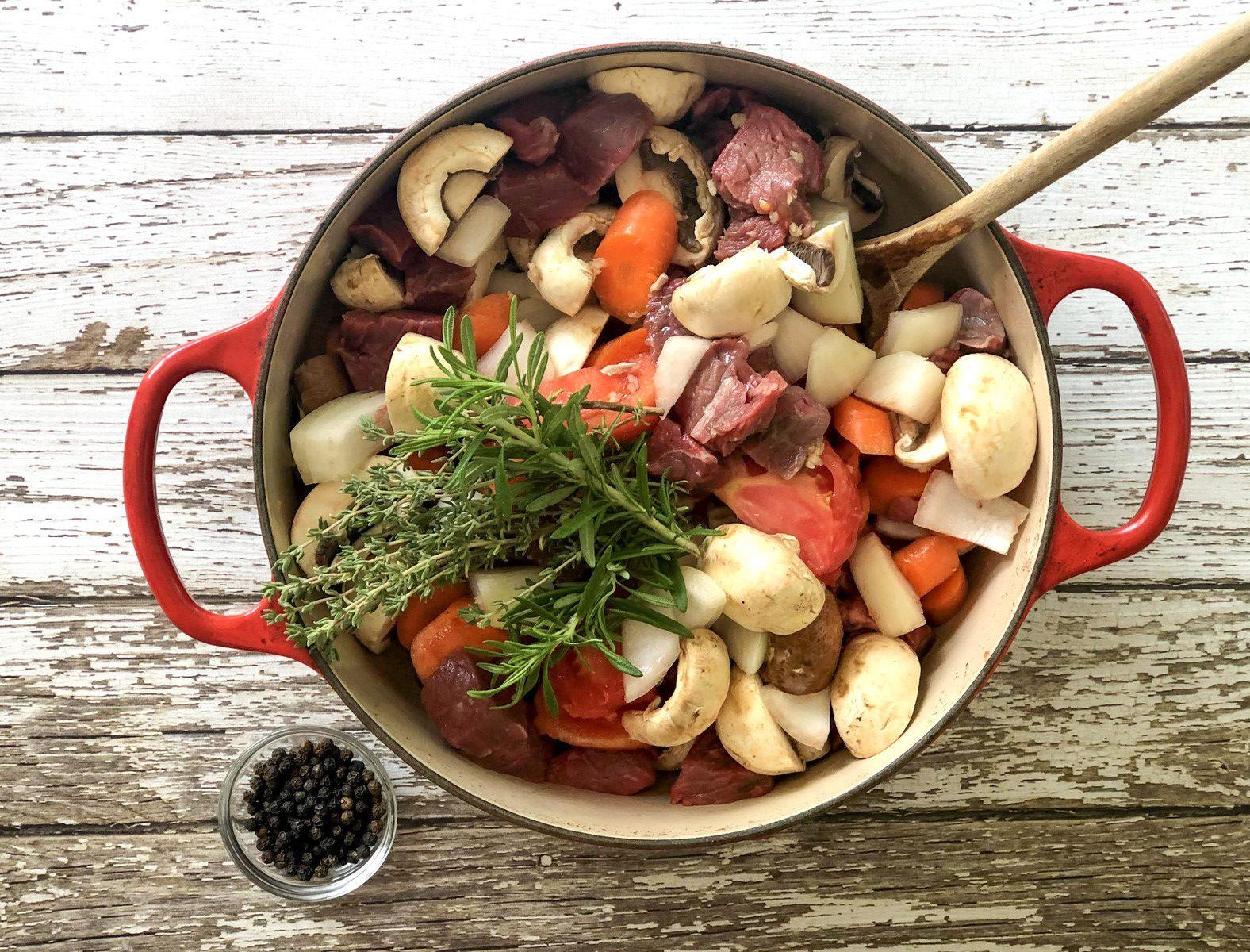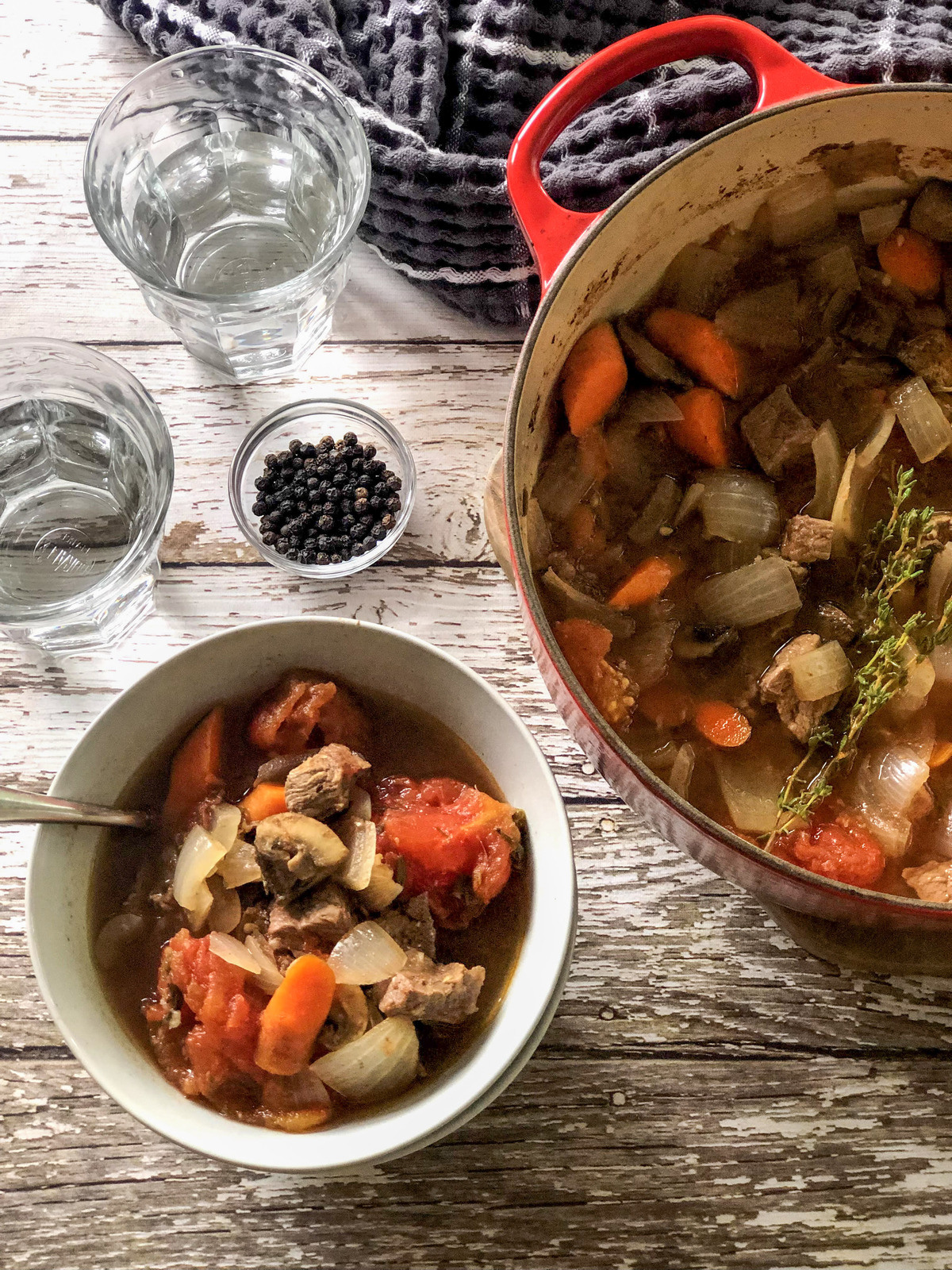 For hundreds of pure Paleo recipes be sure to check out  The Real Paleo Diet Cookbook  and  The Real Paleo Diet Fast and Easy.
References

1. Wu, D., et al. (June 2007). Dietary supplementation with white button mushroom enhances natural killer cell activity in C57BL/6 mice. Journal of Nutrition, 137(6). Retrieved August 16, 2014 from //www.ncbi.nlm.nih.gov/pubmed/17513409
Details
Prep Time:

15 minutes

Cook Time:

2 hours

Total Time:

2 hours 15 minutes
Ingredients
1 lb lamb stewing meat, cut into large cubes

4 tomatoes, peeled and chopped

1 onion, roughly chopped

3 cloves garlic, pressed

1 lb button mushrooms, halved

3 carrots, roughly chopped

2 tbsp fresh thyme, finely chopped

2 tbsp fresh rosemary, finely chopped

2 cups chicken or lamb stock (or water)

Freshly milled black pepper, to taste
Directions
Preheat the oven to 325°F.

Place all ingredients in a large Dutch oven or baking dish. Mix well.

Transfer to the oven and cook for about 2 hours, stirring once every 30 minutes or so. Serve hot.