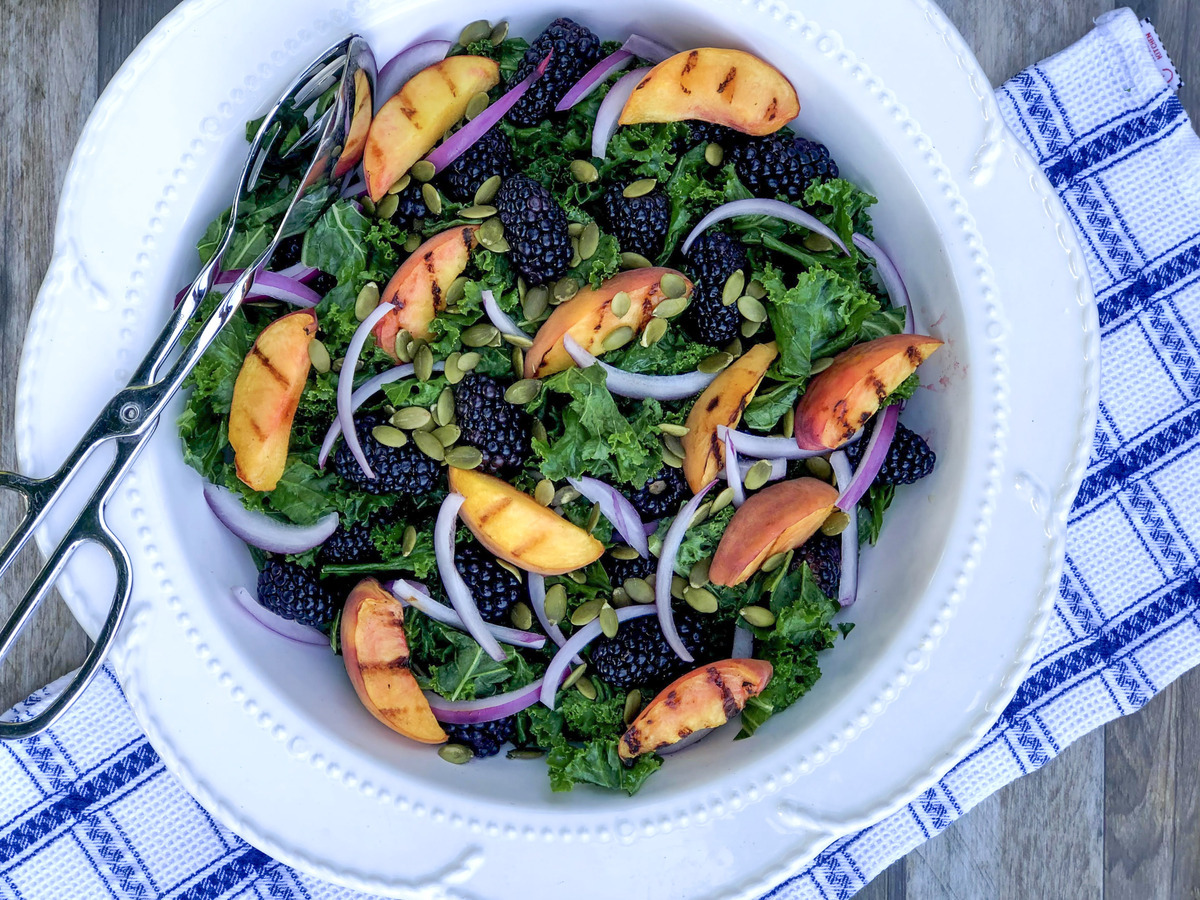 Kale Salad with Grilled Peaches
Peaches make the best salads, and this kale salad recipe topped with grilled peaches and a zesty vinaigrette is here to prove it!
While you can find peaches any time of the year at the grocery store, we highly recommend getting them when they're at their peak around mid to late August. Ripe peaches are much tastier, and they're healthier for you, too: the fresher they are, the more antioxidants they contain. To get the most out of our fresh peaches, we grill them for the salad, and set aside one of the peaches to blend up into a sweet, zesty vinaigrette.
What better pair for this nutrient-dense fruit than healthy, hearty kale? This dark leafy green is absolutely packed with minerals and nutrients, and is one of the best known sources of vitamin K.
Since kale can be a bit tough, we recommend massaging it to get them nice and tender. If you're working with whole leaves of kale, be sure to wash them thoroughly, then chop off the fibrous stems.
You can thinly slice the kale or roughly chop them, then add to a bowl with a bit of olive oil and fresh lemon juice. Use your hands to massage the kale for a few minutes, or until just wilted. The acid from the lemon juice will aid your efforts to break down the cellulose in the kale, so be sure not to overdo it—you want it tender, not mushy! When you've hit that sweet spot, set it aside.
To bring this salad together, we use a simple homemade peachy vinaigrette to drizzle all over the top. To make it, simply blend up one chopped peach with olive oil, apple cider vinegar, fresh ginger, and a pitted date for sweetness.
Lastly, top the massaged kale with grilled peaches, fresh blackberries, red onion slices, and toasted pepitas! Toss with the homemade peach salsa, and serve!
Tips:
You can add protein such as grilled chicken, salmon, or sliced steak to make it a full meal.
You can swap blueberries or sliced mango for the blackberries. Most fruits would go well with it!
Don't have pepitas? Try toasted almonds or pecans.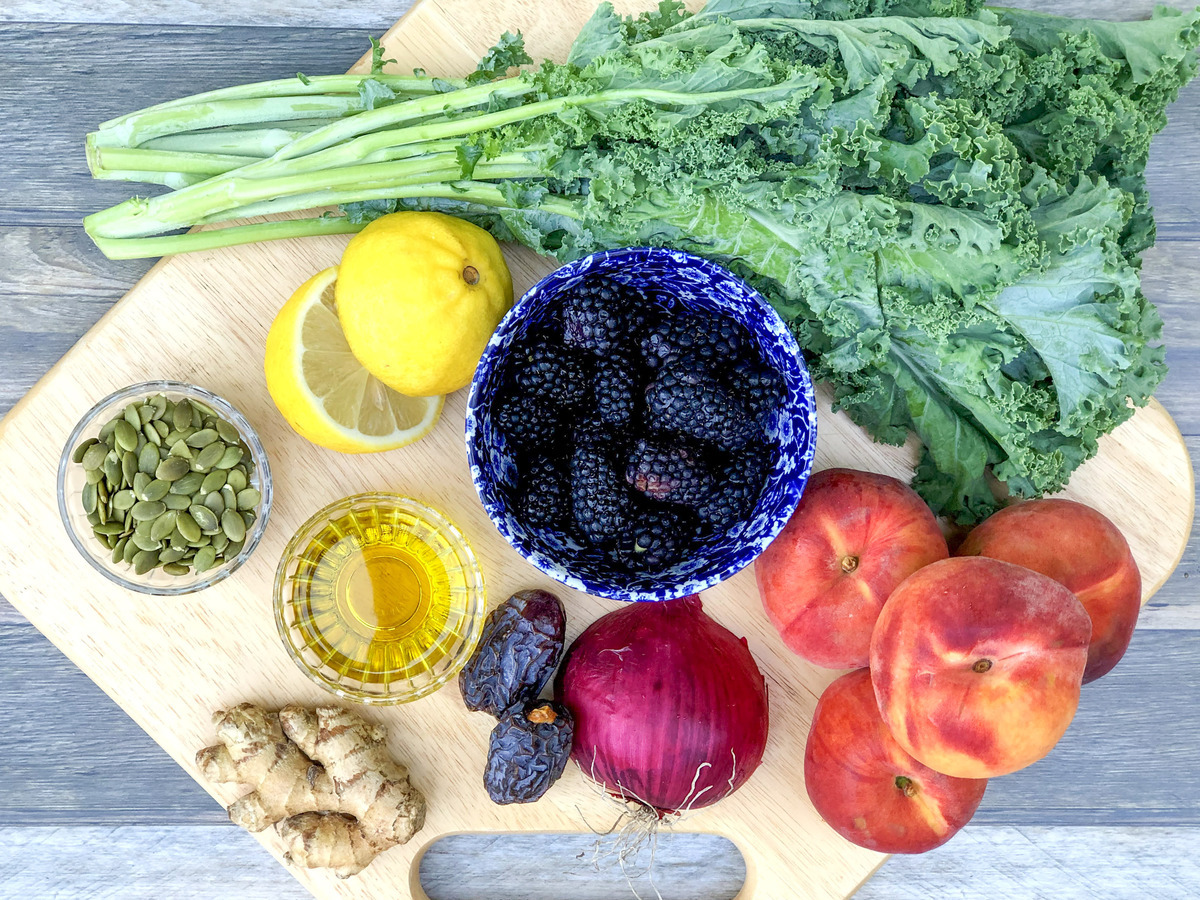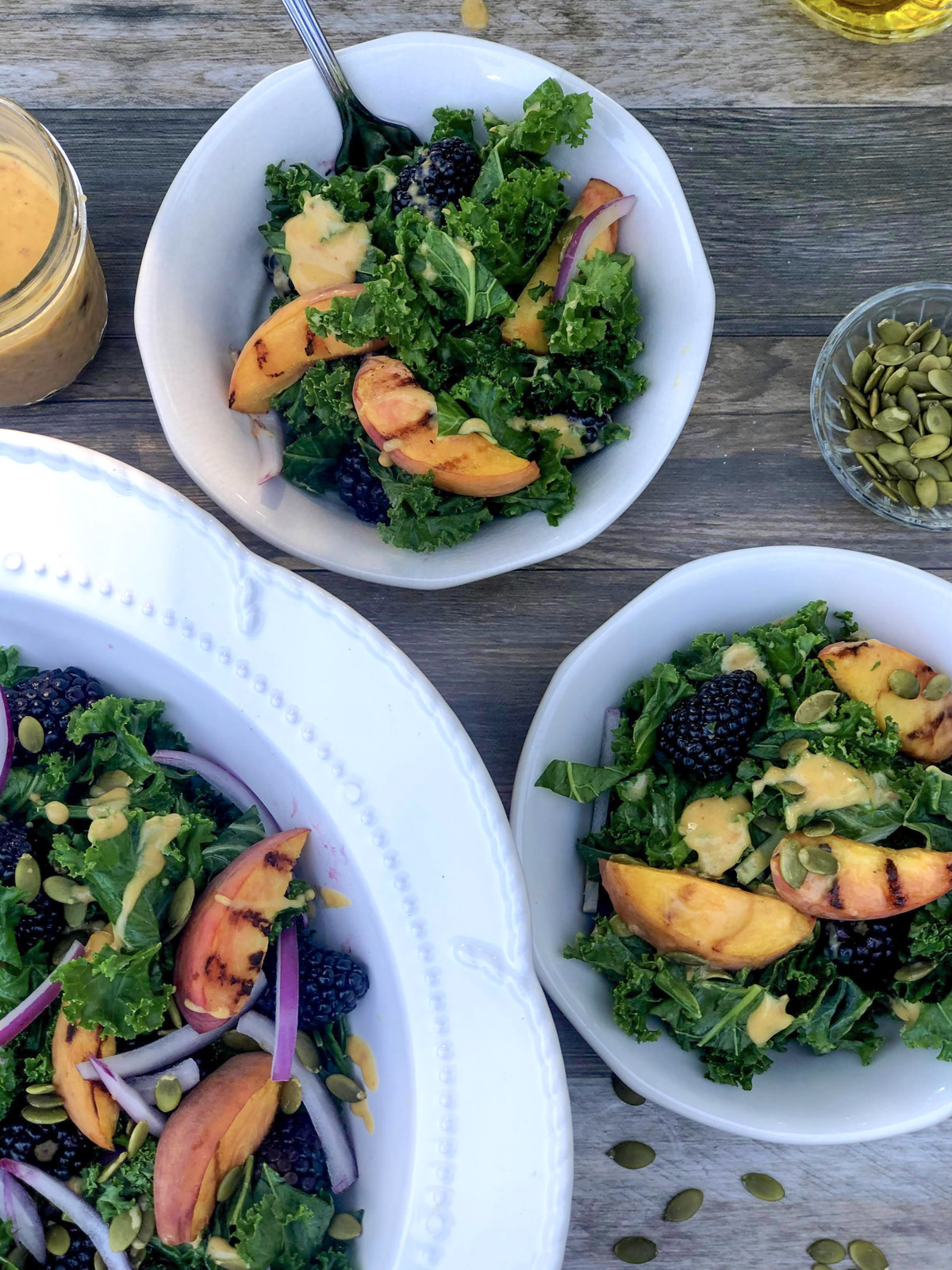 For hundreds of pure Paleo recipes be sure to check out The Real Paleo Diet Cookbook and The Real Paleo Diet Fast and Easy.
Details
Prep Time:

15 minutes

Cook Time:

5 minutes

Total Time:

20 minutes
Ingredients
2 bunches of kale, chopped

4 tbsp olive oil, divided

1/2 lemon, juiced

5 peaches, divided

2 tbsp raw apple cider vinegar

1/2 inch grated fresh ginger

1 date, pitted

1 cups fresh blackberries, washed

1/2 red onion, sliced lengthwise

1/4 cups toasted pepitas
Directions
Add the chopped kale to a large bowl and drizzle with 1 tablespoon of olive oil and the lemon juice. Massage with your hands for 2-3 minutes or until the kale starts to wilt slightly. Set aside.

Next, prep the peach vinaigrette: Chop one of the peaches into small pieces, and add to a food processor or blender. Add 2 tablespoons of the olive oil, the apple cider vinegar, ginger, and the date. Blend until smooth and set aside.

Preheat the BBQ grill on high. Slice the remaining four peaches into wedges and toss with the remaining 1 tablespoon of olive oil in a bowl. Add to the preheated grill and grill the peaches for 2-3 minutes per side.

To serve, place the grilled peaches, blackberries, red onions, and pepitas over the massaged kale. Toss well, then pour the peach vinaigrette on top. Enjoy!