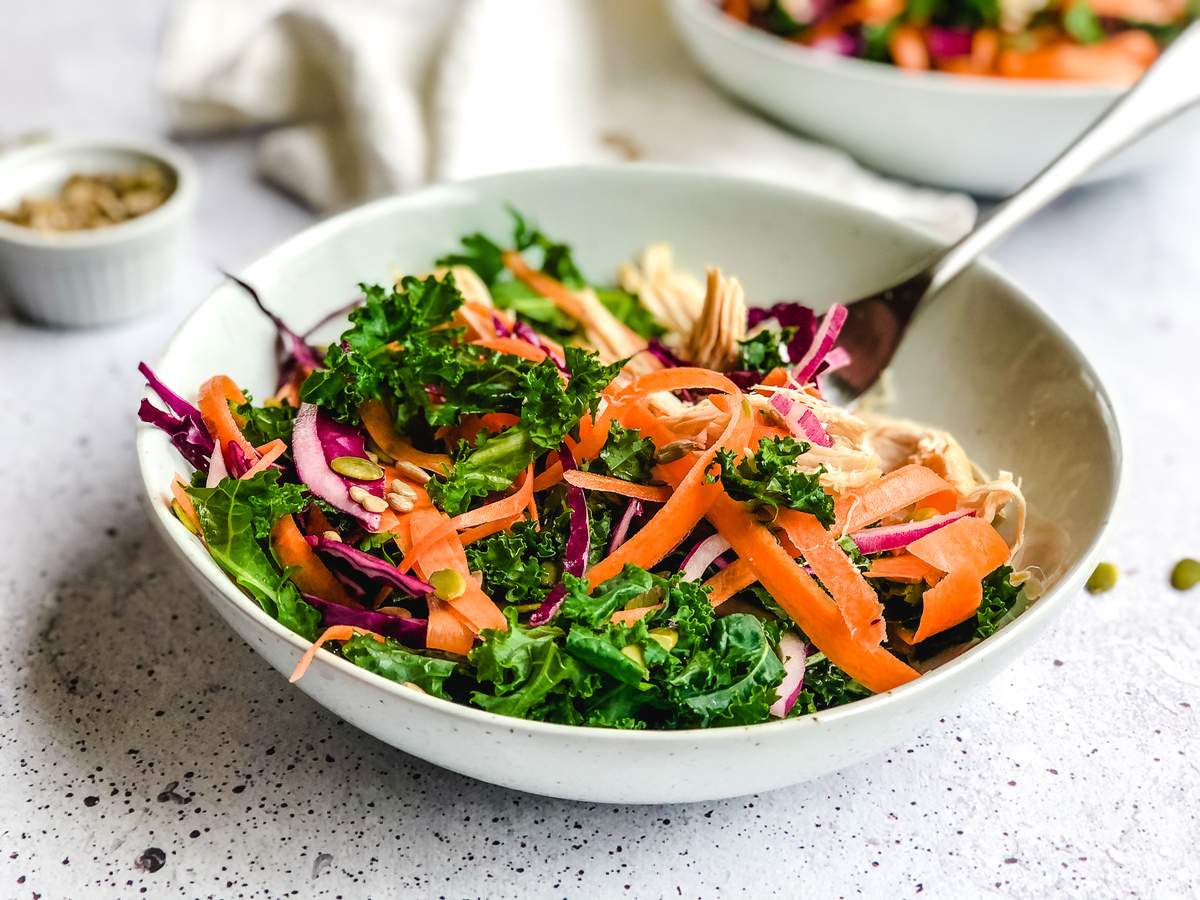 Kale & Cabbage Slaw with Chicken
Tangy, zesty and lightly sweet, this easy kale and cabbage slaw uses veggies you have on hand and leftover chicken for a nutrient-dense lunch or side!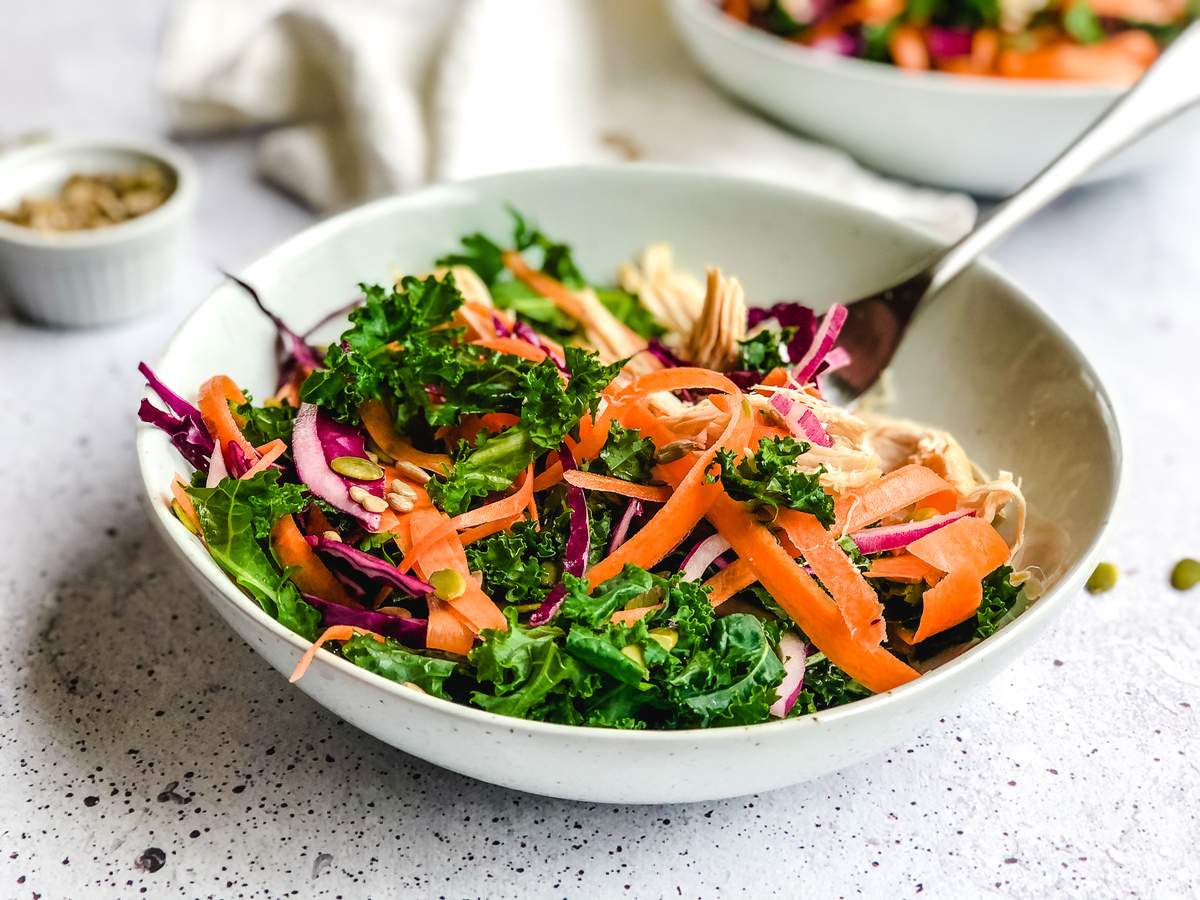 This lightly dressed kale and cabbage slaw makes for a vibrant, easy Paleo meal!
Got leftover chicken? This easy slaw recipe is a great way to use it up. Shred the meat with two forks, then toss it with thinly sliced veggies in a Dijon dressing for a quick, easy, no-cook meal.
Start by making the dressing. You can use Dijon mustard without any salt or sugar, but since those are hard to find on the shelves of your grocery store, we recommend that you make your own.
You'll need some time to whip up your own Dijon mustard, as it needs about 48 hours for the flavors to meld together. Fortunately, our recipe is made with simple ingredients that you probably already have in your cabinet, like white wine and turmeric.
Once you have your Dijon ready, mix it with a bit of olive oil, apple cider vinegar, and water. Set aside.
Next, assemble your chicken and veggies in a large bowl. We used thin slices of red cabbage, shredded kale, red onion, julienned carrots, and parsley but you can use thin slices of any other veggies and herbs you might have on hand. Zucchini, cucumber, or even cilantro could work well here. Add the dressing and toss to combine.
Finally, add seeds to the slaw to lend a bit of extra crunch to your kale slaw. We used sunflower seeds and pumpkin seeds, but you could easily substitute in your favorite nuts if you prefer. Give the slaw a final toss and let it sit a few minutes to soften the kale.
Tip: If you want to add more garnishes, try lemon slices, avocado, toasted sliced almonds, red peppers, or even sliced apples for a little sweetness.
Note: You can find our homemade Dijon mustard recipe here.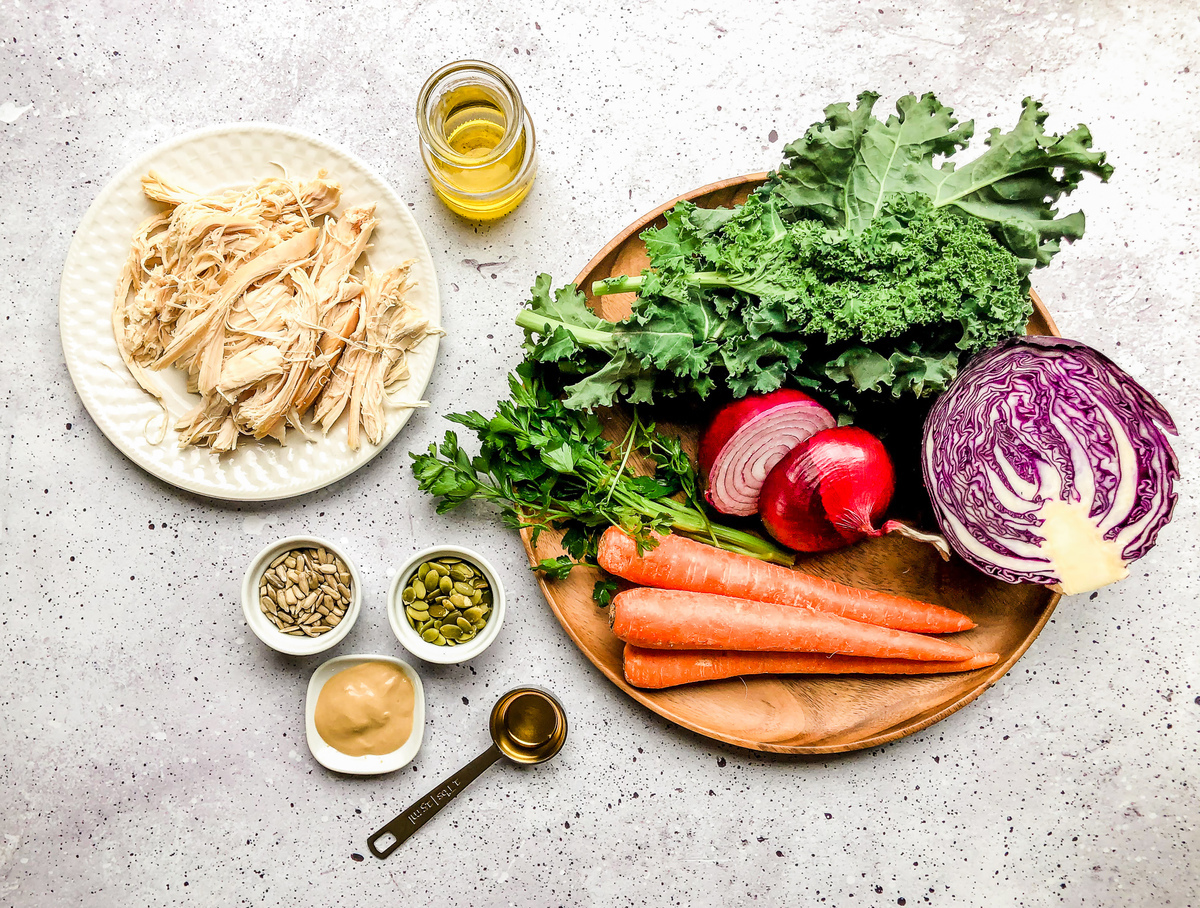 For hundreds of pure Paleo recipes be sure to check out The Real Paleo Diet Cookbook and  The Real Paleo Diet Fast and Easy.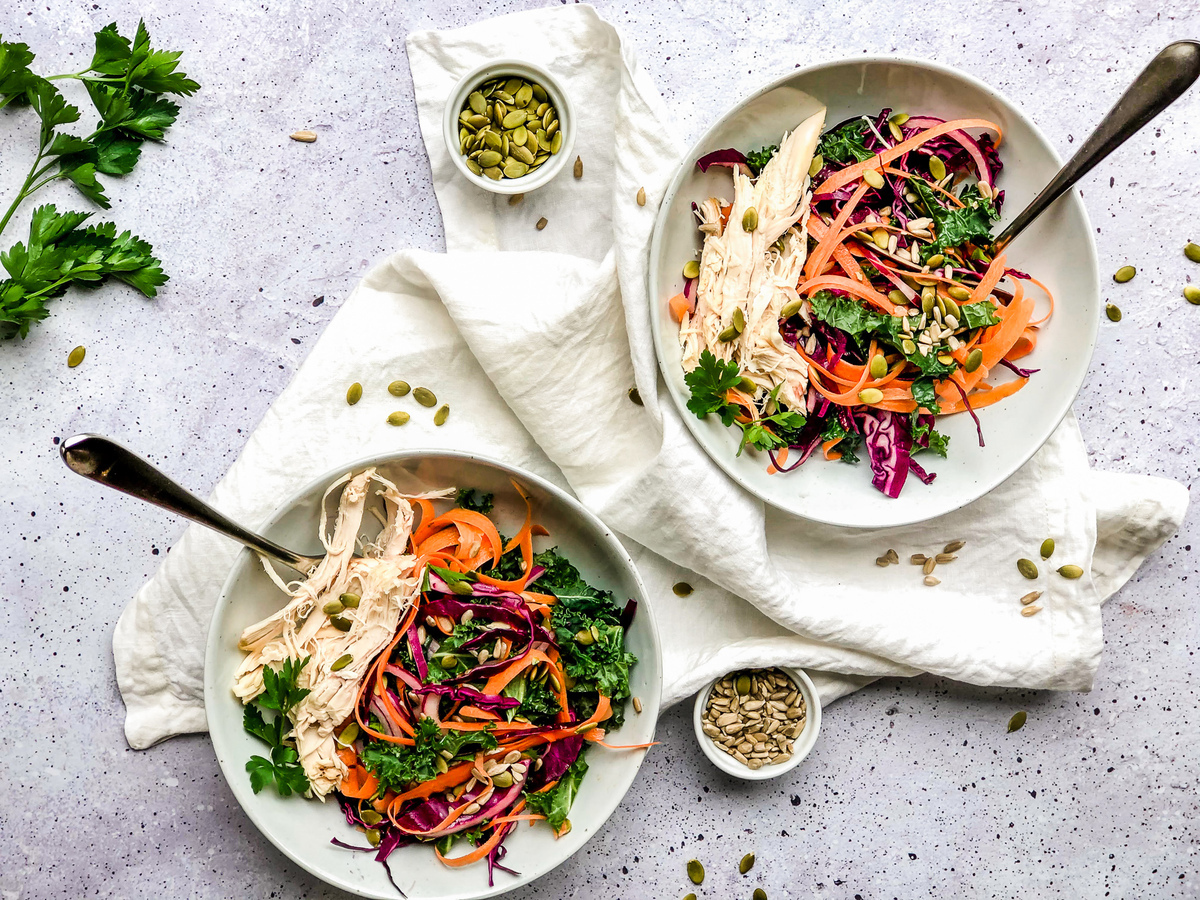 Ingredients
1 tbsp homemade Dijon mustard (see note)

1 tbsp olive oil

1 tbsp apple cider vinegar

2 tbsp water

2 cups shredded chicken

1/2 red cabbage, thinly sliced

1 bunch kale, stem removed and shredded

1/2 red onion, thinly sliced

2 carrots, julienned

1/3 cups parsley, chopped

2 1/2 tbsp sunflower seeds

2 1/2 tbsp pumpkin seeds

Cracked black pepper
Directions
Prep the dressing: In a small bowl, whisk together the Dijon mustard, olive oil, apple cider vinegar, and water until smooth. Set aside.

Place the chicken, cabbage, kale, onion, carrots, and parsley in a large bowl. Pour the dressing over the top and toss until well combined.

Add the sunflower seeds, pumpkin seeds, and cracked black pepper and toss again. Let the salad sit for a few minutes so the kale can soften a bit before serving.