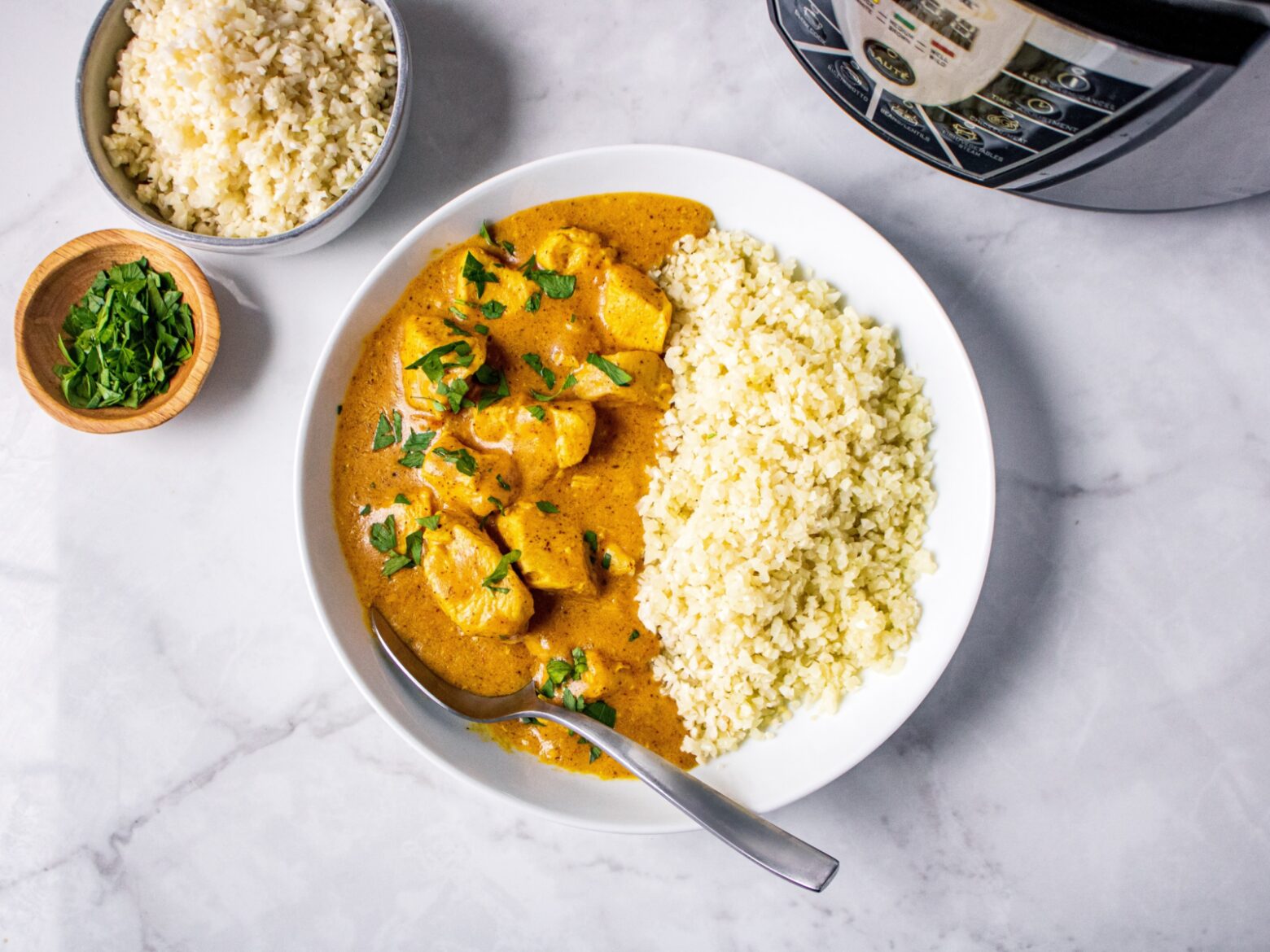 Instant Pot Butter Chicken
Our Instant Pot Butter Chicken recipe offers a creamy, healthy version of the classic dish using full-fat coconut milk instead of butter.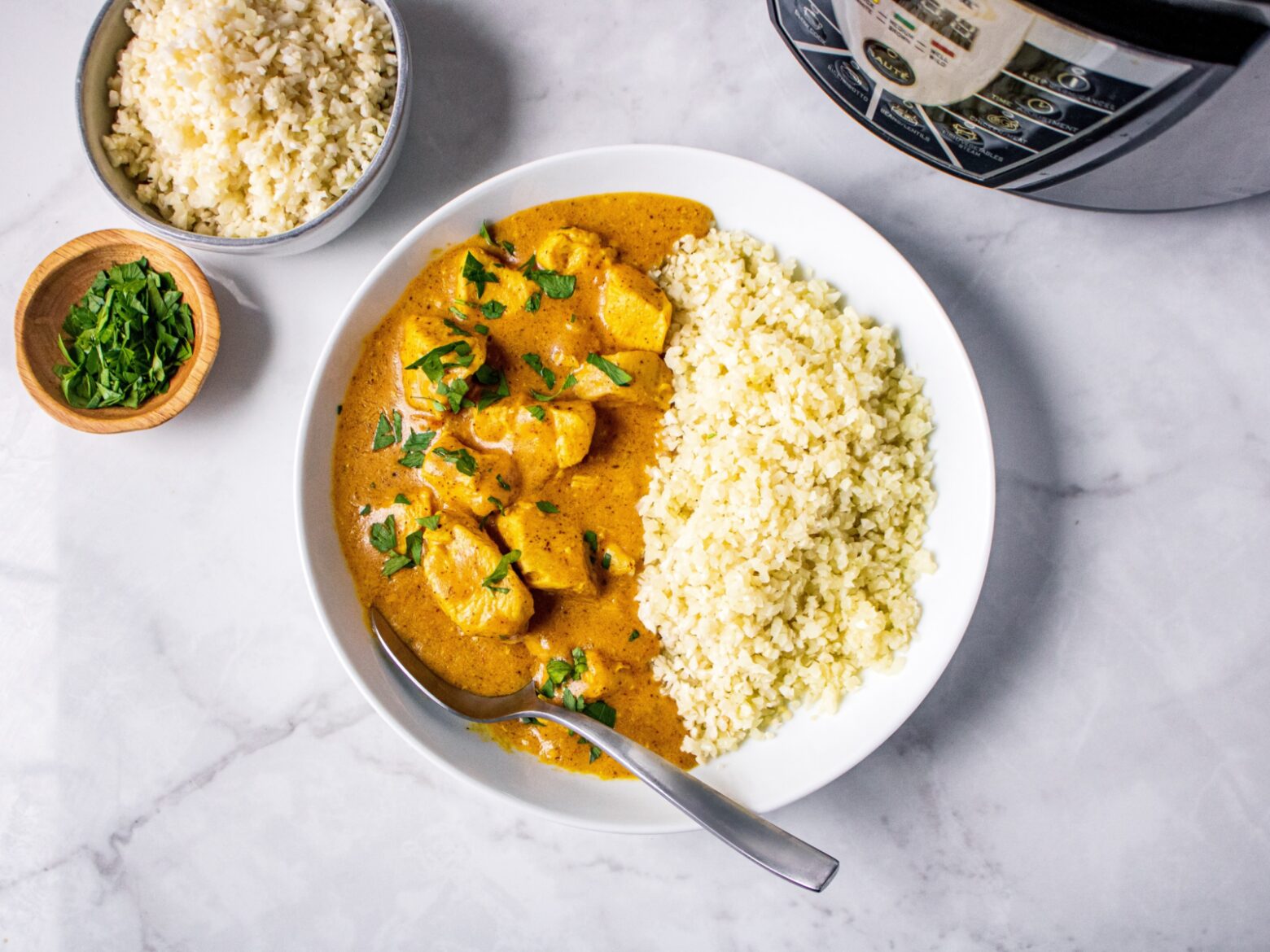 This butter chicken recipe shows how you can use your instant pot to create the slow-simmered taste of butter chicken in under 30 minutes of cook time. No need to be intimidated—we'll walk you through how to use the settings like a pro. You'll serve up a creamy butter chicken dish that's healthier because it uses full-fat coconut milk instead of butter.
If you've never had butter chicken before, it's a lot like chicken tikka masala—only creamier. We build a tangy, zesty sauce with a combination of tomato sauce, full-fat coconut milk, almond (or cashew) butter, and Indian spices for an exotic curry that's a snap to pull together.
Our butter chicken is a little different from the usual—there is no actual butter in it! Technically, butter is not Paleo, as it contains fat in high concentrations that you wouldn't see in nature. Plus, most store-bought versions contain added salt. To make this recipe Paleo, we swapped butter for extra virgin olive oil, which we at The Paleo Diet® feel is much healthier. (1-4)
Start by sautéing the chicken—which you can do right in the Instant Pot. This gives the chicken a nice brown exterior before cooking it the rest of the way through with the curry sauce. We used chicken breasts, but chicken thighs would work great, too.
Add the sauce ingredients, then pressure cook for just 10 minutes. Meanwhile, make a slurry with arrowroot powder and water. When the butter chicken is done, stir it in to thicken the sauce to a nice, savory gravy.
Serve your butter chicken over hot cauliflower rice (we like to sauté ours in olive oil for about five minutes). Garnish with freshly chopped parsley and enjoy!
Tips:
If you want, you can add hearty veggies like sliced carrots, celery, or sweet potato to the pressure cooker for an added dose of vitamins. Avoid soft vegetables like zucchini, which will get mushy.
Cashew or sunflower seed butter can be used instead of almond butter.
Don't have garam masala? Make your own! Use ¼ teaspoon each of ground cumin, cinnamon, coriander, and fennel for a similar flavor profile.
Autoimmune Protocol (AIP) omissions and substitutions are listed in the recipe ingredients.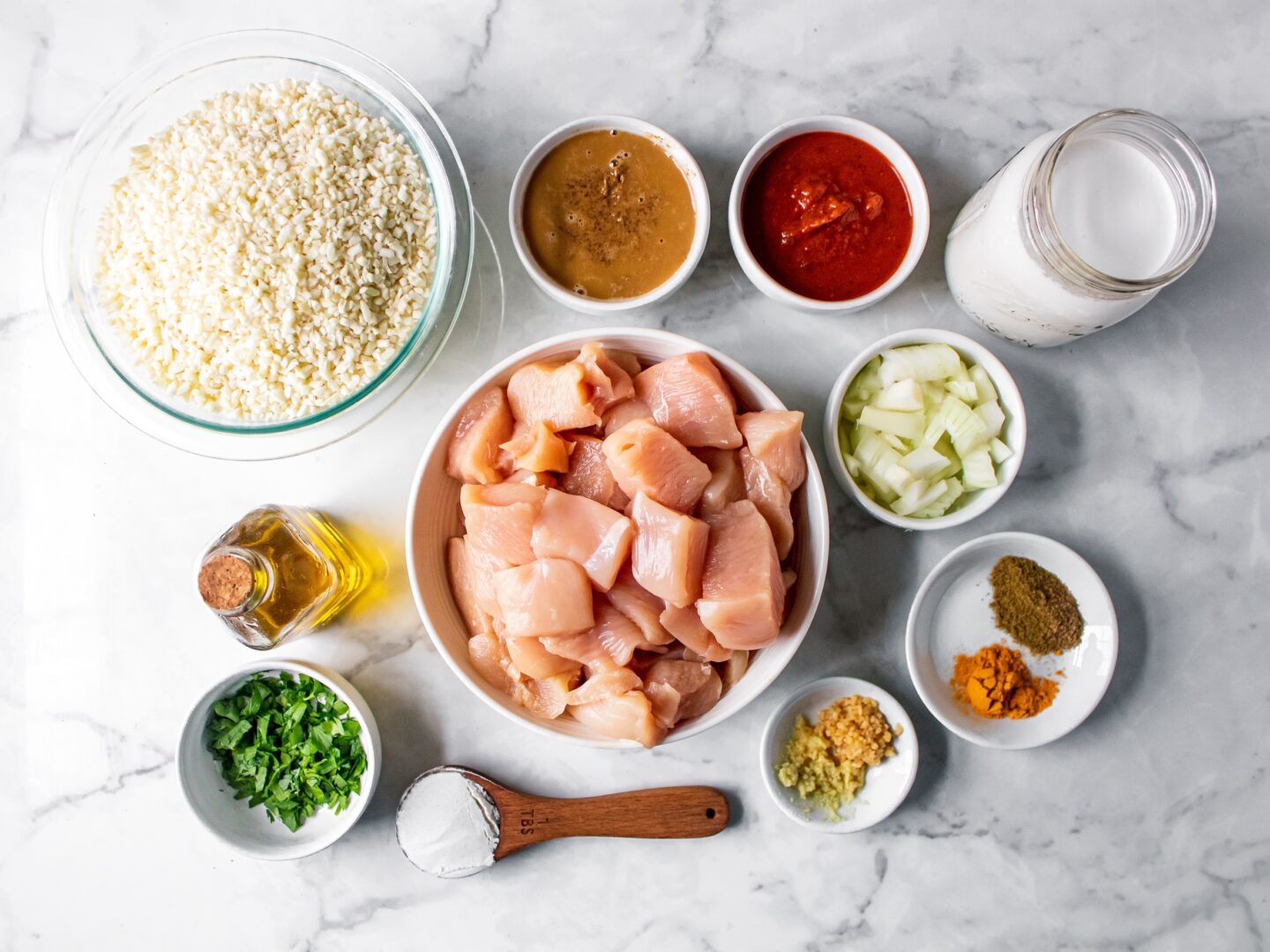 For hundreds of pure Paleo recipes be sure to check out The Real Paleo Diet Cookbook and Real Paleo Diet Fast and Easy.
References
[1] Anderson-Vasquez HE, Pérez-Martínez P, Fernández PO, Wanden-Berghe C. Impact of the consumption of a rich diet in butter and it replacement for a rich diet in extra virgin olive oil on anthropometric, metabolic and lipid profile in postmenopausal women. Nutrición Hosp 2015;31:2561–70. https://doi.org/10.3305/nh.2015.31.6.8732.
[2] Prieto I, Hidalgo M, Segarra AB, Martínez-Rodríguez AM, Cobo A, Ramírez M, et al. Influence of a diet enriched with virgin olive oil or butter on mouse gut microbiota and its correlation to physiological and biochemical parameters related to metabolic syndrome. Plos One 2018;13:e0190368. https://doi.org/10.1371/journal.pone.0190368.
[3] Guasch-Ferré M, Liu G, Li Y, Sampson L, Manson JE, Salas-Salvadó J, et al. Olive Oil Consumption and Cardiovascular Risk in U.S. Adults. J Am Coll Cardiol 2020;75:1729–39. https://doi.org/10.1016/j.jacc.2020.02.036.
[4] Khaw K-T, Sharp SJ, Finikarides L, Afzal I, Lentjes M, Luben R, et al. Randomised trial of coconut oil, olive oil or butter on blood lipids and other cardiovascular risk factors in healthy men and women. Bmj Open 2018;8:e020167. https://doi.org/10.1136/bmjopen-2017-020167.
Details
Serves:

4

Prep Time:

10 minutes

Cook Time:

25 minutes

Total Time:

35 minutes
Print this Recipe
Ingredients
2 tbsp olive oil

2 lb cubed boneless skinless chicken breast

1/2 cups chopped white onion

1 tsp minced garlic

1 tsp ginger

1 tsp garam masala (AIP - substitute with 1/2 tsp each of cinnamon & cilantro)

1/2 tsp ground turmeric

1/2 cups unsweetened tomato sauce (AIP - substitute with pumpkin purée)

1/2 cups unsalted/unsweetened pure almond butter

15 oz (1 can) full-fat unsweetened coconut milk

1 tbsp arrowroot flour

1/4 cups water

Cooked cauliflower rice, for serving

1/4 cups chopped parsley, for garnish
Directions
Heat the olive oil in your Instant Pot on the sauté setting. Add the cubed chicken and brown for 8 minutes, stirring occasionally. Add onions, garlic and ginger. Stir well and cook 3 minutes longer. Press Cancel.

Stir in garam masala, turmeric, tomato sauce, almond butter, and coconut milk. Lock lid and close vent valve. Cook on manual setting for 10 minutes. When timer goes off, press "quick release."

In a small bowl, whisk together the arrowroot flour and water to make a slurry.

Once all pressure releases, remove lid and press Sauté. Gradually stir in arrowroot slurry to thicken sauce for 1-2 minutes. Press Cancel.

Serve your butter chicken hot over cauliflower rice garnished with fresh parsley.