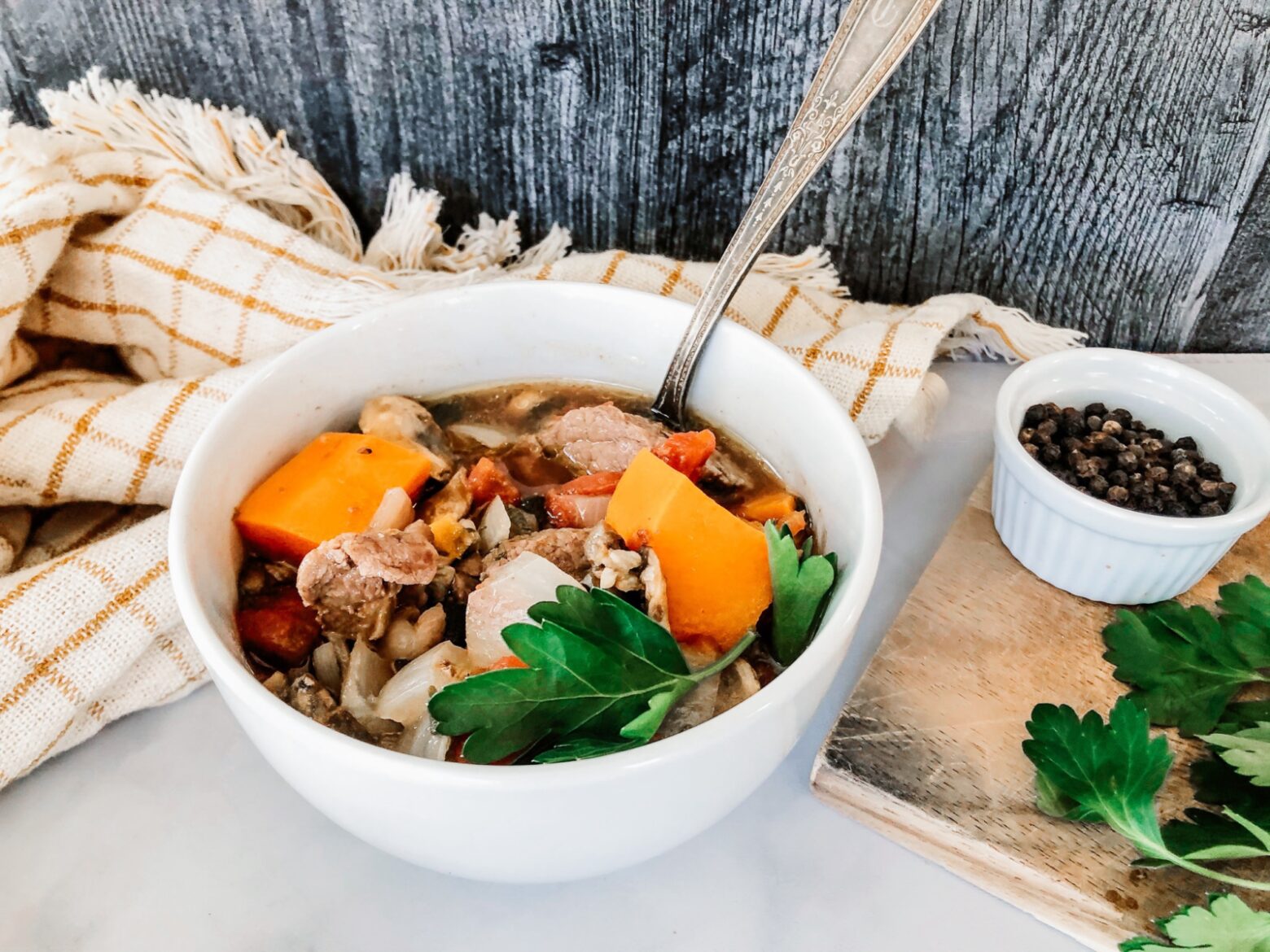 Instant Pot Beef Stew with Sweet Potatoes
Want the taste of slow cooked beef stew ready in just an hour? Enter the Instant Pot! This easy recipe will walk you through those settings for a savory beef stew that's sure to be a winter staple.
This Instant Pot beef stew is the ultimate cozy comfort meal. It's quick, easy, filling, and best of all, it's healthy. Make a big batch so you can enjoy throughout the week.
To add a little sweetness to the stew, we added sweet potatoes to the mix of veggies. You can use butternut squash instead, and for a bonus time saver, use frozen (or pre-cut) squash cubes.
For the slow cooker: If you don't have an Instant Pot, no worries—you can make this in your slow cooker just as easily. Simply brown the beef in a large skillet on the stovetop, then add it to your slow cooker with all the other ingredients. Set on low for eight hours. If you're on a time crunch, you can set to high for four to six hours instead, but keep in mind the slower you cook it, the more tender the beef will be!
Enjoy your beef stew hot out of the slow cooker or Instant Pot, garnished with fresh herbs. Store leftovers in an airtight container in the refrigerator for up to one week, or freeze it for up to three months.
Tip: Try shredding the beef straight out of the slow cooker or Instant Pot for a slightly different texture.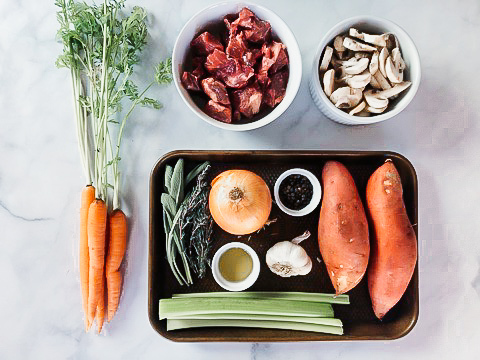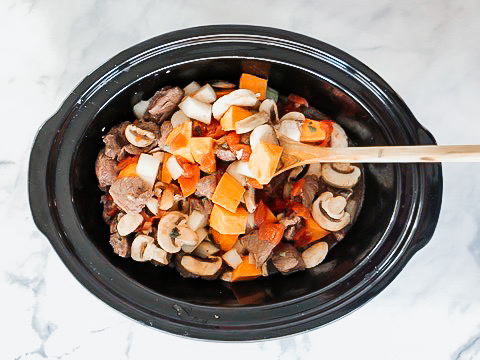 For hundreds of pure Paleo recipes be sure to check out  The Real Paleo Diet Cookbook and  The Real Paleo Diet Fast and Easy.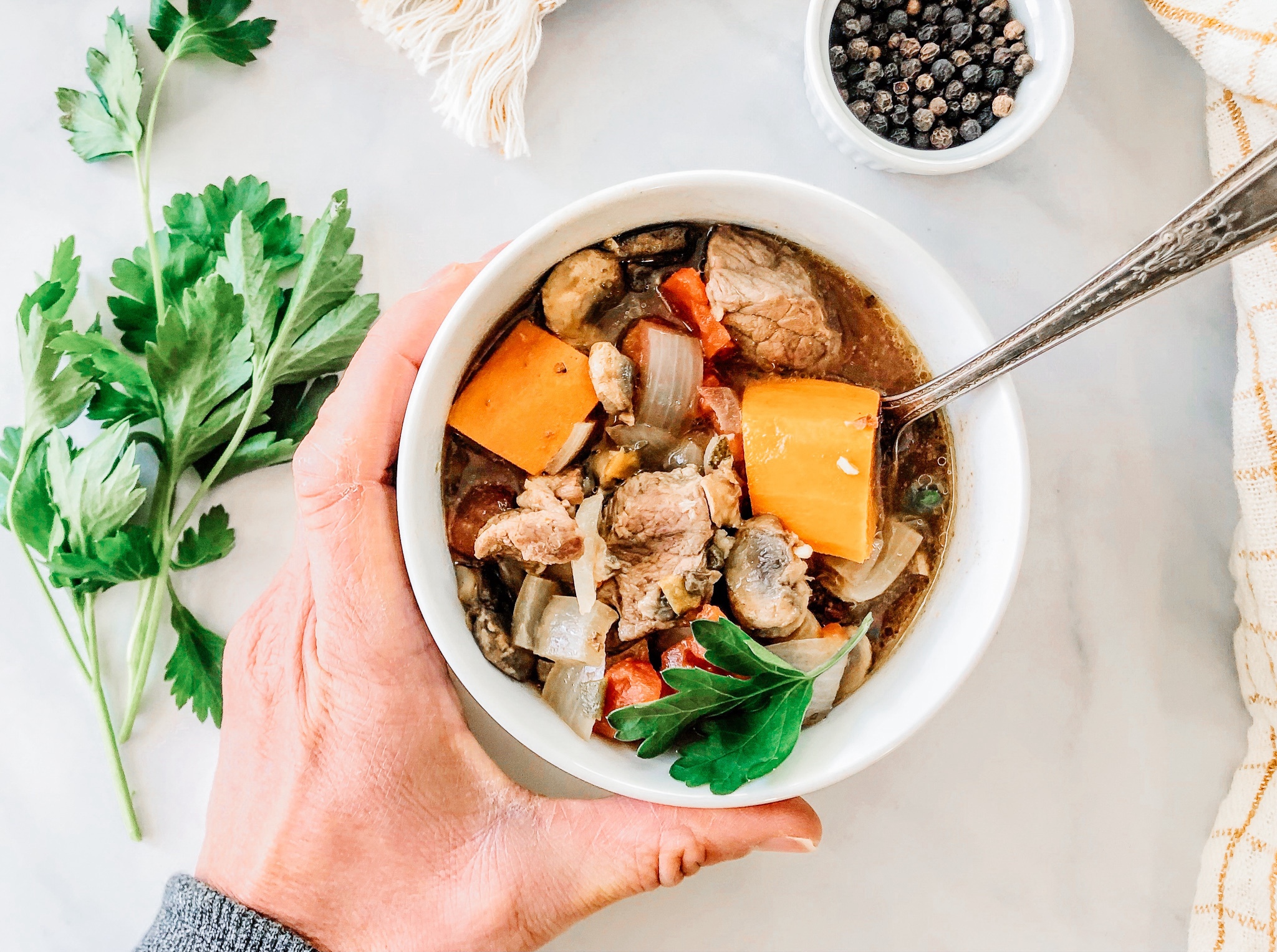 Details
Prep Time:

10 minutes

Cook Time:

45 minutes

Total Time:

55 minutes
Ingredients
2 tbsp olive oil, divided

2 lb chuck beef or other stew meat, diced

1 yellow onion, finely chopped

3 garlic cloves, minced

3 cups unsalted beef broth

2 carrots, chopped

2 sweet potatoes, chopped into 1/2-inch pieces

3 celery stalks, chopped

4 oz cremini or Bella mushrooms, sliced

14 oz (1 can) no salt diced tomatoes

1 tsp onion powder

1 tsp garlic powder

2 tsp oregano

1 tsp black pepper

1 tbsp minced fresh sage

1 tbsp thyme
Directions
Heat 1 tablespoon of olive oil in the Instant Pot using sauce mode. When the pot is heated, add ½ of the beef in one layer. Brown the beef on one side, about 3-4 minutes. Flip the beef and brown the other side. Remove beef onto a clean plate.

Add the remaining tablespoon of olive oil and repeat with the remaining beef.

Add the chopped onions and sauté for 2-3 minutes, until soft. Add the minced garlic, stirring until fragrant, about 30 seconds.

Pour in the beef broth and scrape down the sides to make sure all the ingredients are immersed. Add the remaining ingredients, but do not stir.

Lock the lid of the Instant Pot and set to Stew mode for 35 minutes. Allow the pressure to release naturally after the cooking time is finished, then carefully open the steam valve and release the lid. Ladle into bowls, garnish with parsley, and enjoy!