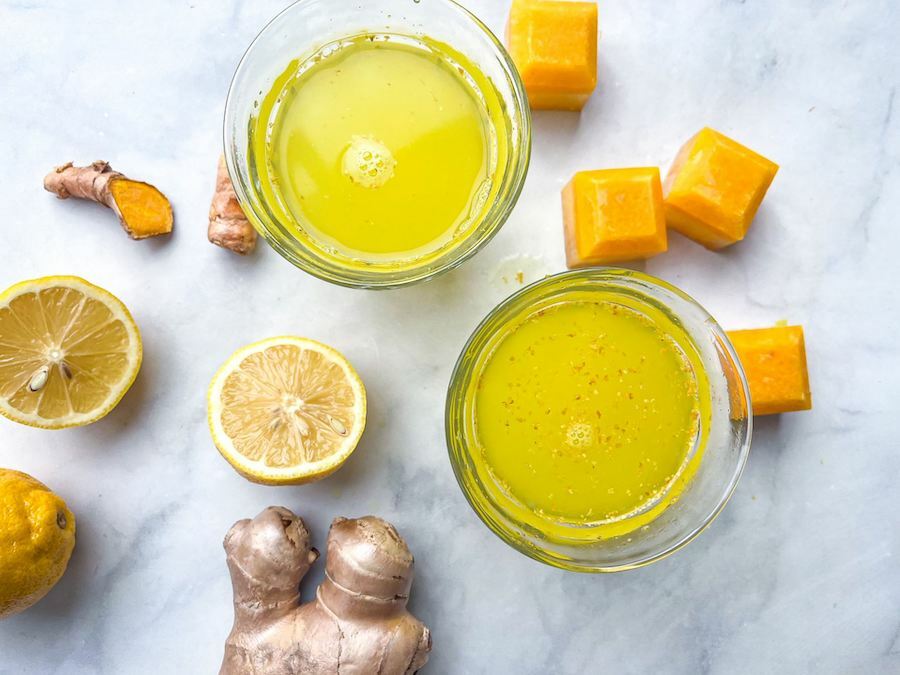 Feeling under the weather? Grab a couple of these immunity cubes when you feel the first signs of sickness, need to relax, are having digestion issues, or just need something soothing when it's chilly outside.
These cubes couldn't be easier to make! Add your ingredients to a blender, transfer them to your ice cube tray, freeze overnight, and then remove them when they are frozen. It's that easy and simple!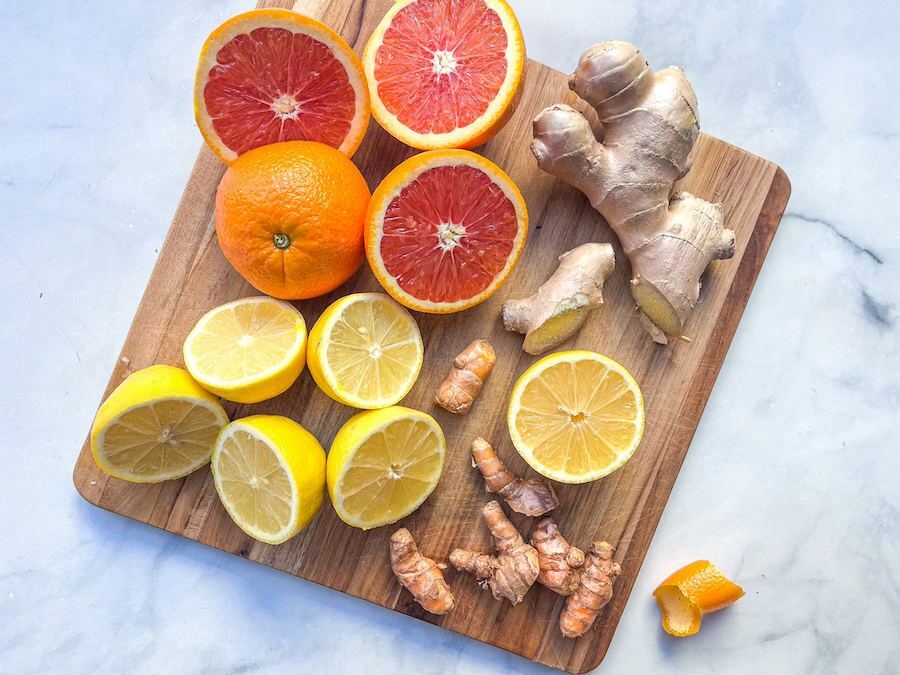 Each ingredient is filled with powerful healing properties. Turmeric provides amazing antioxidant and anti-inflammatory effects. It's been used in Ayurvedic medicine for thousands of years as a herbal remedy for conditions such as breathing problems, joint pain, fatigue, and digestive issues.
Ginger is also naturally anti-inflammatory and is known to aid digestion and relieve nausea. Lemons help produce healthy bowel movements and boost your immune system. The perfect ingredients to start your mornings!
To make these immunity cubes, peel all the ingredients and add them to a blender until smooth. Then transfer your mixture to a cheesecloth or a strainer and strain the mixture over a bowl until all the lumps are gone. If you like texture, skip that step! Transfer the mixture into an ice cube/sphere tray then freeze overnight or for at least six hours.
These cubes can be served in multiple ways. Defrost two cubes in a small glass and drink them down quickly like a shot! Or use them like ice cubes: drop two cubes into hot water or warm, non-dairy milk. Finally, try using these cubes in one of your favorite smoothies. These cubes will stay good frozen for up to a month!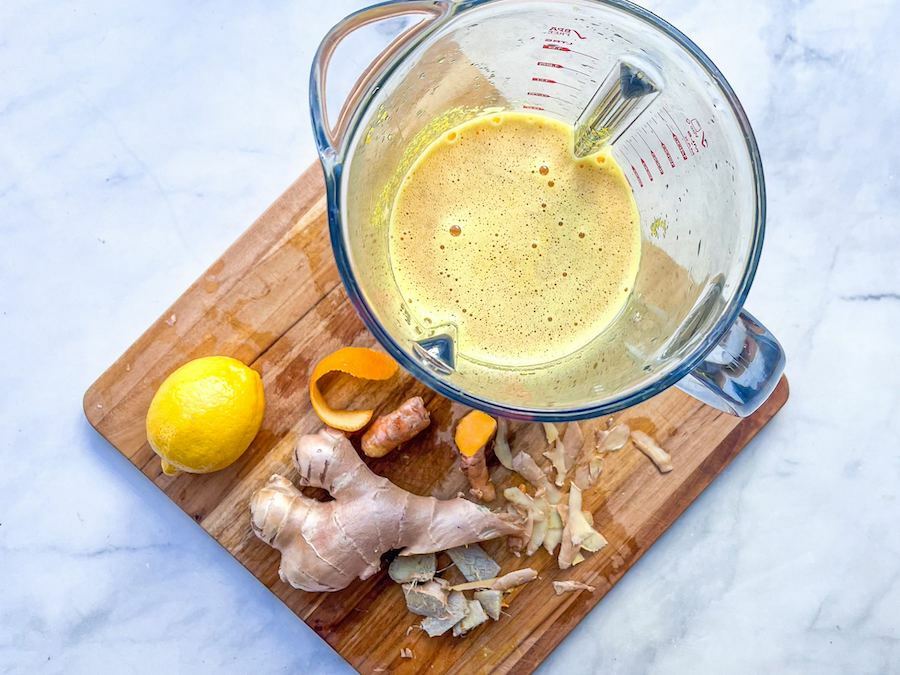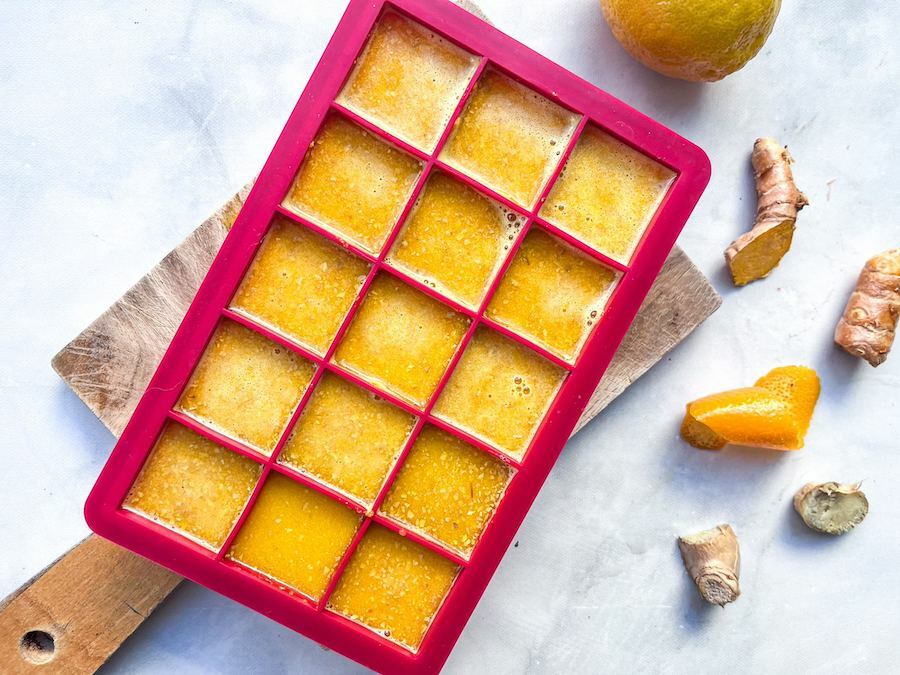 Love our recipes? Make going Paleo even easier and download our 7-Day and 28-Day digital meal plans!
Details
Recipe by: Jess Case
Serves:

15

Meal:

Anytime
Prep Time:

5 minutes

Cook Time:

6 hours

Total Time:

6 hours 5 minutes
Ingredients
1 whole fresh ginger, peeled

2 fresh turmeric, peeled

4 lemons

3 oranges
Directions
Peel the ginger and turmeric. Cut into small pieces and throw them into a high-speed blender. Squeeze all the juice out of the lemons and oranges into the blender as well.

Blend everything together until smooth and pour it into the molds.

Let it freeze overnight or for at least 6 hours.

When it's ready take a couple cubes out of the mold into a mug, pour hot water over. Enjoy!