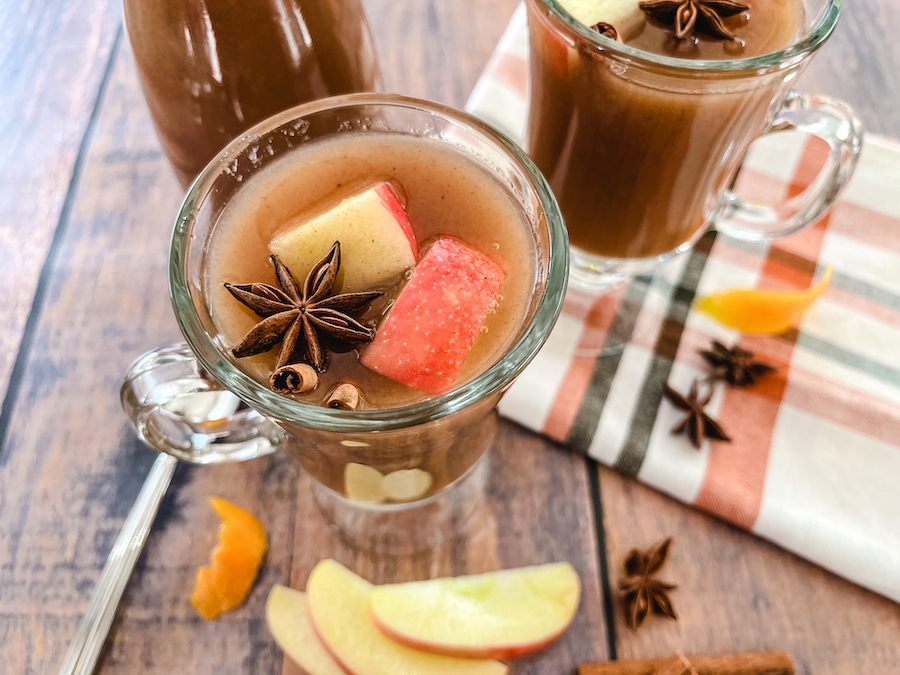 Yes, you can make your own apple cider without a cider press! This easy slow-cooker recipe infuses your drink with spices as it cooks, so you have the ultimate mulled hot drink.
This recipe is also great to try if you have a lot of apples that you need to use up. We used a mix of Honeycrisp and Granny Smith apples for a combination of sweet and tart flavors, but you can use any variety of apples you have on hand.
For our mulling spices, we used a mix of cinnamon sticks, star anise, whole cloves, and allspice. You can use ground spices instead, but we prefer whole spices. They provide better flavor, and they easily strain right out. Don't forget to save a few for garnish!
Along with our mulling spices, we used the peel from one whole orange to add a bit of bright citrus to the cider. You can also slice the orange and add it to the pot with the fruit intact, if you like.
To make the cider, simply add all the ingredients to your slow cooker and add just enough water to cover. Cook on high heat for three hours, then mash the fruit with a potato masher or spoon, and continue to cook another hour. Alternatively, you can cook on low heat for six to seven hours, being sure to mash the fruit half way through the cooking process.
If you don't have a slow cooker, use a large pot instead. Turn the stovetop up to high heat, then reduce heat to low and let the cider simmer, stirring occasionally. Mash the fruit at the two-hour mark, then cook another hour.
Let your cider cool slightly before running it through a fine mesh sieve. Discard the solids. Serve your homemade mulled cider garnished with more fruit and/or spices, and enjoy!
Tip: Refrigerate leftovers for up to one week. Simply warm it on the stovetop when you're ready to enjoy.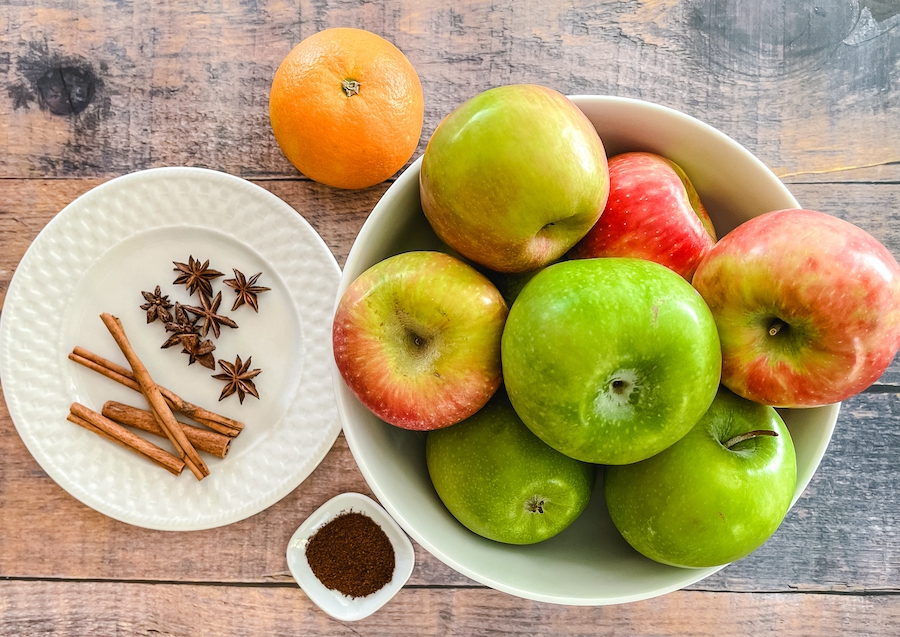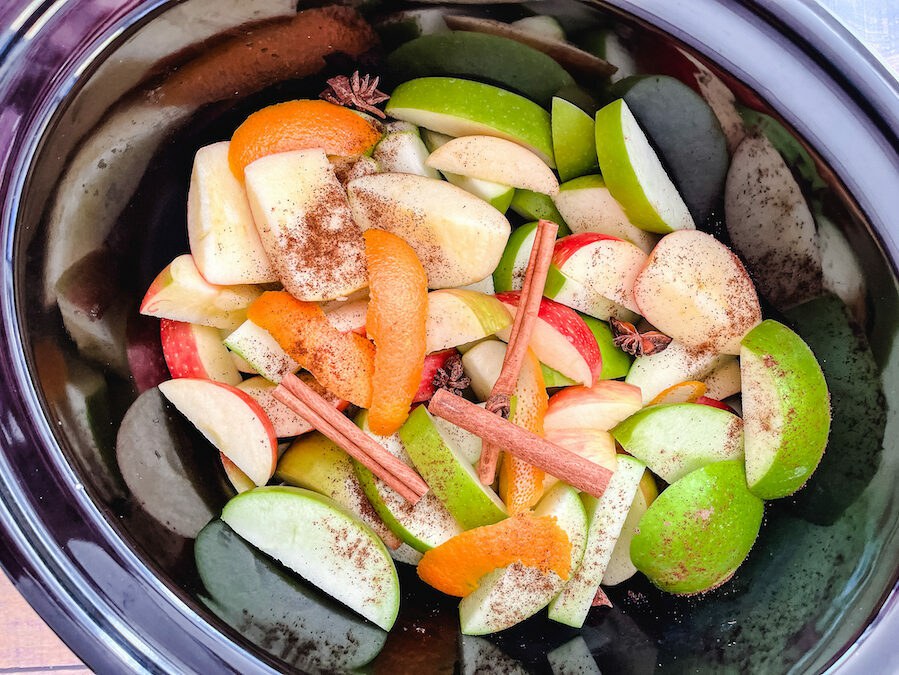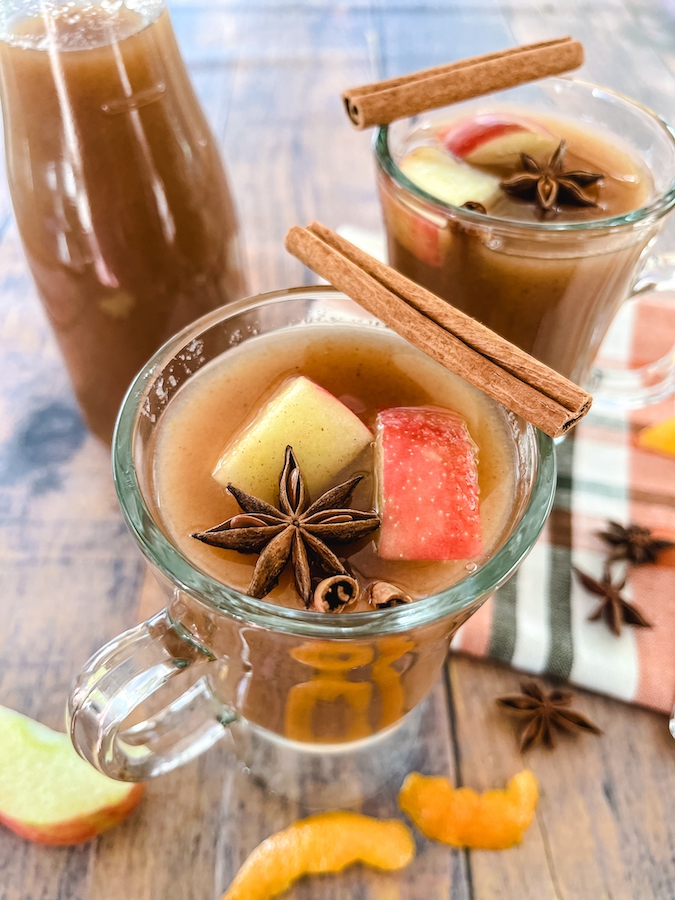 For hundreds of pure Paleo recipes be sure to check out The Real Paleo Diet Cookbook and The Real Paleo Diet Fast and Easy.
Details
Recipe by: Jess Case
Serves:

10

Meal:

Anytime
Prep Time:

15 minutes

Cook Time:

4 hours

Total Time:

4 hours 5 minutes
Ingredients
10 apples, cored and sliced

1 orange peel

4 cinnamon sticks (or 1 tbsp ground cinnamon)

3 anise stars

1 tbsp whole cloves (or 1 teaspoon clove powder)

1 tsp allspice

Water
Directions
Place the apples, orange peel, and spices in the slow cooker. Add just enough water to cover the fruit.

Set to High and cook for 3 hours.

Use a potato masher or large spoon to mash the apples and release its liquids. Cook for another hour.

Let the cider cool slightly. Very carefully, use a fine mesh sieve to slowly strain the chunky liquid into a large pot. Discard the solids. Run the cider through the sieve one more time, if needed.

Serve the cider warm garnished with cinnamon sticks, anise stars, or apple and orange slices.