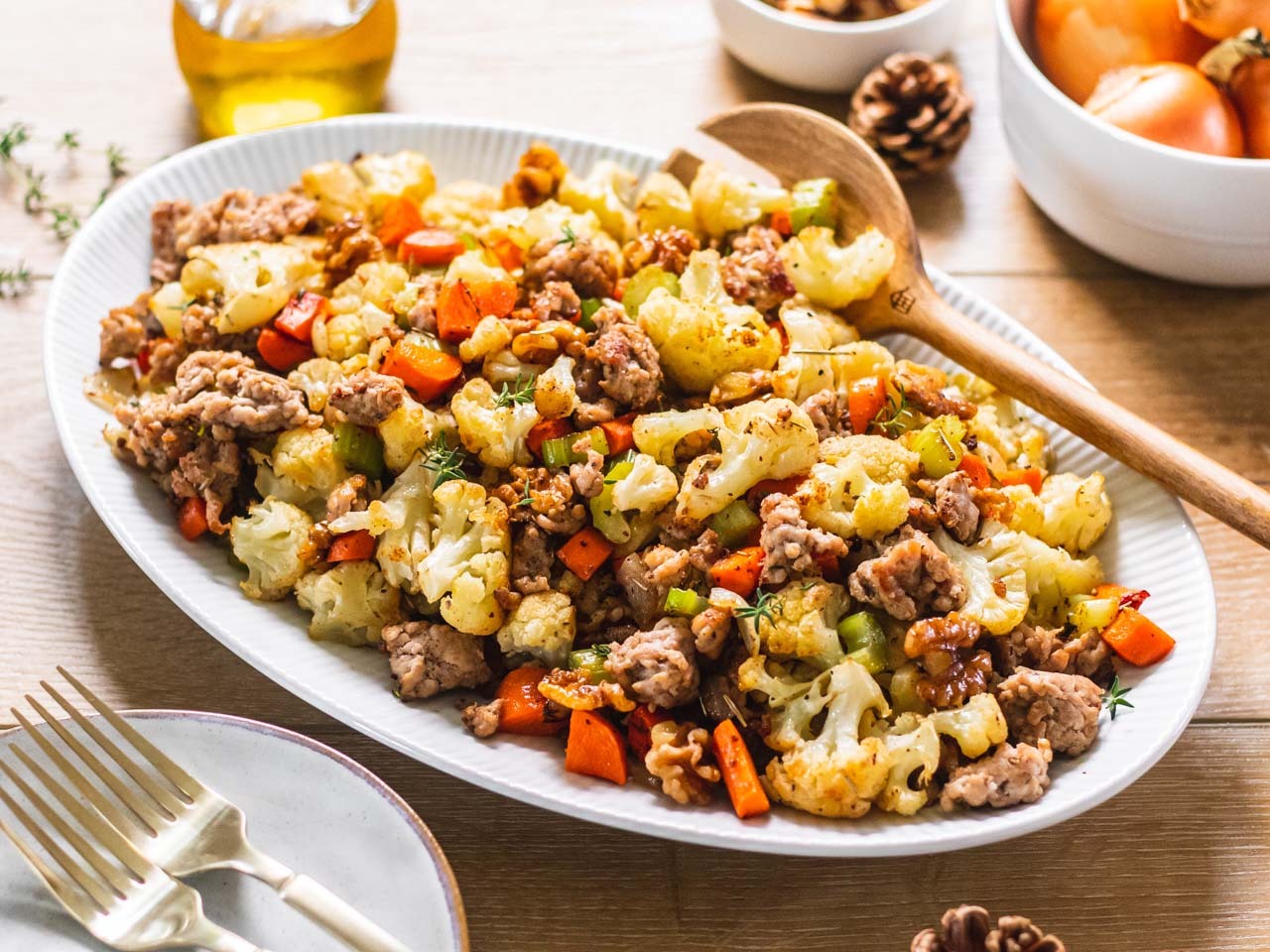 Herb and Pork Cauliflower Stuffing
This Thanksgiving, try this Paleo-approved stuffing that uses cauliflower in place of bread!
Stuffing is a staple at the Thanksgiving table, but most recipes call for gluten-filled breadcrumbs, butter, and lots of salt. Instead, try our healthy, fiber-packed stuffing. Don't worry, we still use that important base of carrots, celery, and onions, plus lots of fresh herbs like sage and rosemary for that traditional holiday taste. We then round it out with a bit of ground pork for a hearty, savory note.
Since you'll have lots of other things on your mind Thanksgiving Day, we recommend making this recipe a day or two in advance. Then all you have to do is reheat it in the oven while your turkey rests!
Start by roasting cauliflower florets and chopped carrots until tender and fragrant. Meanwhile, cook the ground pork in a large pan on the stovetop. You can use ground turkey instead, but be sure to add an extra tablespoon or two of olive oil to help it crisp up. Add the herbs and the roasted veggies, then toss in the walnuts.
Enjoy it hot, garnished with fresh thyme. You can have it as a side dish on Thanksgiving, or even by itself for a festive breakfast or lunch all season!
Tip: You can also add in or substitute other seasonal ingredients here, like sweet potatoes, dried unsweetened cranberries, hazelnuts, or pecans.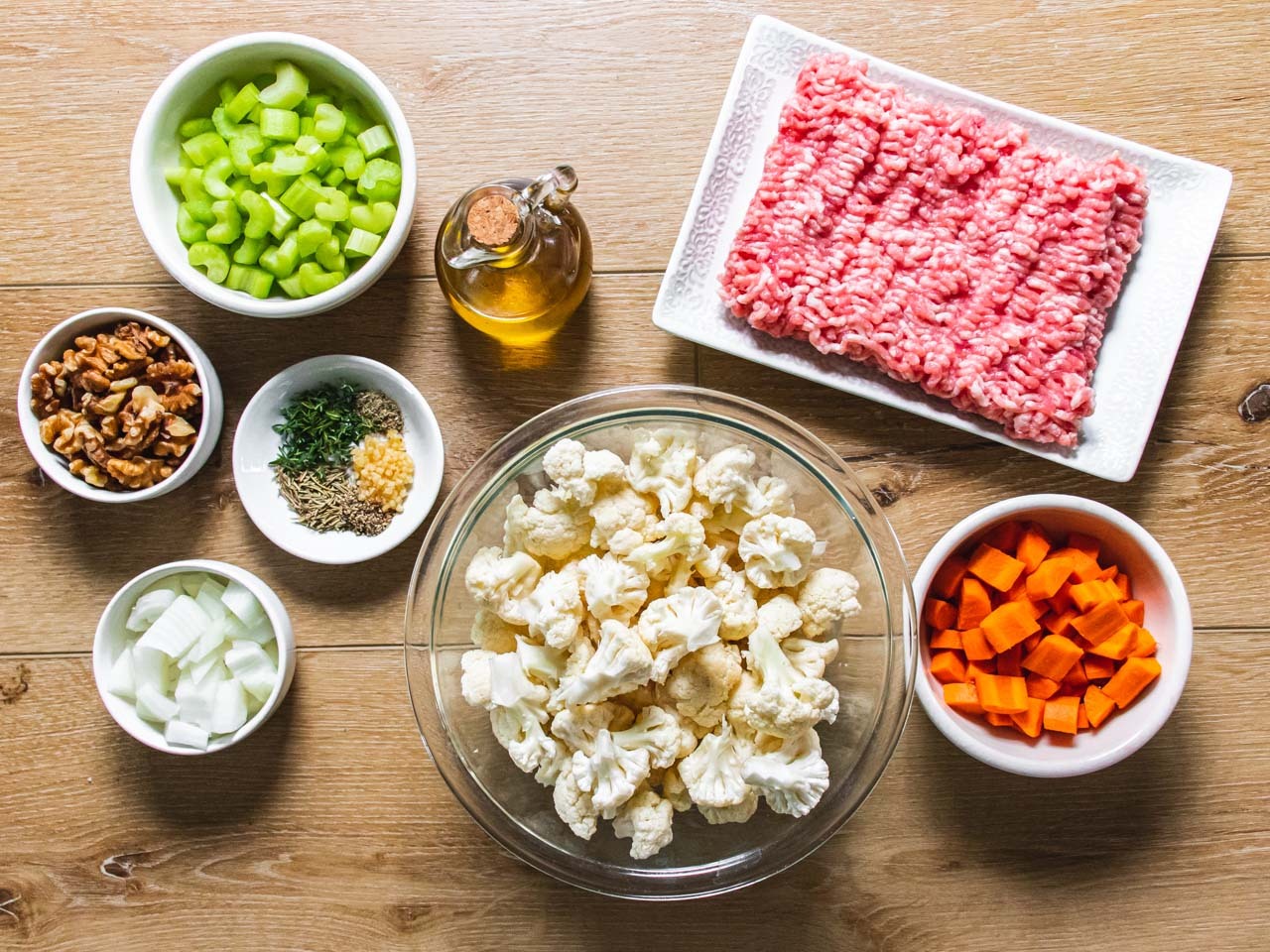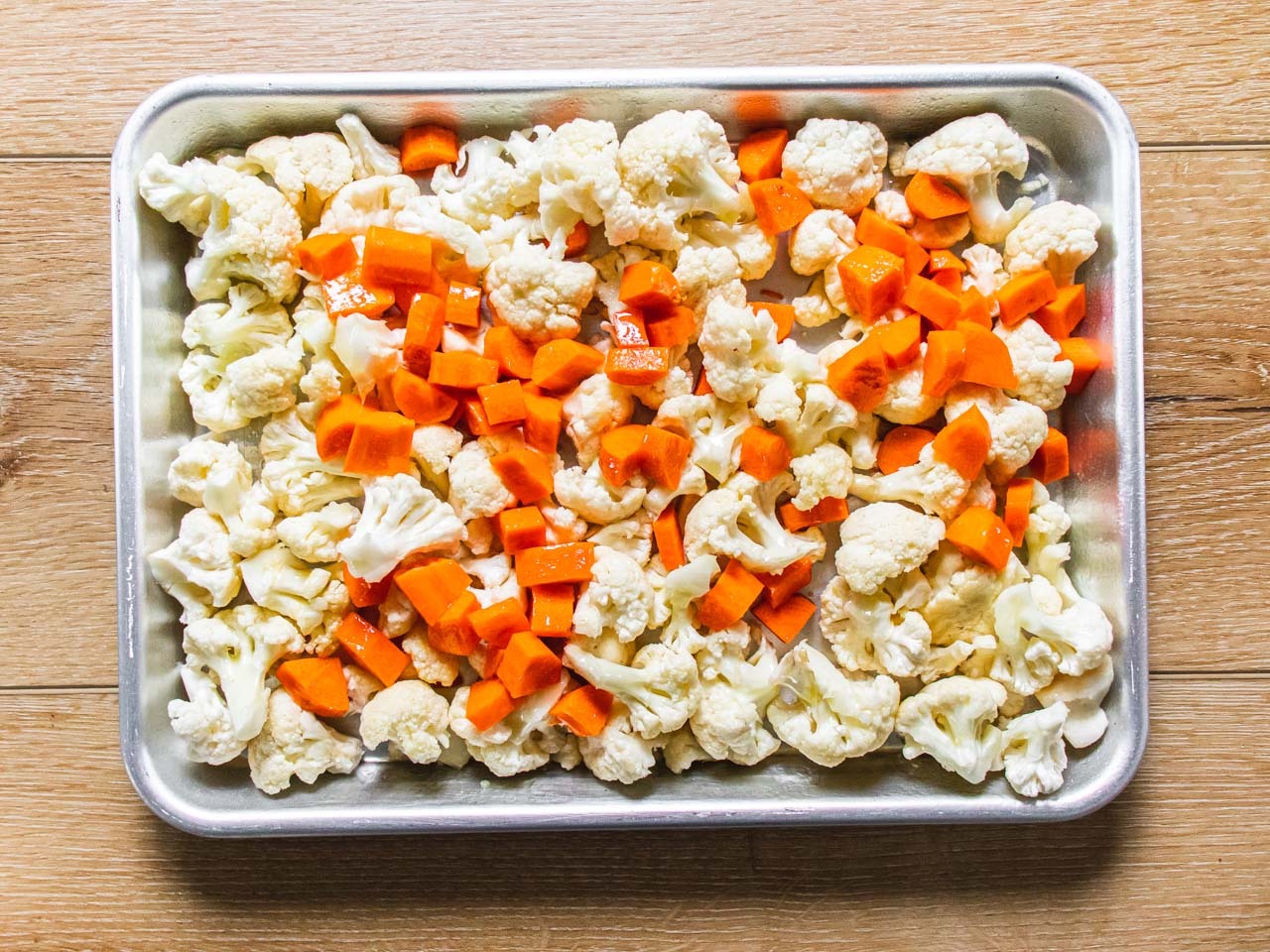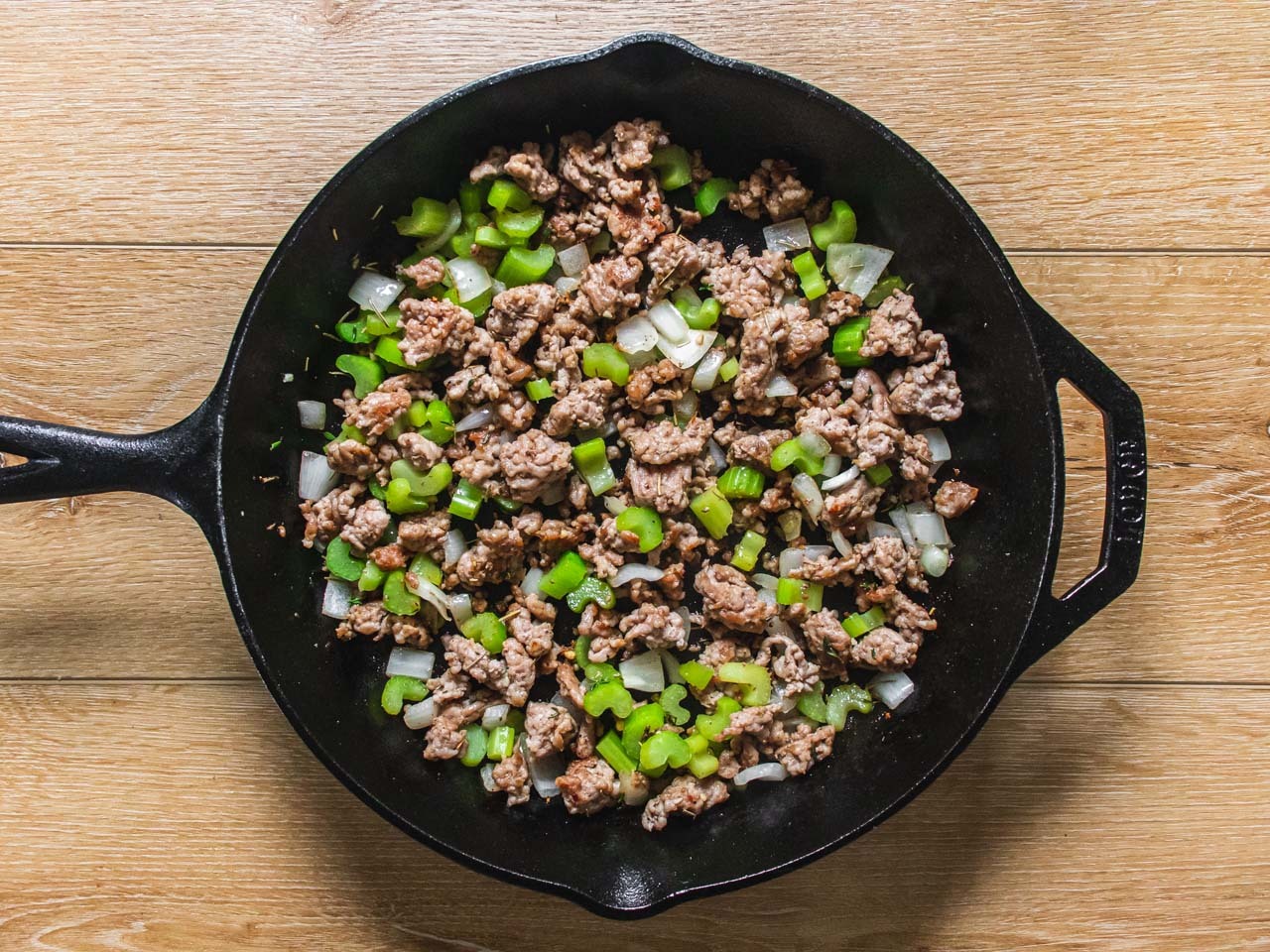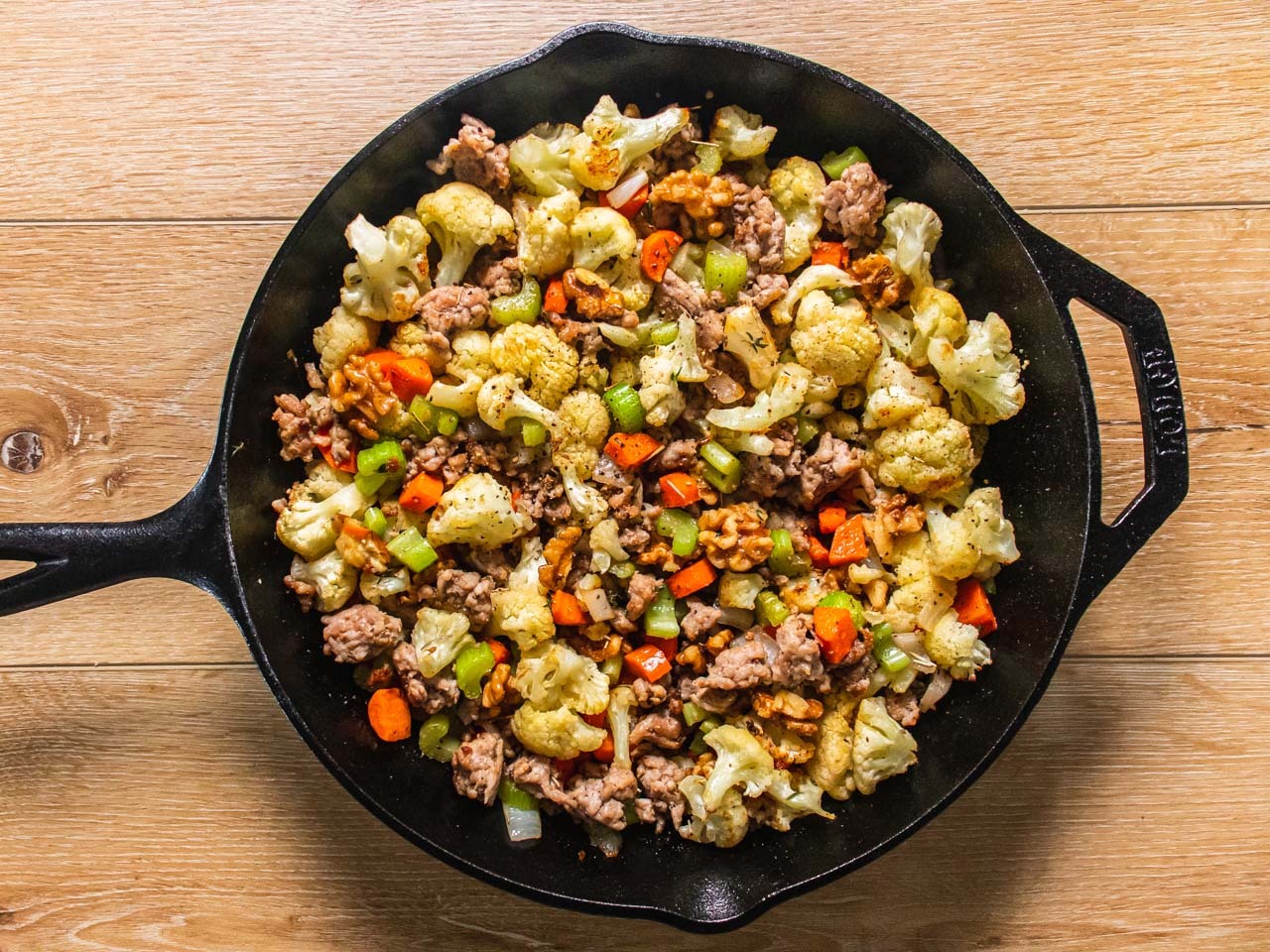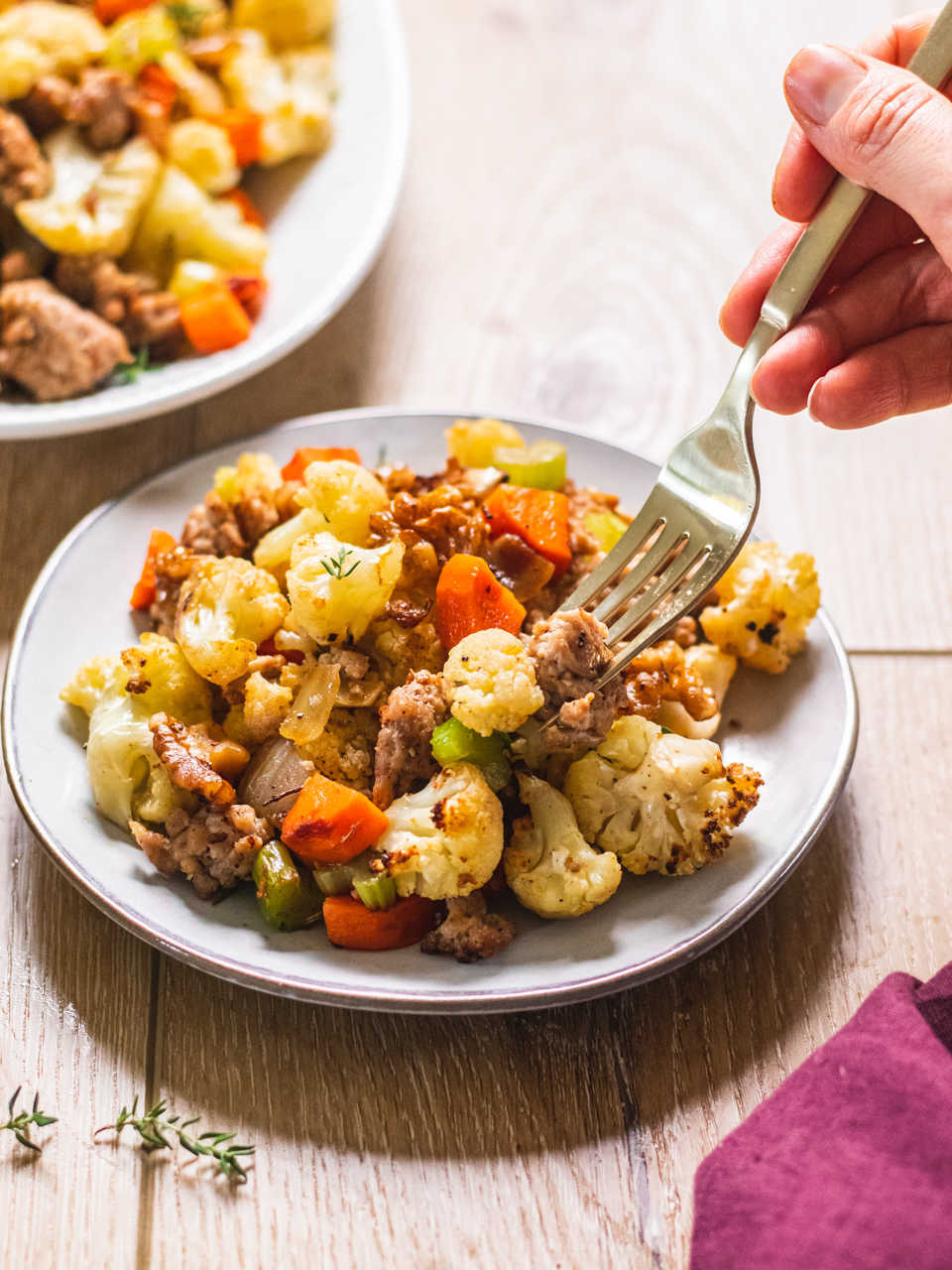 For hundreds of pure Paleo recipes be sure to check out The Real Paleo Diet Cookbook and The Real Paleo Diet Fast and Easy.
Details
Prep Time:

10 minutes

Cook Time:

25 minutes

Total Time:

35 minutes
Ingredients
5 cups cauliflower florets, broken into bite-sized pieces

1 cups chopped carrots

2 tbsp olive oil

1 lb ground pasture raised pork

1 cups chopped celery

1/2 cups chopped sweet yellow onion

1 tsp fresh thyme leaves, plus more for serving

2 cloves of garlic, minced

1/2 tsp dried rosemary

1/4 tsp dried sage

1/4 tsp cracked black pepper

1/2 cups raw walnut halves
Directions
Preheat the oven to 425ºF.

Spread the cauliflower and carrots on a baking sheet and drizzle with olive oil. Roast for 20 minutes, stirring halfway.

While vegetables roast, cook ground pork over high heat in a large cast iron skillet or Dutch oven for 5 minutes, stirring occasionally. Reduce heat to medium. Add the celery, onion, thyme, garlic, rosemary, sage, and black pepper. Stir well. Continue to cook 5 minutes longer.

Stir the roasted vegetables and walnuts into the pork mixture and cook 5 minutes longer or until pork is browned and walnuts are toasted, stirring regularly. Serve hot, topped with additional fresh thyme.