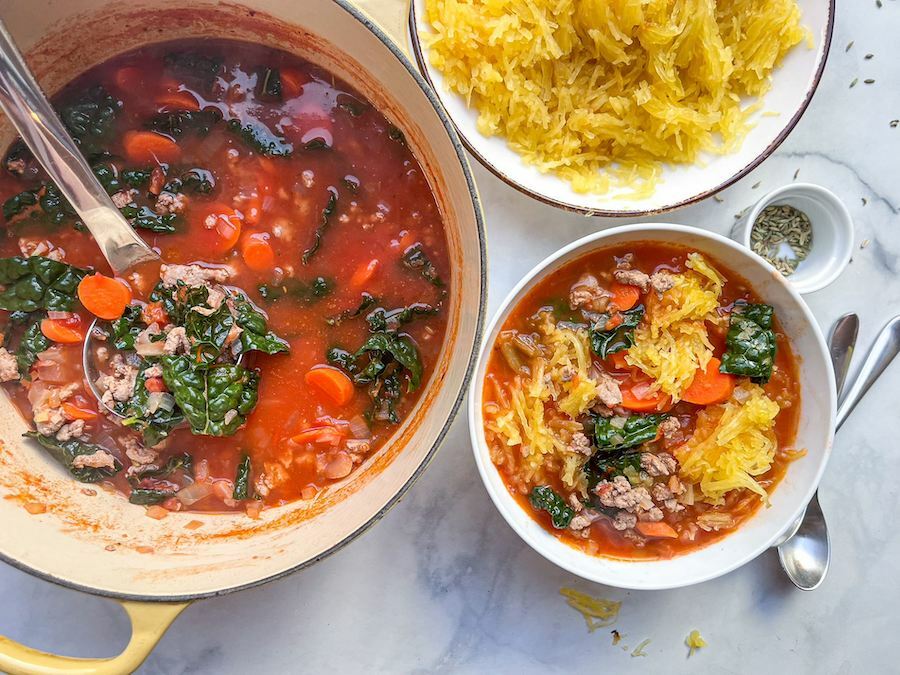 Healing Spaghetti Squash Soup
Why have chicken noodle soup when you can have turkey spaghetti squash soup? This gut-soothing recipe is made with healing spaghetti squash instead of pasta, and is filled with nutrients and minerals from greens, chicken broth, and ground turkey.
This soup is a great choice when you're feeling a little under the weather, or just need a good digestive reset.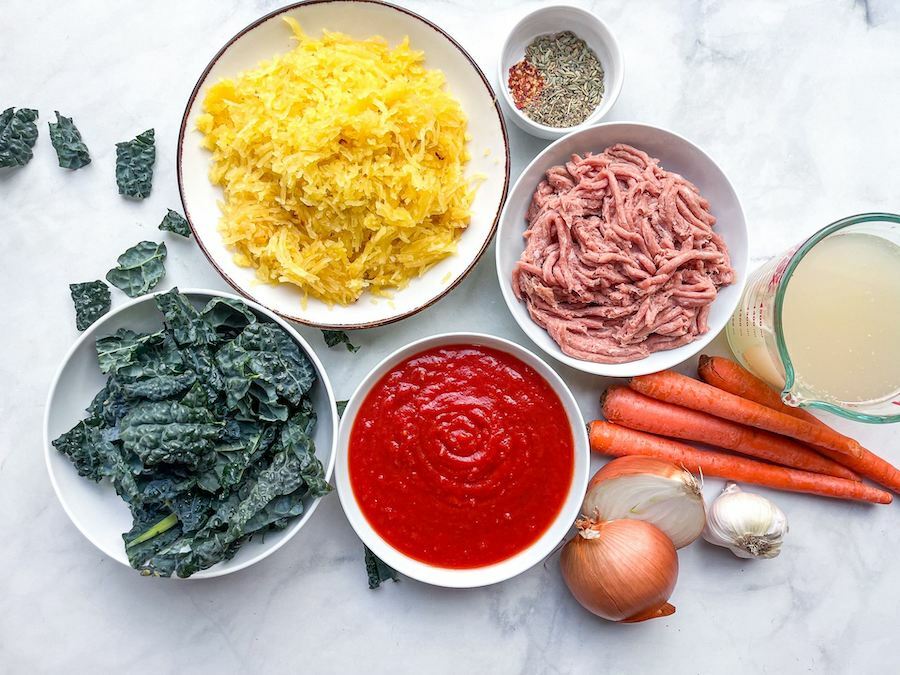 Start by roasting the spaghetti squash. It takes about 30 minutes to get the strands nice and tender, which is just about the time it takes to prep the rest of the soup. Then all you have to do is add the "noodles" to the soup and serve!
While the squash is baking, brown the ground turkey in a large pot, then add chopped carrots, onions, garlic, and spices. Once your veggies are softened and fragrant, pour in salt-free chicken broth and crushed tomatoes. Bonus points if you use homemade bone broth!
Bring the soup to a boil, then reduce heat and simmer while the spaghetti squash finishes up. When you're about ready to serve, throw in a few handfuls of spinach and cook until just wilted. You can also use kale or another leafy green here instead.
Add the spaghetti squash strands to the pot, give it a good stir, and get ready to ladle up your tasty soup!
Tip: This soup will last up to one week in the refrigerator.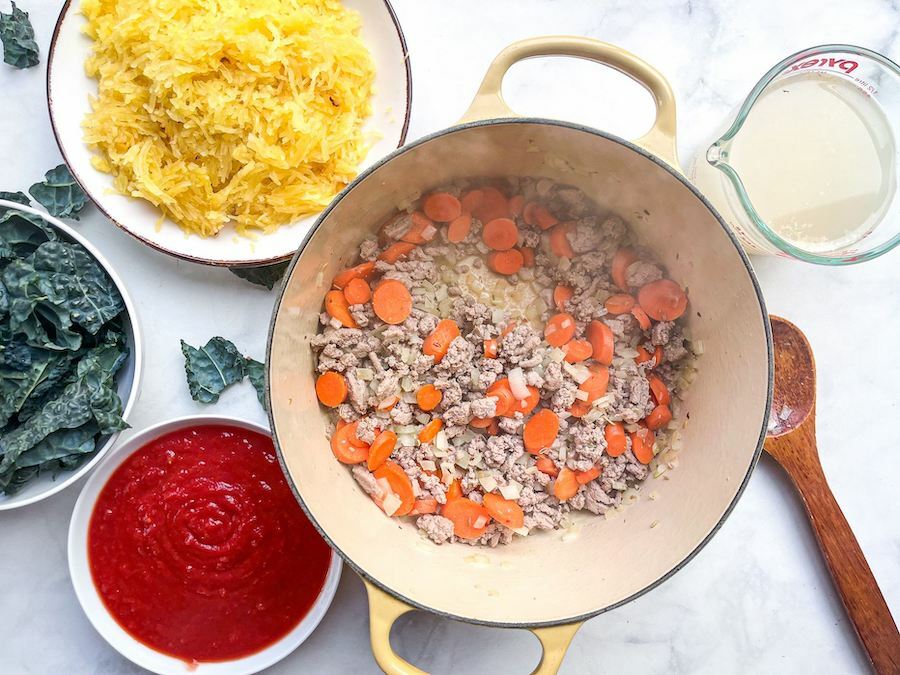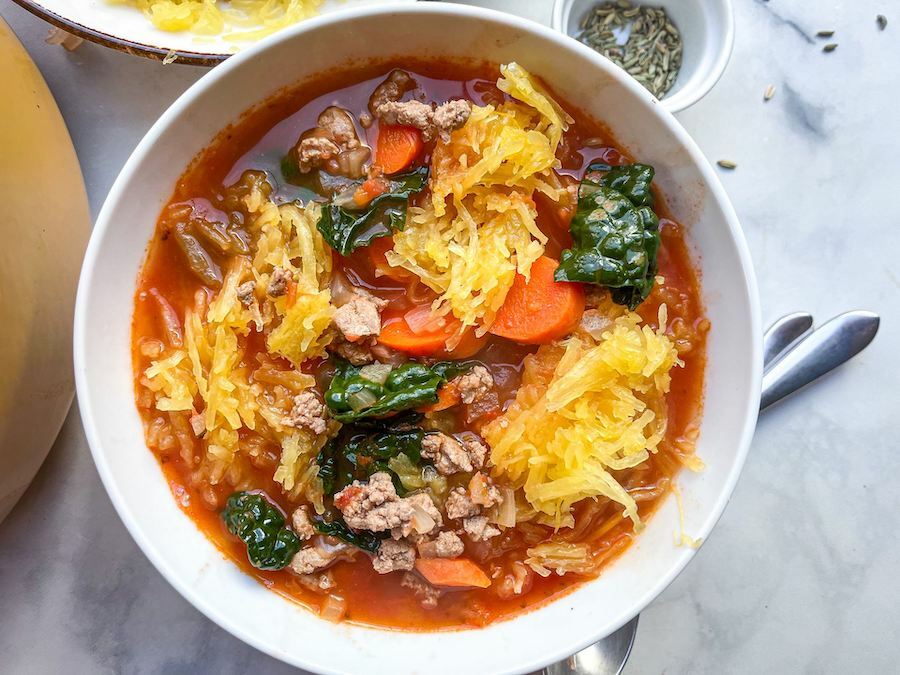 Love our recipes? Make going Paleo even easier and download our 7-Day and 28-Day digital meal plans!
Details
Prep Time:

10 minutes

Cook Time:

35 minutes

Total Time:

45 minutes
Ingredients
2 tbsp extra-virgin olive oil, divided

1 spaghetti squash, halved and de-seeded

12 oz ground turkey

4 carrots, chopped

1 yellow onion, diced

2 cloves garlic, minced

1/2 tsp fennel seeds

1/4 tsp crushed red pepper

4 cups chicken broth, salt-free

1 1/2 cups cups crushed tomatoes, salt-free

2 cups baby spinach

1/4 tsp black pepper
Directions
Preheat the oven to 400°F. Rub 1 tablespoon of the oil olive inside of the spaghetti squash and place it facing down on a baking sheet. Roast for 30 minutes, or until tender. When it's done, let it cool for a few moments before scraping the strands into a bowl using a fork. Set aside.

While the squash is baking, heat the remaining tablespoon of olive oil in a large pot or Dutch oven over medium heat. Add the ground turkey and cook for about 10 minutes, or until it's evenly browned. Stir in the carrots, onions, garlic, fennel seeds and red pepper flakes and saute until the onions are translucent.

Pour in the broth and tomatoes, turn up the heat to medium-high and bring to a boil. Reduce the heat and simmer until the vegetables are just about tender, 5 minutes. Add the baby spinach and spaghetti squash and simmer until the spinach wilts. Season with black pepper and remove from the heat.

Let the soup stand a few moments, then ladle into bowls, and serve hot. Enjoy!