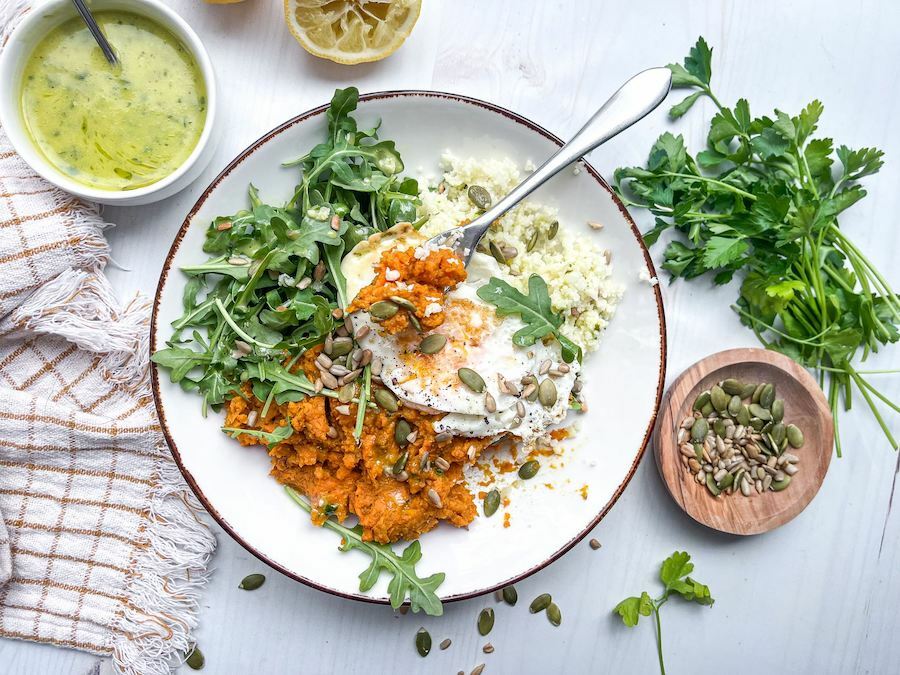 Gut-Healing Turmeric Sweet Potato Bowls
Looking for a digestive reset? This gut-healing bowl brings together a diverse range of nutrients in one meal, including one of our favorite superfoods, sweet potatoes.
To make this flavorful bowl easy on your gut, we used the grain-free option of riced cauliflower instead of white or brown rice. Gluten or grain-filled ingredients increase inflammation in the gut, which can lead to stomach aches and pains.
This nutrient-dense bowl is also filled with fiber from the sweet potatoes and boasts anti-inflammatory properties from the turmeric, while the Paleo broth base adds a boost of gut-nourishing collagen.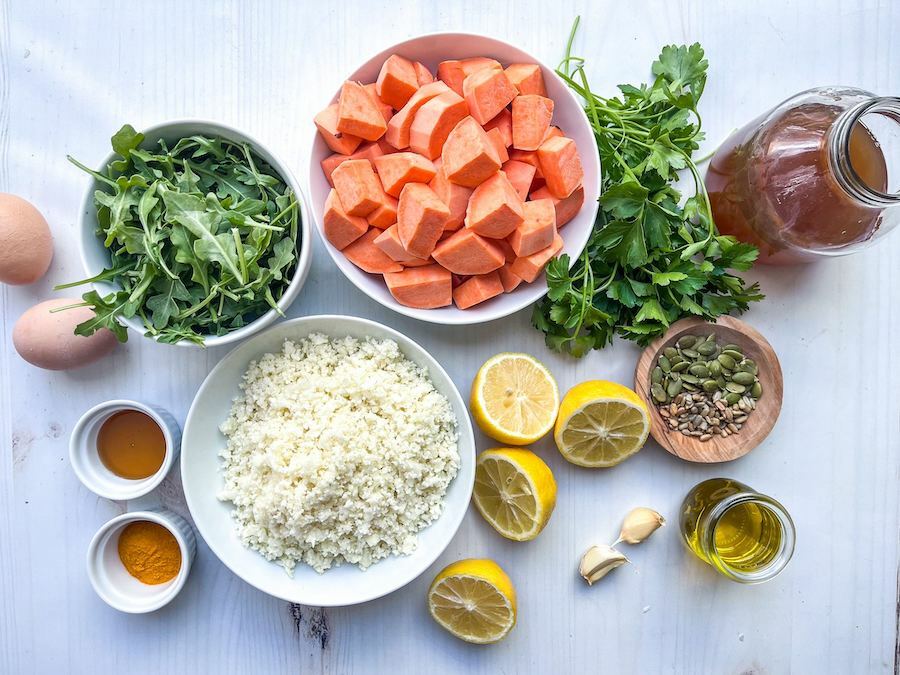 To make your bowl, start by cooking the cubed sweet potatoes in a medium-sized skillet tossed in olive oil, turmeric, and garlic with Paleo broth. While the sweet potatoes are simmering, you can start prepping the dressing and warm up the riced cauliflower, either in the microwave or in a pan.
With about five minutes remaining, fry two eggs (scramble or poach your eggs if you prefer). Feel free to add any other gut-boosting vegetables to your bowl, like broccoli or cabbage. Finally, mash up the tender sweet potatoes to a creamy texture.
Next, it's time to add the mashed sweet potatoes, riced cauliflower, and arugula together in bowls. If you don't like arugula then spinach or kale are great replacements. Finally, top it off with your eggs, and sprinkle with pumpkin and sunflower seeds. Now it's time to dig into your hearty bowl—enjoy!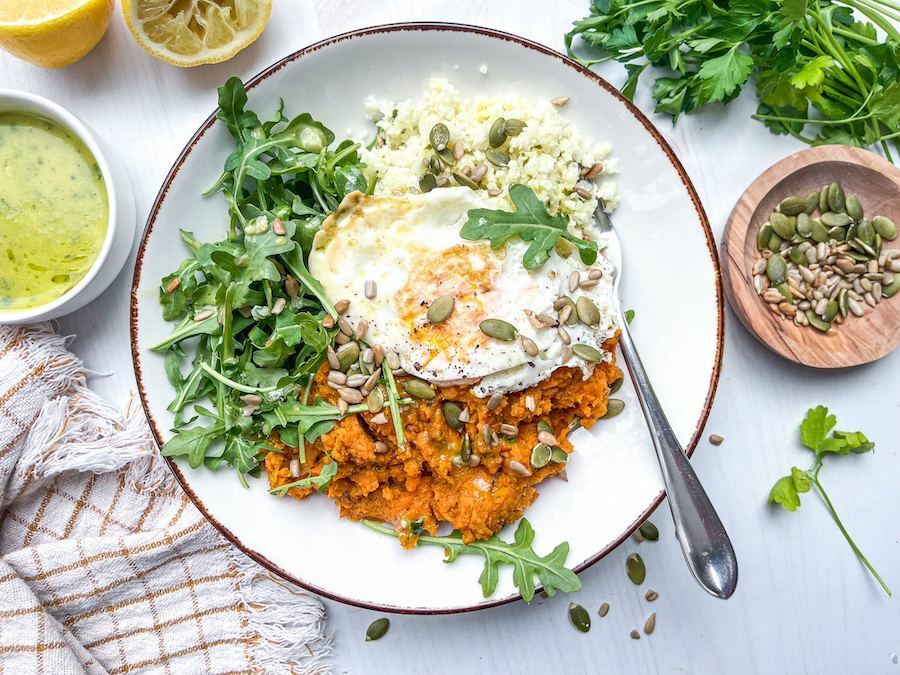 Details
Prep Time:

10 minutes

Cook Time:

25 minutes

Total Time:

35 minutes
Ingredients
1/3 cups olive oil plus 2 tbsp

2 large sweet potatoes, peeled and cut into chunks

2 tsp turmeric powder

2 cups Paleo vegetable broth

3 garlic cloves, minced or pressed

1/4 cups fresh squeeze lemon juice (2 lemons)

2 tsp raw honey

1/4 cups parsley leaves, chopped

1 large cauliflower, riced and warm

2 cups arugula

4 eggs, fried or to your liking

4 tbsp sunflower seeds

4 tbsp pumpkin seeds
Directions
To prep the sweet potatoes: heat a medium skillet over medium high with 2 TBSP of olive oil. Add the chopped sweet potatoes and turmeric, toss until it's combined. Then add the Paleo vegetable broth and minced garlic.

Let it simmer until the potatoes are tender, soft and the broth is absorbed for the most part, about 25 minutes. Remove the sweet potatoes into a bowl and mash with a fork or a potato masher. Leave aside.

For the dressing: add the ⅓ cup olive oil, lemon juice, raw honey, and parsley leaves to a blender. Blender until smooth. Toss some dressing with the arugula before serving it in the bowls.

To prepare the bowls, serve each bowl with mashed sweet potatoes, warm rice cauliflower, arugula and a fried egg. Drizzle more dressing on top with the sunflower and pumpkin seeds. Enjoy!!