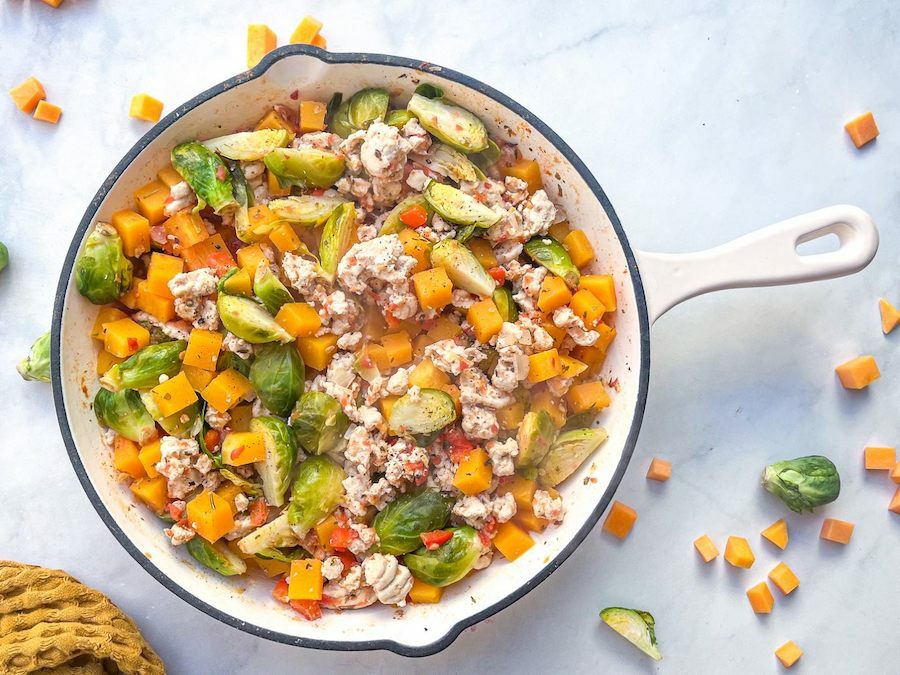 Ground Turkey Butternut Squash Bowls

Looking for an easy-to-make power bowl to pack for your weekday lunch? These ground turkey butternut squash bowls are filled with vibrant, nutrient-dense veggies that will keep you satisfied and happy all week long.
Make a batch of this one-pot meal this weekend and you'll be all set for the week ahead—it's a great time-saver. You can store leftovers in the refrigerator for up to four days or in the freezer for up to a month.
Butternut squash is low in calories and high in important minerals like potassium, calcium, and magnesium. Brussels sprouts, a favorite here at The Paleo Diet®, are a powerhouse of nutrition. Each bite is packed with potassium, vitamins A and C, and healthy dietary fiber. Plus, they're a hearty veggie that will keep you feeling much fuller than a simple side salad.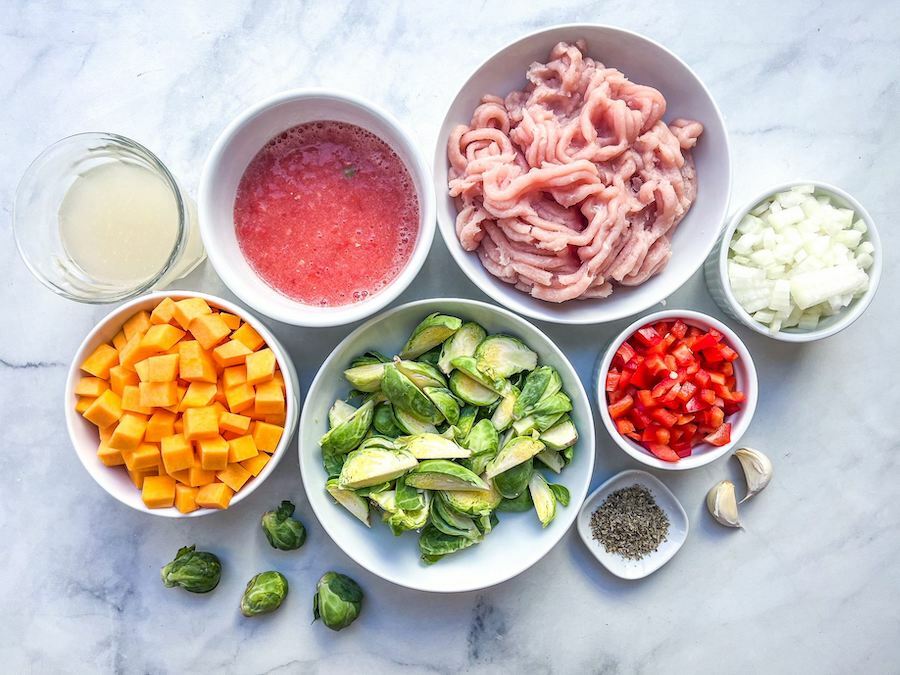 To make your bowls, start by sauteing the diced onions and garlic in a skillet, then add the chopped red pepper. Once it all starts to caramelize, add the ground turkey (you could also use ground beef if you prefer.) Cook until the meat is browned through, then add the cubed butternut squash, Brussels sprouts, Paleo broth, tomato sauce, and spices. The smaller the cubes of butternut squash, the faster it will cook, so keep this in mind as you're slicing it up!
Now you can divide the meal into portions in an airtight container. Glass containers don't hold onto any smells and they're easier to clean. Make sure to keep the meals refrigerated until you're ready to eat them. The best way to microwave your meal prep is with a damp paper towel over the top to keep the ground turkey moist. Now you can dig in and enjoy your lunch!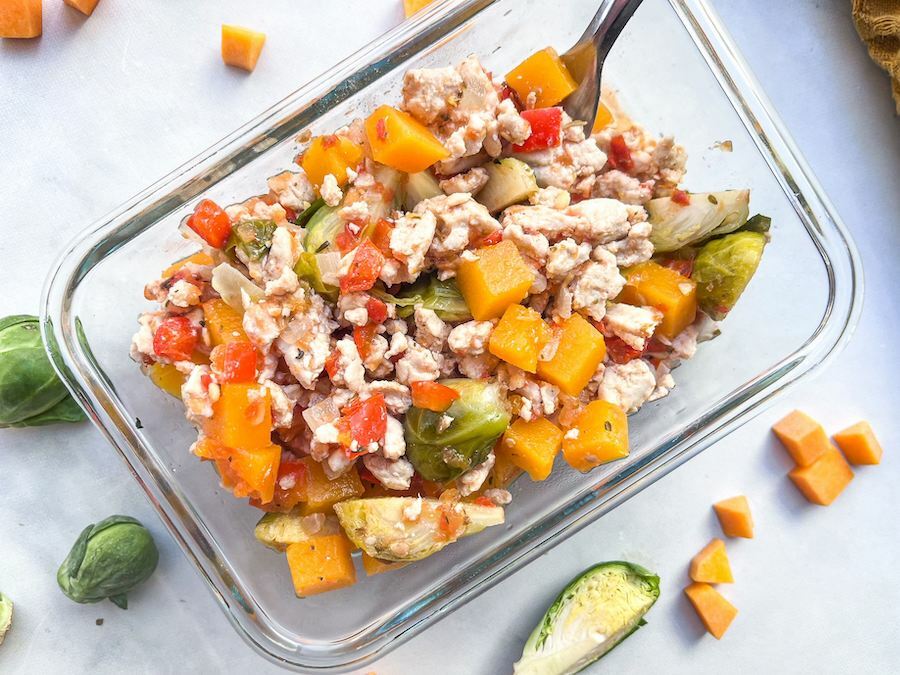 Tips:
If your butternut squash is too firm and you're having trouble cutting it, try microwaving it for a minute or so to soften it up. You can also grab pre-cubed butternut squash at most grocery stores to help save on time.
Autoimmune Protocol (AIP) omissions and substitutions are listed in the recipe ingredients.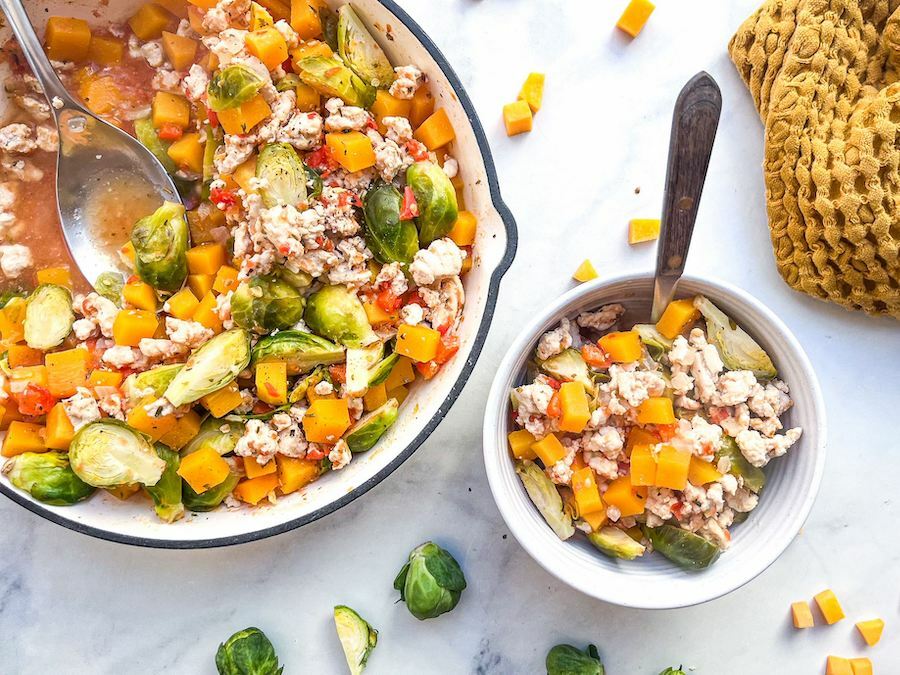 Love our recipes? Make going Paleo even easier and download our 7-Day and 28-Day digital meal plans!
Details
Prep Time:

10 minutes

Cook Time:

20 minutes

Total Time:

30 minutes
Ingredients
2 tbsp extra virgin olive oil

1/2 cups onions, diced

1 tsp garlic clove, minced

1/2 cups red pepper, diced (AIP - substitute with yellow squash)

1 lb ground turkey

2 cups butternut squash, diced

2 cups Brussels sprouts cut in quarters

1 large tomato, pureed and deseeded (AIP - substitute with zucchini)

1/2 cups Paleo beef broth

1/2 tsp ground black pepper (AIP - omit)

1 tsp Italian seasoning

1/4 red pepper flakes (AIP - substitute with ground ginger)
Directions
Use a cast iron skillet or a pan, heat with 2 tbsp of olive oil on medium heat. Add the onions and garlic and let them caramelize for 3-5 minutes. Stir in the red pepper, let it cook for 3 minutes.

In the same skillet, add the ground turkey and use a wooden spoon to break up the turkey while it's cooking. Cook for about 6 minutes and stir occasionally.

Once the ground turkey is cooked, add the diced butternut squash, quartered Brussels sprouts, tomato sauce, and Paleo beef broth. Incorporate well then season with spices.

Put a cover over the skillet and let it cook for about 6-8 minutes until the butternut squash is softened and stir occasionally.

Once everything is cooked, put an even amount of turkey butternut squash mixture into four different glass containers or eat some right away as your family dinner meal!