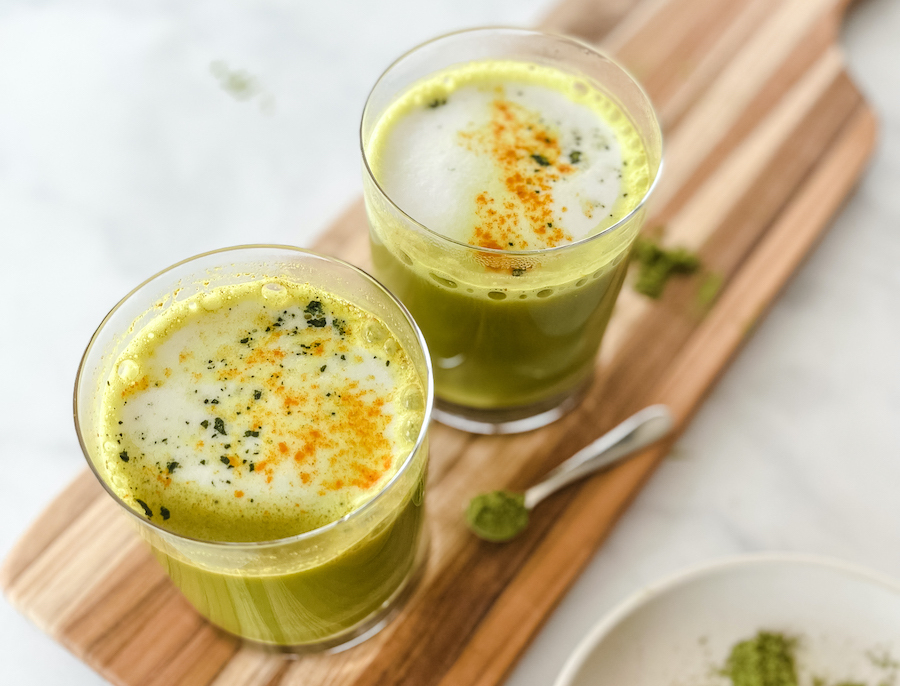 If you're craving a warm, soothing latte, this golden milk matcha latte recipe offers a perfect, gentle lift. Mix coconut milk and spices with matcha powder to create a sweet, creamy latte with several health benefits; a touch of caffeine, antioxidants from the matcha, and anti-inflammatory properties from the turmeric. This is a warm drink that's just as healthy as it is colorful.
Yes, matcha is Paleo, but only if it's sourced properly. It's important to keep in mind that matcha can have relatively high concentrations of lead, depending on where the leaves are grown. In general, Chinese grown matcha has a higher lead content than Japanese grown. Be sure to read labels carefully to find a high-quality matcha powder.
To make this golden matcha latte, start by whisking a bit of matcha powder with hot water to form a paste. Next, whisk coconut milk with spices like turmeric, cinnamon, ginger, black pepper, cardamom, and raw honey until just steaming, and add the matcha paste. Continue to whisk until smooth and hot.
Pour your latte into two mugs. If you like, use a milk frother to top with a bit of frothed coconut milk. Sip and enjoy!
Tips:
• Prefer an iced latte? Prepare the latte as normal, then let it cool slightly before pouring into a glass filled with ice.
• Autoimmune Protocol (AIP) omissions and substitutions are listed in the recipe ingredients.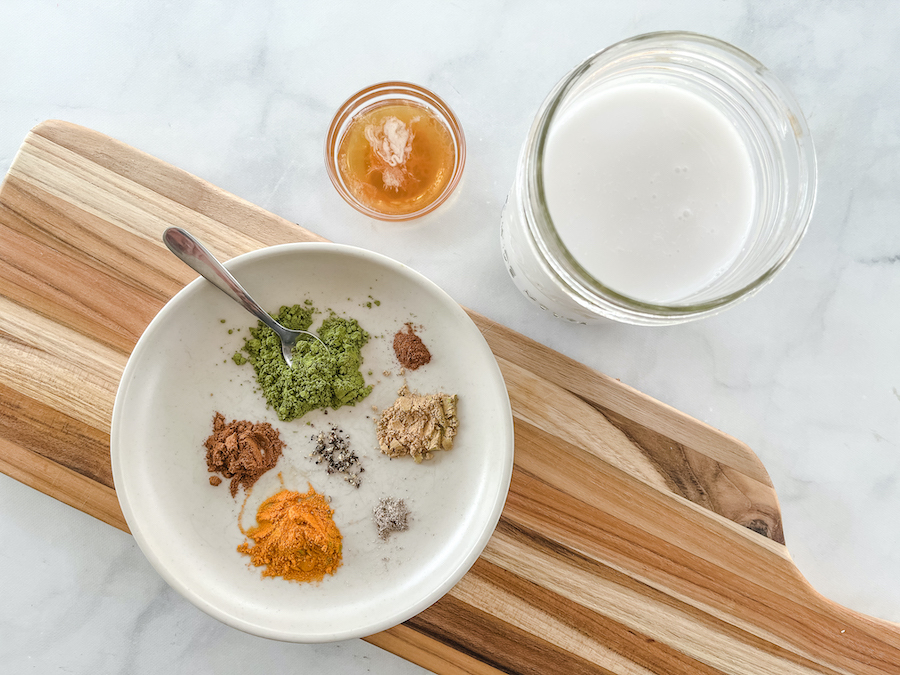 For hundreds of pure Paleo recipes be sure to check out The Real Paleo Diet Cookbook and Real Paleo Diet Fast and Easy.
Details
Prep Time:

5 minutes

Cook Time:

5 minutes

Total Time:

10 minutes
Ingredients
1 tsp matcha powder

1 tbsp hot water

1 3/4 cups coconut milk

1/2 tsp turmeric

1/8 tsp cinnamon

1/4 tsp ground ginger

1/8 tsp black pepper (AIP - omit)

1/8 tsp ground cardamom

1/2 tbsp raw honey
Directions
In a small bowl, whisk the matcha powder and hot water until a paste forms. Set aside.

Add the remaining ingredients to a small saucepan and set over medium low heat. Whisk really well to incorporate the spices. Add the matcha paste and keep whisking until steaming.

Pour evenly into two mugs and serve. If you have a milk frother, you can use it to froth up a little extra coconut milk to pour over the latte.