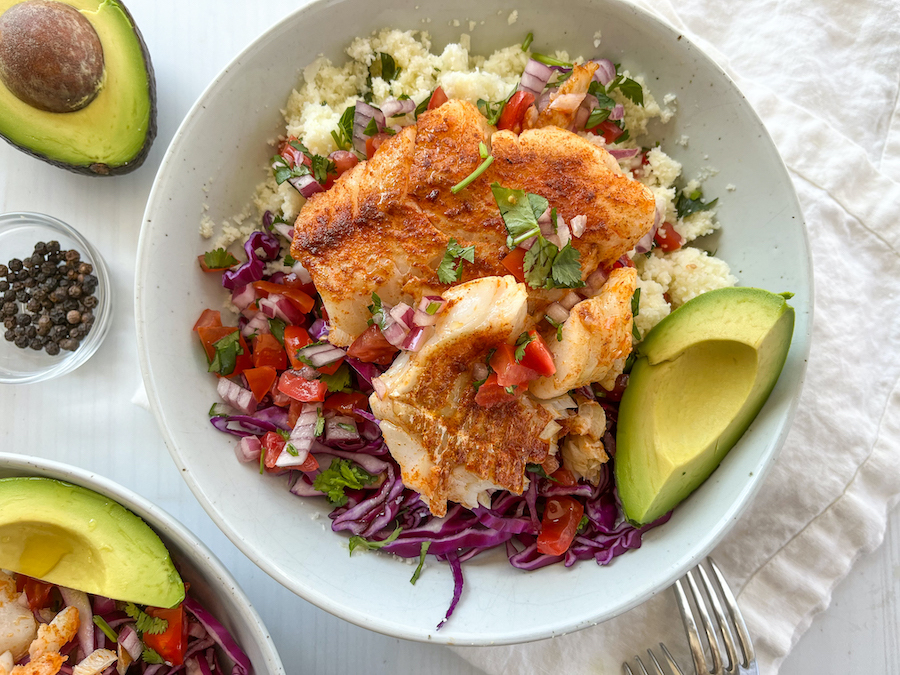 Fish Taco Bowls with Coconut Lime Dressing
It's everything you love about fish tacos, served in a bowl!
Craving something light and fresh? These fish taco bowls are it! We rub fresh cod fillets with a quick spice mix, then let them fry while we prepare the coconut lime dressing and pico de gallo for a weeknight meal that really maximizes your time.
Start by making the base of these taco bowls – the cilantro lime cauliflower rice. You can chop one large head of cauliflower, then add the florets to your food processor to make your own, or simply use about four cups of pre-made cauliflower rice. Sauté in a bit of olive oil until softened, then add to a bowl and mix with chopped cilantro and freshly squeezed lime juice.
Next, wipe out the skillet and preheat it with a bit of olive oil while you prepare a quick spice rub of smoked paprika, cumin, black pepper and cayenne pepper. Rub the cod fillets evenly on all sides with the spice mix, then let the fish fry for about three minutes per side before removing them from the skillet.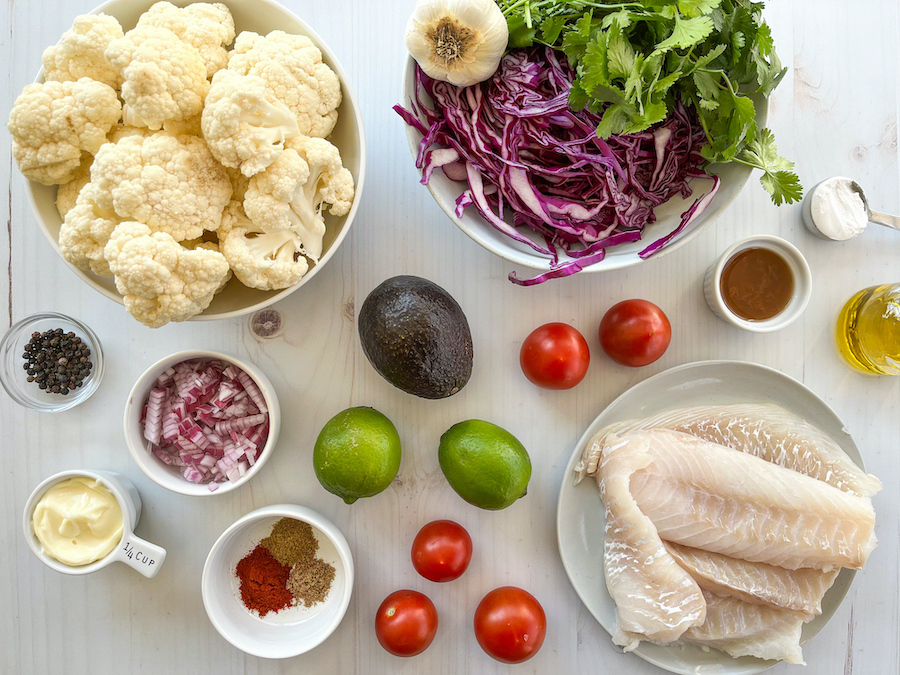 Meanwhile, whisk up a simple coconut lime dressing of Paleo mayo, coconut milk, lime juice, garlic, cumin and apple cider vinegar. Tip: Make the Paleo mayo a few days in advance to keep this recipe prep time short. It keeps in the fridge for up to one week, so you can prep it up to seven days in advance!
Set the coconut lime dressing aside, then give the fish a quick flip before assembling the pico de gallo, or salsa. Use a spoon to gently mix diced tomatoes, red onion, jalapeno, cilantro, and lime juice until combined. Tip: We chopped fresh Roma tomatoes, but you can use canned diced tomatoes here in a pinch! Just drain the juice before using.
To assemble your fish taco bowls, divide the cauliflower rice and salsa evenly among four bowls. Add sliced purple cabbage and avocado to each, then top with the fried fish and drizzle the dressing all over. Enjoy!
Tips:
Don't forget to prep before getting started! This recipe moves fast, so be sure all your veggies are chopped and your seasonings are ready to go.
To save time, you can make the mayo, salsa, and/or dressing ahead of time.
Need more garnish ideas? Green onions, slivered almonds, or sliced red peppers would work great here.
Don't have fresh limes? You can use about two tablespoons of bottled lime juice as a replacement for each lime.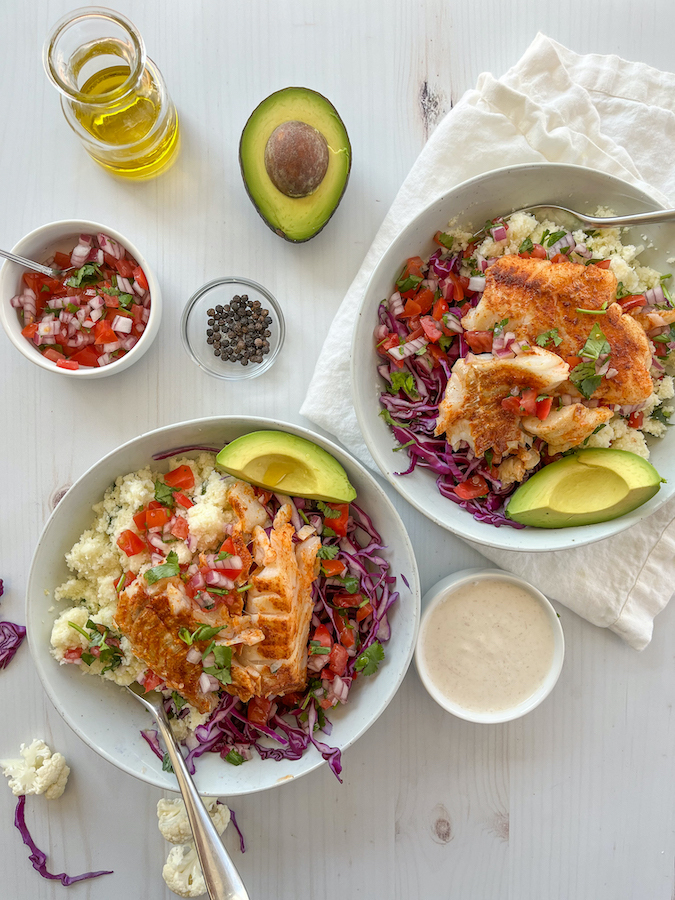 For hundreds of pure Paleo recipes be sure to check out The Real Paleo Diet Cookbook and Real Paleo Fast and Easy.

Details
Prep Time:

15 minutes

Cook Time:

20 minutes

Total Time:

35 minutes
Ingredients
2 tbsp olive oil, divided

4 cups cauliflower rice

1 cups chopped cilantro, divided (plus more for serving)

3 limes, juiced, divided

1 tsp paprika

1 tsp cumin, divided

1/2 tsp black pepper

1/4 tsp cayenne pepper

1 lb cod fillets

1/4 cups Paleo mayo

1 tbsp full-fat coconut milk

2 cloves garlic, minced

2 tbsp apple cider vinegar

1 cups diced tomatoes

1/4 cups red onion, sliced

1 jalapeno, diced (optional)

4 cups purple cabbage, sliced thinly

1 avocado, sliced
Directions
In a skillet, heat ½ tablespoon of the olive oil over medium low. Add the cauliflower rice and cook for 5 minutes, stirring often. Transfer the rice to a large bowl and stir in ½ cup of the chopped cilantro and the juice of one lime. Set aside.

Wipe out the skillet, then add the remaining 1 ½ tablespoons of olive oil and set over medium heat. While the olive oil warms, combine the spices: paprika, ½ teaspoon of the cumin, black pepper and cayenne pepper in a small bowl. Gently rub the spice seasoning over the cod fillets evenly with your hands, then transfer the cod to the skillet and cook for 3 minutes per side. When the cod can be easily flaked with a fork, it's done.

While the fish cooks, prepare the dressing: Combine the Paleo mayo, coconut milk, the juice one lime, garlic, the remaining ½ teaspoon of cumin and apple cider vinegar in a small bowl, and whisk until incorporated.

Next, prepare the salsa: In a medium bowl, add the chopped tomatoes, red onions, jalapeno (if using), the remaining ½ cup of cilantro and the juice from the remaining lime. Stir with a spoon until combined.

To assemble the fish taco bowls, divide the cauliflower rice, salsa, purple cabbage, and sliced avocado evenly among four bowls. Place the cod on top and drizzle with the dressing. Garnish with limes and more chopped cilantro. Enjoy!