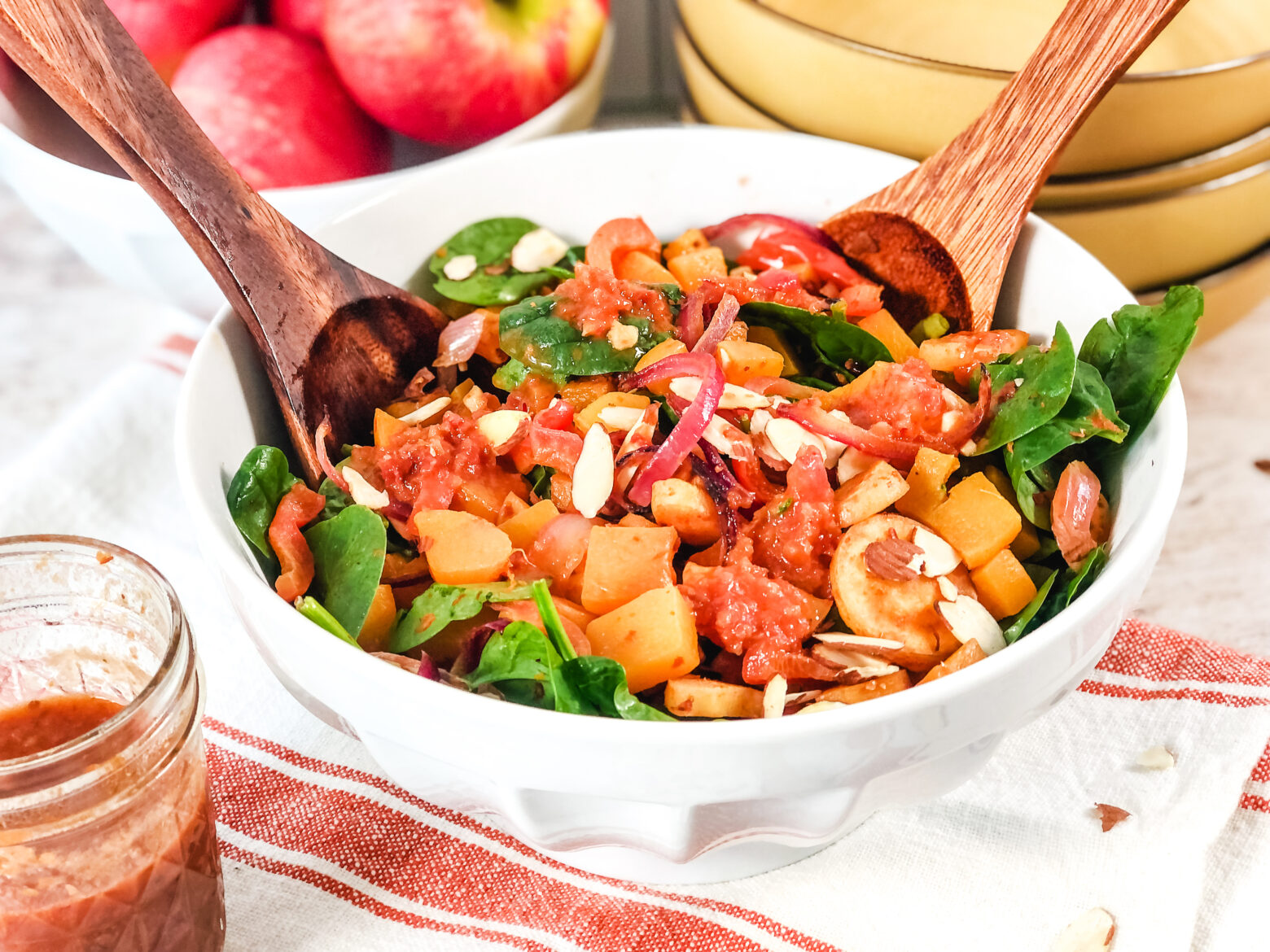 Fall Harvest Vegetable Salad
It's time to upgrade your green salads to a warm autumn version! You'll love this hearty dish of roasted veggies, wilted spinach, and almonds tossed in a homemade sun-dried tomato dressing. It's less of a salad and more of a dinner!
While we love light and crisp salads during the spring and summer months, there's really no beating roasted veggies when the weather starts to cool down. The warm vegetables are then tossed with raw greens to wilt them slightly, making for a tender salad over a summery crisp one.
Start by making a zesty sun-dried tomato dressing with garlic, shallots, lemon juice, and a few other simple ingredients. Blend it up, then use it to coat sliced red onions, parsnips, and butternut squash before roasting until tender. Save a little of the dressing to use when it's time to serve!
Once the roasted veggies are done, toss it with a whole container of baby spinach. Don't worry, It will wilt down to about half its size! Mix in some raw sliced almonds, or even toast them while you're waiting for the veggies to finish for a nice fragrant touch. Toss in the remaining dressing, and serve it while it's warm.

Tip: Try swapping the almonds for raw or toasted pecans!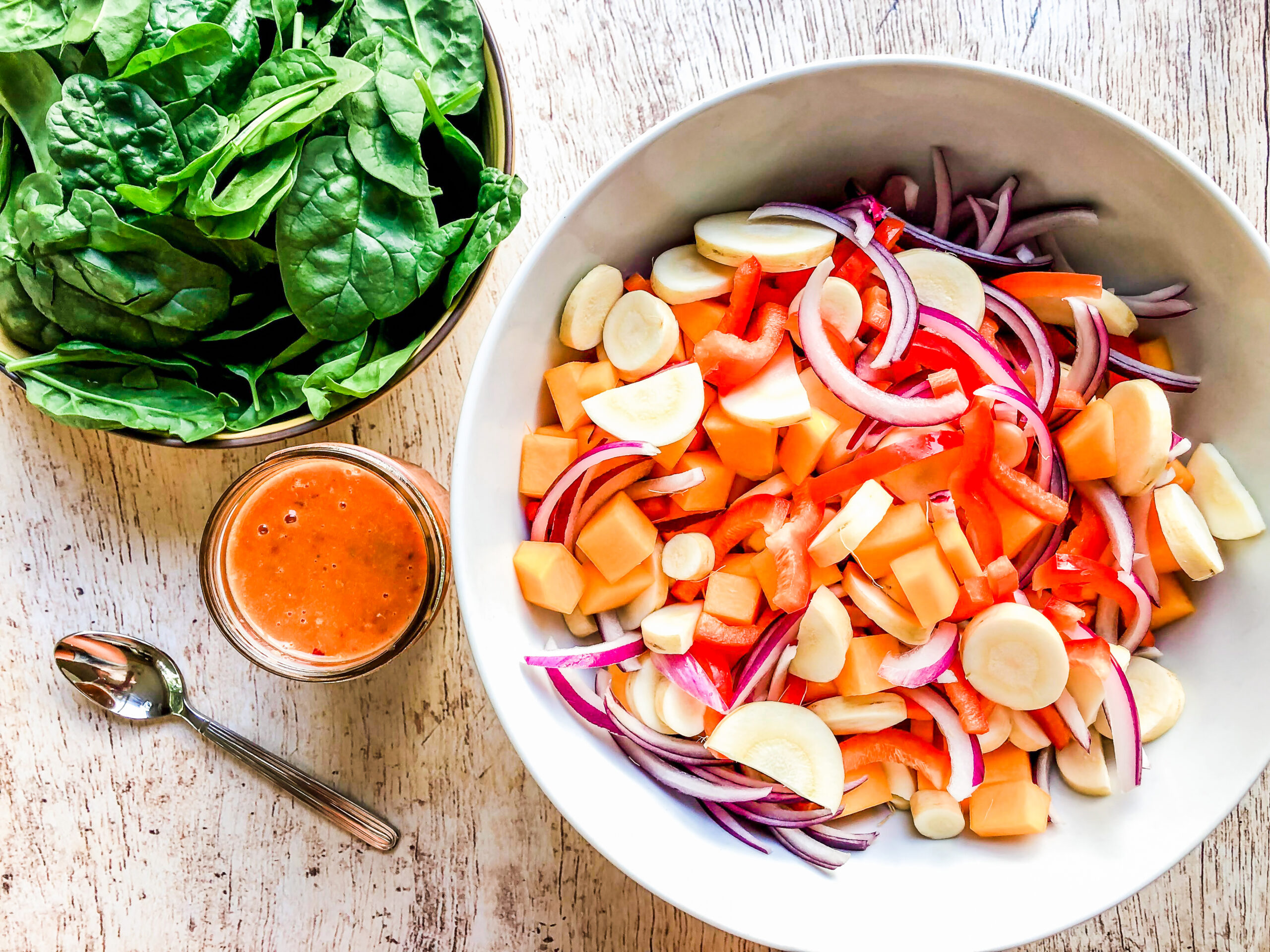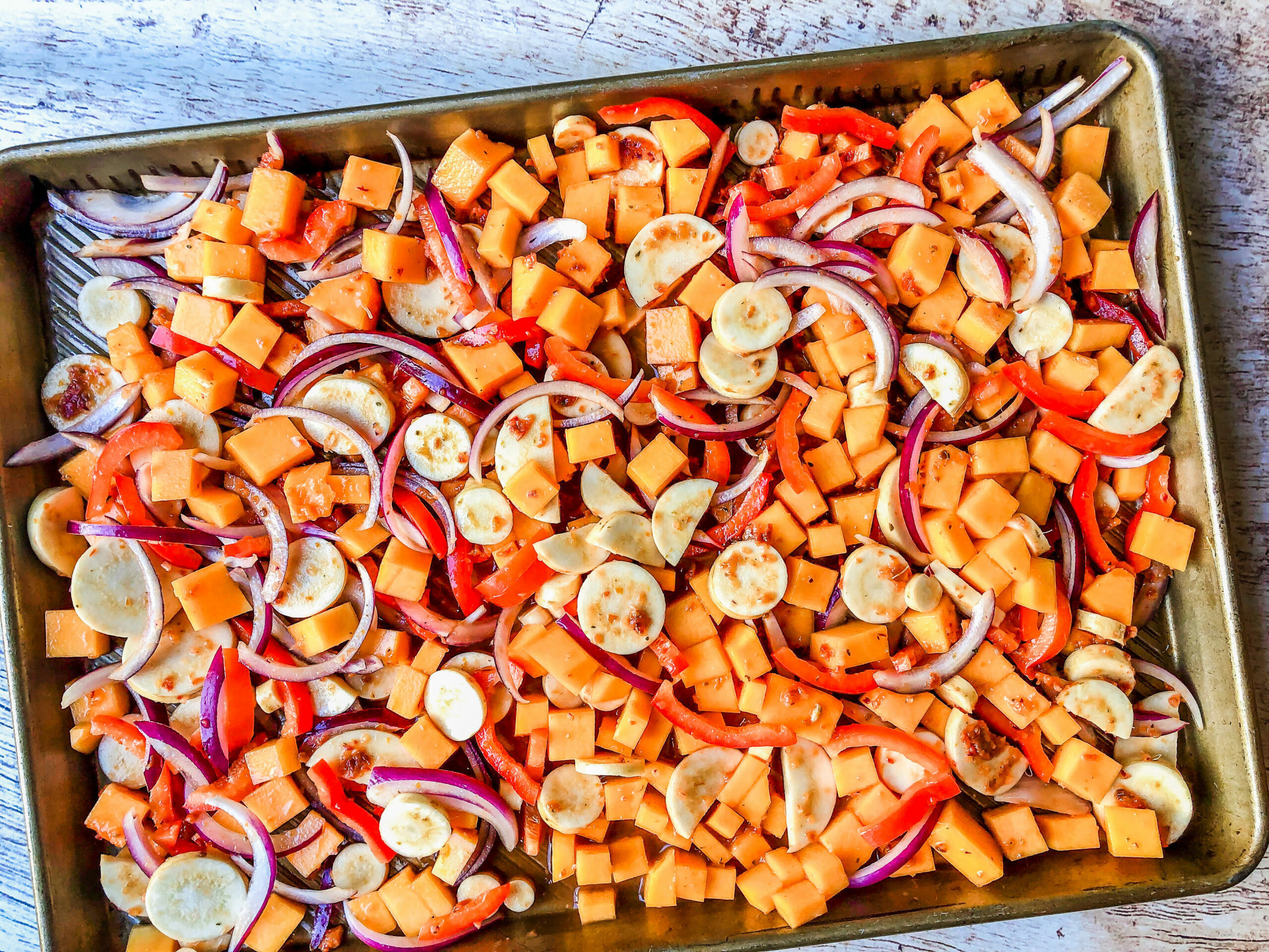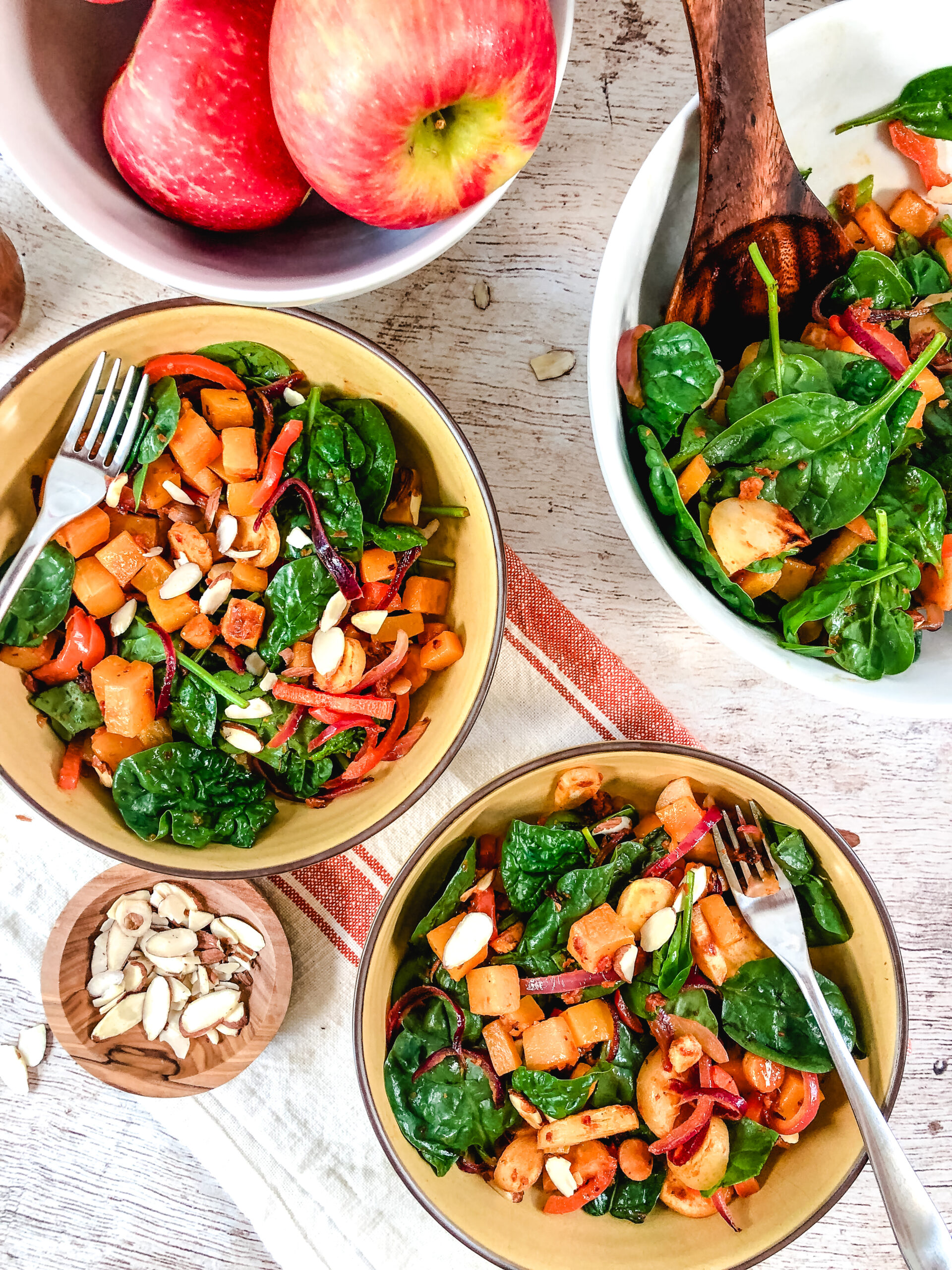 For hundreds of pure Paleo recipes be sure to check out  The Real Paleo Diet Cookbook  and  The Real Paleo Diet Fast and Easy.
Details
Prep Time:

20 minutes

Cook Time:

40 minutes

Total Time:

1 hour
Ingredients
1/3 cups sun-dried tomatoes

1/4 cups extra-virgin olive oil

1 shallot

2 garlic cloves

2 tbsp white vinegar

1 tsp dried oregano

1/2 lemon, juiced

1 cups water

1 butternut squash, peeled and diced into small cubes

3 parsnips, sliced

1 large red onion, sliced

1 large red pepper, sliced

5 oz baby spinach

2 tbsp almond slices

Freshly ground black pepper to taste
Directions
Preheat the oven to 450°F.

Start by making the dressing: combine the sun-dried tomatoes, extra virgin olive oil, shallot, garlic, white wine vinegar, oregano, lemon juice, water, and black pepper in a blender or food processor. Process until the dressing is well emulsified. Set aside.

Combine butternut squash, parsnips, onion, and red pepper in a large bowl. Add all but 1/3 cup of the sun-dried tomato dressing and toss to combine. Reserve the remaining 1/3 cup for later. Spread the vegetables evenly over a baking sheet and roast for 35 to 40 minutes, or until tender.

Remove from oven and add to a bowl. Toss with the spinach, almonds, and the reserved sun-dried tomato dressing. Serve warm.