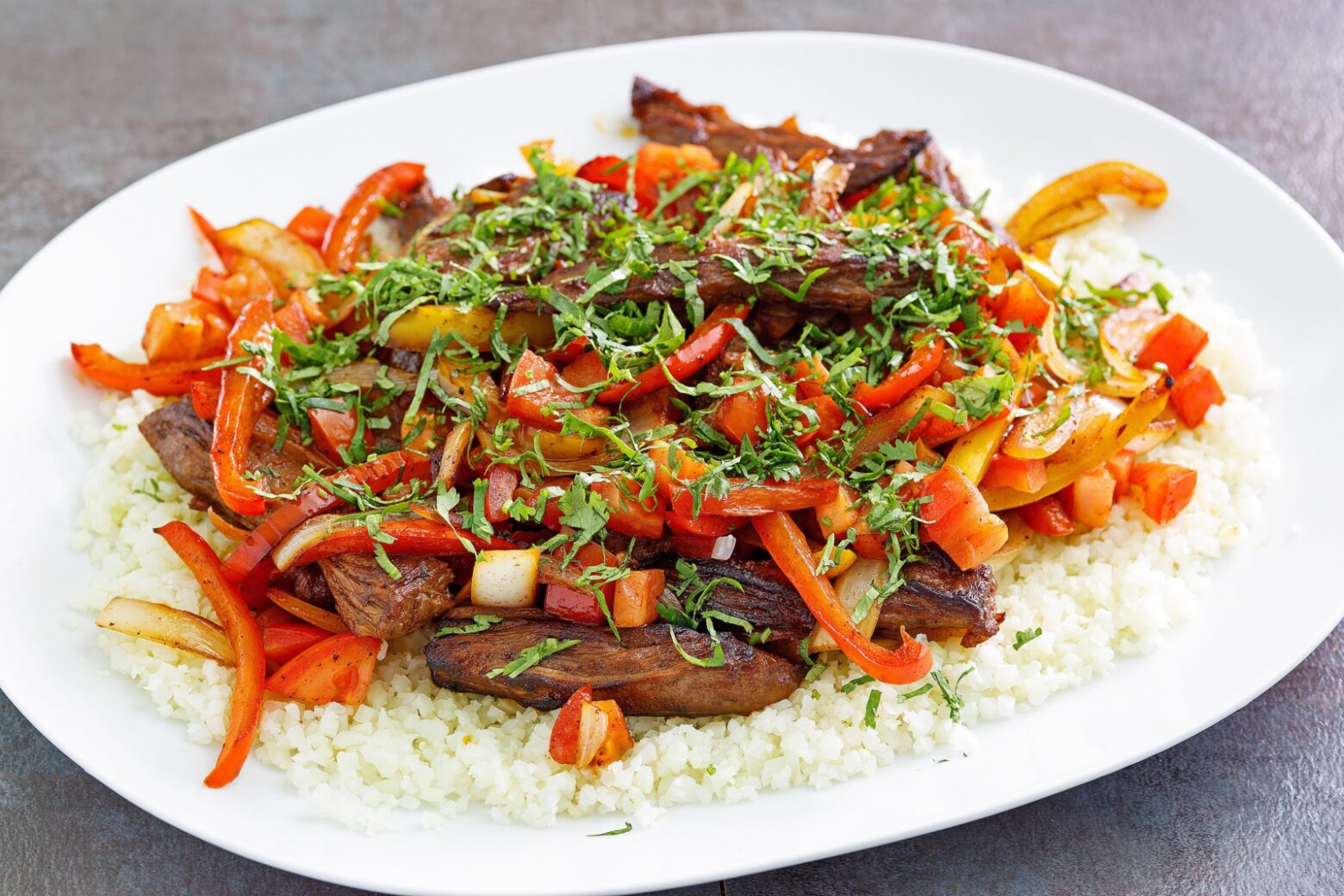 What do you get when you combine an Asian-inspired stir fry with Latin spices and Jamaican rum? A fusion steak dinner quick enough for a weeknight meal!
The beauty of a stir fry is that it comes together very quickly. All it takes is a little planning on your part! You'll need to build in at least 2 hours of marinade time to get the most out of the recipe. (We recommend marinating overnight, but a few hours is just enough to do the trick.)
This tasty marinade is made with a combination of olive oil, garlic, lime juice, chili powder, and cumin. You can mix it in a small bowl, but it's even easier to add to a jar and shake it up. It's quicker and easier to clean up, too. Pour that lovely marinade over strips of thin steak, and let the refrigerator do all the work.
While the steak is marinating, do the rest of your prep: roughly chop up an onion and bell peppers. If you like, you can add other veggies, like broccoli or water chestnuts.
Be sure to have all your ingredients prepped and ready when it's time to cook—this recipe comes together fast. Start by heating olive oil in a wok or skillet, then add the steaks in a single layer and cook one minute per side. Add the onions and peppers and cook four more minutes.
Finish your stir fry with an element of surprise—rum-spiked tomatoes. You can slice up a plum tomato by hand, or use part of a small can of diced tomatoes. Use a fork to mix it with a bit of dark rum before pouring it into the stir fry. Sauté just long enough for the alcohol to cook off. It will infuse your final dish with a slightly sweet and acidic note.
Serve your steak stir fry garnished with freshly chopped cilantro, and enjoy!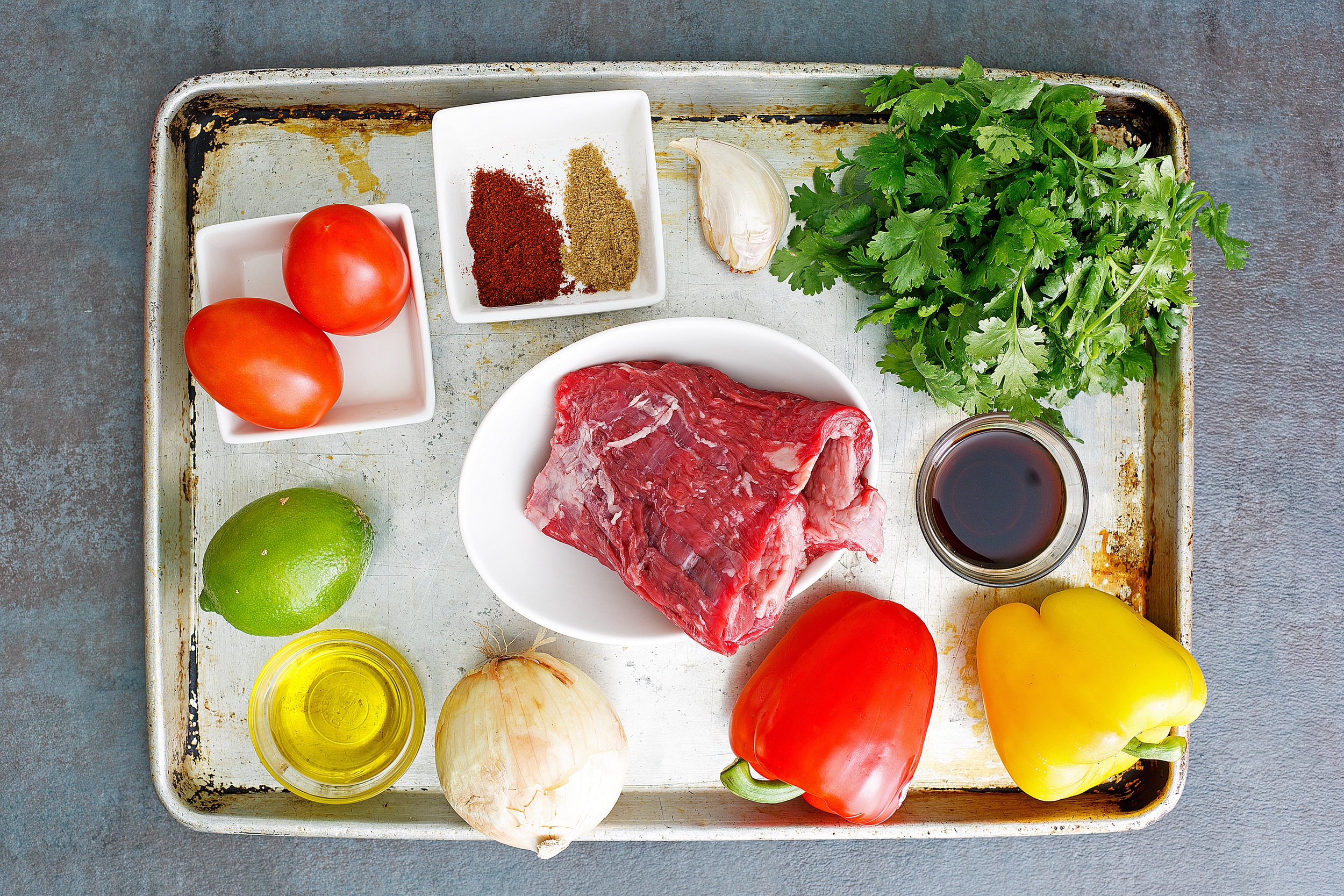 For hundreds of pure Paleo recipes be sure to check out  The Real Paleo Diet Cookbook  and  The Real Paleo Diet Fast and Easy.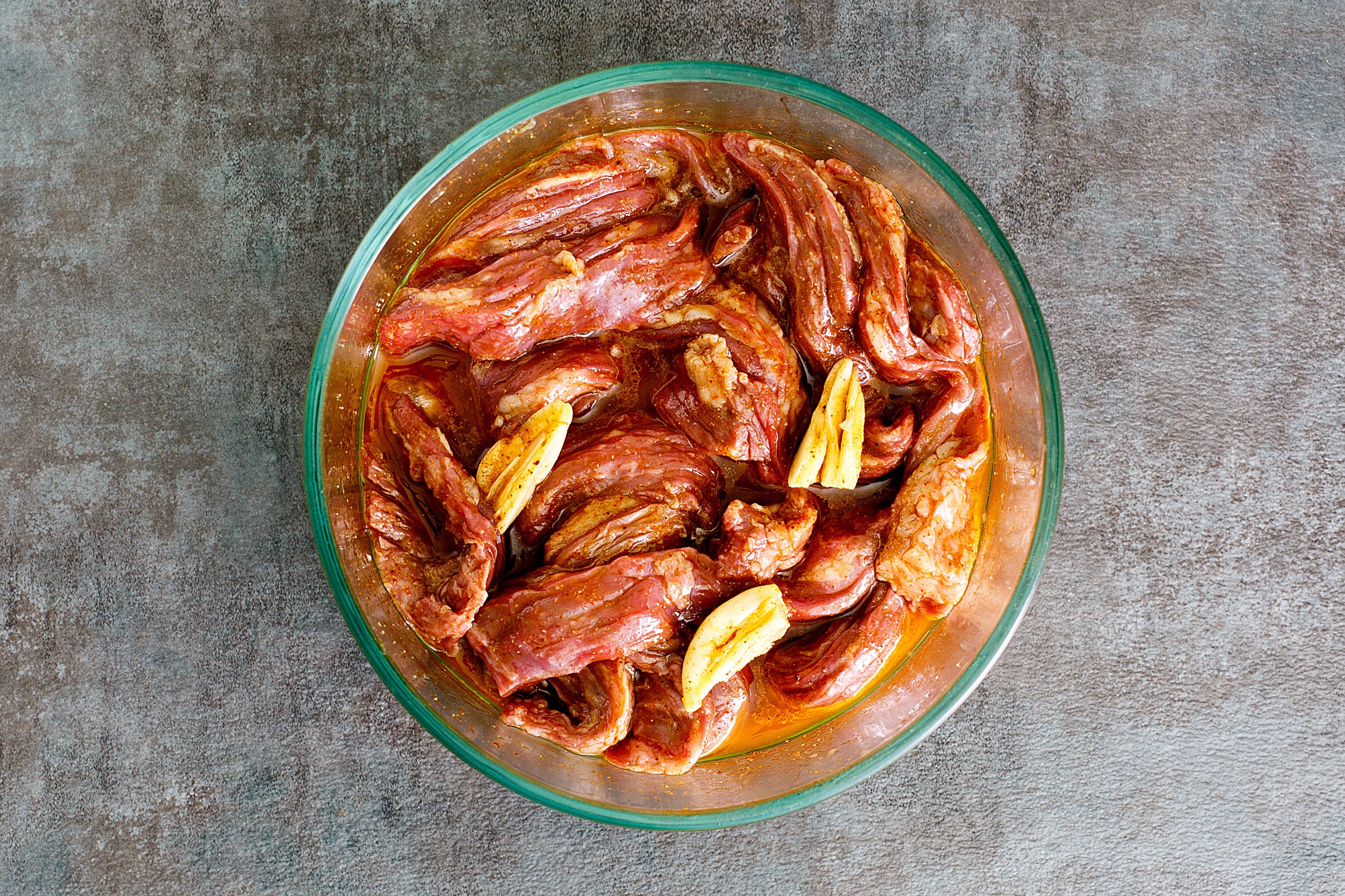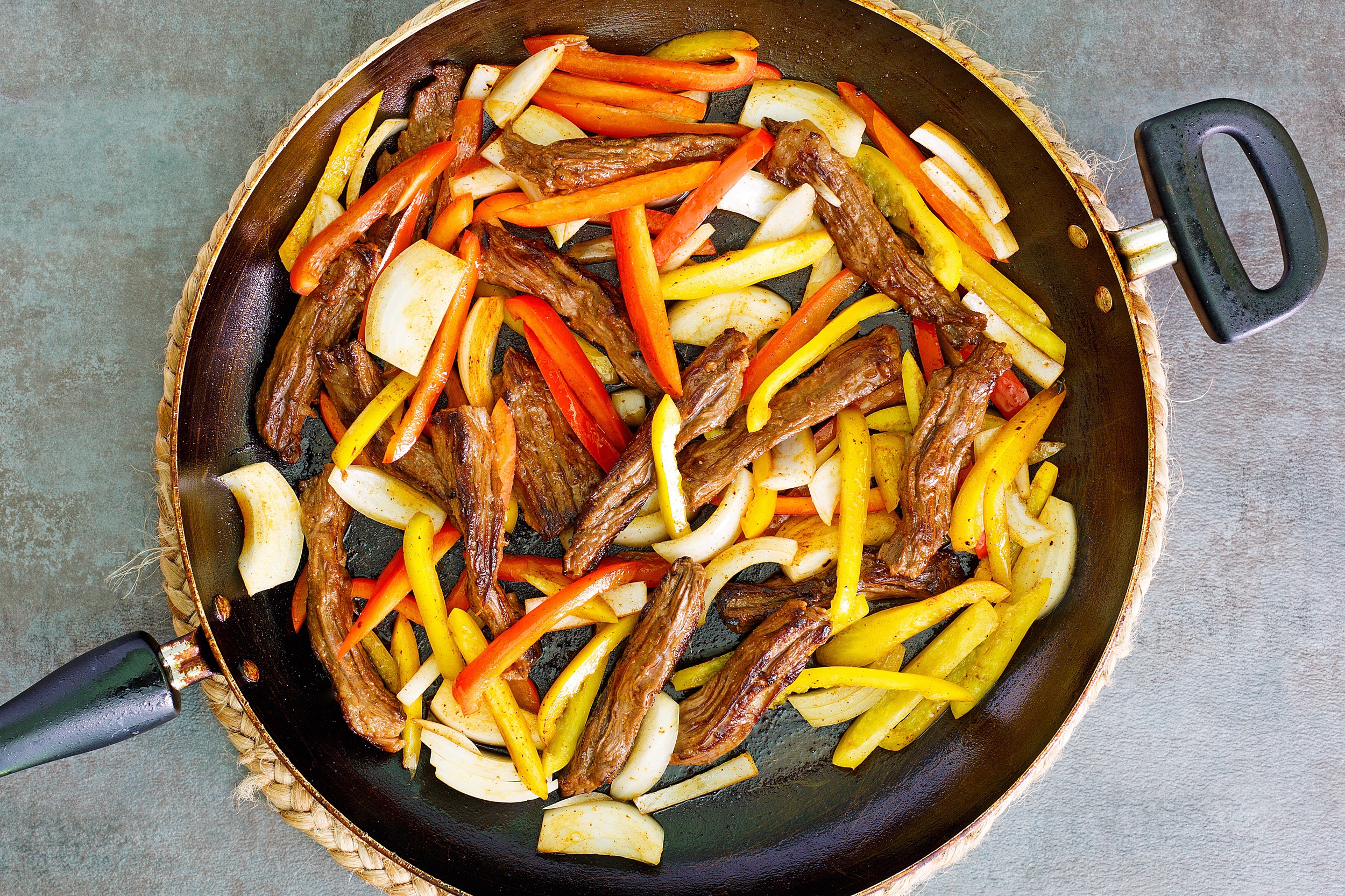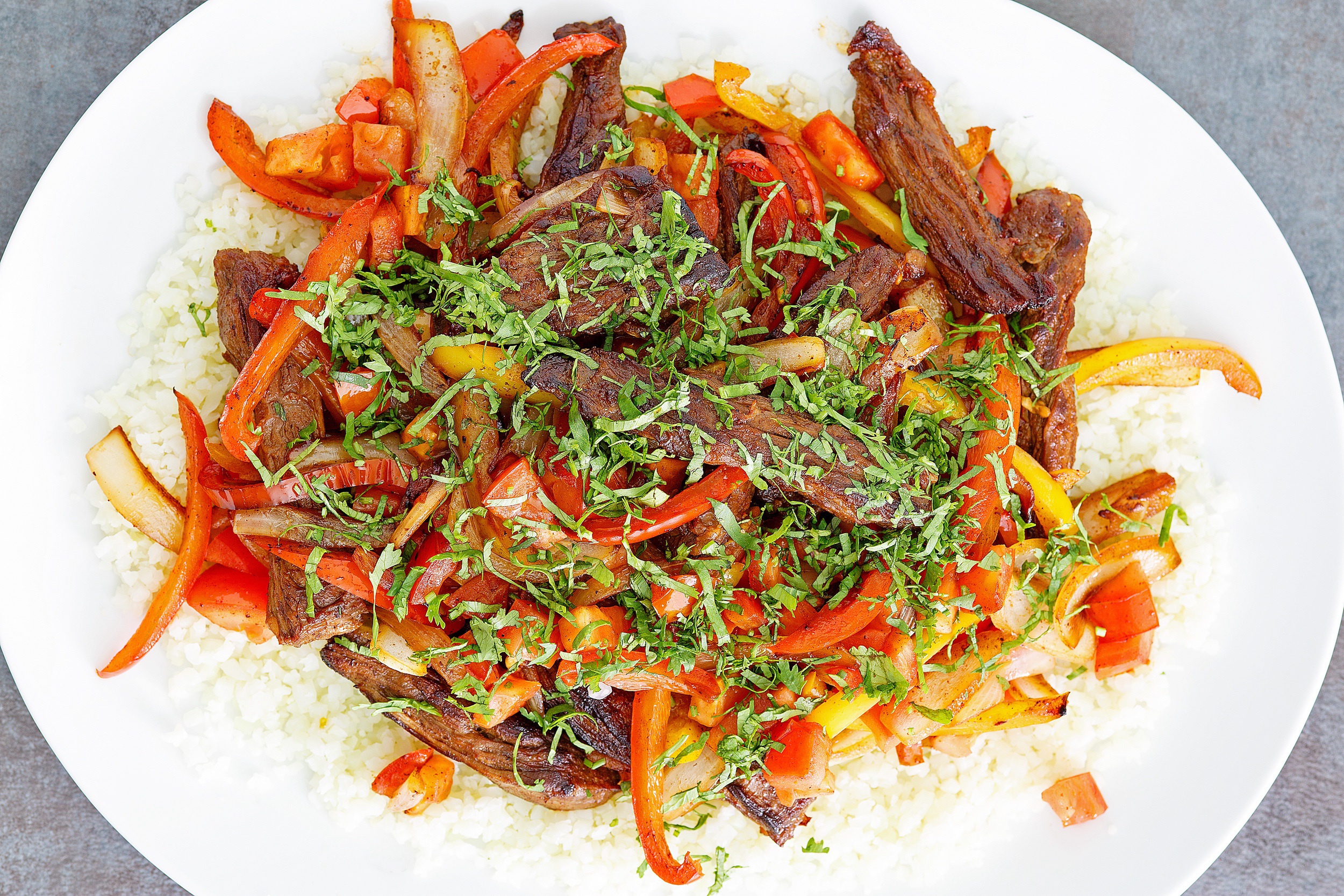 Details
Prep Time:

15 minutes

Cook Time:

10 minutes

Total Time:

25 minutes
Ingredients
4 tbsp extra-virgin olive oil, divided

2 cloves garlic, crushed

2 tbsp lime juice

1 tsp chili powder

1 tsp cumin

2 lb skirt steak, pounded thin and cut into 1-inch wide strips

1 small yellow onion, cut into small wedges

1 red bell pepper, cut into quarter-inch strips

1 yellow bell pepper, cut into quarter-inch strips

1 medium plum tomato, diced

2 tbsp dark rum

1/4 cups fresh cilantro, chopped
Directions
Combine 2 tablespoons of the olive oil with the garlic, lime juice, chili powder, and cumin in jar and shake well. Place the steak in a shallow dish and pour the marinade over the meat. Marinate for at least 2 hours in the refrigerator.

Heat the remaining 2 tablespoons of olive oil in a skillet over medium heat. Remove the meat from the marinade and shake off excess. Add the steak to the hot skillet in a single layer and cook without stirring, one minute. Flip the steak strips and cook an additional minute.

Add onion and peppers and continue to cook for four minutes, stirring occasionally.

Combine the diced tomato and rum in a small bowl. Pour into the skillet and cook one minute.

Remove from the heat and cool three minutes. Serve your steak stir fry garnished with fresh cilantro.