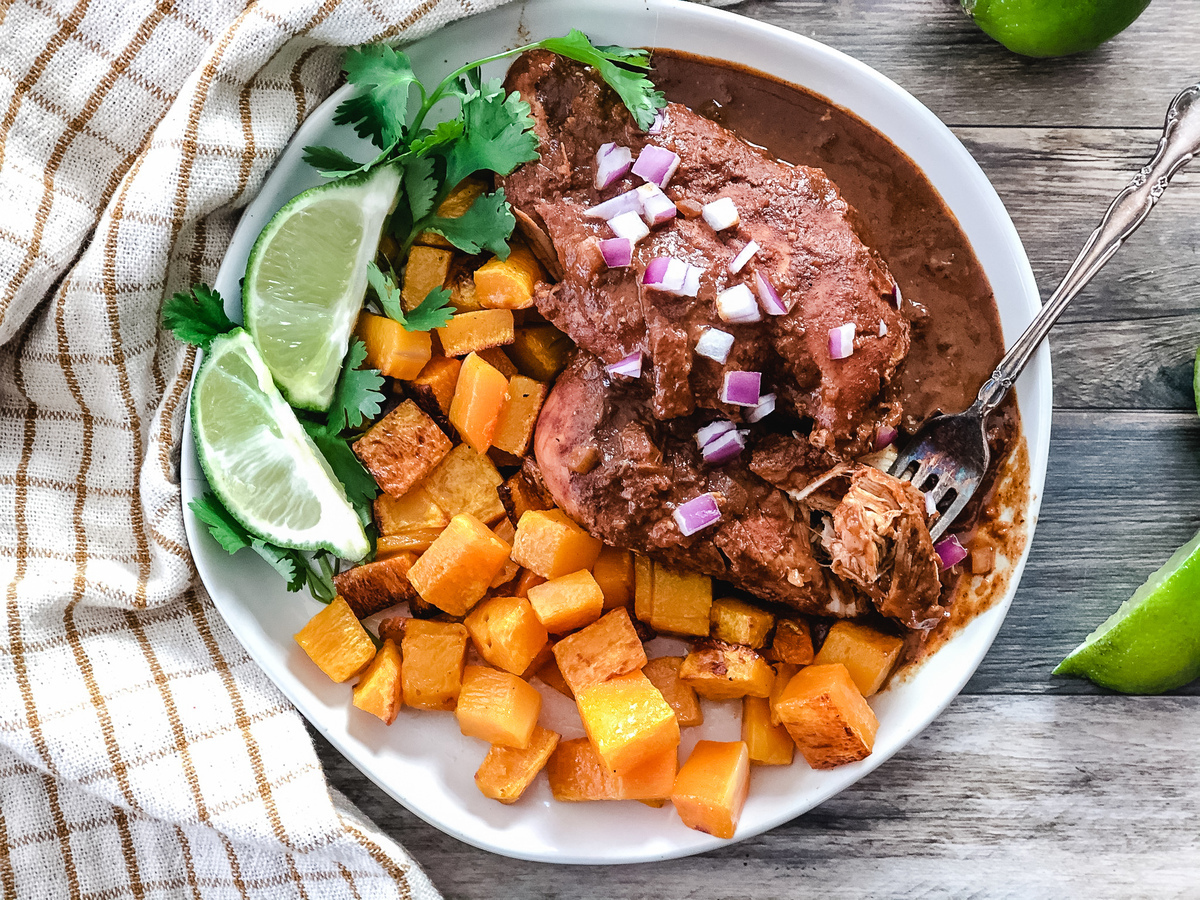 Easy Slow Cooker Chicken Mole
There's nothing quite like the tangy, earthy flavors of shredded chicken smothered in a chocolatey mole sauce. While a traditional chicken mole often requires a long list of ingredients and a whole day in the kitchen, we simplified things with this easy crockpot recipe!
Of course, to build the signature complex flavors of authentic mole sauce, you need to do a bit more than just dumping all ingredients into the crockpot and walking away. Instead, grab a large skillet and begin with just a few quick steps on the stovetop.
First, sauté chopped onions, pressed garlic, and minced jalapeño until soft. You can omit the pepper if you want it less spicy, but it really helps brighten the flavors from the get-go. Next, stir in the seasonings. Many recipes will call for a laundry list of herbs and spices, but we found that all you really need are chili powder, cinnamon, cumin, smoked paprika, and cacao (which gets added a bit later). Combine the aromatics with the seasonings, then whisk in low sodium chicken broth, almond (or sunflower) butter, and tomato paste. This will create the base of the sauce, while a slurry of arrowroot powder and water will help thicken it further.
After the sauce has simmered and is nice and thick, add the cacao powder. At this point you can add it right to the slow cooker with chicken breasts, but if you like it nice and smooth, first pour the sauce into a blender. Of course, if you do like a chunkier sauce, then just skip that step. Set the crockpot on low for 4-5 hours for a nice slow-cooked sauce, or set it to high for about 3 hours if you're in a rush.
While you can certainly enjoy your mole chicken on its own, we suggest serving it with a side of butternut squash (or pumpkin) to help fill you up, nourish your belly—and make the mole sauce last even longer.
About 40 minutes before the mole is ready, prep your squash by cutting it into cubes and tossing it with olive oil and black pepper. Roast in the oven until caramelized and easily pierceable with a fork – about 30 minutes (or longer, depending on how large you cut up your squash).
When the slow cooker is ready, remove the chicken and place on a cutting board. Shred with two forks (or simply dice into cubes). Serve alongside roasted squash over a bed of cauliflower rice, and garnish with cilantro, avocado, chopped red onion, lime wedges, or sesame seeds.
You can store leftovers in the refrigerator for up to 3 days, or freeze in an air-tight container for up to 3 months.
Tips:
Try adding a carton of cherry tomatoes to the crockpot for the last 30-40 minutes of cooking for an extra serving of veggies.
Store-bought tomato paste often contains added sugar or salt. If you can't find a pure brand, it would be best to make your own (just be sure to omit the added salt).
Want more super easy slow cooker recipes? Try this red wine beef roast or Paleo taco soup!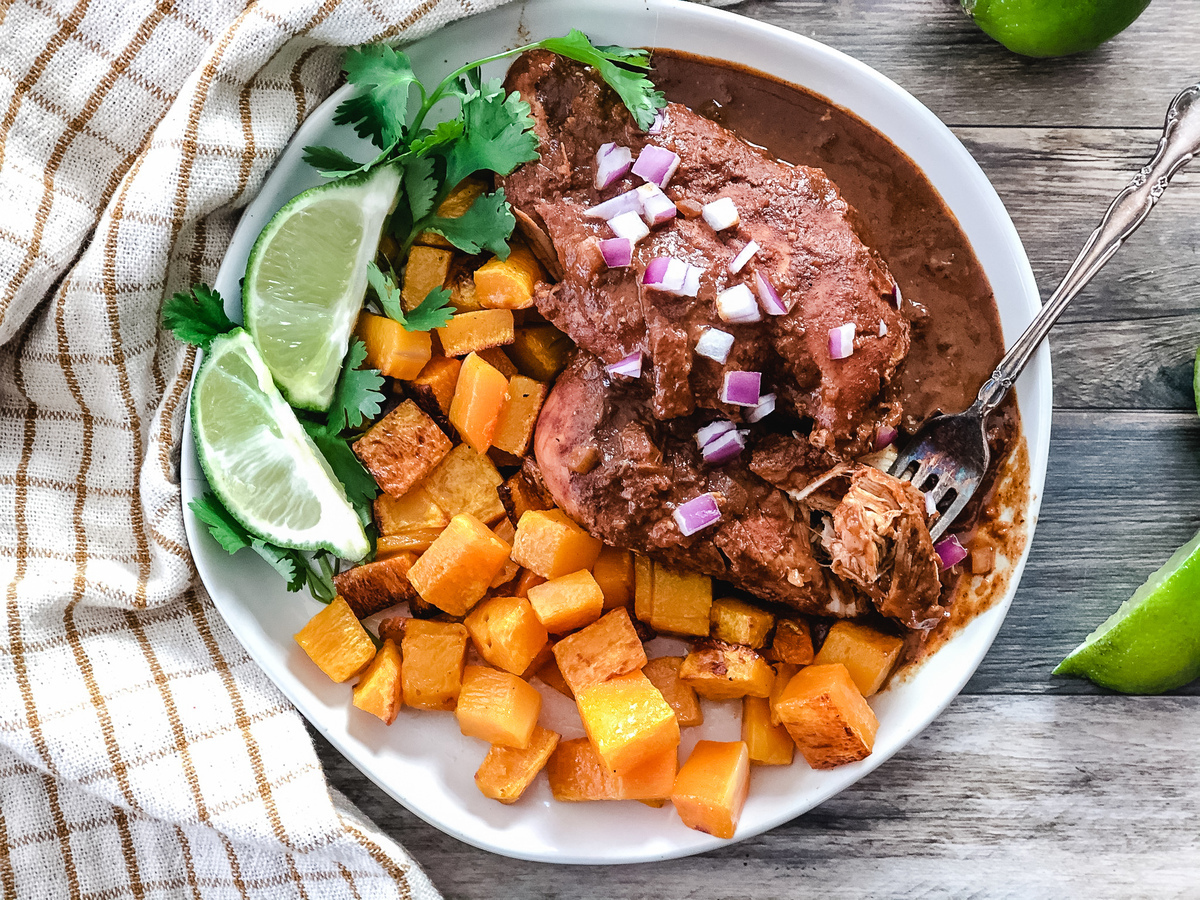 For hundreds of pure Paleo recipes be sure to check out The Real Paleo Diet Cookbook and Real Paleo Fast and Easy.
Details
Prep Time:

25 minutes

Cook Time:

4 hours

Total Time:

4 hours 25 minutes
Ingredients
4 tbsp olive oil, divided

1 small yellow onion, chopped

3 garlic cloves, minced

1 jalapeno, minced

1/4 cups chili powder

1 1/2 tsp cinnamon

1 1/2 tsp cumin

1 tsp smoked paprika

2 1/2 cups low sodium chicken broth

3 tbsp almond butter

1 tbsp sodium-free tomato paste

1 tbsp arrowroot powder

3 tbsp water

2 tbsp cacao powder

2 lb boneless, skinless chicken breasts

1 butternut squash, cubed

Black pepper, to taste
Directions
In a large skillet, warm 2 tablespoons of the olive oil over medium high heat. Add the onions, garlic and jalapeño. Sauté 5-7 minutes, until translucent.

Season with chili powder, cinnamon, cumin and paprika and mix well. Pour in the chicken broth, almond butter and tomato paste. Whisk until it starts to simmer, then reduce heat to low and let it cook for 5 minutes.

Whisk the arrowroot powder with water in a small bowl, then stir it into the sauce until thickened. Add the cacao powder. Taste and adjust for seasonings. If you want, add to a blender and mix on high speed to create a smooth sauce.

Place the chicken breasts into the crockpot, and pour the mole mixture over the top. Set the crockpot on low for 4-5 hours, or high for 3-3.5 hours.

About 40 minutes before the mole is ready, prep the butternut squash: Preheat oven to 425°F and toss the butternut cubes with 2 tablespoons of olive oil and black pepper to taste. Spread evenly on a baking sheet and roast for about 30 minutes.

When the mole is done, remove the chicken to a cutting board and shred with two forks. Return to the crockpot.

Serve your mole chicken alongside the squash, over cauliflower rice if you prefer. Garnish with cilantro, avocado, chopped red onion, lime wedges and/or sesame seeds, and enjoy!