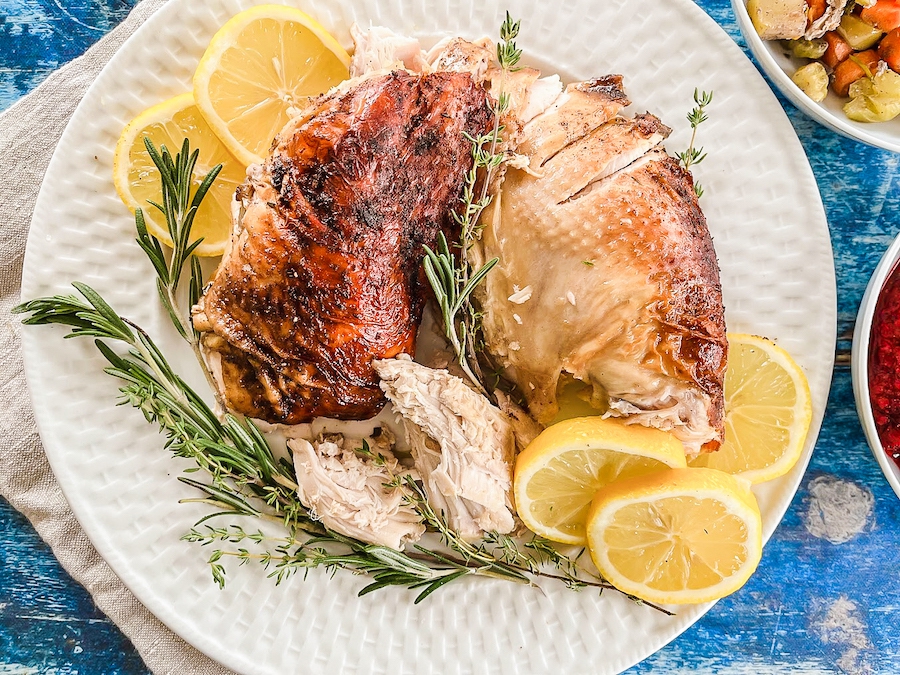 Easy Roasted Turkey Breast
Are you feeding a small crowd at Thanksgiving this year? Keep things simple and roast up this crispy-skinned, juicy turkey breast instead of a whole bird!
It can be hard to roast a whole turkey. The white meat and dark meat cook at different rates, making it difficult to create anything other than a dry, overcooked final product.
Take the guesswork out of it this year and roast up a bone-in turkey breast instead. You'll still get the crispy exterior and juicy interior you crave, and there's still a small cavity that you can use for a Paleo-approved stuffing!
In this recipe, we skipped the traditional bread stuffing in favor of sautéed veggies. We used an aromatic combination of carrots, celery, onion, apples, herbs, and spices for a comforting stuffing without all the gluten or extra carbs.
For the spice mix, we used a quick and simple combination of black pepper, paprika, cumin, and garlic powder with a bit of olive oil, then rubbed it all over the outside of the turkey breast. You can also add other seasonal herbs you might have on hand, like dried thyme, rosemary, sage, or chili powder—and cayenne if you like a bit of a kick.
Similar to cooking a whole turkey, we started with a very hot oven to crisp up the skin. Next, we reduce the heat and cover the turkey, roasting it low and slow for a few hours. This helps create a moist and juicy interior, which is much easier to do when you're just roasting the turkey breast.
Once the internal temperature has reached 165°F, remove from the oven and let the turkey rest before carving. This gives you time to heat up the side dishes and get the table ready.
Be sure to save the bones of the turkey to make stock, then use leftover meat to bring together this leftover turkey soup.
Tip: If you're buying a frozen turkey breast, be sure to thaw it thoroughly (about 24 hours) before roasting. It can keep for a few days in the refrigerator if you want to be on the safe side and do this step even earlier!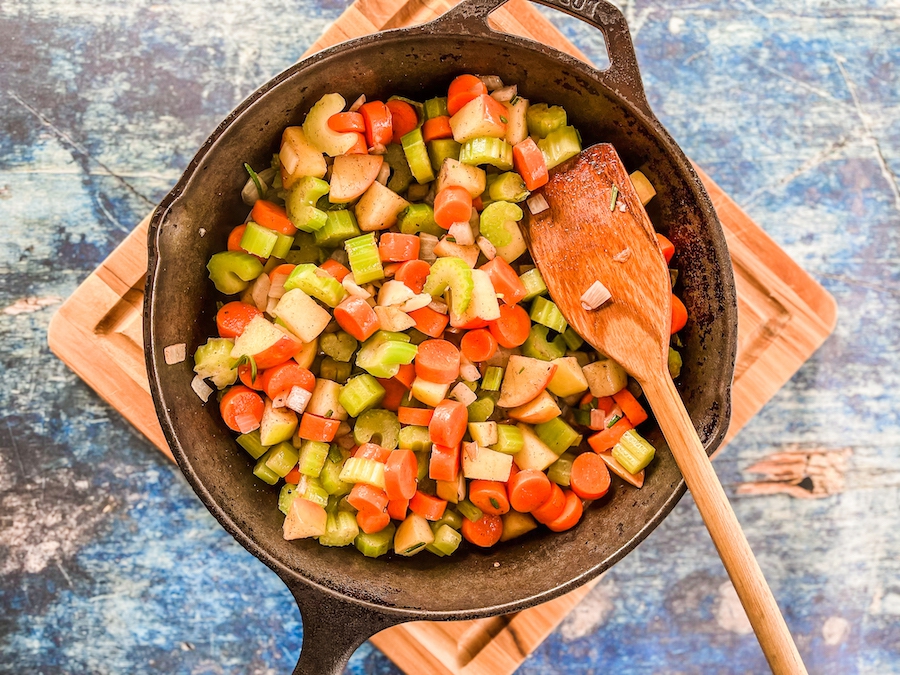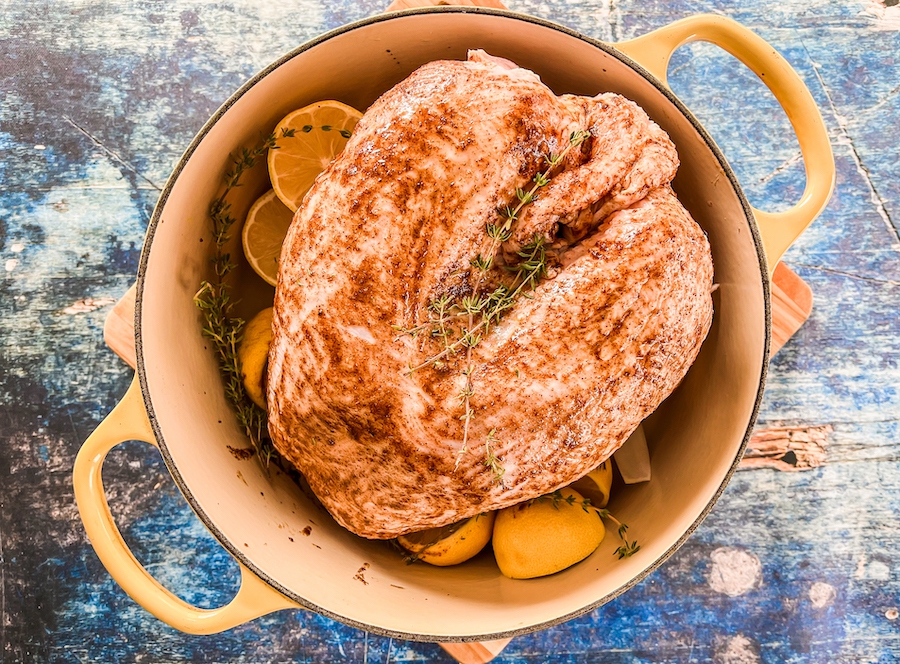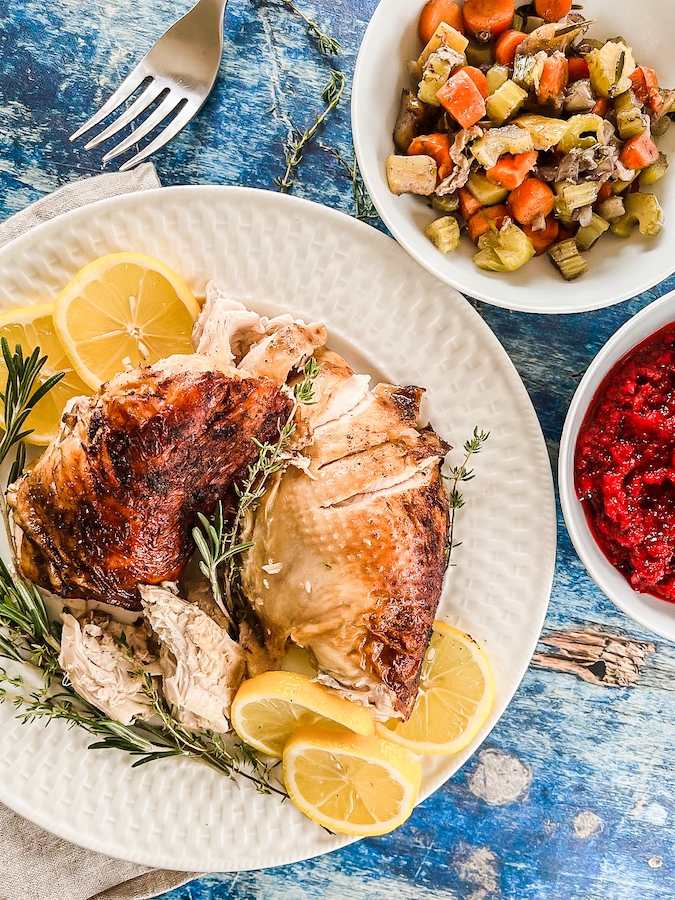 For hundreds of pure Paleo recipes be sure to check out The Real Paleo Diet Cookbook and The Real Paleo Diet Fast and Easy.
Details
Prep Time:

10 minutes

Cook Time:

3 hours

Total Time:

3 hours 10 minutes
Ingredients
1 bone-in turkey breast, rinsed and patted dry

3 tbsp olive oil, divided

1 tsp black pepper

1 tsp paprika

1 tsp cumin

1 1/2 tsp garlic powder

1 cups carrots, chopped

1 cups celery, chopped

1/2 yellow onion, chopped

1 apple, cubed

1/2 tsp nutmeg

2 rosemary sprig, chopped

2 thyme sprigs, chopped

6 fresh sage leaves, chopped

6 lemons, halved

1 cups low sodium chicken broth
Directions
Preheat the oven to 500°F. Rinse and pat the turkey dry. Set the turkey in a large stockpot or Dutch oven.

To make the rub, add 1 tablespoon of olive oil to a small bowl and mix in the black pepper, paprika, cumin and garlic powder. Set aside.

Heat the remaining 2 tablespoons of the olive oil in a skillet. Add the carrots, celery, onion, apples, nutmeg and fresh herbs. Sauté for 5-7 minutes, stirring occasionally, until the vegetables soften slightly. Remove from the heat.

Stuff the turkey breast with the sauteed vegetables. Pour the broth into the stockpot with the turkey and place the sliced lemons around the sides. Use your hands to rub the spice mix all over the turkey.

Roast the turkey for 30 minutes, then reduce the heat to 350°F and cover with foil. Let the turkey roast for another 2.5 to 3 hours, or until the internal temperature reaches 165°F.

Remove the turkey and let it stand for 25-30 minutes. Carve and serve!