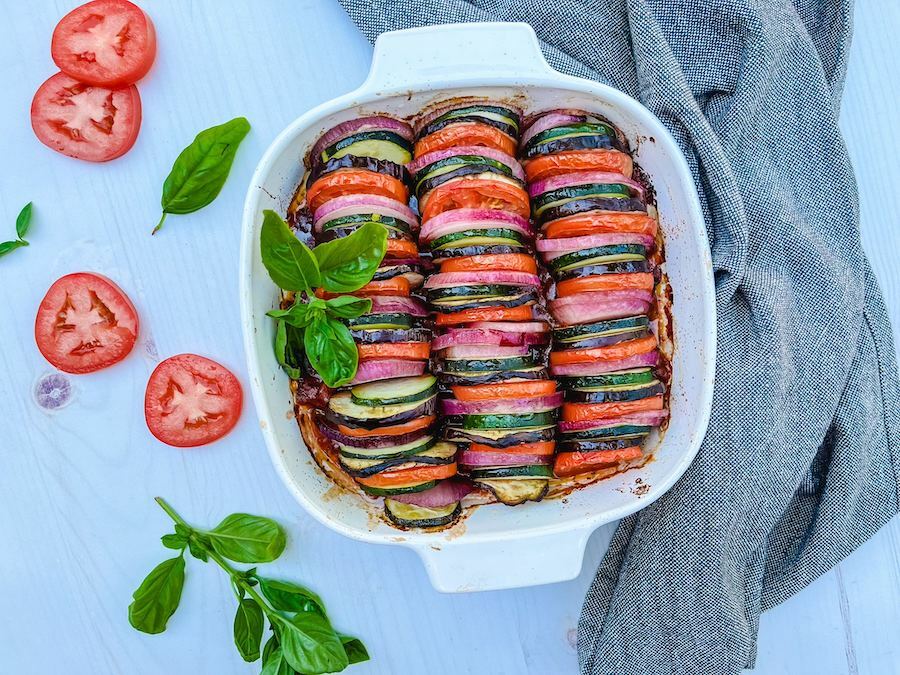 Easy Layered Ratatouille Recipe
Our easy ratatouille recipe offers the French classic dish as a wonderful, vegetarian summer comfort food that uses fresh, seasonal veggies.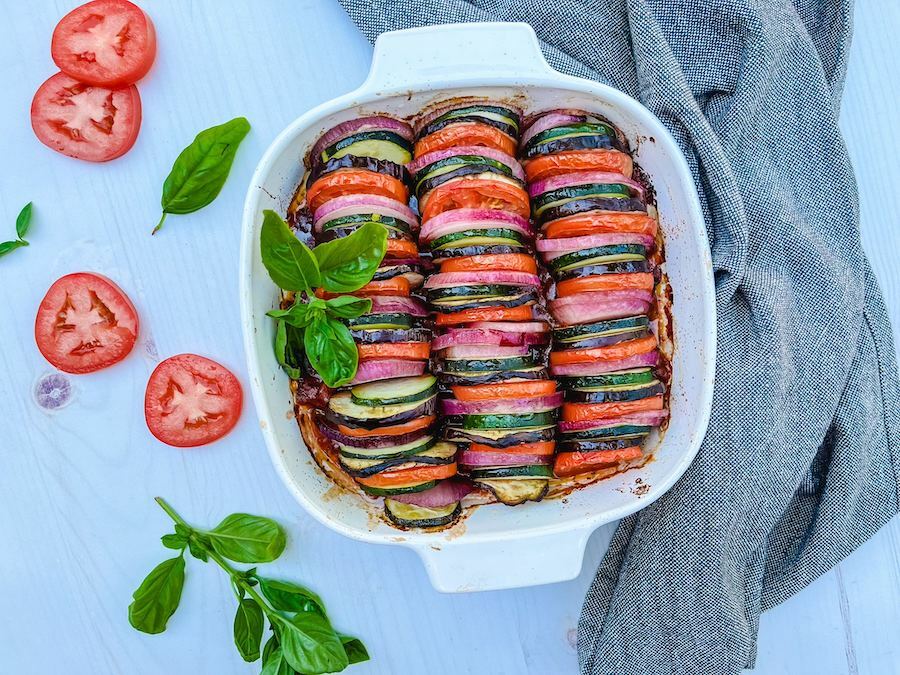 Ratatouille is the ultimate summer comfort food, and it's easier to make than you think! Layer rounds of fresh garden veggies over garlicky tomato sauce, then roast low and slow until tender. Take a look at our beautiful, easy ratatouille recipe, a satisfying meatless dinner that takes advantage of fresh, seasonal summer veggies.
This recipe creates a classic French Provençal ratatouille. Once considered a peasant's food because of its low-cost ingredients and simplicity, this dish is now an iconic French dish and one of the most revered veggie meals you can make.
Start by choosing vegetables of similar size, so when you slice them into rounds they can stack easily against each other. We used small zucchini, eggplant, red onions, and tomatoes. However, you could also layer in yellow squash, or regular onions instead of red onions.
Next, mix up the tomato sauce that sets on the base of the baking dish. Stir crushed tomatoes with fresh garlic, fennel seeds, red pepper, black pepper, onion powder, and herbs de Provence.
Then layer the veggie rounds upright in an alternating pattern over the sauce. Continue making about three rows of veggies until the baking dish is full.
Bake at 350°F for 50 minutes to 1 hour, or until the veggies are soft and fragrant. Serve hot, garnished with freshly chopped basil. Enjoy!
Tips:
If you don't have herbs de Provence on hand, simply use ¼ tsp each of rosemary, oregano, and thyme instead.
You can store leftovers in an airtight container in the refrigerator for up to 3 days.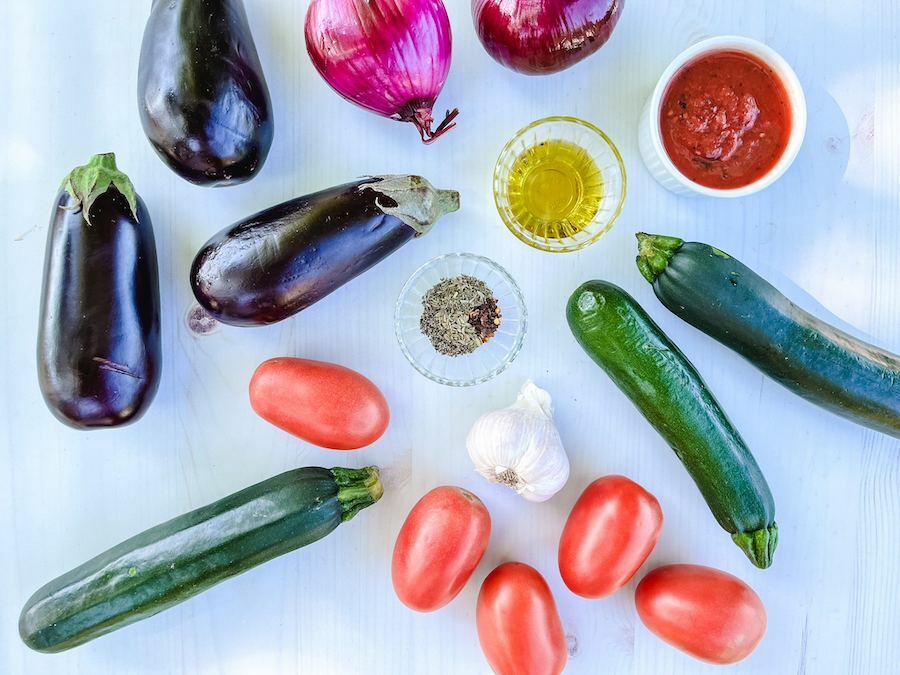 Love our recipes? Make going Paleo even easier and download our 7-Day and 28-Day digital meal plans!
Details
Serves:

4

Prep Time:

15 minutes

Cook Time:

1 hour

Total Time:

1 hour 15 minutes
Print this Recipe
Ingredients
2 tbsp olive oil, divided

1 cups crushed tomatoes, unsalted

1 garlic clove, minced

1/4 tsp fennel seeds

1/4 tsp red pepper flakes

1/2 tsp black pepper

1/2 tsp onion powder

1 tbsp herbs de Provence

2 small zucchini, sliced into thin rounds

2 small eggplant, sliced into thin rounds

2 small red onions, sliced into thin rounds

4 Roma tomatoes, sliced into thin rounds

2 tbsp fresh basil, chopped
Directions
Preheat the oven to 350°F and grease an 8x8 inch (or similar size) baking dish with 1 tablespoon of olive oil.

In a bowl, mix the crushed tomatoes with the garlic and herb. Pour the sauce evenly into the baking dish.

Layer the veggies upright, in an alternating pattern, over the sauce: onion, zucchini, eggplant, and tomatoes. Start stacking them on the side of the baking dish so they can lean against the pan, then start the next row. Repeat until it fills the baking dish.

Brush the veggies with the remaining olive oil and bake for 50 mins to 1 hour, or until the veggies are soft and tender. Garnish with basil and serve warm.