Sipping on this Berry Mocktail is like drinking a splash of summer, but without all the negative effects of sugar and alcohol.
The fusion of pomegranate juice, mint, and fresh fruit, topped with sparkling water, creates a little sweetness to complement the hint of sour in this refreshing drink. Garnish with a slice of lime and extra berries for a fancy cocktail look while in the comfort of your own home.
First, use a cocktail muddler to gently press the berries and limes together in a mason jar. A pint-sized jar with a lid is ideal. Pour in the pomegranate juice and shake with a few ice cubes until well combined and chilled.
Top off with your favorite sparkling water. Garnish, then drink it up! Excess will chill in the refrigerator for up to four days.
Tip:
Substitute with lemons if you don't like the taste of lime.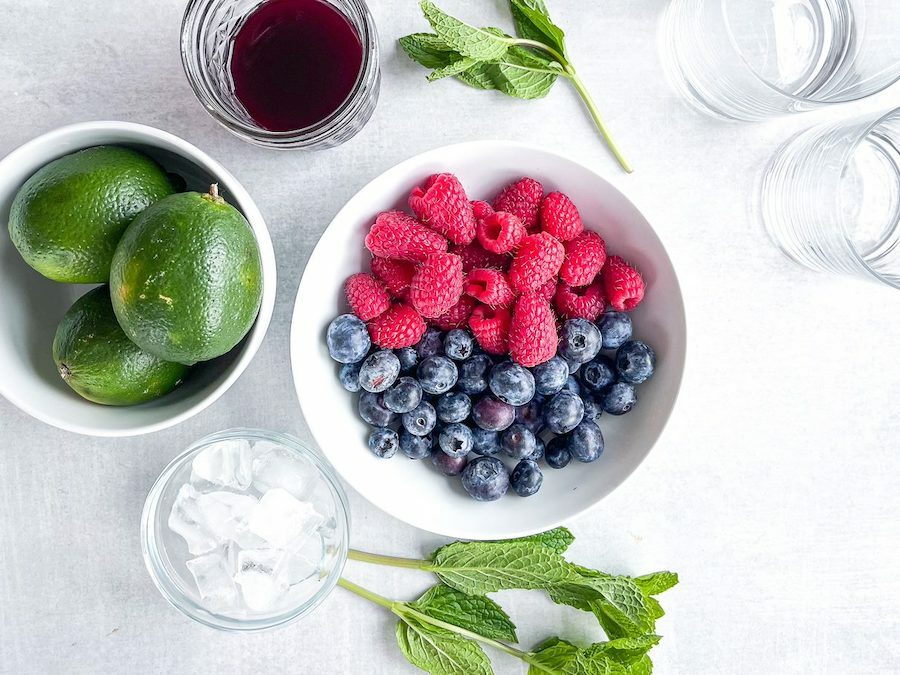 Love our recipes? Make going Paleo even easier and download our 7-Day and 28-Day digital meal plans!
Details
Prep Time:

5 minutes

Total Time:

5 minutes
Ingredients
1/2 cups raspberries, plus more for topping

1/2 cups blueberries 

4-6 mint leaves, minced

3 limes, juiced

1/4 cups pomegranate juice (no sugar added)

2 cups cold Perrier or other sparkling water

1/2 cups ice
Directions
In a pint-sized mason jar or small bowl, add raspberries, blueberries, mint, and lime juice. Use a muddler to softly press berries into the lime juice.

Add pomegranate juice and a few ice cubes to jar. Put the lid on and shake to combine and chill the juices.

Remove the lid and pour ½ cup of berry mixture into a glass. Add sparkling water to fill. Garnish with mint leaves, extra raspberries, and a lime slice. Enjoy!