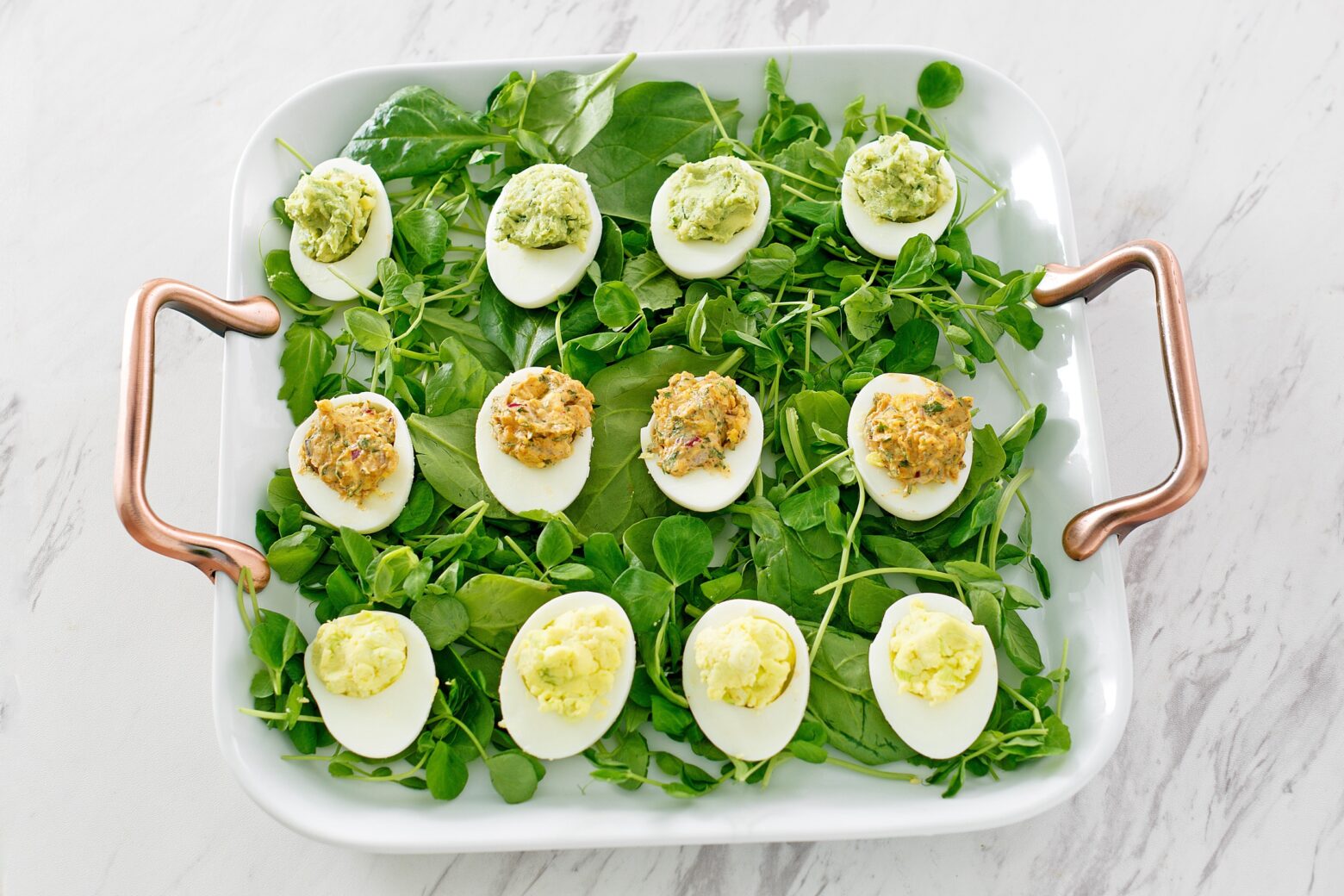 Deviled Eggs with Homemade Mayo
The secret to the best deviled eggs? Homemade Paleo mayo! This basic recipe is the only one you'll ever need, but in case you want some variety, we included simple variations for wasabi deviled eggs, chipotle deviled eggs, and even avocado-ranch deviled eggs.
The key to this velvety deviled egg filling is the homemade mayo. To make it, start with a room-temperature egg, lemon juice, Dijon mustard, and walnut or avocado oil. Note that you could use olive oil if you wanted to, but the stronger flavor of EVOO will come through in the mayo.
Use an immersion blender to blend all ingredients together, starting from the bottom and slowly raising the blender as you go. Keep in mind that the mayo contains raw egg, so use with caution around high-risk groups like infants, the elderly, and pregnant women.
If you want to use this mayo for other purposes, store it in an airtight container in the fridge for up to one week.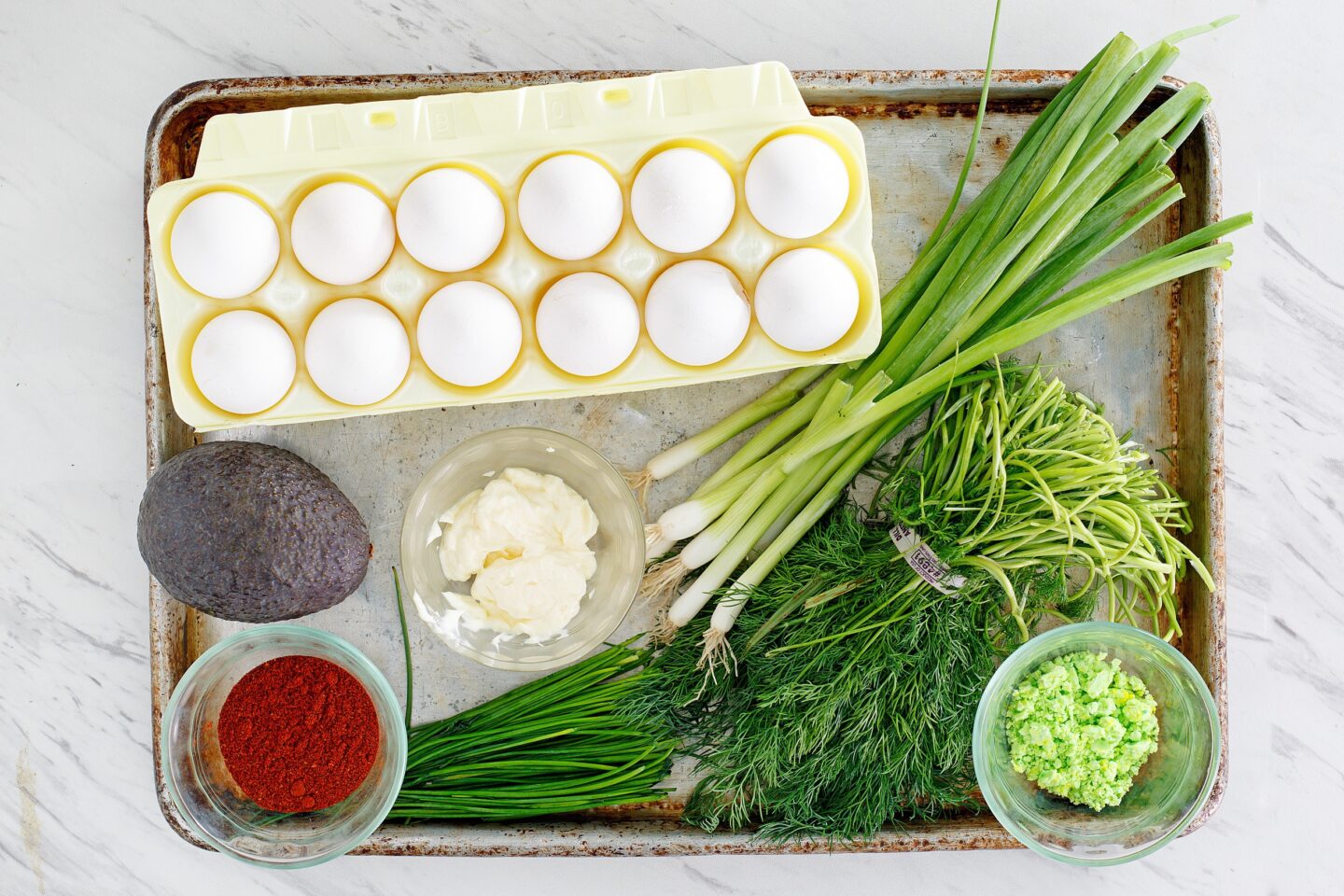 We recommend hard boiling eggs ahead of time for quick and easy assembly. To hard boil eggs, place them in a single layer in a large saucepan and cover with cold water by 1 inch. Bring to a boil over high heat, then remove from heat, cover, and let stand 10-15 minutes. If you want to be sure your eggs are done to your liking, slice into one after 10 minutes and see if you should continue cooking the rest.
When the eggs are done, drain the hot water, then run cold water over them to stop the cooking. Drain again and set aside to cool before peeling.
For basic deviled eggs, slice the hard boiled eggs in half lengthwise and remove the yolks to a bowl. Mix with the Paleo mayo, a bit of apple cider or white wine vinegar, and season with black pepper. Scoop the yolks back into the egg-white halves and sprinkle with paprika before serving.
We love them just as they are, but we also encourage you to try one of our variations. If you're opting for the wasabi deviled eggs, be sure to find a pure wasabi powder without any salt or artificial coloring (Tip: horseradish and dry mustard on the ingredient list are okay!) Similarly, be sure to stay away from chipotle powder with added salt or sugar if you're making the chipotle deviled eggs.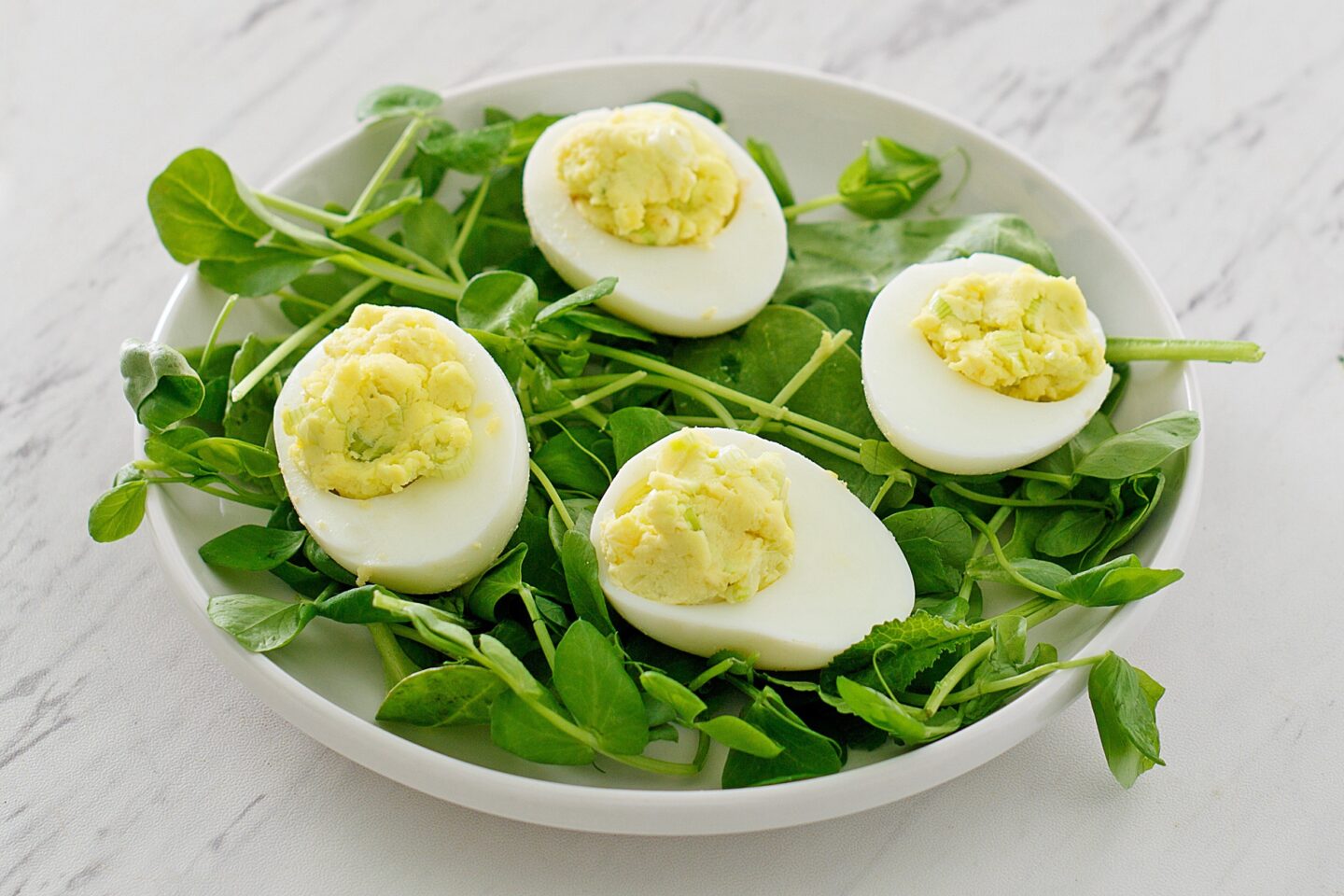 This tried and true recipe comes straight from The Real Paleo Diet Cookbook by Dr. Loren Cordain. For even more pure Paleo recipes be sure to also check out Real Paleo Fast and Easy.
Details
Prep Time:

15 minutes

Total Time:

15 minutes
Ingredients
1 egg, room temperature

1 tbsp fresh lemon juice

1 tsp Dijon mustard

1 cups walnut or avocado oil

6 hard-boiled eggs, peeled

1 tsp apple cider or white wine vinegar

1/2 tsp black pepper

Smoked paprika or fresh parsley
Directions
Start by making the Paleo mayo: crack the raw egg into a wide mouth canning jar. Add lemon juice and mustard.

Carefully pour in the walnut or avocado oil. Use an immersion blender to carefully push the egg to the bottom of the jar, then blend on high for 20 seconds. Slowly raise the blender until it reaches the top of the jar.

Slice the hard boiled eggs in half horizontally. Remove the yolks and place in a medium bowl. Arrange whites on a serving platter.

Use a fork to mash the yolks, then stir in the homemade mayo, vinegar, and black pepper.

Spoon the yolk mixture into each of the egg white halves. Cover and chill until serving time. Garnish with paprika or parsley sprigs.