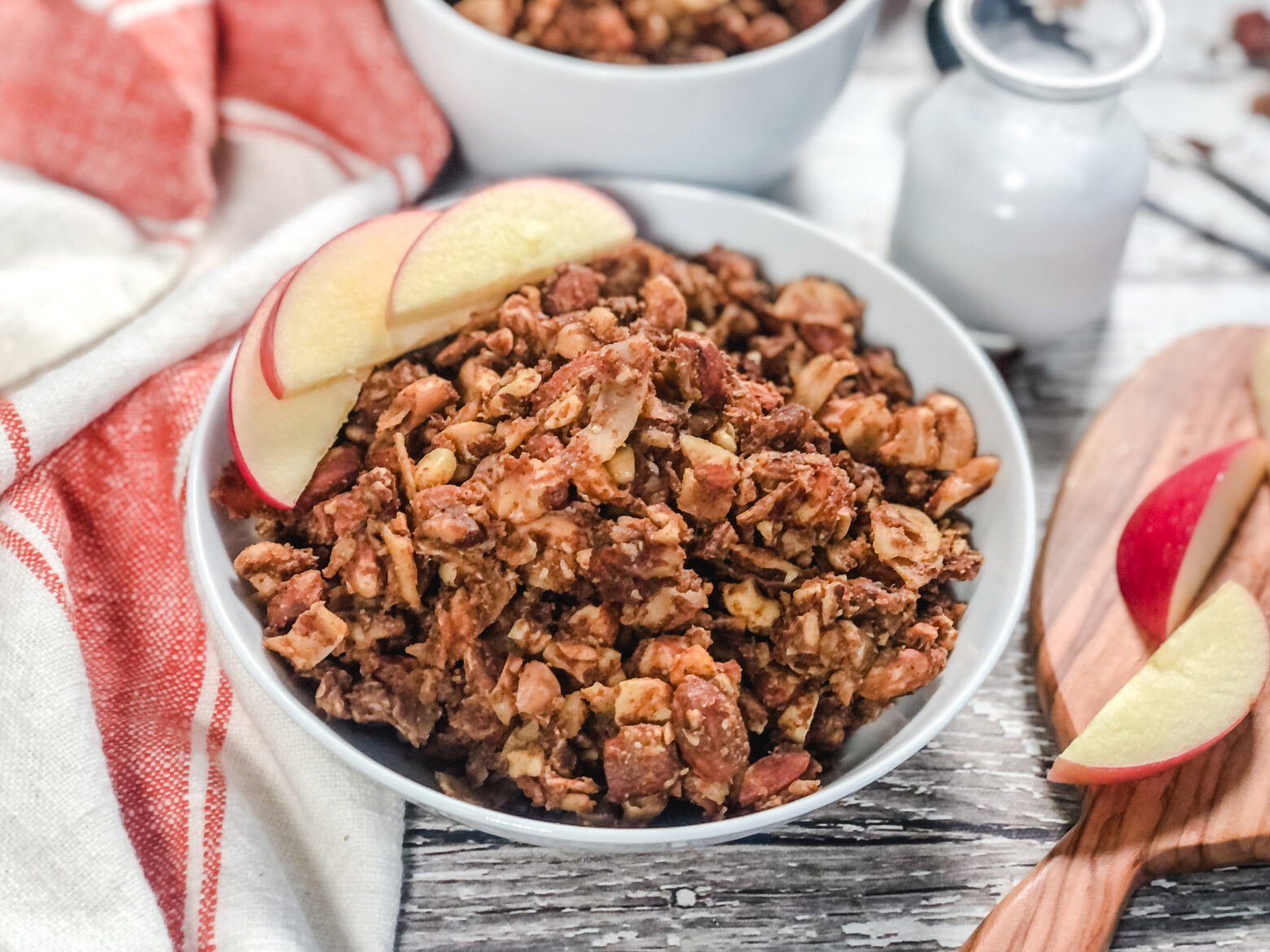 Crunchy Pumpkin Spice Granola
A healthy blend of nuts, coconut flakes, and flax meal are doused in a sweet pumpkin mixture and baked until crispy-crunchy clusters appear!
Store-bought granola is usually made with high-carb oats and lots of added sugar. In this easy recipe, you can bake up your own gluten-free, Paleo-approved pumpkin spice granola! It makes a big batch at once, so you can save your leftovers for breakfasts all week long.
One of the best parts of this recipe: it's customizable! You can add in pumpkin seeds, sunflower seeds, unsweetened dried cranberries, or substitute any of the nuts for hazelnuts or pecans. You can also use cashew or sunflower butter instead of almond butter.
Start by grinding almonds, pecans, and cashews in a food processor until roughly chopped. You can also do this step by hand, or buy them already in pieces to cut back on prep time. Mix with shredded or flaked coconut, flax meal, and pumpkin spice. Set aside.
Next, warm coconut oil, raw honey, almond butter, pumpkin puree, and vanilla in a small saucepan over low heat. Whisk until combined, then pour it over the nuts and mix until evenly moistened. Bake for 15 minutes, then use a spatula to turn the granola and bake another 10 minutes. Be sure to let your pumpkin spice granola cool for at least 15 minutes for maximum crunchiness!
You can enjoy it by the handful, or serve with a splash of your favorite non-dairy milk and top with apple slices, fresh banana, or even pear slices.
Store your pumpkin spice granola for up to two weeks in a tight-lidded Mason jar or Tupperware container.
Tips:
Don't have pumpkin spice on hand? Make your own quick blend with 1 teaspoon each of cinnamon, nutmeg, and ginger, then add a half teaspoon of allspice.
The amount of sweetener in this recipe is small enough to meet TRUEPALEO™ qualifications. If you're watching your blood sugar and want to skip the added sweetener, you can use an extra quarter cup of nut butter instead of the raw honey.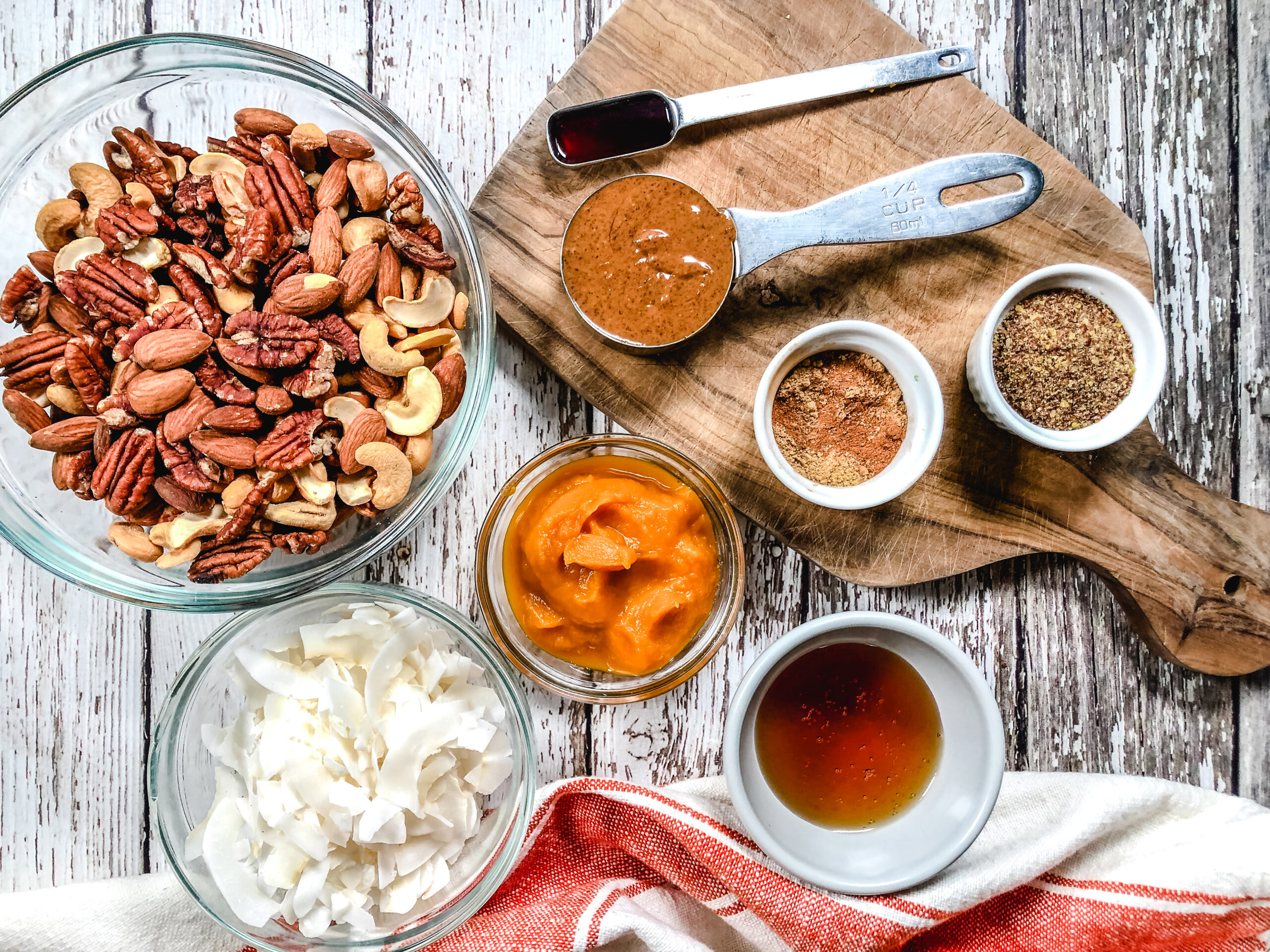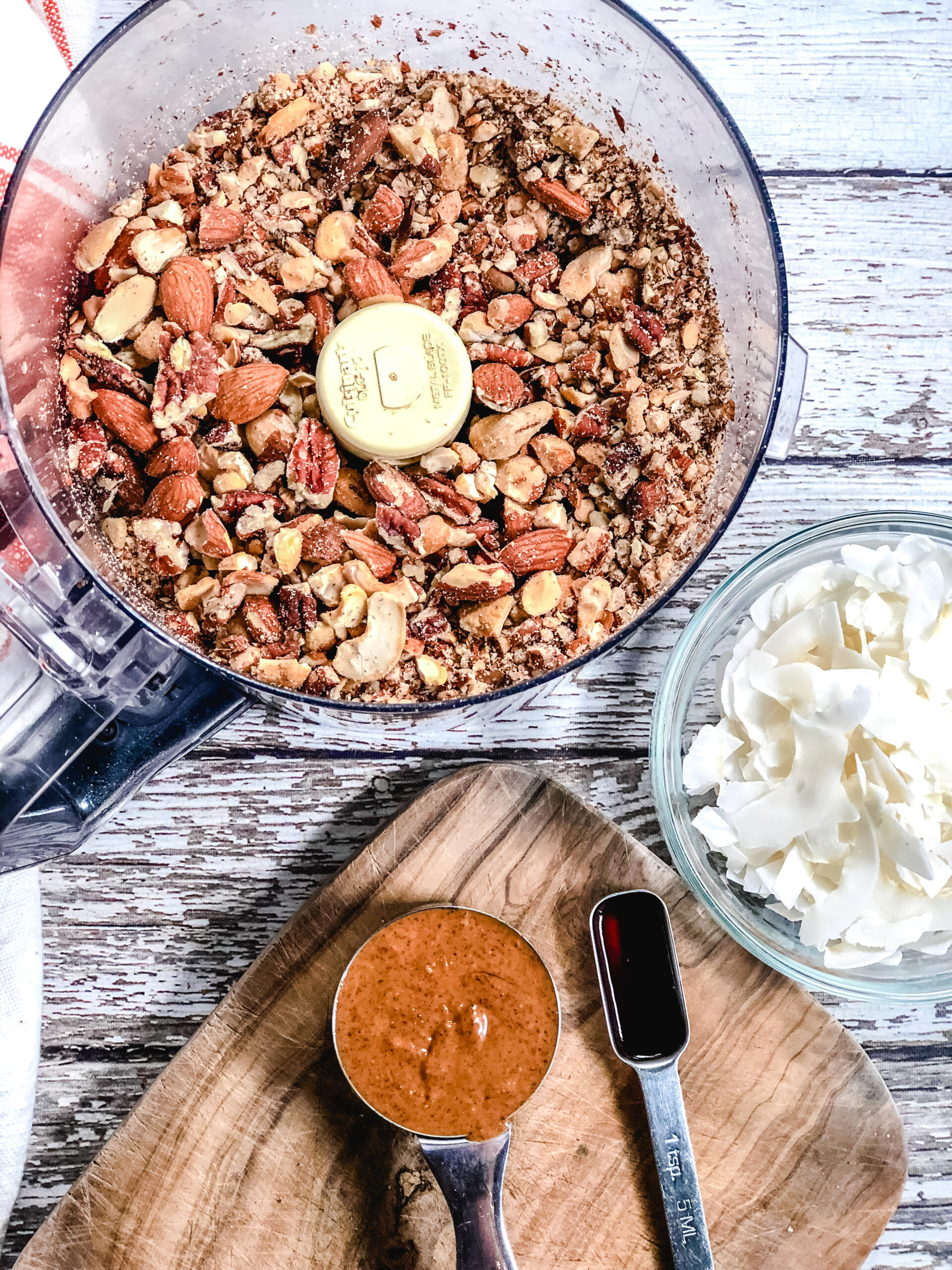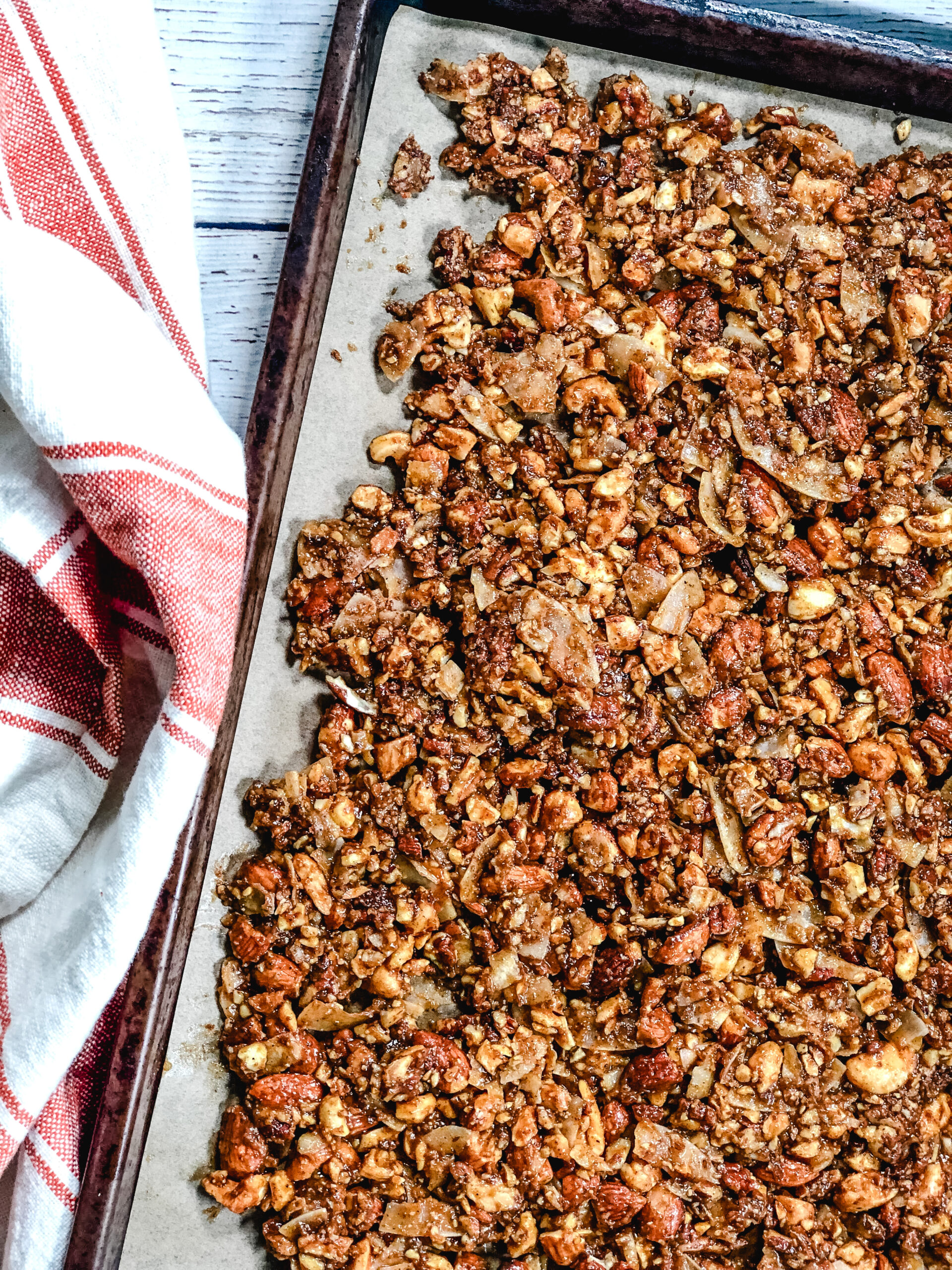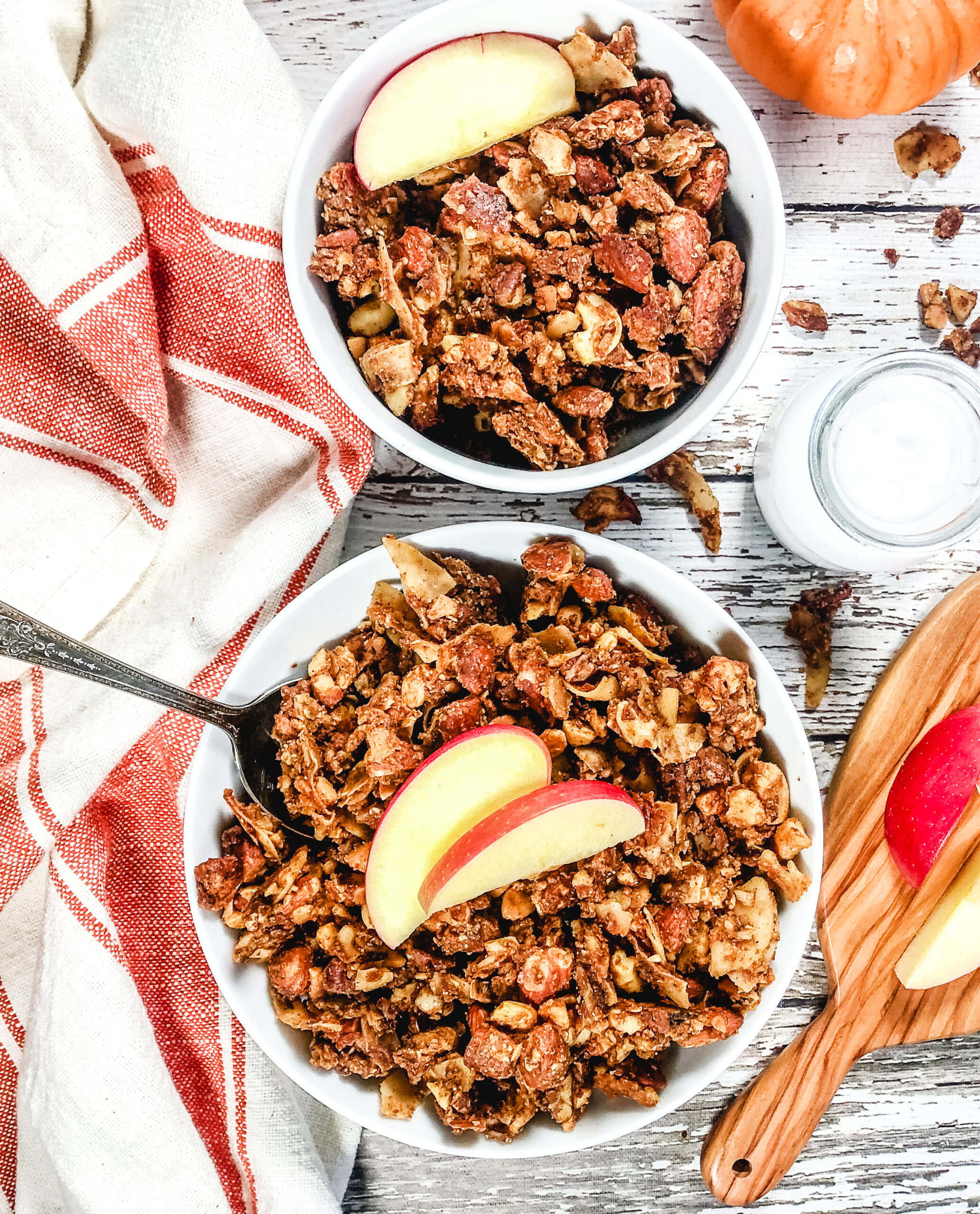 For hundreds of pure Paleo recipes be sure to check out The Real Paleo Diet Cookbook  and  The Real Paleo Diet Fast and Easy.
Details
Recipe by: Jess Case
Serves:

12

Meal:

Breakfast
Prep Time:

15 minutes

Cook Time:

25 minutes

Total Time:

40 minutes
Ingredients
1 cups raw almonds, unsalted

1 cups raw pecans, unsalted

1 cups raw cashews, unsalted

1 cups shredded coconut, unsweetened

2 tbsp flax meal

3 1/2 tsp pumpkin spice

3 tbsp coconut oil

1/4 cups raw honey

1/4 cups almond butter

1/3 cups pumpkin puree

1 1/2 tsp pure vanilla extract

Apple slices, for serving (optional)

Coconut milk, for serving (optional)
Directions
Preheat the oven to 325°F and line a baking sheet with parchment paper.

In a food processor, pulse the almonds, pecans, and cashews until roughly chopped.

Add the chopped nuts to a medium bowl and mix in the shredded coconut, flax meal, and pumpkin spice.

In a small saucepan, warm the coconut oil, honey, almond butter, pumpkin puree, and vanilla over low heat and whisk until well combined.

Pour the wet mixture over the nuts, then stir until evenly moistened. Spread evenly in the prepared baking sheet. Bake for 15 minutes, then flip the granola and bake for another 10 minutes.

et it cool for at least 15 minutes, then serve with coconut milk and apple slices.