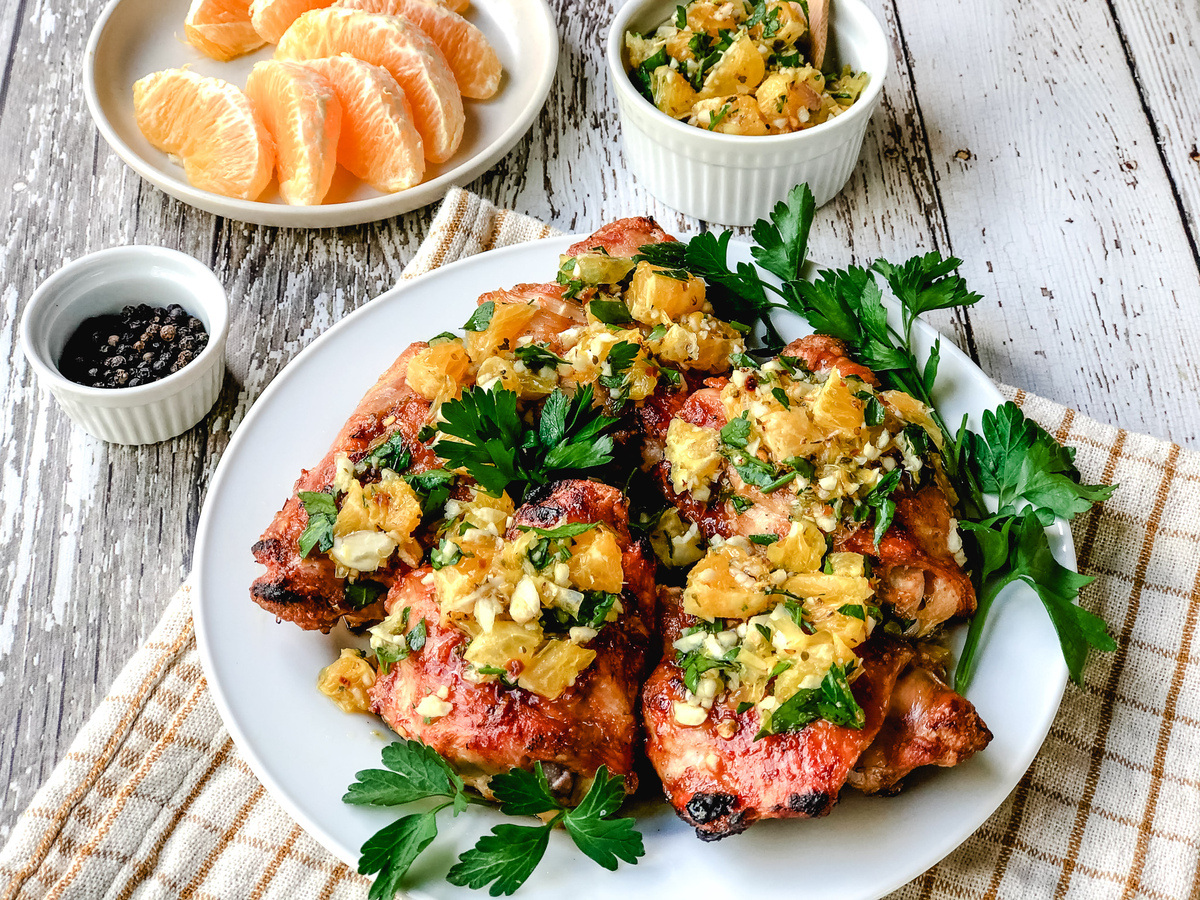 Crispy Grilled Chicken in Garlicky Orange Sauce
Grill this zesty citrus chicken for a flavorful dinner without the hassle of marinade, rubs, or basting!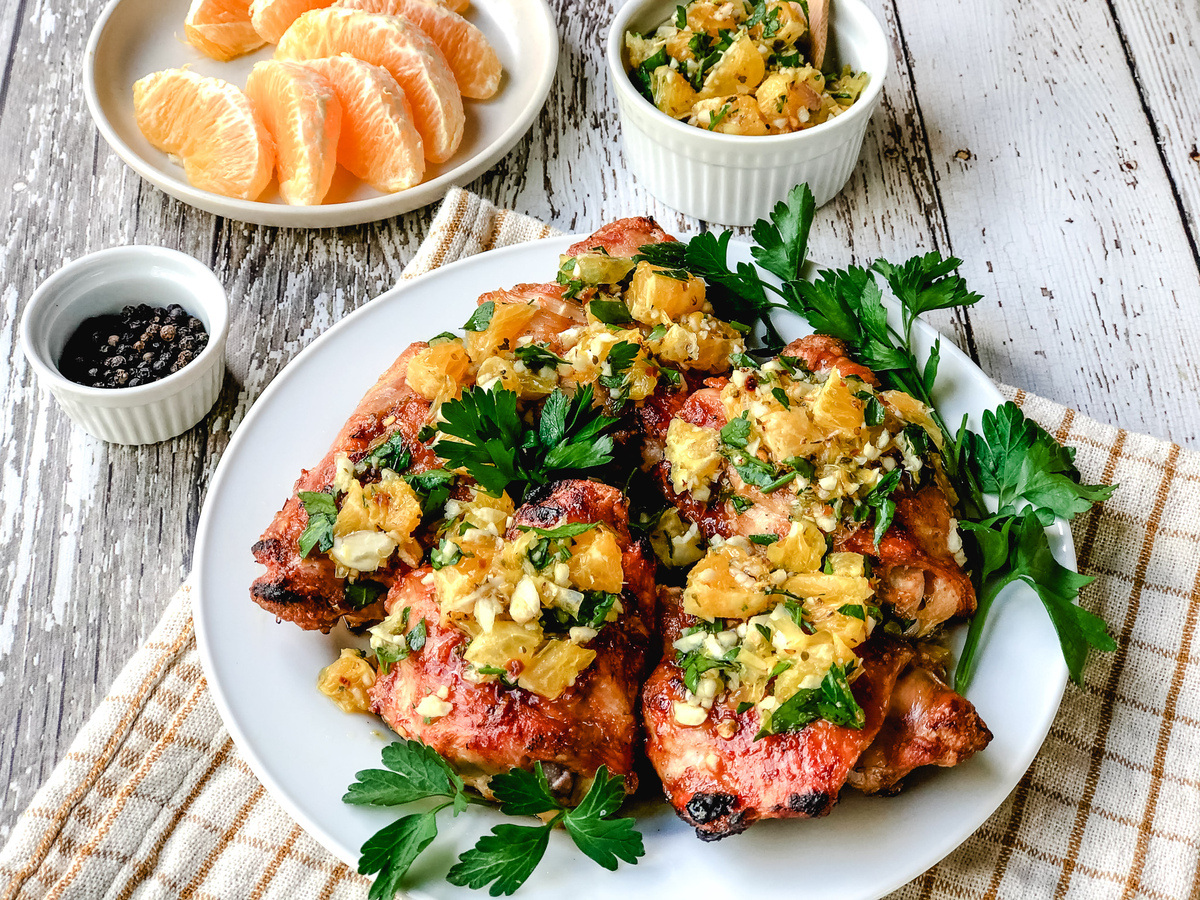 Skip the BBQ sauce and spice up grill night with this zesty citrus topping.
When it's time to take the grill out for the season, start with this super easy recipe! No marinade, rub, or basting needed—simply grill the chicken as it is, then coat it in a homemade chunky orange dressing.
Start by making the orange-garlic sauce. In a large bowl, combine garlic, fresh parsley, olive oil, diced oranges, oregano, red pepper flakes and black pepper. We used dried oregano, but you could use fresh if you have some on hand—just up the amount from one tablespoon to three. Set the mixture aside to let the flavors mingle while you grill the chicken.
You can use any cut of chicken you like, but we suggest using bone-in, skin-on chicken thighs for the juiciest final product. If you want to use boneless thighs instead, simply decrease the cook time by about five minutes. You can also remove the skin if you want to, but leaving it on will make for a nice crispy exterior!
Grill the chicken directly over the flame, turning frequently to ensure that it doesn't burn. If you have an instant-read thermometer, remove the chicken from the heat as soon as the internal temperature reaches 165 degrees.
Set the chicken in the bowl with the orange sauce, toss to coat, and let it still for a few moments. Then, remove the chicken to a plate and top with the remaining orange mixture. Serve with a fresh salad, and enjoy outdoors for the ultimate Paleo barbecue!
Special thanks and congratulations to Dino Romano, The Paleo Diet Recipe Contest Winner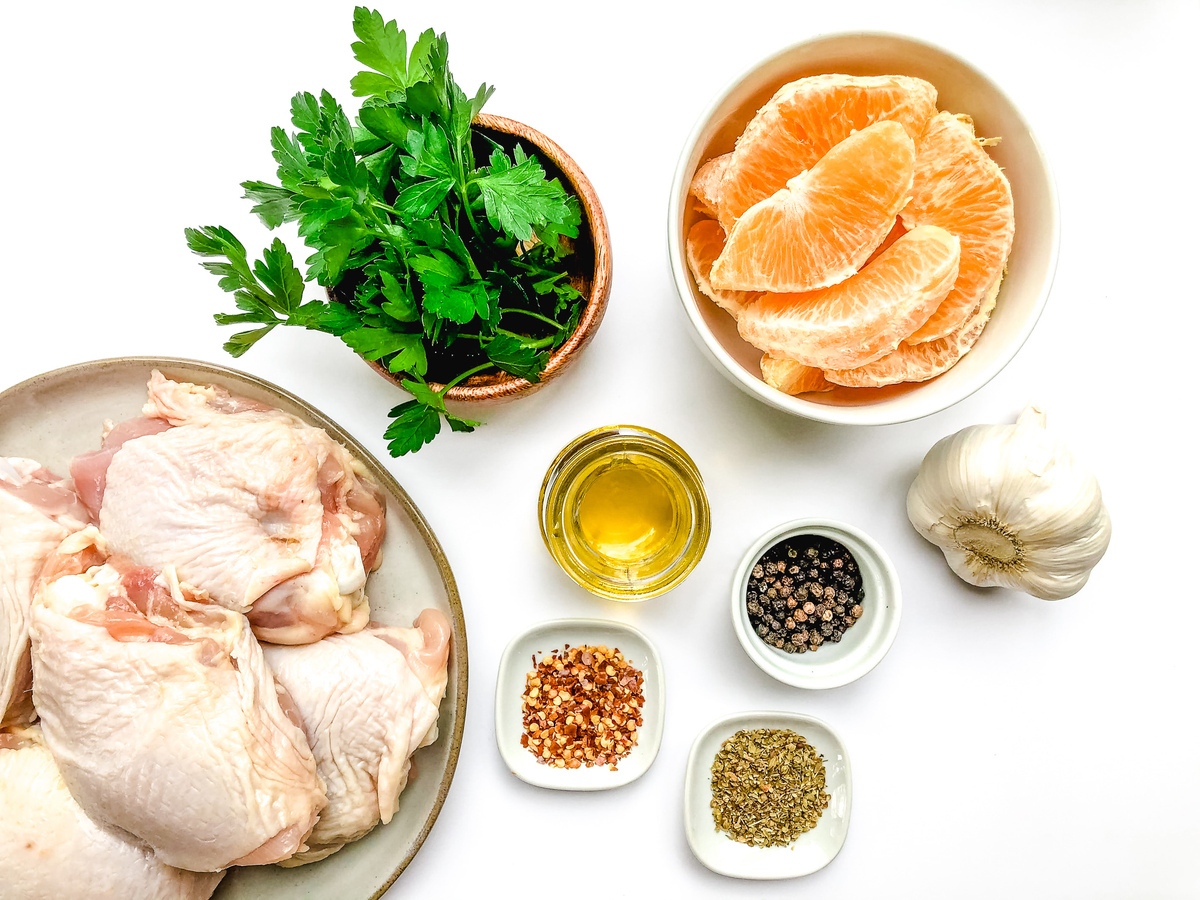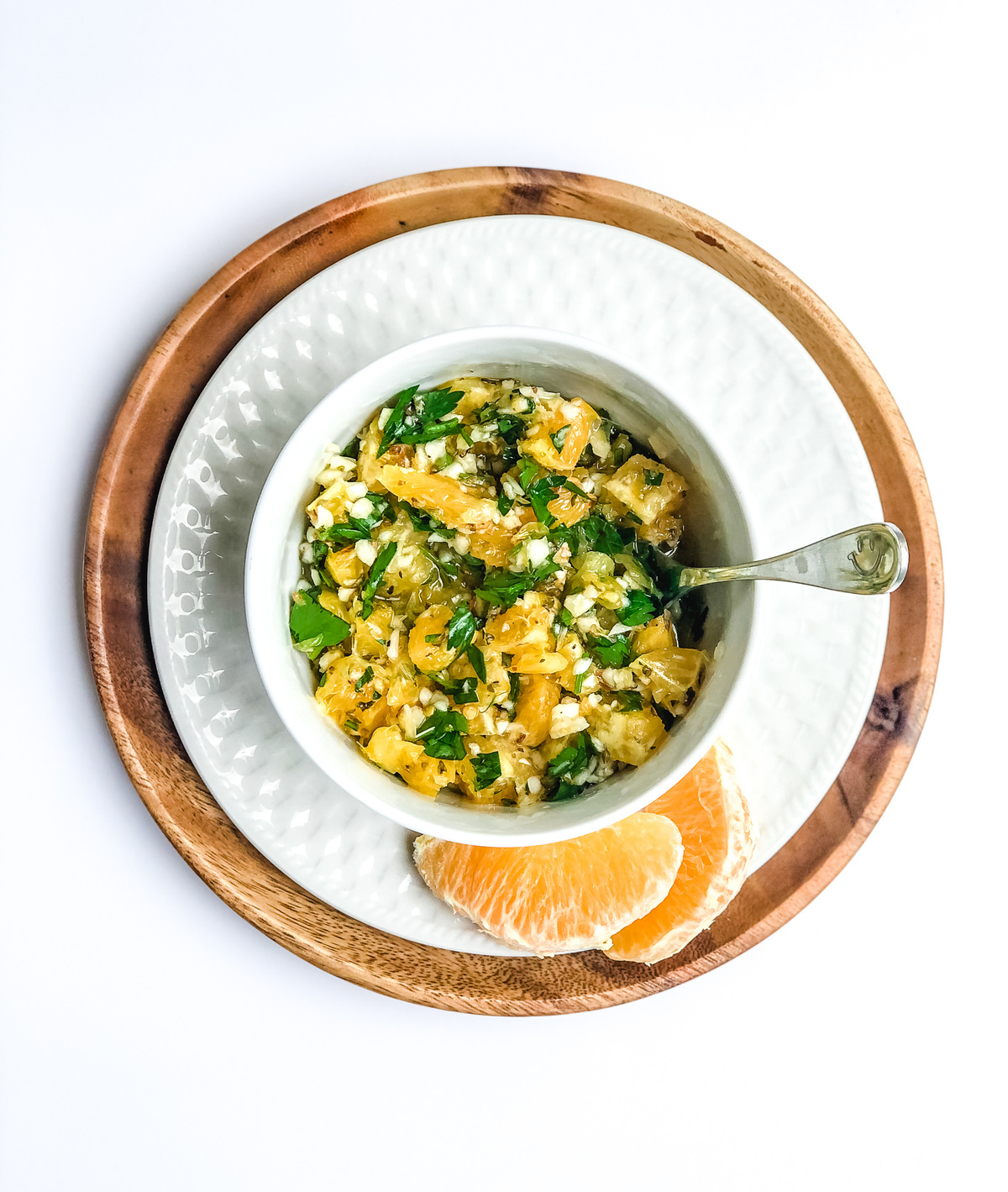 For hundreds of pure Paleo recipes be sure to check out The Real Paleo Diet Cookbook and The Real Paleo Diet Fast and Easy.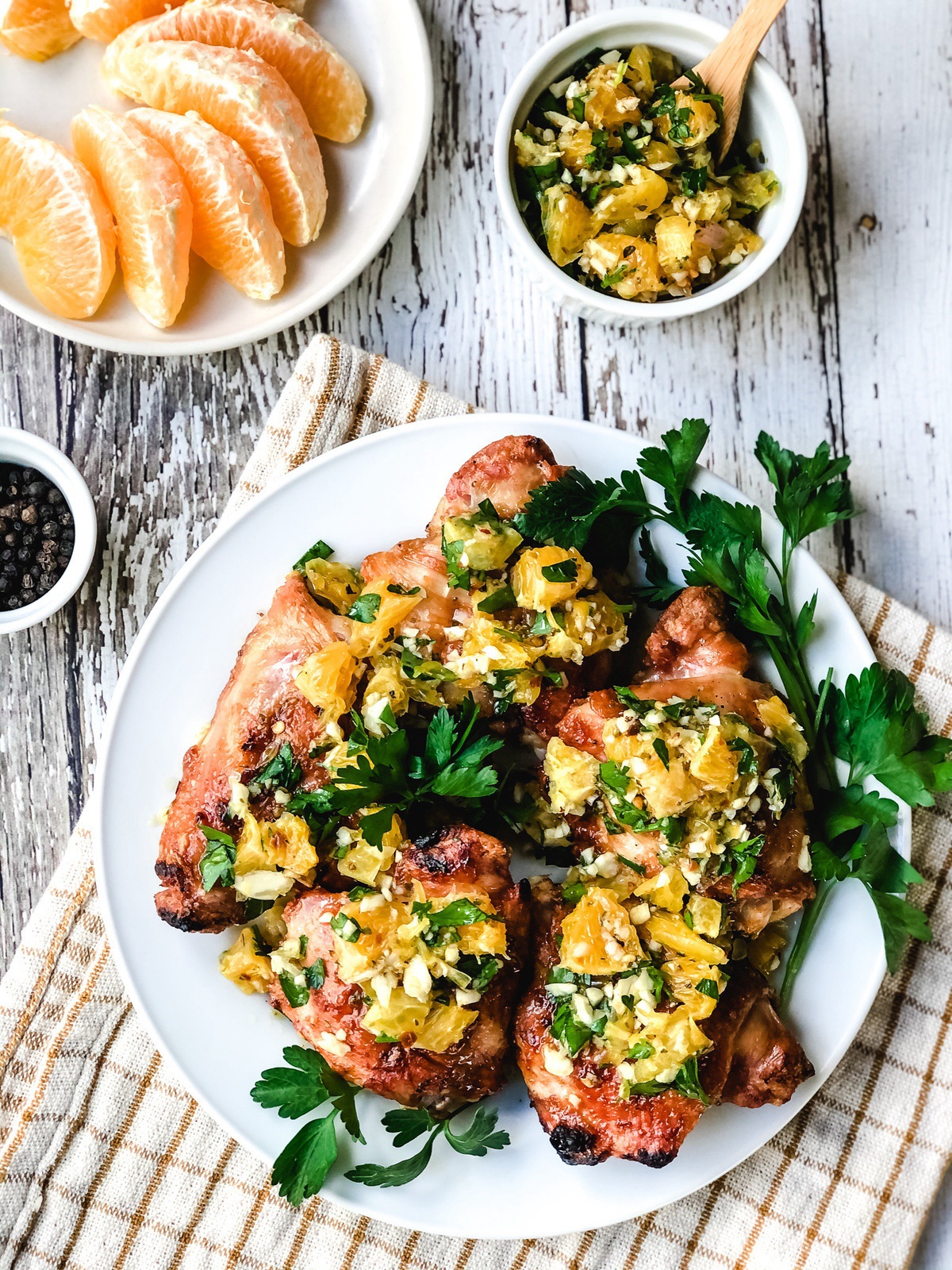 Details
Serves:

4

Prep Time:

10 minutes

Cook Time:

15 minutes

Total Time:

25 minutes
Print this Recipe
Ingredients
10 garlic cloves, minced

1 cups parsley, chopped fine

4 tbsp extra virgin olive oil

2 oranges, peeled and diced

1 tbsp dried oregano

1 tsp red pepper flakes

2 tsp coarse black pepper

6 bone-in, skin-on chicken thighs
Directions
In a large bowl, mix the garlic, parsley, olive oil, oranges, oregano, and red and black peppers. Stir well and set aside.

Grill chicken thighs over very high heat in either an oven broiler or on the BBQ. Cook close to the flame, turning frequently, until the chicken is moist on the inside and crunchy and blackened on the outside, about 10-15 minutes.

Add the grilled chicken to the orange mixture and stir until coated. Let it sit for several minutes, then remove to a plate and top with any remaining mixture. Enjoy!