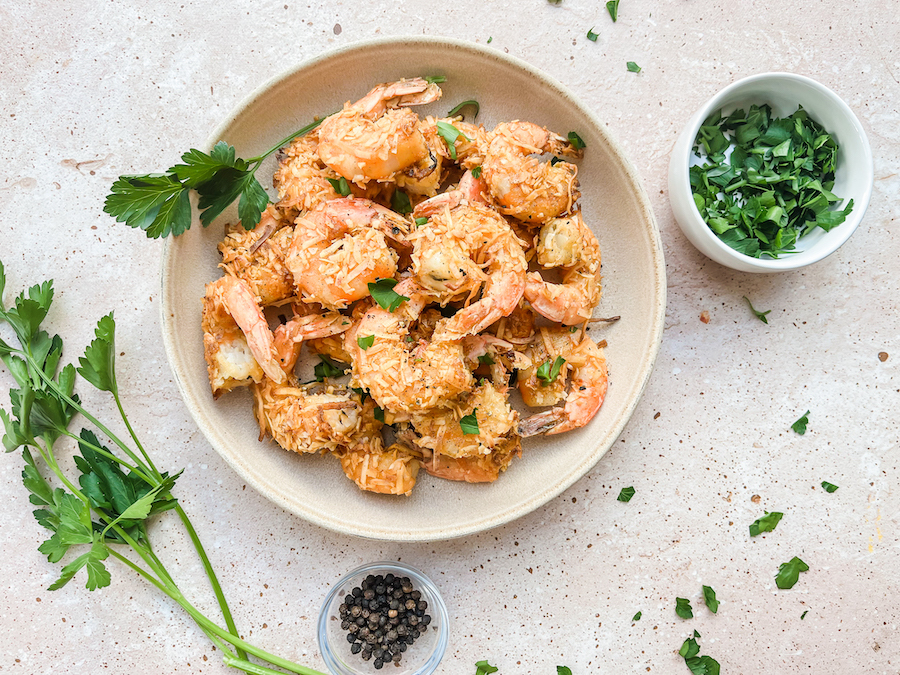 Crispy Baked Coconut Shrimp
This crispy-crunchy shrimp is the perfect balance of sweet and spicy, and is ready in just 30 minutes!
It doesn't get much easier than this crispy coconut shrimp recipe. Simply set up a dredging station of arrowroot starch, coconut oil, and shredded coconut. Dip your shrimp into each, then bake for a fantastically gluten-free coating. No breadcrumbs required!
Start with peeled, deveined shrimp for easy prep. We kept the tails on so it's easier to handle (especially during the dredging process), but you can remove them after they're cooked if you like.
To keep this recipe Paleo, we changed up the ingredients of a typical dredging station. Instead of flour, we used arrowroot starch for a naturally crisp coating. We also used coconut oil instead of eggs to help the outside ingredients stick. While you could use eggs if you like, coconut oil helps add to the sweet coconutty taste we're trying to achieve.
Finally, the shrimp is coated in shredded coconut spiced with onion powder, chili powder, red pepper flakes, and black pepper. You can adjust the seasoning for heat to taste, or try experimenting with other spices. Cumin, garlic powder, and smoked paprika would be just as tasty!
Bake your coconut shrimp for 15 minutes, flipping at the 10-minute mark.
If you have an air fryer: Spray the air fryer basket with coconut oil, then set the shrimp in a single layer. Cook at 360°F for 10 minutes, or until golden brown and crispy.
Serve your crispy coconut shrimp with cauliflower rice, a simple Brussels sprouts slaw, and/or a Paleo mayo dipping sauce.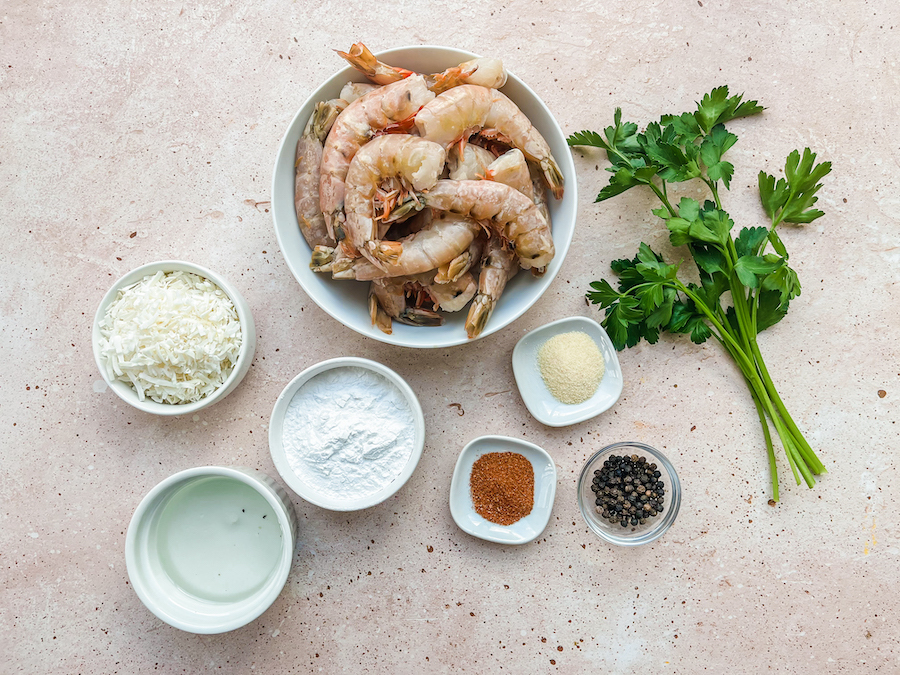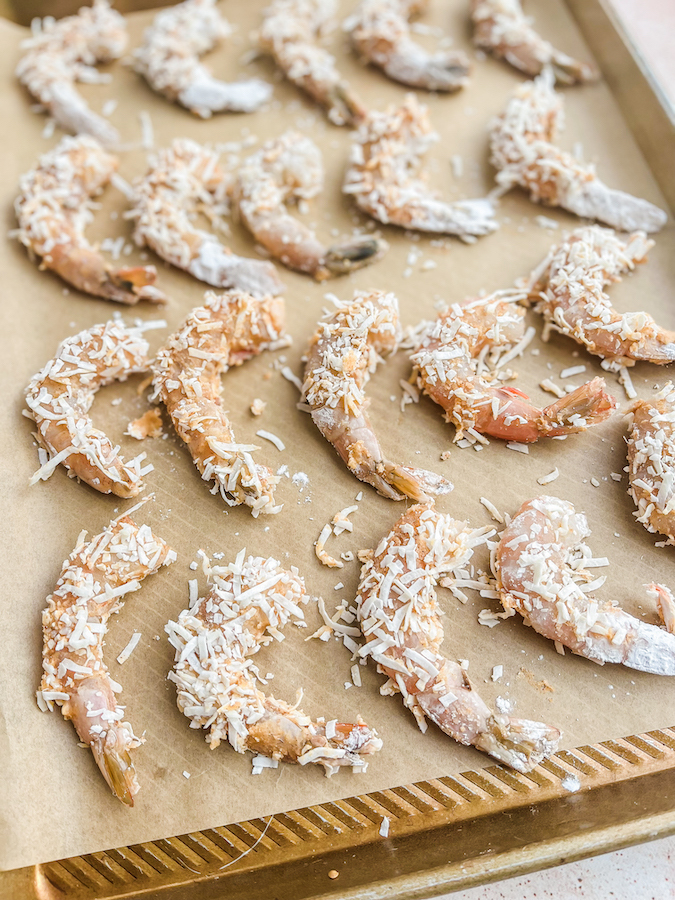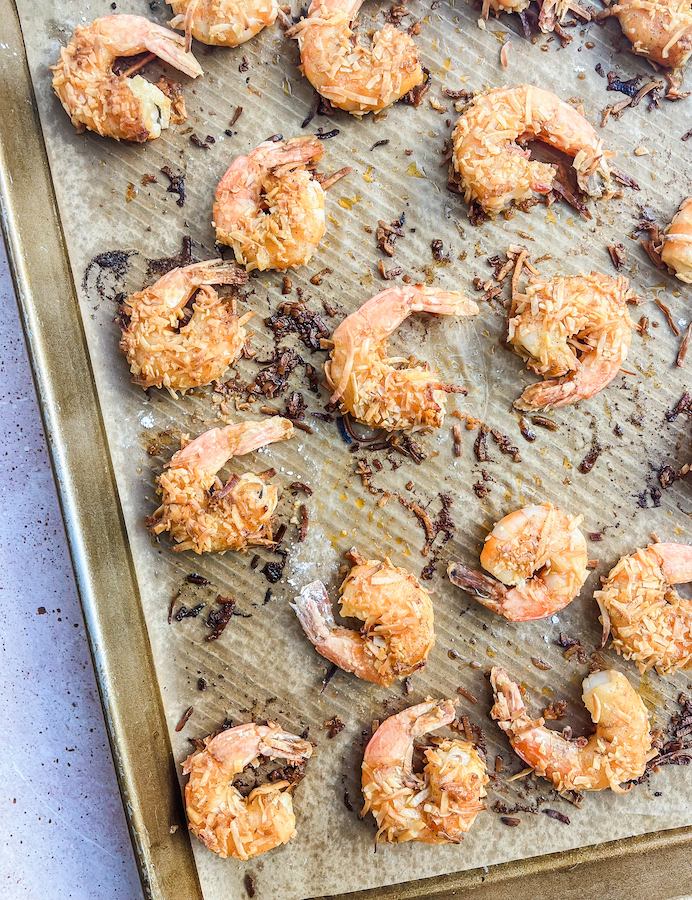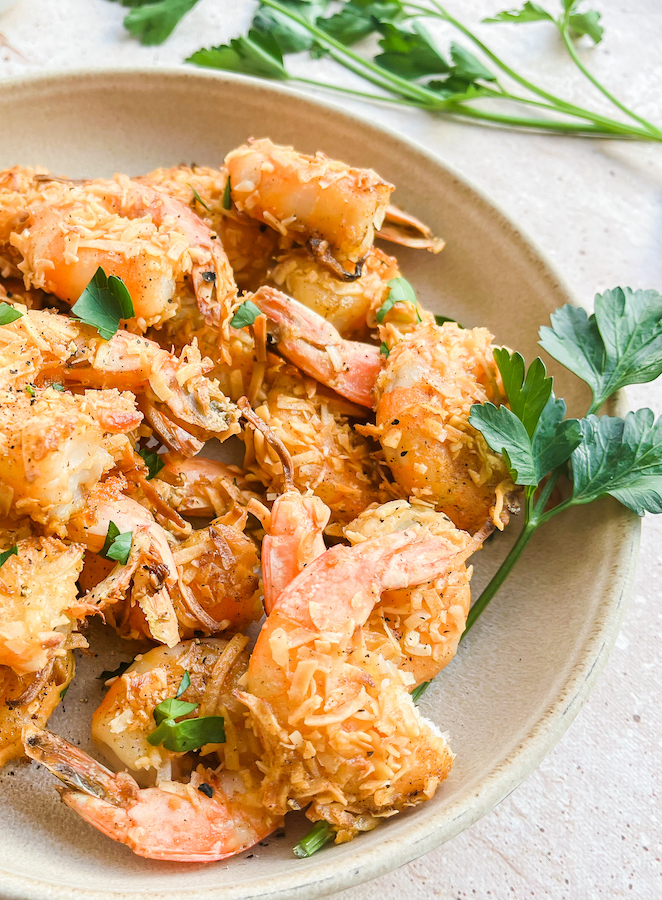 For hundreds of pure Paleo recipes be sure to check out The Real Paleo Diet Cookbook and The Real Paleo Diet Fast and Easy.
Details
Prep Time:

15 minutes

Cook Time:

15 minutes

Total Time:

30 minutes
Ingredients
1 lb tail-on shrimp (about 16), peeled

3 cups arrowroot starch

1/2 cups coconut oil, melted

2/3 cups unsweetened shredded coconut

1 tsp onion powder

1 tsp chili powder

1/4 tsp red pepper flakes

1/4 tsp black pepper flakes

1/8 cups parsley, chopped
Directions
Preheat the oven to 425°F and line a baking sheet with parchment paper.

While the oven preheats, get a dredging station ready: add the arrowroot starch to one small bowl, melted coconut oil to another, and shredded coconut mixed with the spices in a third small bowl.

Roll each shrimp in the arrowroot starch, then dip it in the coconut oil, then coat it in the shredded coconut and spices. Place each shrimp onto the prepared baking sheet.

Bake the shrimp in the oven for 10 minutes, then flip and bake for 5 more minutes. The shrimp should be golden brown and crispy.

Garnish with fresh parsley and serve.