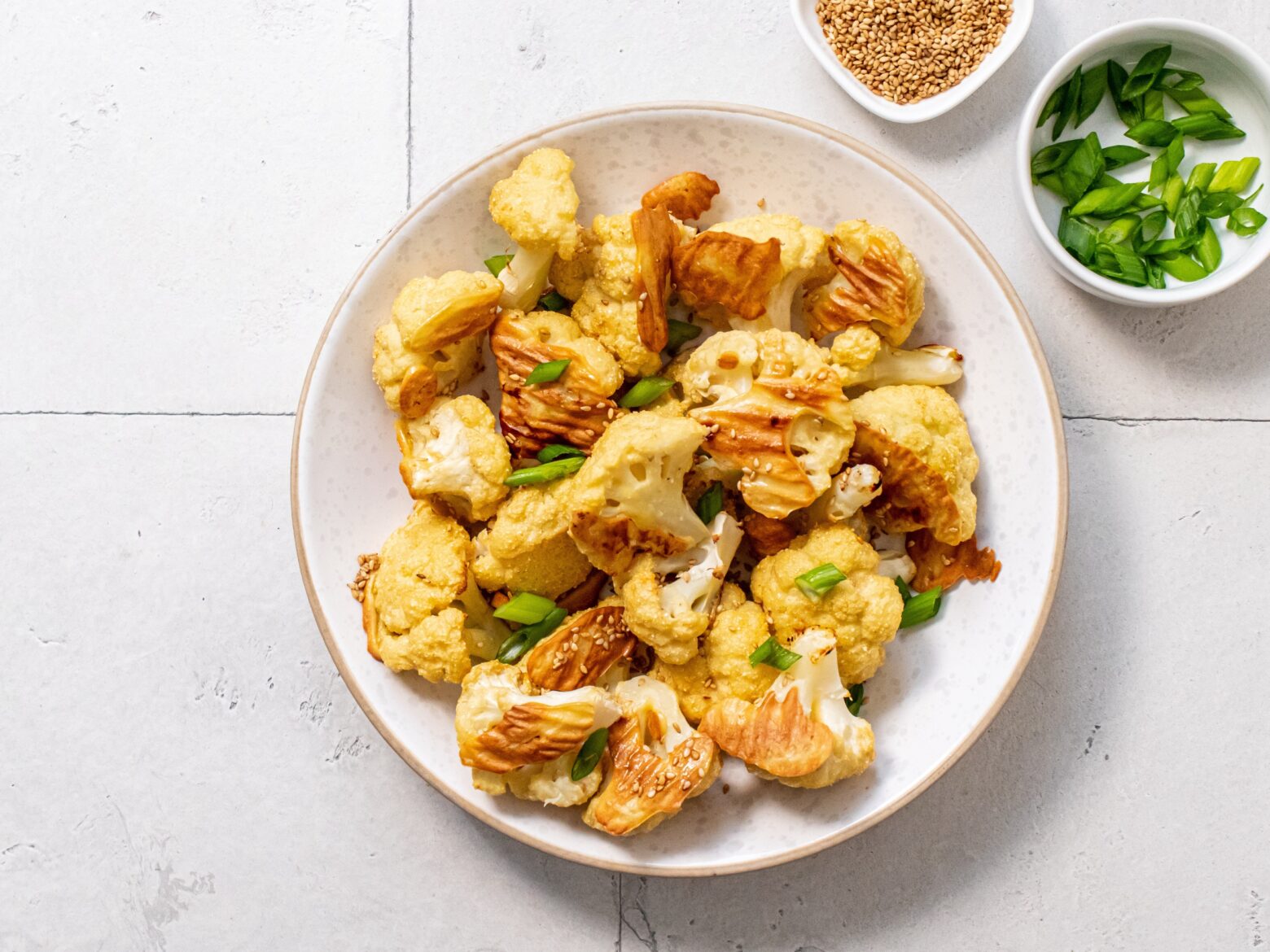 Crispy Asian Cauliflower Bites
Craving something crispy-crunchy? Skip the chips and bake up a batch of these super flavorful cauliflower bites instead.
You can enjoy these healthy cauliflower florets as a side, but we love to have them as a snack. Simply dip cauliflower florets in an Asian-inspired batter made with cassava flour, eggs, and spices, and let them crisp up in the oven. Top with toasted sesame seeds and freshly chopped scallions to round out the texture.
Yes, you can still have an Asian-inspired veggie without using soy sauce! In fact, this healthy batter scraps soy, honey, and salt in favor of additive-free mushroom broth, olive oil, cassava flour, and spices like ginger and garlic. It just takes a few minutes to whisk together.
To help save on time, buy cauliflower already chopped into florets. If you want to slice a head of cauliflower yourself, just be sure to leave the stems on. You can use them as tiny handles so you can easily dip the floret tops in the batter. Shake off the excess, then place on a parchment-lined baking tray and bake in a 425ºF oven for 20 to 25 minutes, or until golden brown.
These are best enjoyed fresh out of the oven for the crispest texture. Sprinkle with sesame seeds and green onion, and get munching!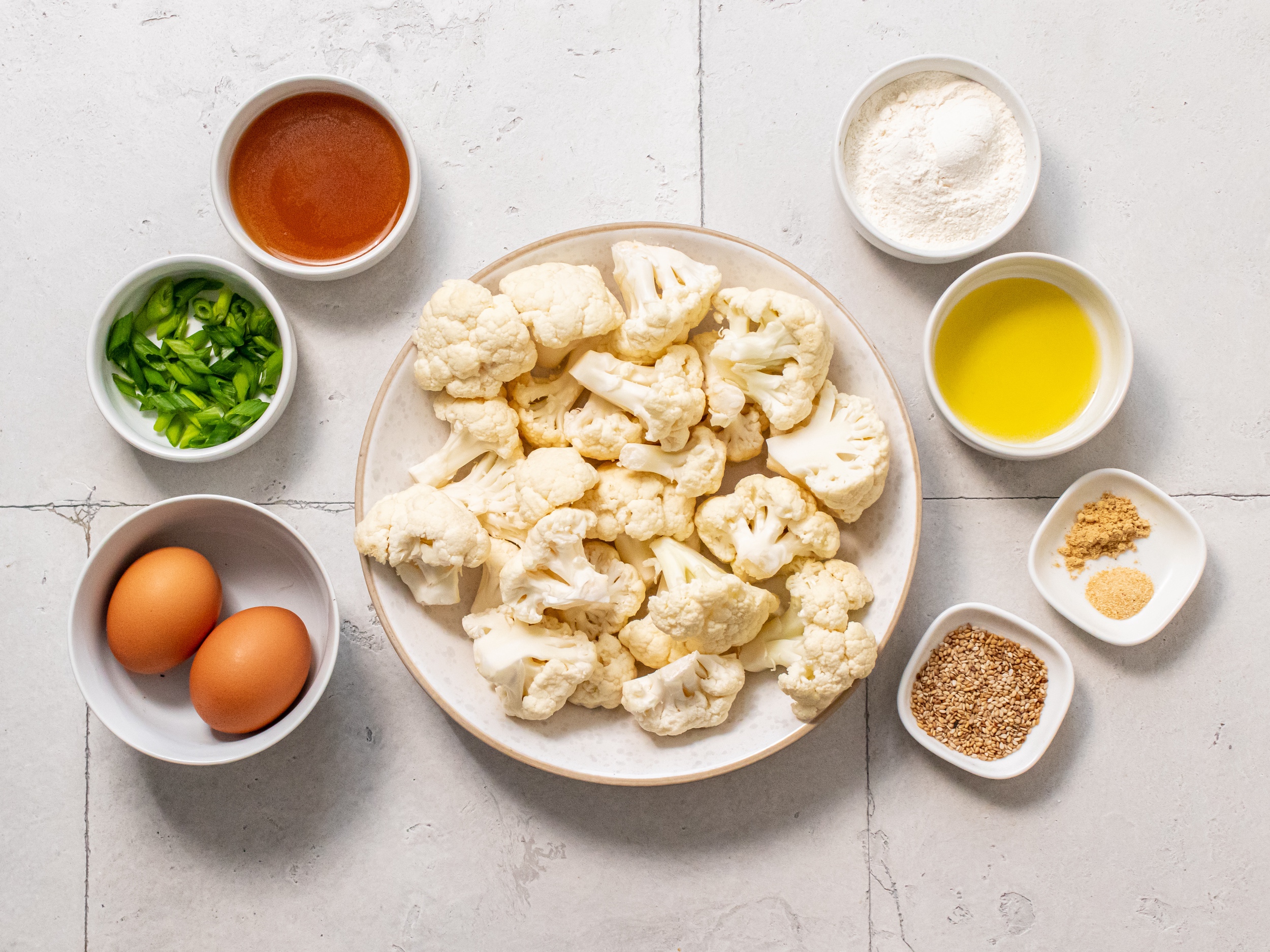 For hundreds of pure Paleo recipes be sure to check out  The Real Paleo Diet Cookbook  and  The Real Paleo Diet Fast and Easy.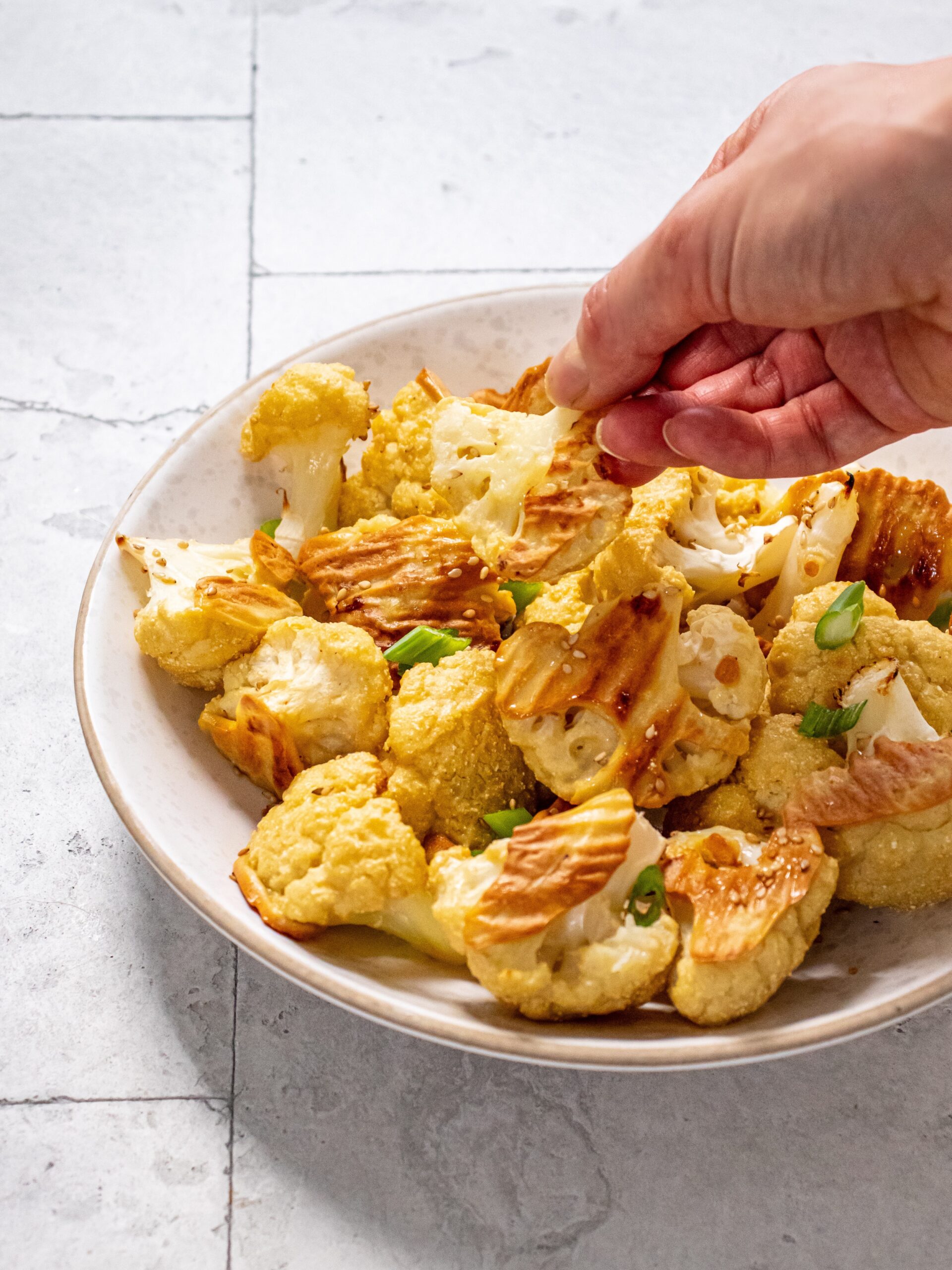 Details
Prep Time:

15 minutes

Cook Time:

25 minutes

Total Time:

40 minutes
Ingredients
1 egg + 1 egg white

1/4 cups sodium-free mushroom broth

1 tbsp olive oil

1/3 cups arrowroot starch

1 tsp ground ginger

1/2 tsp garlic powder

1 large head of cauliflower, broken into florets

1 tbsp toasted sesame seeds

1/4 cups chopped green onion
Directions
Preheat the oven to 425ºF and line a large baking sheet with parchment paper.

Whisk together the eggs, mushroom broth, olive oil, cassava flour, ginger, and garlic in a medium mixing bowl.

Dip the top of each cauliflower floret in the batter and shake off the excess. Place on the prepared baking sheet 1-2 inches apart.

Bake for 20-25 minutes. Remove from oven and sprinkle with sesame seeds and green onion. Enjoy hot.