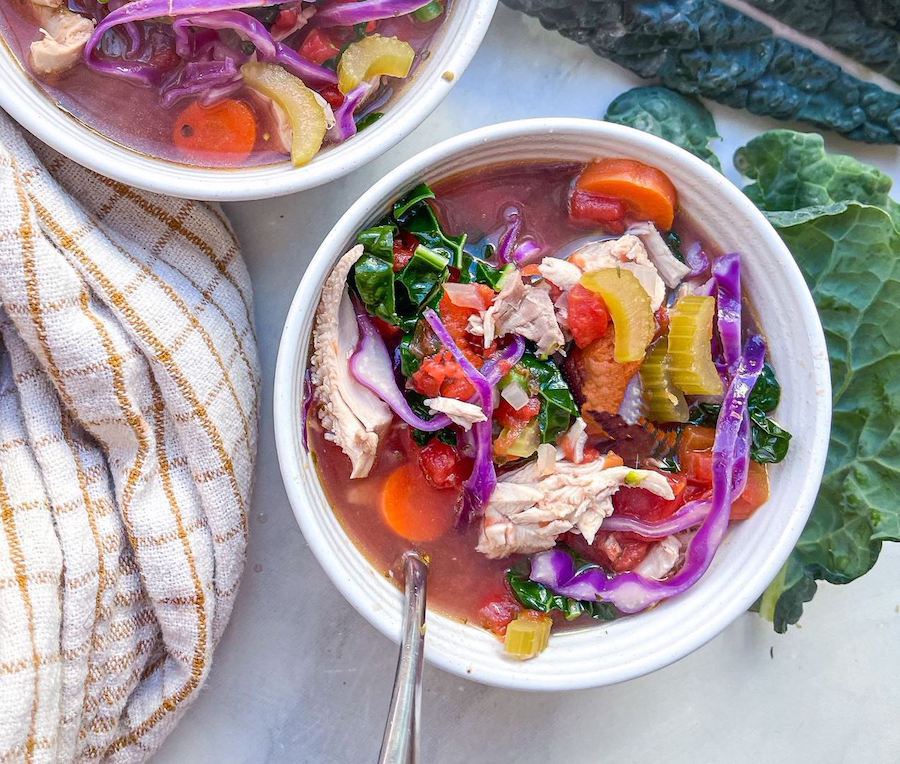 Colorful Chicken Vegetable Soup
You can't turn down a steaming bowl of nutrient packed, natural immune-boosting chicken soup!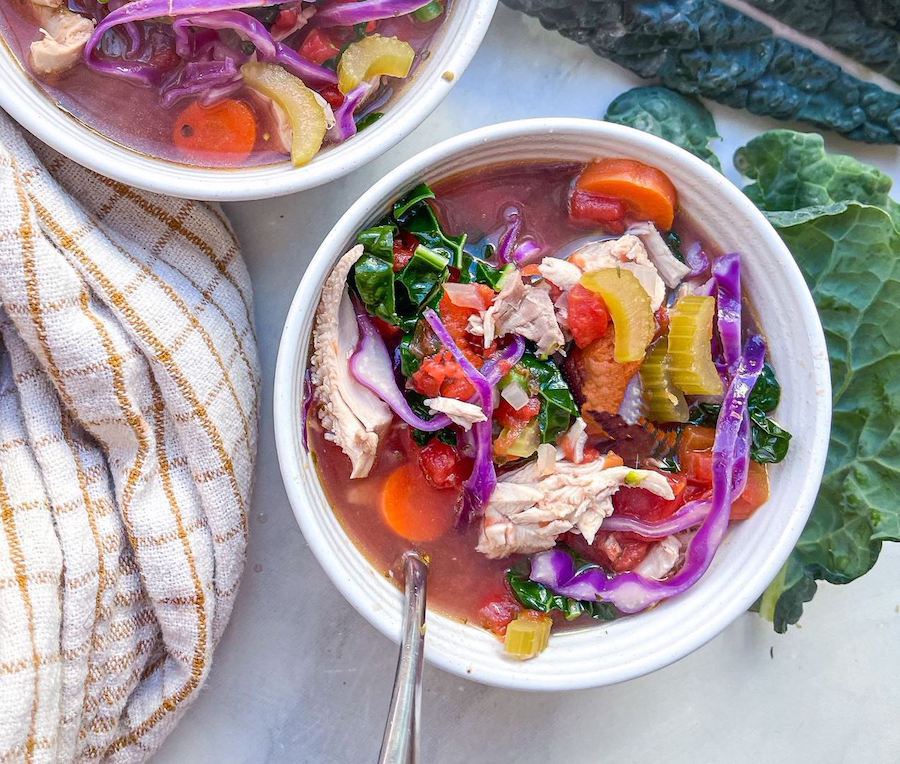 Who doesn't love chicken soup? Well, this chicken vegetable soup takes it up a notch—it's loaded with vibrant, colorful veggies, and, of course, shredded chicken.
We use bone-in chicken thighs, which gives the savory tomato broth tons of delicious flavor. It's a warm and comforting recipe that the whole family will love, and it's perfect for a weeknight meal.
When bone-in chicken is left to sit in boiling water, it begins to release a ton of vitamins, minerals, and antioxidants into the pot. The bones will also relase proteins and fats enriching the broth even further. Talk about a nutrient dense dish!
It's really easy to bring this soup together: Start by heating a large soup pot, add olive oil, then the chopped onions and minced garlic until translucent. Then add the diced carrots before pouring in the wet ingredients along with the spices. Mix well before adding the chicken thighs. Bring to a boil, then simmer for 20 minutes.
After simmering, take the thighs out and put in the prepared vegetables until they have softened. White the vegetables are cooking, start shredding the chicken with a pair of forks. Before the soup is finished, put the shredded chicken back into the pot before serving this delicious and hearty soup!
Tips:
This soup will last for about a week in the refrigerator.
To save time, you may chop the vegetables ahead of time.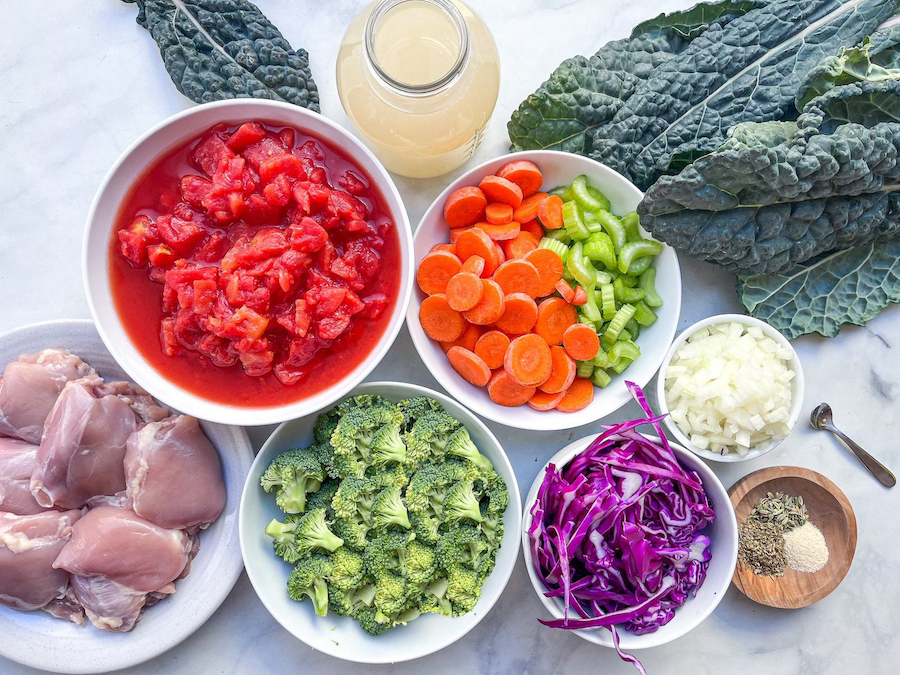 Love our recipes? Make going Paleo even easier and download our 7-Day and 28-Day digital meal plans!
Details
Serves:

6

Prep Time:

5 minutes

Cook Time:

45 minutes

Total Time:

50 minutes
Print this Recipe
Ingredients
1 tbsp olive oil

1/2 medium onion, chopped

2 cloves garlic, minced

2 medium carrots, diced

6 cups Paleo chicken broth

28 oz diced tomatoes (unsalted)

1 tsp Italian seasoning

1 tsp fennel seeds

1/2 tsp black pepper

1/2 tsp oregano

1 lb chicken thighs, skinless

2 stalks celery, sliced

1 cups chopped broccoli

1 cups purple cabbage, thinly sliced

1 cups kale leaves, packed and chopped
Directions
Using a large soup pot, heat olive oil on medium heat. Add the chopped onions and minced garlic, stir until the onions are translucent. Add the diced carrots and cook for another two minutes.

Add the broth, tomatoes, and seasoning to the pot and stir well. Place the chicken thighs on top and bring to a boil over medium-high heat, then turn the heat down and let it simmer.

When the soup is cooking you can prepare the vegetables. After about 20 minutes, add the celery and broccoli to the pot and mix well. In 10 minutes, remove the chicken, then add the rest of the vegetables to the pot for about five minutes.

While the vegetables are cooking you can shred the chicken by using two forks and place it back into the pot before serving. Then season with some black pepper and enjoy!