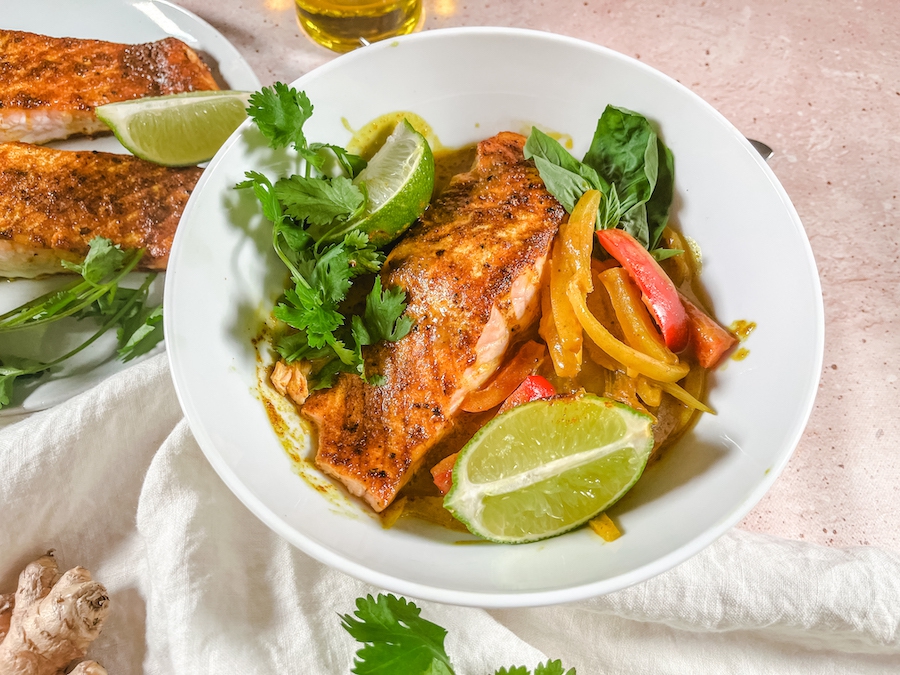 Coconut Curry Salmon Bowls
Curry-rubbed salmon bakes while you prepare the coconut veggies in this easy weeknight meal!
Tired of the same old baked fish for dinner? Give salmon a facelift with a bright and zesty two-ingredient curry rub. Let it bake near the top of the oven so you get the benefits of a char-broiled top while cooking the rest of it to flaky perfection.
While the salmon bakes, prepare the veggies: sauté slices of onions and bell peppers in a bit of olive oil. Once soft, season with garlic, ginger, black pepper, and more curry powder. Stir in a can of coconut milk and the juice of one lime, then let it simmer to marry all the flavors.
To serve, divide the veggies among four bowls and top each with a salmon fillet. Drizzle with any remaining curry sauce, and dig in!
Tip: We kept these bowls on the simple side, but feel free to build them out for more variety. Try serving with cauliflower rice, raw or wilted baby spinach, slices of avocado, or toasted sliced almonds!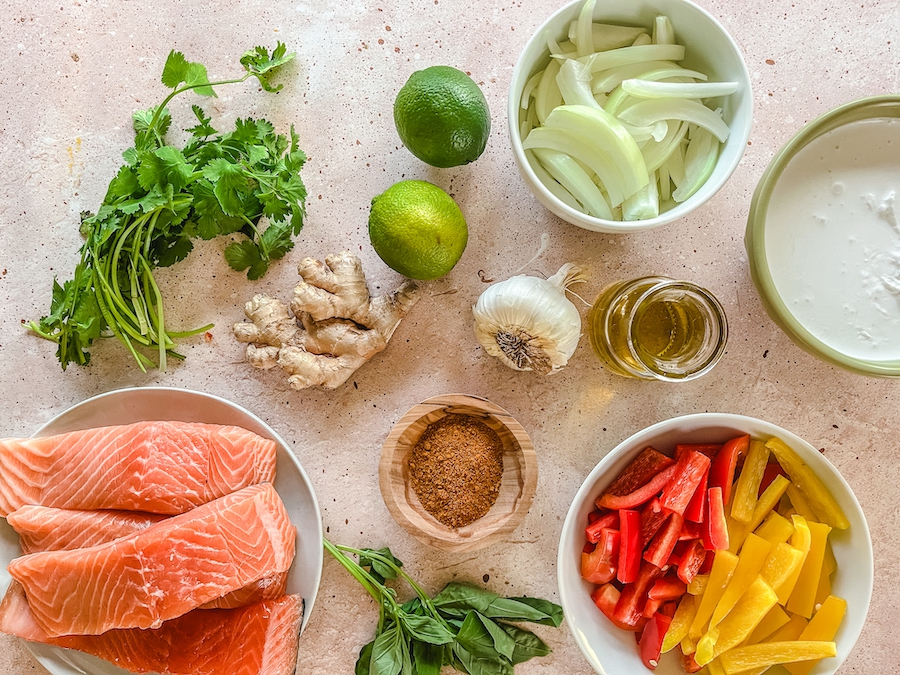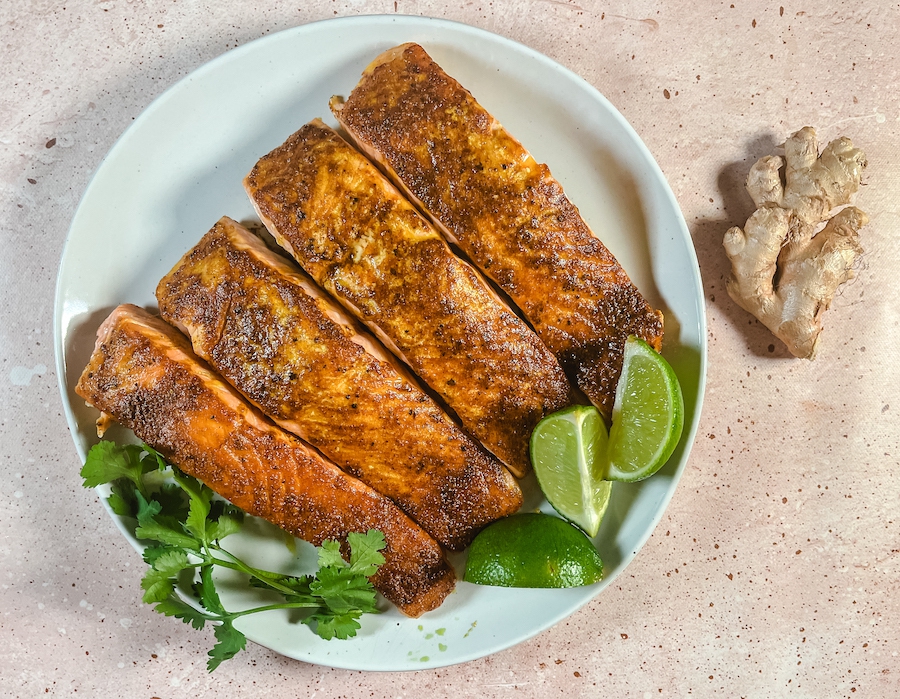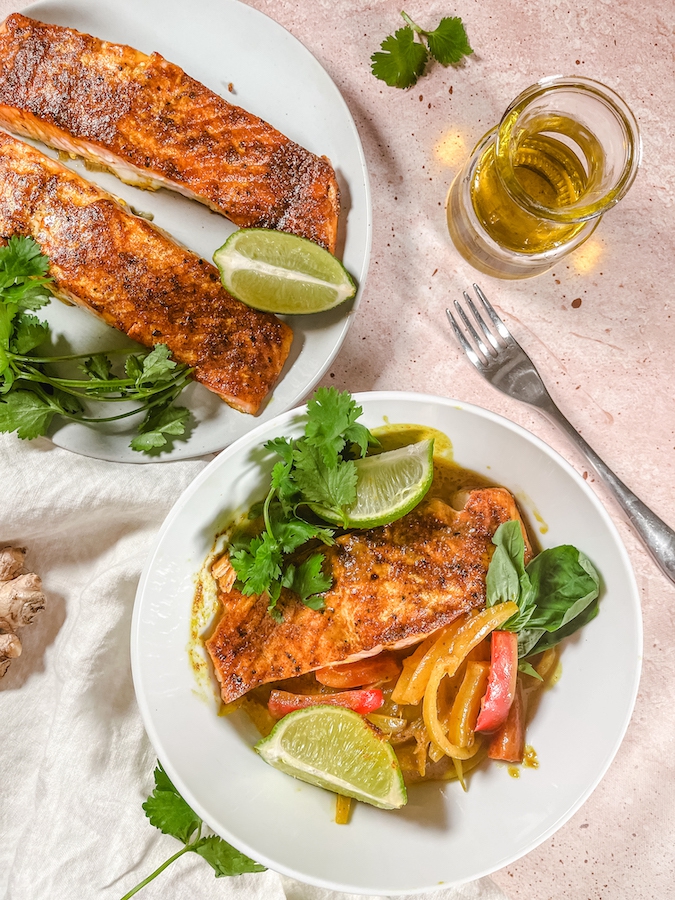 For hundreds of pure Paleo recipes be sure to check out The Real Paleo Diet Cookbook and The Real Paleo Diet Fast and Easy.
Details
Prep Time:

10 minutes

Cook Time:

20 minutes

Total Time:

30 minutes
Ingredients
5 tsp curry powder, divided

3 tbsp olive oil, divided

4 salmon fillets (4-6 oz each)

1 yellow onion, thinly sliced

1/2 red pepper, sliced

1/2 yellow pepper, sliced

4 garlic cloves, minced

2 tbsp fresh ginger, chopped

1/2 tsp black pepper

1 14 oz can full fat coconut milk

1 lime, juiced

1/2 cups fresh basil, torn

1/2 cups fresh cilantro, chopped
Directions
Preheat the oven to 475°F and line a baking sheet with foil. Place an oven rack about 6 inches from the top of the oven.

Whisk 4 teaspoons of the curry powder with 2 tablespoons of the olive oil to make a paste. Place the salmon skin side down on the baking sheet and rub most the paste over the top of the salmon with a brush or knife. Reserve the remaining sauce. Bake the salmon for 10-12 minutes.

Meanwhile, heat the remaining tablespoon of olive oil In a large skillet over medium heat. Add the sliced onions and peppers and cook until soft, about 5 minutes. Add the garlic, ginger, black pepper and remaining teaspoon of curry powder, and cook for 2 more minutes. Stir in the coconut milk and lime juice. Bring the mixture to a low boil, then reduce the heat and let it simmer for 5 minutes.

Remove from the heat and stir in the cilantro and basil. Serve in bowls with the salmon, and spoon the remaining curry sauce over the top!